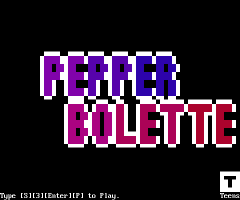 A sublime, and hard, adventure game, Pepper Bolette SE is a great example of a ZZTer improving in talent. The environment is lush and varied, and the characters that inhabit the land are as colourful and interesting as the world itself. Innovative engines and graphical touches liven up this fine game while the atmosphere drips with feeling and draws you in.
The adventure starts on top of a tree. Apparently you have just eaten a shroom known as a Pepper Bolette and now are in the land of the unconscious. Your quest is to wake up, and to do so you must find some purple keys. To complete your quest you must learn to use the backpack. Operating it is done using ?-m, which links you to the inventory board. Initially the backpack is confusing, but it's not difficult to navigate. From it you will select items that you need at appropriate times, and choose which weapon you want to use. Now familiarised with the system, you are thrust into a cave and begin your adventure.
Saving is something you should become used to in this difficult game. Since initially you must pay for health (which is too expensive), losing life in places is as good as dying. Sent unarmed into the world, your first job is to find a weapon. This is no easy task. As soon as you emerge from the cave there are a total of three different areas you can immediately access, though entering the wrong area without proper armament or item is usually suicide. Much of the game follows this mold. Poking around aimlessly is key to winning, but once you find out where to go, restore and try to get there as effectively as possible.
Monsters are nasty, and if you don't have a gun, melee combat is not always wise. Early on, and even later, a good strategy is to avoid enemies altogether, though this is not always possible. Once you get to a location where a character will fill your health and ammo for free, things get a lot smoother. Hunting out items is the key to the game. Some are useful, some are essential, but most all of them are hidden or require some fighting to obtain. Just remember, don't explore while you have a purple key; it's a waste to have to backtrack to a key especially if you dodged more enemies than you killed on the way there.<
The enemy designs are sinister, and clever. Frogs lick at you from a distance with their tongues, and rats circle around as you try and shoot them. On top of that, they are fast. The game instructs you to play at a higher speed, but should you find yourself swamped, don't hesitate to turn it down a notch. The graphics are quite unique and impressive in many places. Objects are used to animate pounding rain, water dripping off of trees and dead leaves falling from branches. Each area is colourful and diverse, with a distinct feel. Sprawling map locations complete the effect of detailed areas. The programming is top notch. Aside from graphical effects there are neat touches like the frogs actually spitting a tongue at you, or an actual centipede made of objects. The large frog is a highlight where you can get eaten by it or blow it up. The inventory system works well and is a welcome change from menu styled inventory systems of the past, though because duplicator noise is omnipresent, I advise playing with the sound off.
The characters are rather crazy. Their facial expressions are drawn next to their dialogues, and every one, minor or otherwise, is distinct. There are several in-jokes and probably references only the author and his friends would get, but the zany atmosphere of locations like the hotel in the volcano and the mushroom village makes up for things you do not understand. After all you did eat a mushroom, you expect sense?
The main drawback of the game is its severe difficulty level. Gems are in low supply and you should not expect to recoup your losses buying heath after traveling in an area. Health and ammo are expensive which is a pain when enemies are difficult to kill. It could easily be called unfair. A couple of cheats is nothing you should be ashamed about, especially to get to some of the more impressive parts of the game. Despite the early hangups and limited resources, Pepper Bolette is a hugely creative game.