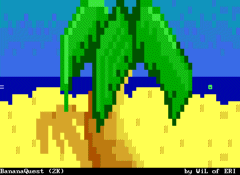 After two months of doubtless very hard work, WiL, a relatively unknown ZZTer at the time, released Banana Quest. He later became one of the most acclaimed game authors of all time, ranked highly in countless 24hozzts, ranked bottom-most in others, became known as the greatest musician ever to grace ZZT, and, during his best years, produced some of the finest games to be found, including Run-On, The Rose, and Largo Abraxis, among others. Among all these games, though, Banana Quest is my very favorite, and is, I think, my favorite ZZT game ever made.
Perhaps it's the rather whimsical insanity, perhaps the sheer fun and novelty value, perhaps the clever cheerfulness and hopelessly optimistic attitude which could only come from a time long passed over by the commune. Perhaps it's the theme song, or, even, the fact that, beside the original ZZT games and Code Red, it's one of the very first ZZT games I ever played, those few years ago when I first discovered ZZT and Z2.
But that's quite enough sentimental meandering. What reason have _I_ to play this game, you ask, and so shall your question be answered!
Banana Quest concerns the adventures of our hero, Bov Boy (seriously, don't ask), who resides peacefully on a quiet, lush, tropical island, until the mysterious scalawag MR. SCRUTHERS kidnaps his girlfriend, Chelsea, and trundles off to The Hills. Obviously, he realizes, he must pursue them quickly, making chase with the motorboat conveniently located on the island. But, alas, things will not be so easy, for he discovers that the MAN WITH THE HAND HELD MONKEY IS BLOCKING HIS WAY, and will not pass until the monkey is appeased with a set number of bananas. So our hero gets to the task, fighting against the odds, sweeping the Mayor's kitchen, staring down potatoes, and diving deep into the reaches of the Bigg Mitt to retrieve the Mystical Red Banana before he finally meets up with Mr. Scruthers in the climatic ending.
The game is considerably boosted by WiL's strong yet deceptively simple graphics style, which completely complements the game, remaining consistently fantastic, and providing suitably insane visuals for the Man With the Hand-Held Monkey and Banana Isle, while still leaving room for the menace seen in Mr. Scruther's eyes. The music of course, is classic WiL, and exudes charm and warmth, adding to the overall ambience of the game.
In terms of gameplay, the game is fantastic, and bears certain traits of the item-hunting genre tseng invented with his Gem Hunter games without ever seeming unoriginal or copied. It is extremely varying and fresh, never seeming repetitive or tiring. Overall, I personally found the game pretty hard (particularly the avocado transmogrifier engine, which I was stuck at for something close to a year, but merely requires a bit of common sense and persistence to complete), and once you get into the second file, there are some sticky parts which can make the game unwinnable and force you to enter your password in again and start that section over, but, besides one other slight programming error in the password entry (which shouldn't affect you unless you end the first file with a yellow banana still in your possession) which, from ZZT's editor, is easily fixed anyways, the gameplay is nearly flawless fun. On top of this, there's a clever little Sierra-style score system which adds an extra challenge, providing one point each for touching objects, talking to people, or performing tasks that are unnecessary to complete the game.
Banana Quest is a fun, fantastic game that has rarely been rivaled in gameplay value and it leaves me with almost a sense of regret to have finally finished this charming gem. This is an often passed over, yet excellent ZZT game that you should definitely not miss the chance to play.