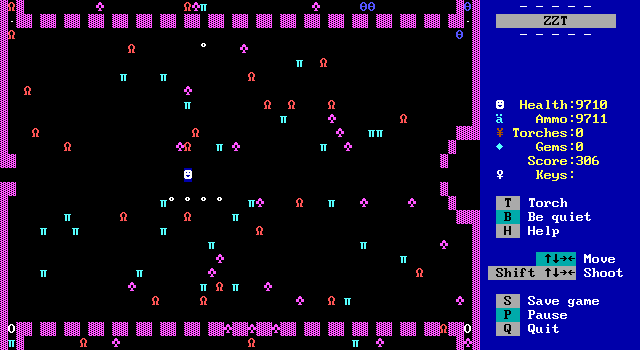 Not-Enough-Ammo Syndrome
• • • • • • • • •
Are you still here?
Imagine coming into this room with
only 40 shots in your gun.
This is known as Not-enough-ammo Syndrome.
It can make your games decidedly un-fun,
especially if it's combined with the
Big-pile-of-monsters Syndrome (which is
otherwise non-fatal to a game).
I'm protecting you right now, so you don't
have to worry, and I've given you loads of
ammunition, but what if...?
Not having enough shots to work with,
especially in high-action boards, can
induce your players to become someone
else's players.
How much ammo should you give them?
Well, if it's a shoot-em-up game, tons.
They should not have to worry about
running out -- worry is not fun.
Also -- when you give them alot of ammo,
it's often good to do it with an object
just GIVEing it to them. It saves them
alot of time running back and forth across
a field of ammunition.
Click here to continue
• • • • • • • • •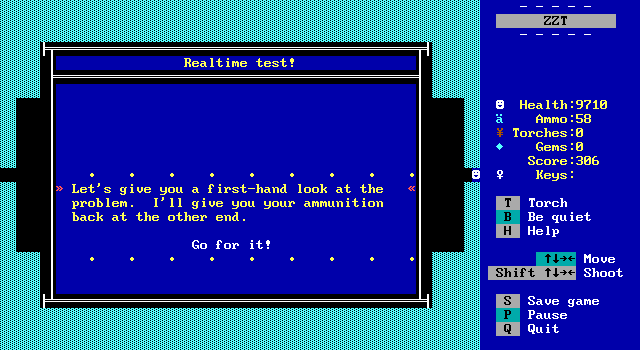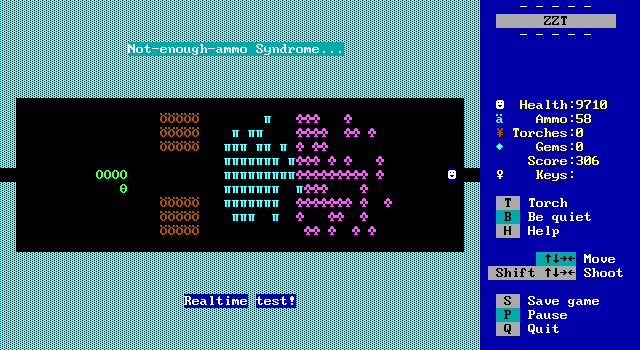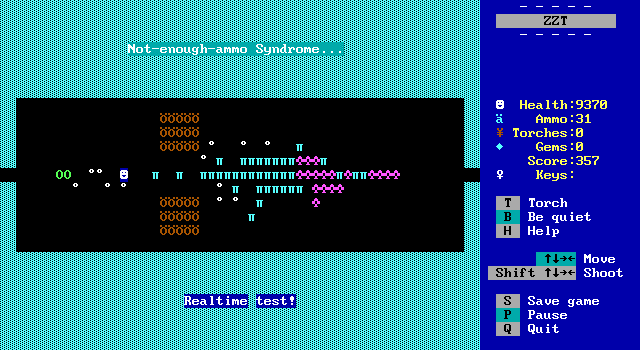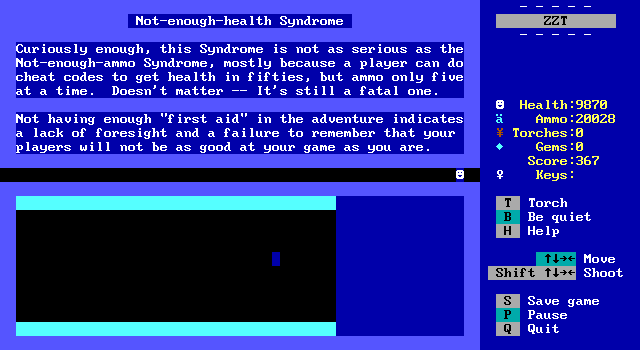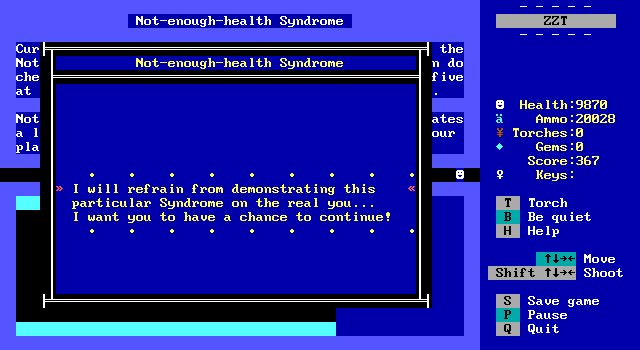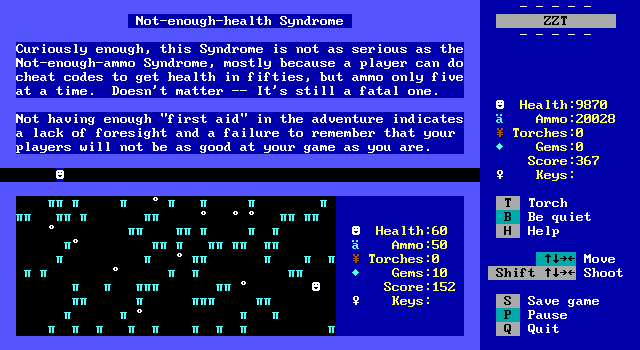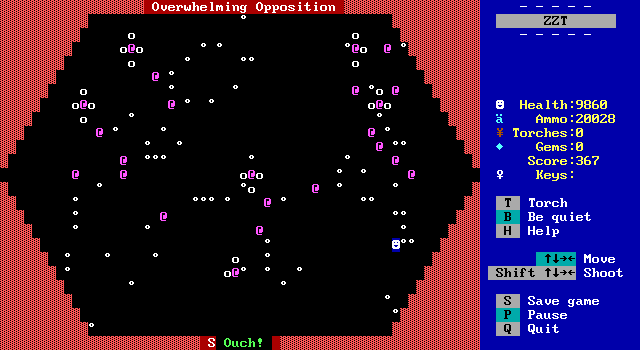 Overwhelming-opposition Syndrome
• • • • • • • • •
Well, I think the point is made.
This is Overwhelming-opposition Syndrome.
It is nasty. It only takes one screen of
this to completely kill your adventure.
Overwhelming Op is usually too many bad
guys that are way too strong, usually
combined with duplicators and/or stars.
Also, the enemy in this Syndrome are
nearly always objects (which cannot be
shot at point blank range as the normal
critters can).
This means that in no time the player is
swarmed with enemies that cannot be gotten
rid of. Which means "End of Game".
Speaking of which, let's clear this swarm.
I hope the explanation is clear enough.
This syndrome does not happen as often as
some others, but when it does it is
perhaps the most serious and the most
damaging to your otherwise good adventure.
• • • • • • • • •
Too-many-stars Syndrome
• • • • • • • • •
This is a good example of how just a few
star shooting badguys who are shooting
fairly slowly can become an impossible
obstacle.
Stars are WAY too potent for your own good
(and yes, I meant to say it that way).
They not only cannot be gotten rid of,
they cannot be shot past. This means
that they are not only a great danger to
the player, they are also an impenetrable
obstacle -- blocking the player from
destroying their source.
A handful of star-making critters is
already too many.
A ZZT designer MUST be EXCESSIVELY
reserved in putting stars in his game.
If you put too many in (which is not
many at all), players will abandon your
game.
For a good example of how many stars is
plenty, play Tim Sweeney's "Town of ZZT"
and observe how many stars you see.
• • • • • • • • •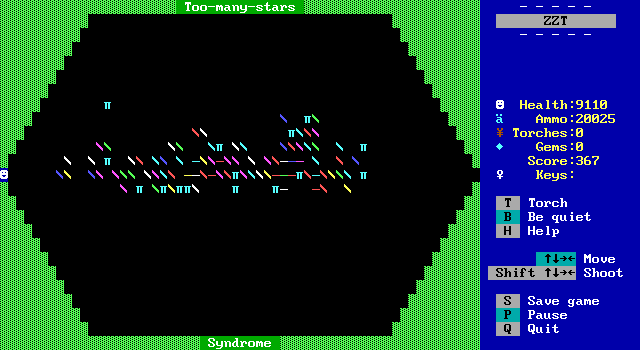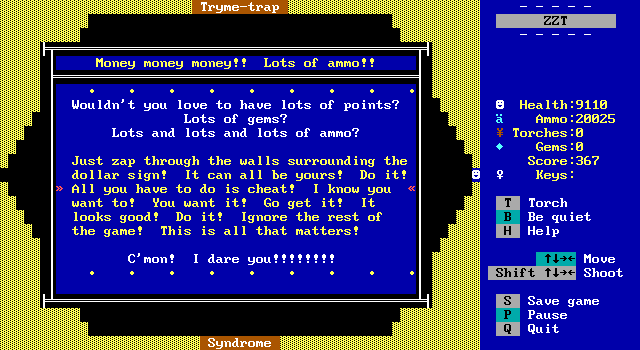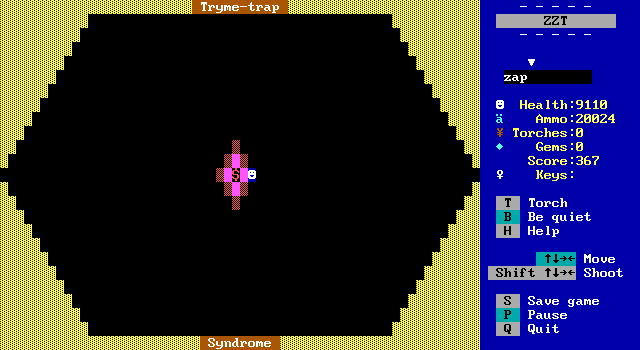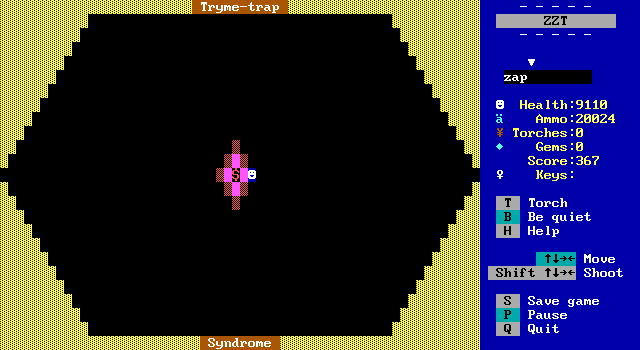 Money money money!! Lots of ammo!!
• • • • • • • • •
...And then, as soon as you touch it, it
kills you. For no good reason.
(Ignore the message at the bottom of the
screen. That's just there for effect.)
Does this really happen? People don't
>really< do things this dumb, do they?
They do.
But when they do, it usually kills peoples
desire to play the rest of the game. Hence
this is a fatal Syndrome.
Beware the temptation of the TryMe Trap:
If you've got security forces on the set,
let them do their jobs in silence. Let
the cheaters really be surprised.
• • • • • • • • •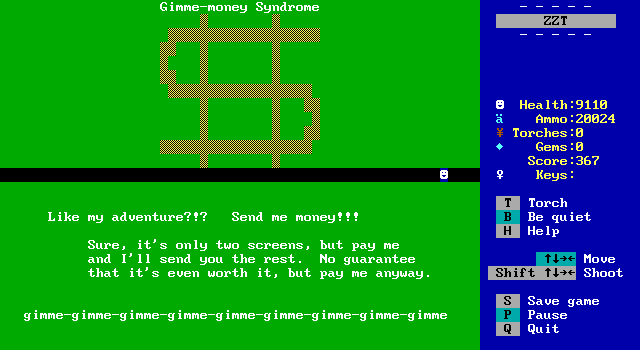 Gimme-money Syndrome
• • • • • • • • •
This is not necessarily a fatal syndrome
every time. It's not necessarily a fatal
syndrome at all. In cases where your
adventure is of professional quality and
professional caliber, it's not even a
Syndrome.
(Example of a ZZT adventure
of professional caliber:
Mission:Enigma by Alexis Janson)
HOWEVER...
When your adventures are full of errors,
Syndromes and other problems, or when the
adventure is JUST PLAIN POORLY MADE, then
you're looking at a case of Gimme-money
Syndrome.
A designer makes one or two screens, calls
it a promotional demo, publishes a ZZT
"magazine" to push the game, then expects
people to send five dollars to get the
full episode.
Most people will not fall for this scam.
(Thankfully.)
A bad adventure can be identified by just
one or two screens.
It can, however, keep people away from any
ZZT adventure with that designer's name on
it. The players learn fast what's worth
downloading and what's sure to be another
G.I.G.O. promo.
GIGO = Garbage in, garbage out.
• • • • • • • • •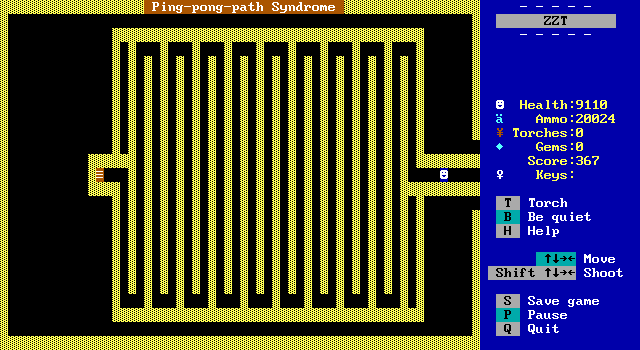 The dreaded Ping-pong-path!
• • • • • • • • •
This one is just nasty.
Ping-pong-path Syndrome is one of the few
Syndromes that becomes a Syndrome with
only one incident. It is the ONLY Fatal
Syndrome that is fatal to the adventure
for a reason other than making the game
nearly impossible (aside from the somewhat
rare TryMe Trap and the utterly ridiculous
Gimme-money Syndrome).
That other reason is simply this:
EXTREME irritation.
Yep, that's right. A ping-pong path will
dissuade players from finishing your game
AND from downloading any more of your
adventures simply because it is so tedious
to navigate. There is no brainwork
involved here -- simply busywork and time-
wasting.
At some time during the making of some ZZT
game, every ZZT designer is tempted (at
least once) to put one of these in.
Don't give in.
Just say "no."
Go ahead and try this one...
• • • • • • • • •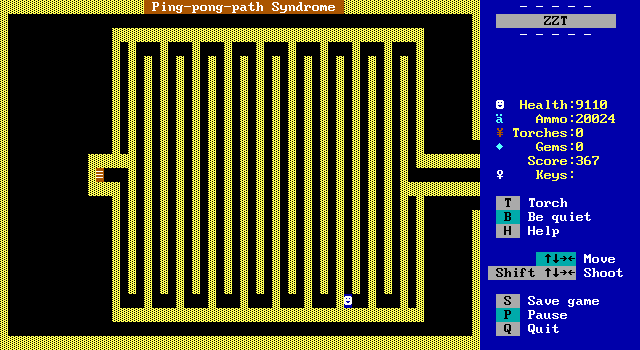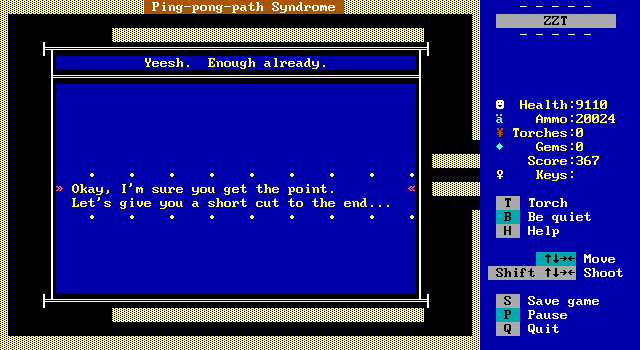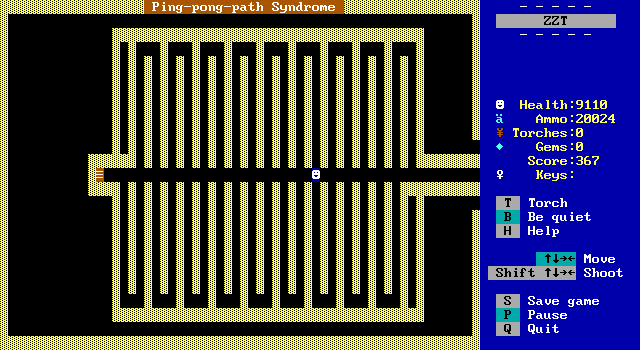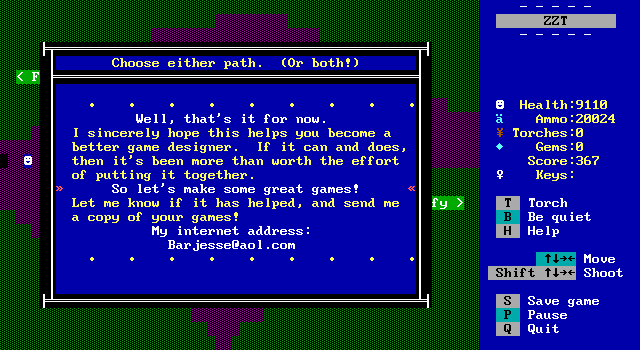 Final Thoughts
ZZT Syndromes became an iconic world, required reading for anybody who wanted to make ZZT worlds. It left an impact on the community by providing quite solid guidelines to consider when making a ZZT game. Barjesse managed to successfully explain common flaws and not come off as disparaging. In a community that was frequently hostile towards those whose games were subpar, I'm glad Barjesse was genuinely interested in some constructive criticism.
To the readers here, the vast majority of the game is pretty obvious. Make sure the player has ammo and health. Don't just pile enemies up without any thought to how the player will fight them. Double-check your spelling. It isn't anything groundbreaking, but it was something a lot of people needed to be told. It's easy to recognize good design 22 years after the release of Syndromes, but for the countless elementary school aged programmers, this was gospel.
Take a look at any old bad ZZT game and just count the syndromes. The idea that board geometry could be important or that maybe a house didn't need to fill the entire screen was a radical idea for a lot of younger folks. The idea that the player's time was valuable and limited goes overlooked in a lot of poorly made ZZT worlds. Sticking to the advice given here to the letter isn't a recipe for success, but it can do quite a lot to mitigate disaster.
Barjesse's positive intentions also shouldn't be understated. An interview with Barjesse in a KerSoft ZZT magazine discusses the inspiration for the game which Barjesse makes very clear that he wanted to encourage newer ZZTers and provide them with solutions to poor design:
I chose to make ZZT Syndromes because it was desperately needed. Many were (and still are) simply insulting or making fun of "newbies" and other poor designers. I didn't like that approach. I wanted to help. So came ZZT Syndromes. It was a positive approach, not just saying "don't do that!" but instead saying "try this instead."
Barjesse's advice continues to be worth taking to this day both within ZZT and outside of it. So be wary of stars, #give resources generously, and think twice before making that ping-pong-path.

======

A Worlds of ZZT Production

======

The Worlds of ZZT project is committed to the preservation of ZZT and its history.

This article was produced thanks to supporters on Patreon.

Support Worlds of ZZT on Patreon!

(Thanks to Asie for discovering the Kersoft Barjesse interview)