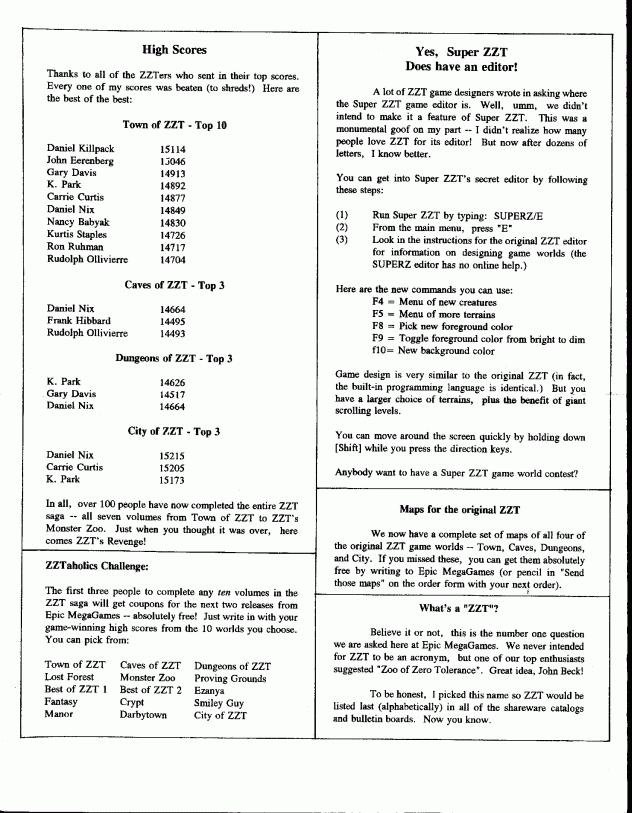 Transcription (by xabbot)

		High Scores
Thanks to all of the ZZTers who sent in thier top scores.
Every one of my scores was beaten (to shreds!) Here are
the best of the best:

		Town of ZZT - Top 10
Daniel Killpack		15114
John Erenberg		15046
Gary Davis		14913
K. Park			14892
Carrie Curtis		14877
Daniel Nix		14849
Nancy Babyak		14830
Kurtis Staples		14726
Ron Ruhman		14717
Rudolph Ollivierre	14704

		Caves of ZZT - Top 3
Daniel Nix		14664
Frank Hibbard		14495
Rudolph Ollivierre	14493

		Dungeons of ZZT - Top 3
K. Park			14626
Gary Davis		14517
Daniel Nix		14664

		City of ZZT - Top 3
Daniel Nix		15215
Carrie Curtis		15205
K. Park			15173

In all, over 100 people hove now completed the entire ZZT
saga -- all seven volumes from Town of ZZT to ZZT's
Monster Zoo. Just when you thought it was over, here
comes ZZT's Revenge!
__________
ZZTaholics Challenge:
The first three people to complete any ten ten volumes in the
ZZT saga will get coupons for next two releases from
Epic MegaGames -- absolutely free! Just write in with your
game-winning high scores from the 10 worlds you choose.
You can pick from:

Town of ZZT	Caves of ZZT	Dungeons of ZZT
Lost Forest	Monster Zoo	Proving Grounds
Best of ZZT 1	Best of ZZT 2	Ezanya
Fantasy		Crypt		Smiley Guy
Manor		Darbytown	City of ZZT

-- page 2 --
	   Yes, Super ZZT
	Does have an editor!

	A lot of ZZT game designers wrote in asking where
the Super ZZT game editor is. Well, umm, we didn't
intend to make it a feature of Super ZZT. This was a
monumental goof on my part -- I didn't realize how many
people love ZZT for its editor! But now after dozens of
letters, I know better.

You can get into Super ZZT's secret editor by following
these steps:

(1)	Run Super ZZT by typing: SUPERZ/E
(2)	Front the main menu, press "E"
(3)	Look in the instructions for the original ZZT editor
	for information  on designing game worlds (the
	SUPERZ editor has no online help.)

Here are the new commands you can use:
	F4 = Menu of new creatures
	F5 = menu of more terrains
	F8 = Pick new foreground color
	F9 = Toggle foreground color from bright to dim
	f10= New background color

Game design is very similar to the original ZZT (in fact,
the built-in programming language is identical.) But you
have a larger choice of terrains, plus the benefit of giant
scrolling levels.

You can move around the screen quickly by holding down
[Shift] while you press the direction keys.

Anybody want to have a Super ZZT game world contest?
____________________________________________________
		Maps for the original ZZT
	We now have a complete set of maps of all four of
the original ZZT game worlds - Town, Caves, Dungeons,
and City. If you missed these, you can get them absolutely
free by writing of Epic MegaGames (or pencil in "Send
those maps" on the order form with your next order).
____________________________________________________
		What's a "ZZT"?
	Believe it or not, this is the number one question
we are asked here at Epic MegaGames. We never intended
for ZZT to be an acronym, but one of our top enthusiasts
suggested "Zoo of Zero Tolerance". Great idea, John Beck!

    To be honest, I picked this name so ZZT would be
listed last (alphabetically) in all of the shareware catalogs
and bulletin boards. Now you know.