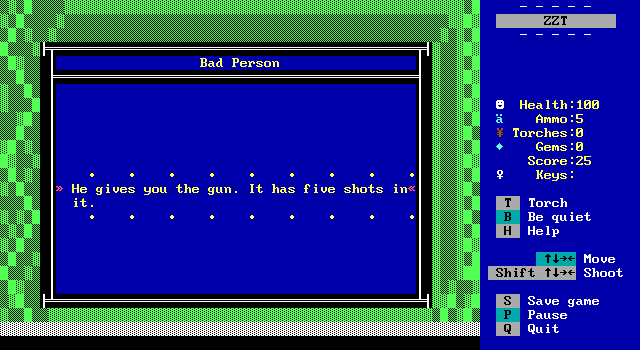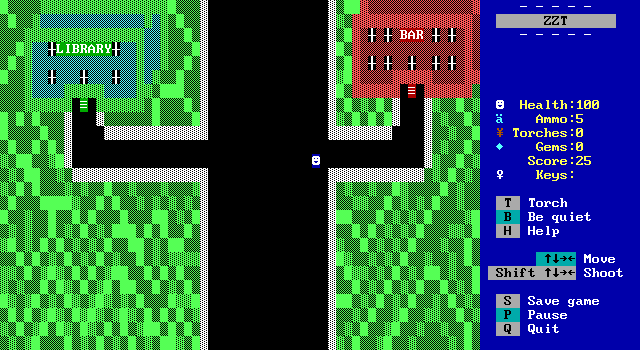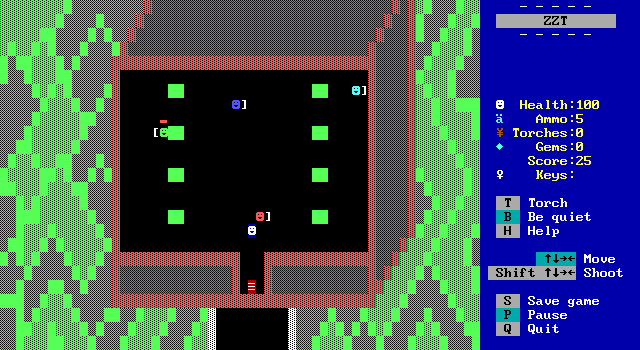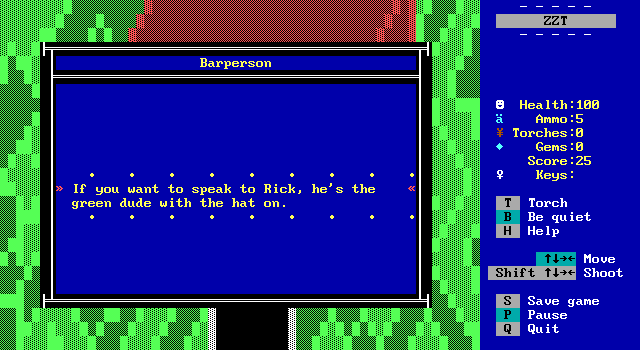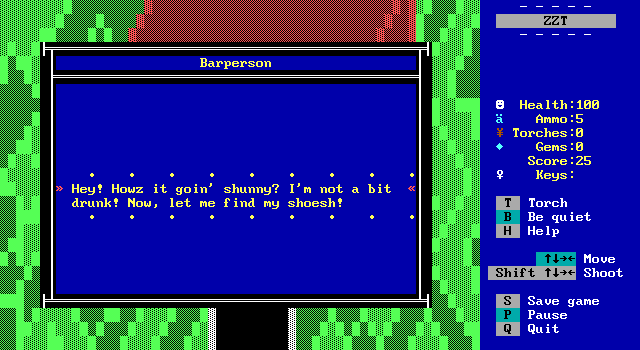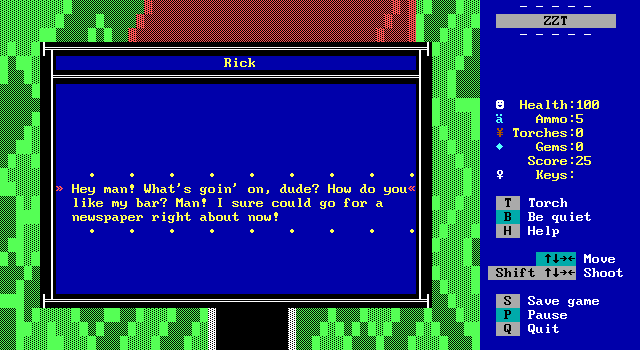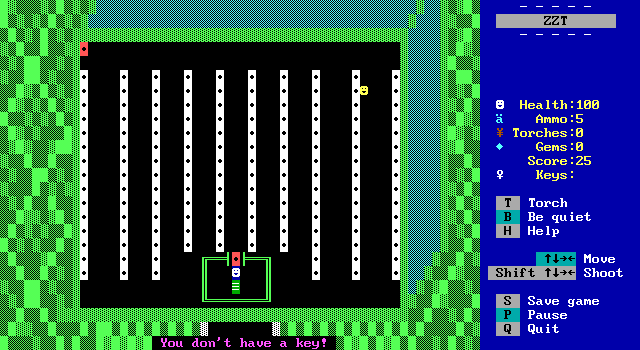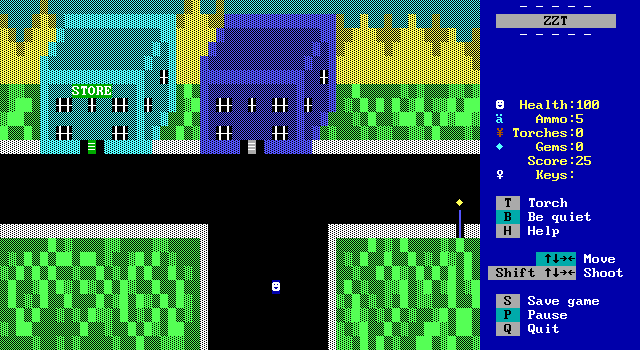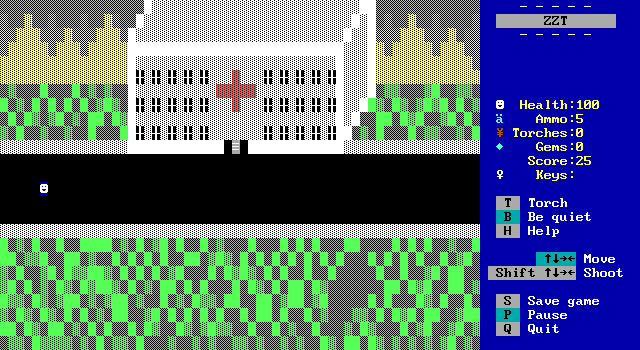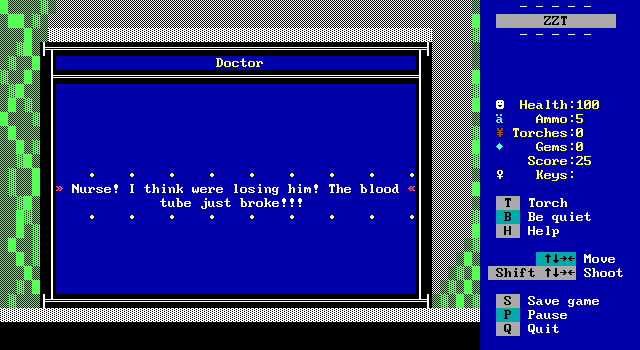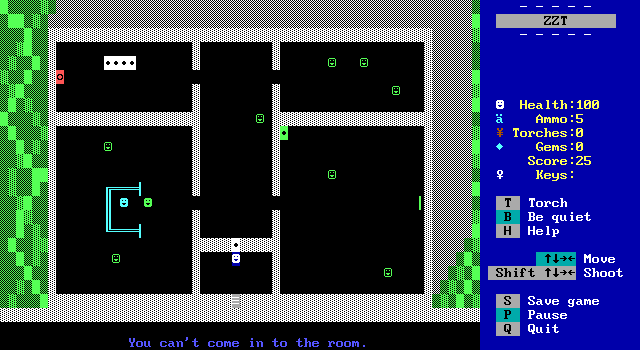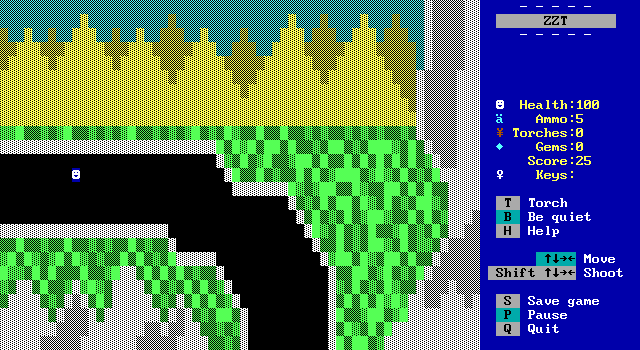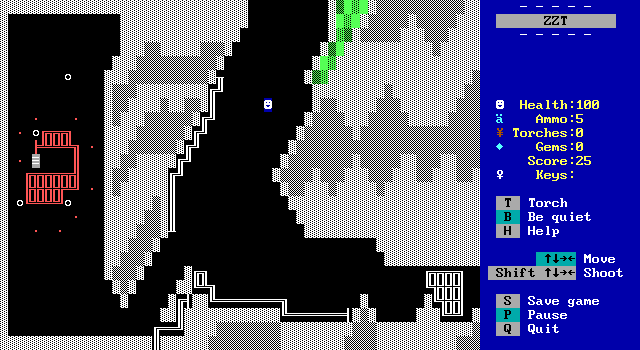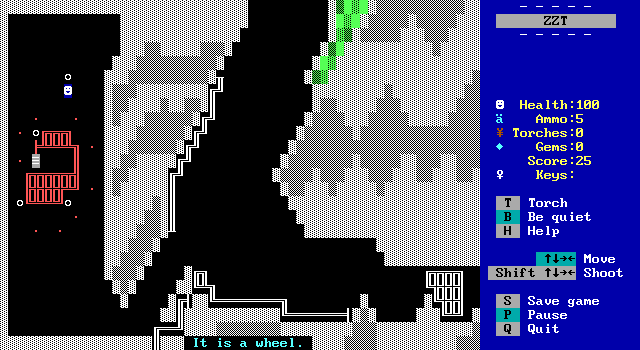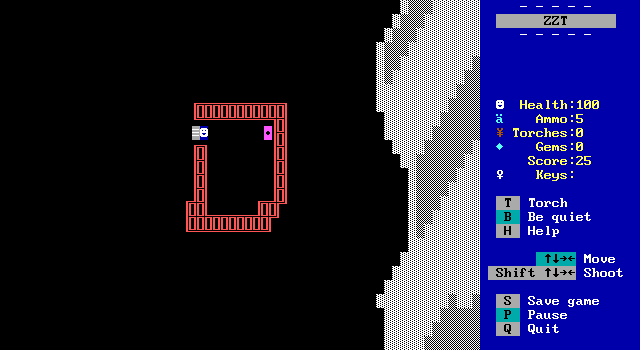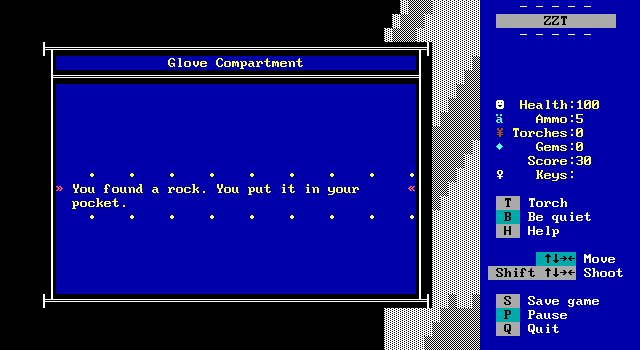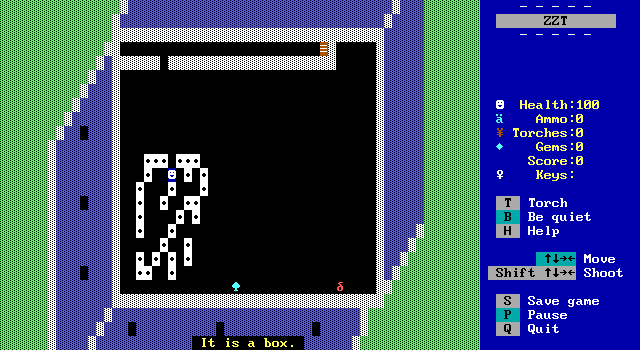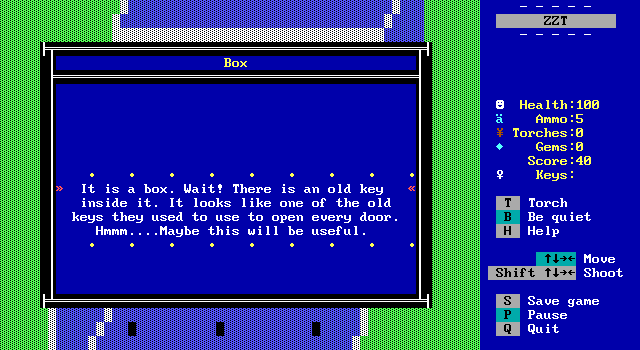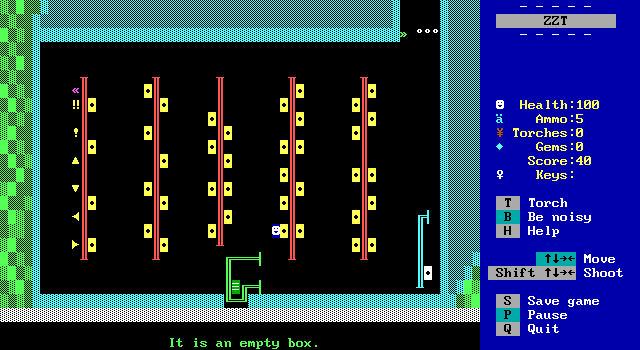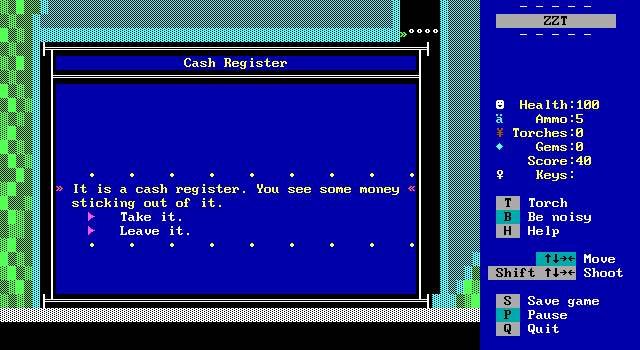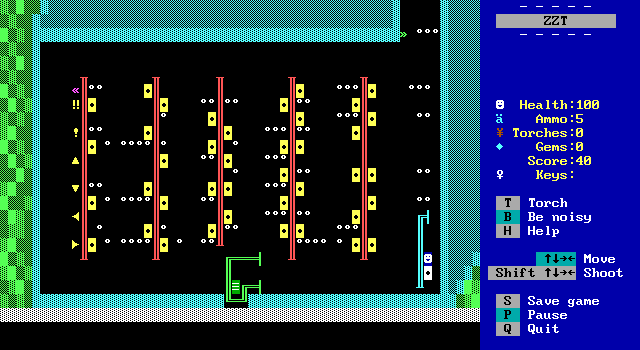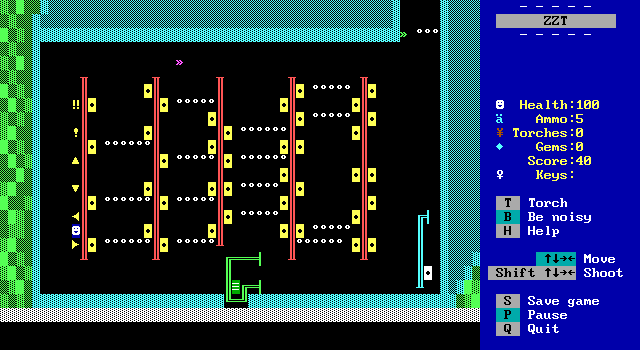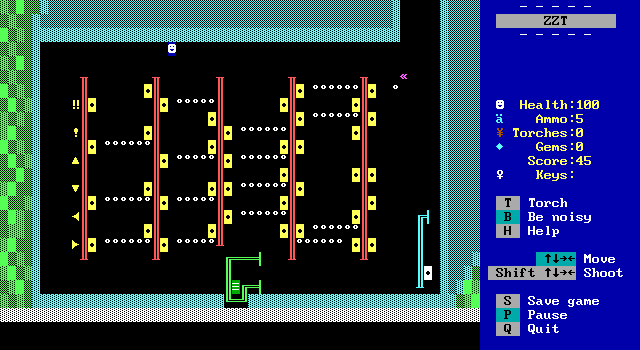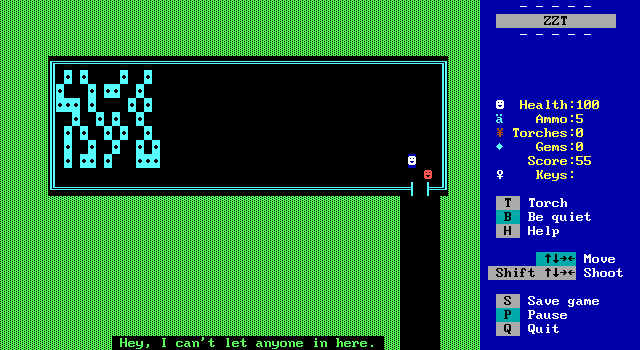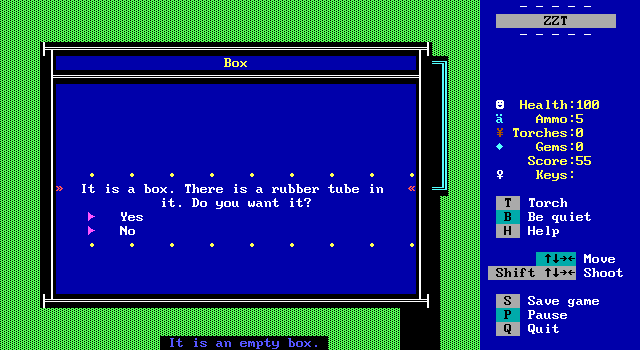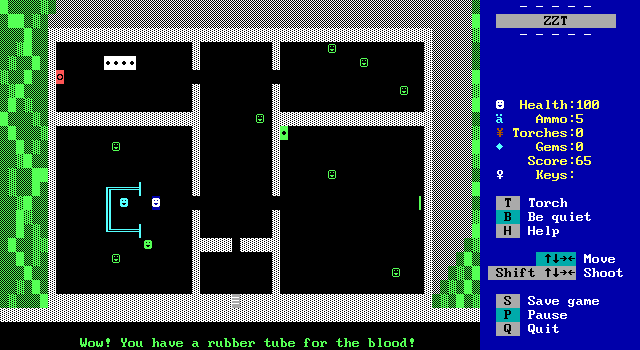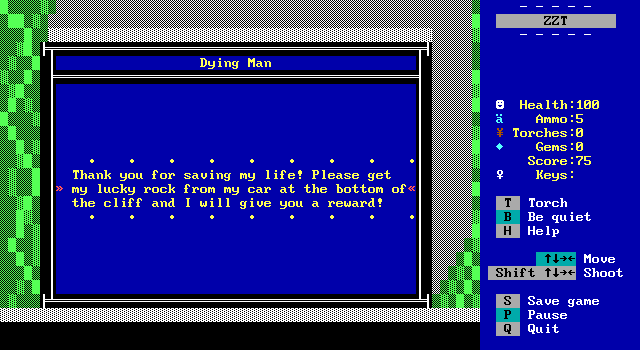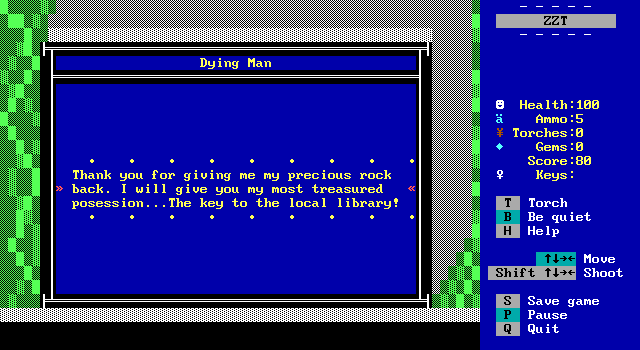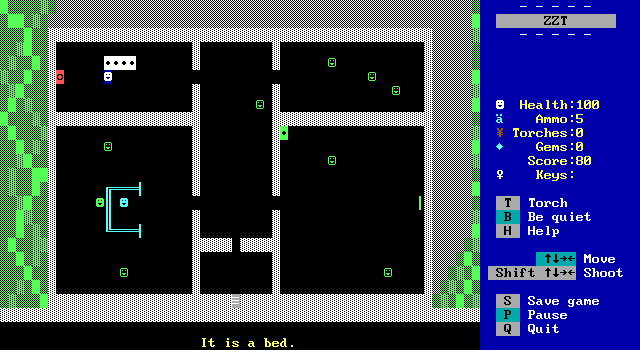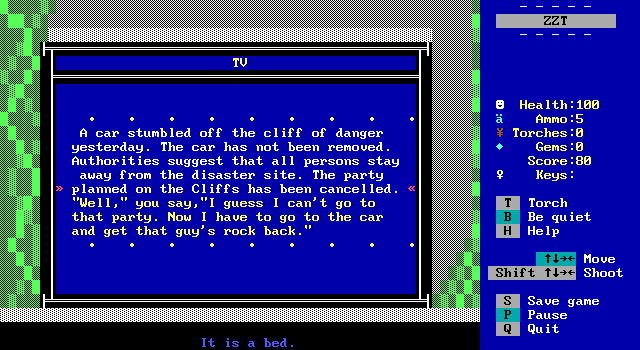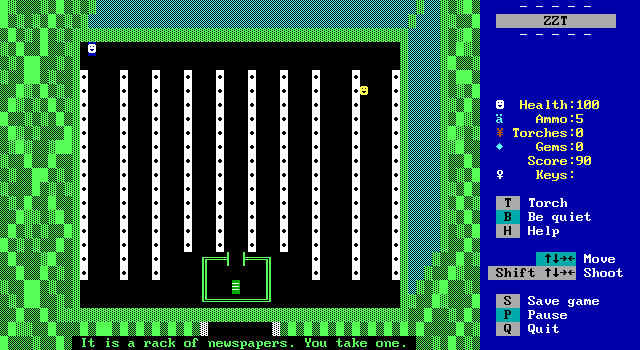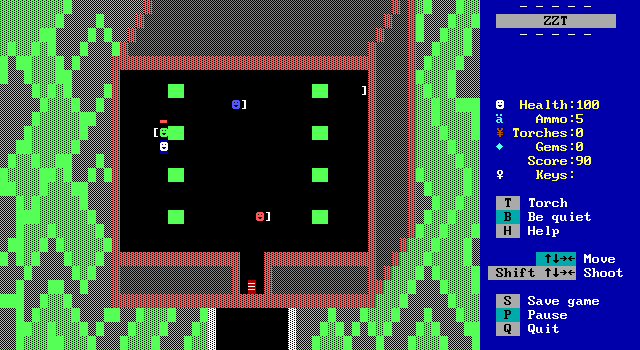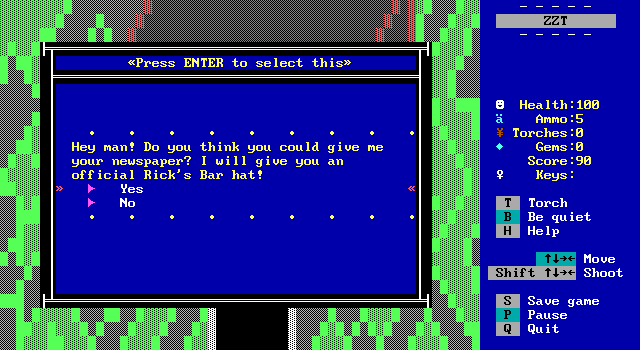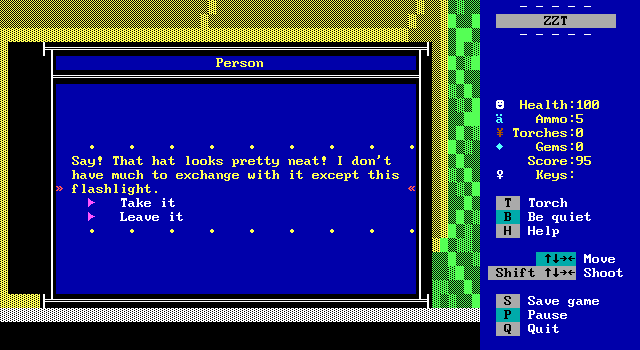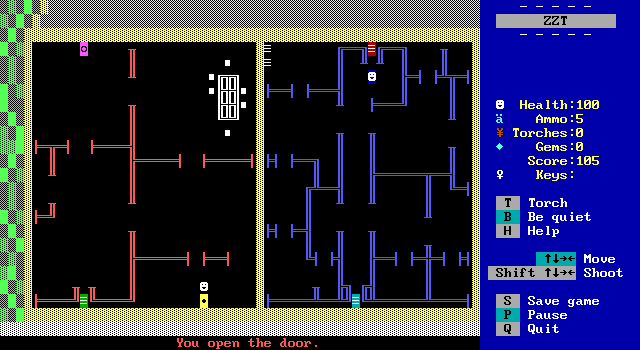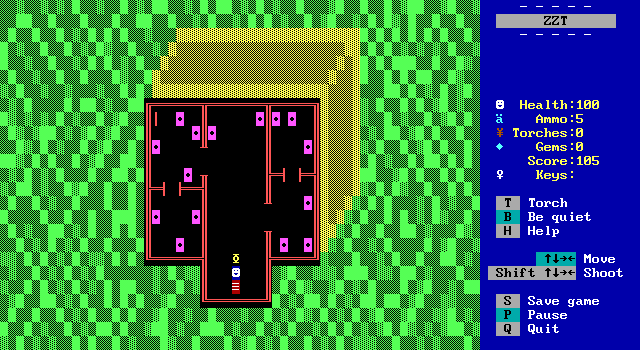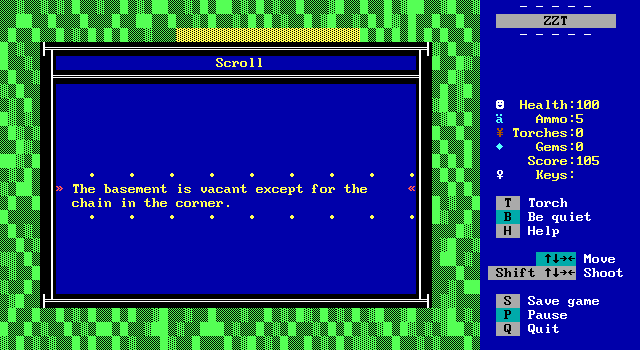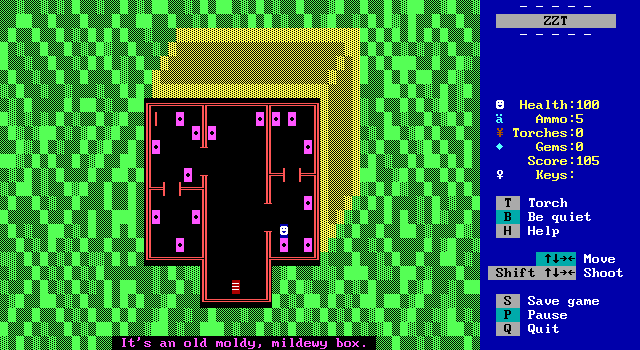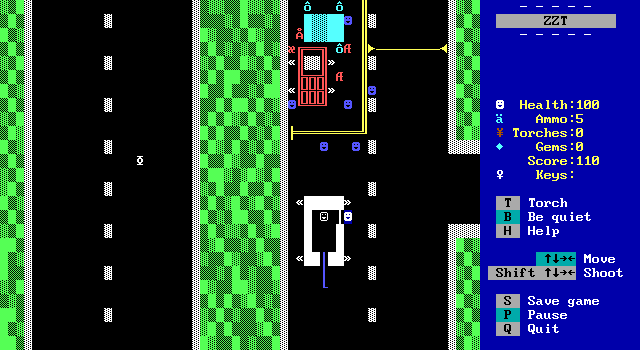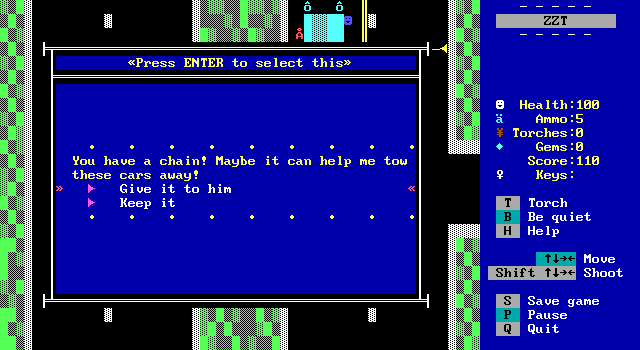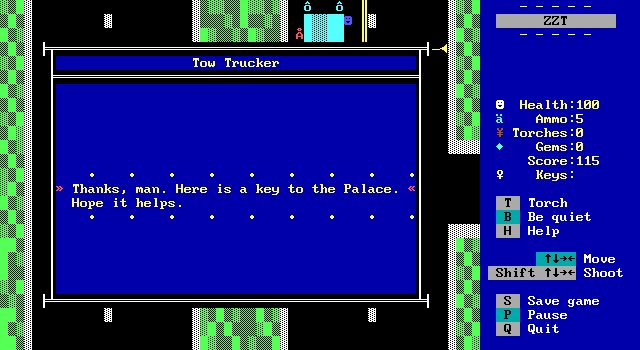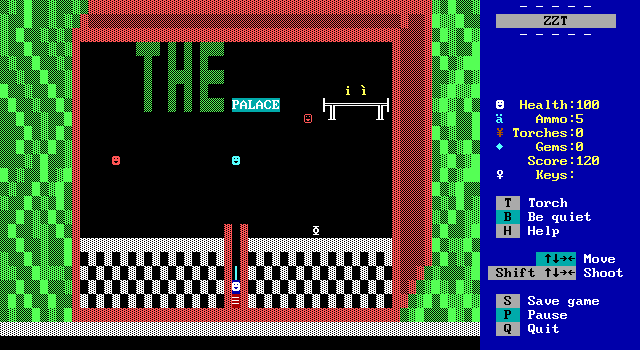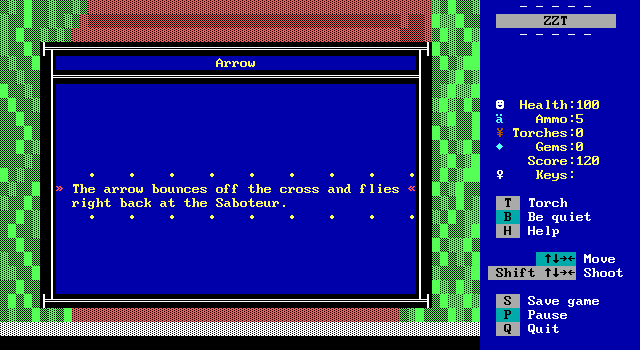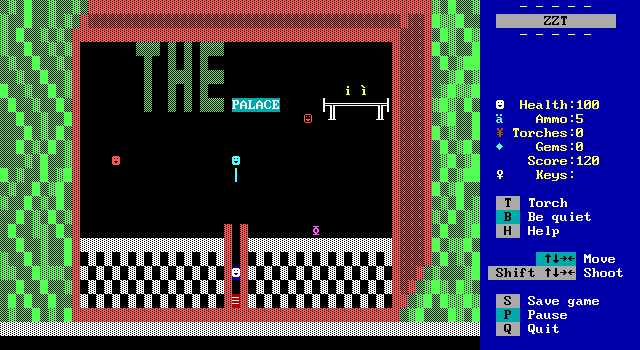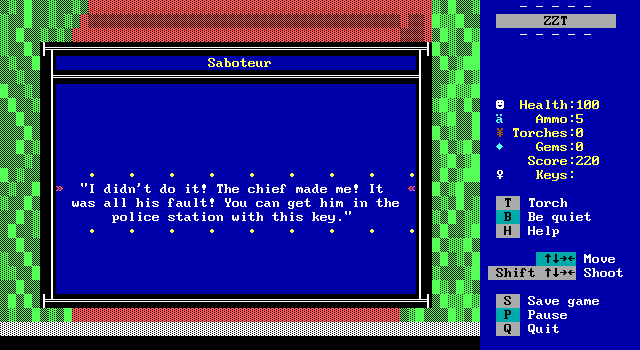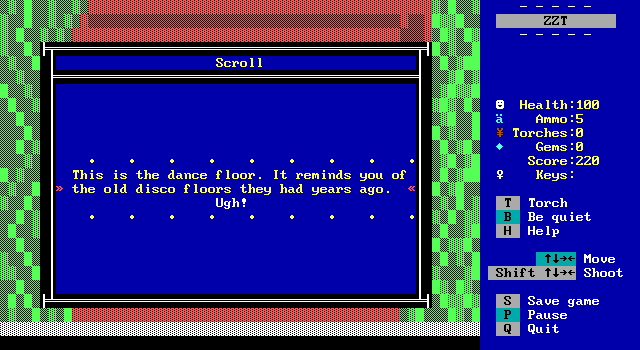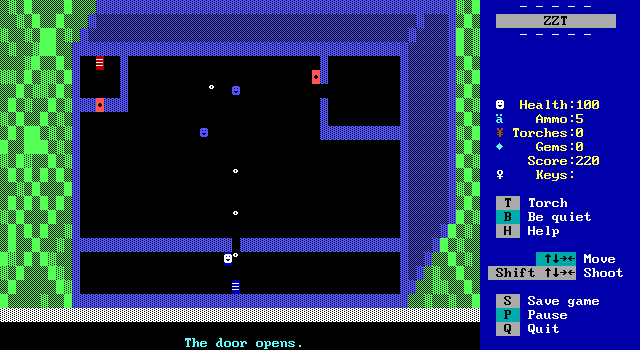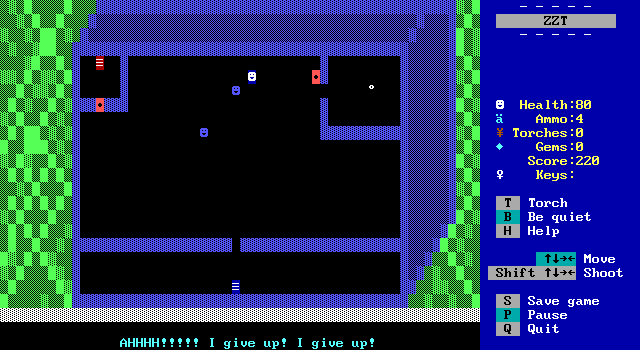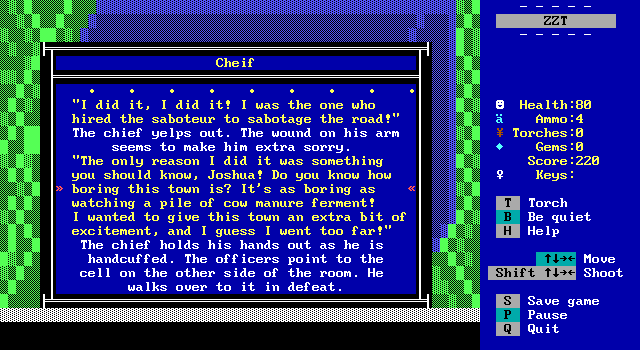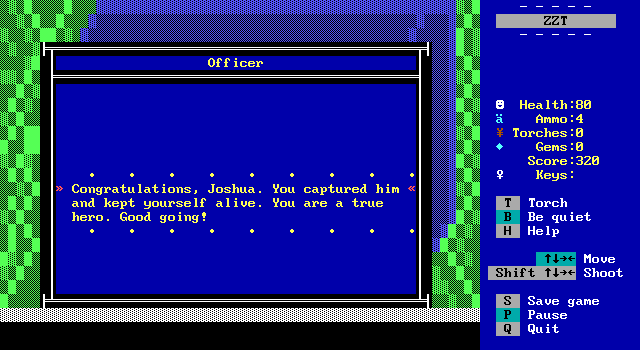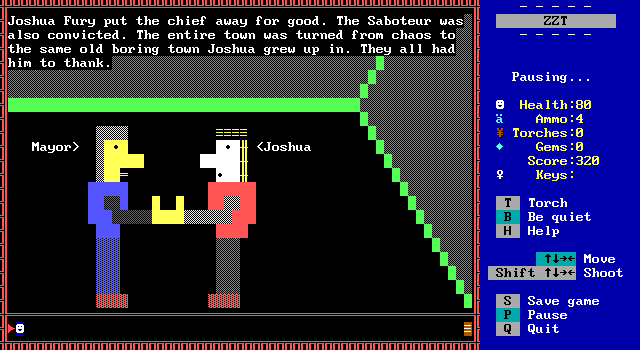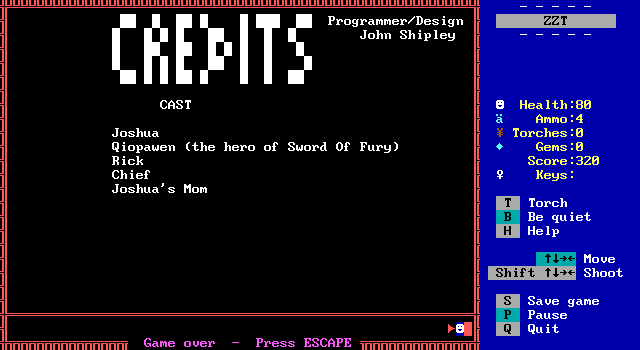 Final Thoughts
To me at least, The Cliff wound up being a pretty important game. Not so much on its own, but Shipley's works in ZZT in general. It's very emblematic of what ZZT is. Something more than abstract action and puzzles you'd see in the original worlds, but nothing so complex as ZZT worlds made in the 2000s. This game feels so familiar and would serve as a great introduction as to the kinds of worlds people made with ZZT.
The game is very safe, with very few instances where Joshua can be harmed, and even fewer instances where he needs to inflict some harm himself. It captures that early ZZT charm of bright skies and fields, stories which are more complex in the author's mind, and as a good example of what a young programmer could accomplish when given the tools to make their own game.
Shipley isn't brilliant. This game suffers from hidden objects and a whole lot of nothing happening. The mystery that inspires everything doesn't develop in a meaningful way until the hospital and then once more with meeting the saboteur and getting into the police station. Yet there's nothing wrong with it. It was fun to run around town and see what strange people Joshua would meet next. The art is cohesive and there's clear promise here. The one downside to Josh's games having these 1997 updates is that it's tougher to piece together their actual order of release, but this game absolutely left me wanting more. Right now I've streamed Caves of Fury and announced plans to stream Final Quest of Fury. Something about his games really clicks with me and I really want to go through all of them.
This isn't the first time I've leaned heavily on an author. Commodore has had five of his titles either streamed or written about, and Zenith Nadir has had four, but both over several years. Shipley here is getting three in a row. What's different about him is that he was a pleasant surprise. I know the level of quality to expect from ZZT greats like Nadir and Commodore, but there's nothing on Shipley. The history of ZZT seems to have passed him by. The Worlds of ZZT project is all about sharing these games with people who haven't seen them, and it's been great to get that feeling of discovering something special for myself this time.
The Cliff doesn't really excel at anything, and if you've made it through this article there's not much of a point to playing it yourself, but Shipley is the real star here demonstrating a solid grasp of design (with some small exceptions) at a young age. This is from an era of ZZT that has its fun worlds, but often turns into shooting a hundred lions on every other board. This game goes beyond expectation for both what I expect from a ZZT game made in 1992 and from a ZZT game made by a young game maker. From what I've seen of Shipley's other works so far, I think that he's author whose works are definitely worth checking out for yourself before I get to them.
======
A Worlds of ZZT Production
======
The Worlds of ZZT project is committed to the preservation of ZZT and its history.
This article was produced thanks to supporters on Patreon.
Support Worlds of ZZT on Patreon!