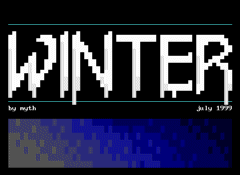 Myth had an idea, detailed thoroughly in the TXT file, to create a game based solely on atmosphere, with minimal text and no dialogue. The resulting game is like nothing before, or anything since.
From the TXT file: '...winter is a game based on atmosphere, instinct and intelligence. In some ways (whether good or bad), winter takes these tenets to an extreme...The result of this is that most puzzles must be figured out through other means -- through sight, sound, and intuition.'
Winter could technically be considered a 'trippy' game. However it surpasses the usual weird fare and instead concentrates on creating a complex world that makes sense in its own way. Indeed the world created seems intimidating, but I've yet to find a way to die, and many puzzles can be attempted multiple times without the need to restore and start over. Colours are used with great skill, defining each section of the game brilliantly. Interactions with objects are illustrated rather than described, and several times you need to use auditory clues to solve problems. The three sections that revolve around the Ice Palace can be played in any order, and the final puzzle at the end ties the entire game up wonderfully.
The story is minimal, and appropriately so. You're in school, you start to day dream, and you find yourself standing in front of a large palace. Your goal, as stated, is to 'delve deeper', however you soon find your task revolves around recovering three purple keys which you obtain after the completion of each area. Immediately the palace confuses you. Soon however, its inner working become clear and understandable. Understanding the palace soon gives you access to the different worlds, and the journey continues. The three worlds, as titled in the editor are: The Underground Forest, The Night Mesa, and The Mechanical Caverns.
Each section seems meticulously planned out, with a wide variety of puzzles that never makes you think the same way twice. The forest has a variety of key puzzles combined with a puzzle that utilises board linking. The caverns has a new twist on the standard teleporter puzzle and a need logic puzzle. The mesa has a well designed (and tough!) bomb puzzle. Also, in the palace, is a nice, albeit easy, slider puzzle that involves touching an object that shifts the orientation of the sliders.
Without much of a story, you could say that this is a puzzle game that keeps you playing though atmosphere rather than plot development. The rather ambiguous ending is expected and leaves you cringing for a sequel, however I don't think a sequel was ever planned. The idea that the main character has even more of this insanity left to figure out though, makes it seem like the world created is endless, rather than contained to the palace and its domains. Being thick in atmosphere is one thing, another is to keep it varied. Winter does this well. It's as thematically varied as A Dwarvish Mead Dream and keeps the same fresh pace without long sections of fighting. And of course the music is excellent, as it should be. A game like this with poor or no music would just not have the same effect.
Winter is a great game for puzzle fans of all types. Only a few puzzles are daunting and all of them are original in some way. There are small puzzles, and large, multiple board puzzles. Even with the amount of puzzles in the game, there is still a great feeling of exploration and discovery, something that lacks in a lot of puzzle oriented games. Overall a masterpiece of originality that should be played by anyone looking to see how atmosphere can be achieved in ZZT.
If you enjoy Winter, I suggest playing myth's 24hozzt game, Nightplanet.