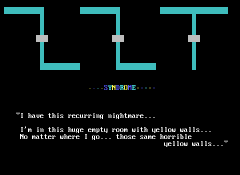 First things first; this isn't a game as such. This is a tutorial outlining things any aspiring ZZT programmer should avoid. As the name implies, ZZT Syndromes is a parade of those horrible, horrible afflictions common to ZZT games at the, erm, "less professional" end of the spectrum. Barjesse obviously believes in the idea of learning through example, so he proceeds to put the player through that which must not be.
The file itself, following the (literally) flashy introduction screen, is split into two parts, characterised by a fork in a path. One road leads the observer to bear witness to Syndromes deemed "Fatal" while the other leads to those pertaining to the label "Goofy". The difference between these two is a simple one- Fatal Syndromes are those that will, more often than not, cause a player to delete the game out of frustration, while Goofy Syndromes are that which renders a game, while not unplayable, rather annoying to progress through. Yes, you too can witness firsthand the horror of the "Not Enough Health" Syndrome! The annoyance of the "Broken Board Link Syndrome"! The tedium of the "Ping-Pong Path Syndrome" and the downright stupidity of the "Poor Man With A Big Dog Syndrome"! All and so much more are contained herein for your personal delection, you lucky kid. Lucky, lucky child.
If the above seem similar to the stuff from Wong Chung Bang's "ZZT Crime", that's because ZZT Crime is basically Syndromes with a few bits added and changed. Play that as well, there's no reason why you shouldn't; but I recommend playing this first simply for chronological order (Syndromes was made in 1996 or thereabouts, while Crime is dated c. 2000.).
All this, and it has a guy who just says "Hi!"
Also recommended;
ZZT Crime (Wong Chung Bang)
ZZT Help (Matt Williams)
Semi-Cool Things You Can Do With ZZT (Dudeworks)
ZZT Encyclopaedia (Chronos30)