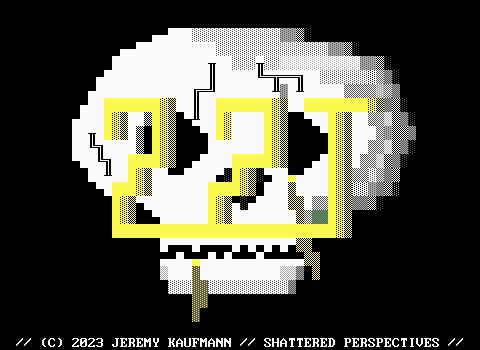 Is it bad on purpose or good on accident? You'll never know unless you play it! CONTENT WARNING: Swearing and text character on text character violence, possibly some anti-capitalist stuff! It was made for Oktrollberfest 2023. It's a troll game. Writing, Art, Music, Coding: Jeremy W. Kaufmann Win Screen Art: Laura Randolph Pig Sprite: Emily Kaufmann Tools: Zeta, Zima, OpenZoo by Asie, Zedit2 by Lancer-X, Weave by WiL, ZZT by Tim Sweeney. If you are having problems with the installer running, you can try downloading the Microsoft Visual C++ Redistributable from Microsoft's website. I think I have all the necessary .DLLs included in the zip file, however.
Zeta
Audio formats are not yet supported
Video formats are not yet supported
ZZTORT-x64.ZIP
World
Board
Element
Stats
Prefs.
?
Overview
concrt140d.dll
INSTALL.EXE
IZZT.CHR
IZZT.DAT
IZZT.INF
IZZT.PAL
mfc42.dll
mfc42u.dll
MFCaptureEngine.dll
mfcm140d.dll
msvcp140.dll
msvcp_win.dll
ucrtbased.dll
vcamp140.dll
vccorlib140d.dll
vcomp140.dll
vcruntime140.dll
vcruntime140_1d.dll
Filename
Mod. Date
Comp.
Dir.
CRC-32
Compressed Size
Decompressed Size
concrt140d.dll
2021-12-10
21:19:08
8
N
1041509836
218.7 KB
713.4 KB
INSTALL.EXE
2023-11-06
10:46:30
8
N
1676489803
48.7 KB
162.0 KB
IZZT.CHR
2023-11-05
20:52:52
8
N
1943928072
1.0 MB
1.0 MB
IZZT.DAT
2023-11-05
20:53:34
8
N
2372028931
1.0 MB
1.0 MB
IZZT.INF
2023-11-05
20:51:48
8
N
2737350211
855.8 KB
858.6 KB
IZZT.PAL
2023-11-05
20:51:26
8
N
1171237571
1.1 MB
1.1 MB
mfc42.dll
2023-10-10
23:26:26
8
N
1474949789
549.6 KB
1.4 MB
mfc42u.dll
2023-10-10
23:26:26
8
N
756768710
560.1 KB
1.4 MB
MFCaptureEngine.dll
2023-10-10
23:28:14
8
N
4035476152
310.0 KB
661.8 KB
mfcm140d.dll
2021-12-10
21:19:04
8
N
4185964633
44.9 KB
108.4 KB
msvcp140.dll
2021-07-27
08:54:04
8
N
3714307743
172.3 KB
552.4 KB
msvcp_win.dll
2023-10-10
23:25:44
8
N
2983478246
210.4 KB
621.0 KB
ucrtbased.dll
2021-09-11
19:05:24
8
N
1025266366
623.6 KB
2.1 MB
vcamp140.dll
2023-05-10
06:01:20
8
N
2556829840
175.6 KB
404.4 KB
vccorlib140d.dll
2021-12-10
21:19:00
8
N
272657811
288.1 KB
1.4 MB
vcomp140.dll
2023-05-10
06:01:22
8
N
2672887298
91.9 KB
187.4 KB
vcruntime140.dll
2021-07-27
08:54:24
8
N
4095797784
49.0 KB
94.9 KB
vcruntime140_1d.dll
2021-12-10
21:19:00
8
N
3684973143
22.4 KB
52.9 KB
File Navigation (with a file selected)
Shift + +/J: Next file
Shift + -/K: Previous file
Board Navigation
+/J: Next board
-/K: Previous board
Numpad 2/4/6/8: Follow board connection
Double click on a passage () to travel to its destination
Tab Hotkeys
W - World tab
B - Board tab
E - Element tab
S - Stat tab
P - Preferences tab
Misc
Shift + B - Toggle high intensity backgrounds (blinking)