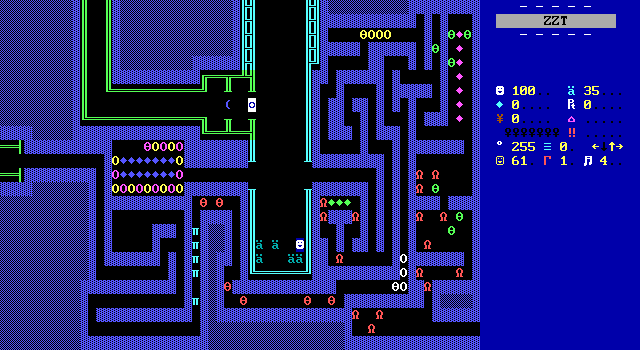 A drop in replacement for ZZT v3.2 with an alternative HUD displaying information on things like board exits, stat counts, and more. SolidHUD also makes some gameplay changes to alleviate minor frustrations with ZZT since as quieting down bullet spam, new cheats, and preventing message windows from being closed by shooting.
Zeta
Audio formats are not yet supported
Video formats are not yet supported
solidhud-v5.zip
World
Board
Element
Stats
Prefs.
?
Overview
SOLDHUD.MD
SOLID.EXE
Filename
Mod. Date
Comp.
Dir.
CRC-32
Compressed Size
Decompressed Size
SOLDHUD.MD
2021-09-19
10:16:46
8
N
3666423060
2.5 KB
5.5 KB
SOLID.EXE
2021-09-19
10:06:52
8
N
3149270008
46.2 KB
47.5 KB
File Navigation (with a file selected)
Shift + +/J: Next file
Shift + -/K: Previous file
Board Navigation
+/J: Next board
-/K: Previous board
Numpad 2/4/6/8: Follow board connection
Double click on a passage () to travel to its destination
Tab Hotkeys
W - World tab
B - Board tab
E - Element tab
S - Stat tab
P - Preferences tab
Misc
Shift + B - Toggle high intensity backgrounds (blinking)