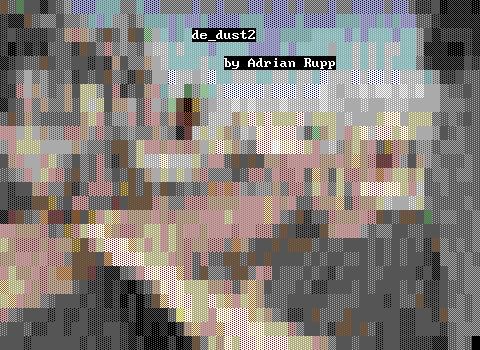 Attempt to transcribe the map de_dust2 from the game Counter-Strike: Global Offensive to the game ZZT. You play as a terrorist who needs to explode a bomb in the A or B location to win. Touching a highlighted wall at one of these two points a bomb appears and touching the bomb it is armed. This game is not very system intensive and probably even runs on a PC-XT. Issues: The body of enemy bots can block the path and require the player to use another path. I don't have advanced knowledge of game creation so it would certainly be possible to make a better version.
Zeta
Audio formats are not yet supported
Video formats are not yet supported
Dust2v1.zip
World
Board
Element
Stats
Prefs.
?
Overview
Dust2v1.zzt
Dust2v1.txt
Filename
Mod. Date
Comp.
Dir.
CRC-32
Compressed Size
Decompressed Size
Dust2v1.txt
2023-08-29
20:11:54
8
N
3486356235
646 bytes
1.1 KB
Dust2v1.zzt
2023-07-28
19:19:40
8
N
1656725364
3.8 KB
13.2 KB
File Navigation (with a file selected)
Shift + +/J: Next file
Shift + -/K: Previous file
Board Navigation
+/J: Next board
-/K: Previous board
Numpad 2/4/6/8: Follow board connection
Double click on a passage () to travel to its destination
Tab Hotkeys
W - World tab
B - Board tab
E - Element tab
S - Stat tab
P - Preferences tab
Misc
Shift + B - Toggle high intensity backgrounds (blinking)