Hall of the Kunger Binb: Episode 1+2
⚠️ Support for Weave ZZT content in the Museum's File Viewer is very limited. Weave specific features have not yet been implemented. Issues should be expected when exploring Weave ZZT related files (especially visuals).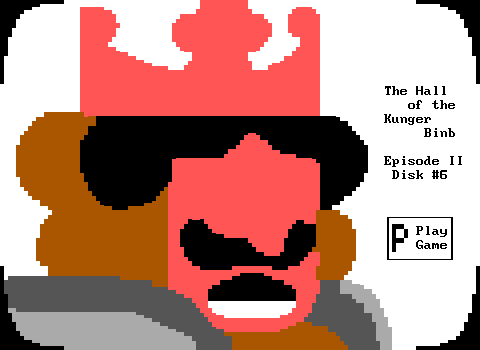 This is not meant to be a replacement for the Extreme Edition. This is the necessary content to play episodes 1 and 2. For the goodies and extras, please see the Extreme Edition of Episode 1
Zeta
Audio formats are not yet supported
Video formats are not yet supported
BINB_E12.zip
World
Board
Element
Stats
Prefs.
?
Overview
BINB.ZZT
BINB1.ZZT
BINB2.ZZT
BINB3.ZZT
BINB4.ZZT
BINB5.ZZT
BINB6.ZZT
BINB9.ZZT
!BINB.bat
BINB-LICENSE.txt
BINB.txt
BUILD/BUILDW14.BAT
BUILD/DOC/ABOUT.HLP
BUILD/LICENSE.TXT
BUILD/SRC_W14U/BINB4.PAS
BUILD/SRC_W14U/ELEMENTS.PAS
BUILD/SRC_W14U/GAME.PAS
BUILD/SRC_W14U/GAMEVARS.PAS
BUILD/SRC_W14U/INPUT.PAS
BUILD/SRC_W14U/KEYS.PAS
BUILD/SRC_W14U/OOP.PAS
BUILD/SRC_W14U/SOUNDS.PAS
BUILD/SRC_W14U/TXTWIND.PAS
BUILD/SRC_W14U/VIDEO.PAS
BUILD/SRC_W14U/ZZT.PAS
BUILD/TOOLS/DATPACK.PAS
BUILD/TOOLS/LZEXE.DOC
BUILD/TOOLS/LZEXE.EXE
DOCS/Completion % locations.txt
DOCS/Devlog.html
DOCS/EP2 OOP Changes.txt
DOCS/new sources/blaineW.png
DOCS/new sources/castle entrance.png
DOCS/new sources/cz1.png
DOCS/new sources/factory entrance.png
DOCS/new sources/new_banner.png
DOCS/new sources/nz1.png
DOCS/new sources/stationE.png
DOCS/new sources/stationW.png
DOCS/new sources/subW.png
DOCS/OOP Changes Summary.TXT
DOCS/PAL and CHR files/binb.pal
DOCS/PAL and CHR files/BINB5.CHR
ROZ-LICENSE.TXT
SDL2.dll
WEAVE14U.EXE
zetaw14s.exe
ZZT.CFG
ZZT.DAT
Filename
Mod. Date
Comp.
Dir.
CRC-32
Compressed Size
Decompressed Size
!BINB.bat
2022-04-11
00:30:10
0
N
3906718893
35 bytes
35 bytes
BINB-LICENSE.txt
2022-04-17
16:13:58
8
N
2495960795
4.3 KB
14.2 KB
BINB.txt
2022-04-12
12:29:32
8
N
3579250541
174 bytes
228 bytes
BINB.ZZT
2022-04-20
04:07:28
8
N
4019422931
45.0 KB
161.4 KB
BINB1.ZZT
2022-04-20
03:17:34
8
N
2459704806
91.3 KB
324.7 KB
BINB2.ZZT
2022-04-20
03:18:24
8
N
1683090968
41.5 KB
173.2 KB
BINB3.ZZT
2022-04-20
03:19:32
8
N
1223320604
80.2 KB
297.3 KB
BINB4.ZZT
2022-04-11
21:28:04
8
N
854324745
31.7 KB
225.8 KB
BINB5.ZZT
2022-04-20
04:03:44
8
N
3668137855
72.2 KB
284.9 KB
BINB6.ZZT
2022-04-12
01:36:20
8
N
478401180
77.7 KB
282.7 KB
BINB9.ZZT
2022-04-12
00:20:46
8
N
2550386952
30.4 KB
127.2 KB
BUILD/BUILDW14.BAT
2022-04-12
05:02:18
8
N
3465279713
345 bytes
858 bytes
BUILD/DOC/
2021-02-28
18:29:52
0
Y
0
0 bytes
0 bytes
BUILD/DOC/ABOUT.HLP
2021-02-28
18:22:14
8
N
3887322728
716 bytes
1.2 KB
BUILD/LICENSE.TXT
2021-03-05
18:10:58
8
N
230556101
681 bytes
1.1 KB
BUILD/SRC_W14U/
2022-03-26
01:09:52
0
Y
0
0 bytes
0 bytes
BUILD/SRC_W14U/BINB4.PAS
2021-02-28
18:30:38
8
N
1642991657
3.1 KB
23.8 KB
BUILD/SRC_W14U/ELEMENTS.PAS
2022-04-11
00:56:00
8
N
597558112
7.1 KB
33.5 KB
BUILD/SRC_W14U/GAME.PAS
2022-04-13
22:30:58
8
N
2498315222
13.5 KB
59.1 KB
BUILD/SRC_W14U/GAMEVARS.PAS
2022-04-11
00:45:08
8
N
2633680076
2.6 KB
6.5 KB
BUILD/SRC_W14U/INPUT.PAS
2022-03-26
02:05:02
8
N
2122595909
3.1 KB
10.8 KB
BUILD/SRC_W14U/KEYS.PAS
2020-09-04
01:13:20
8
N
1040292493
920 bytes
1.8 KB
BUILD/SRC_W14U/OOP.PAS
2022-04-13
22:36:12
8
N
3268445636
9.1 KB
51.1 KB
BUILD/SRC_W14U/SOUNDS.PAS
2021-01-26
15:33:56
8
N
1174970575
2.6 KB
9.0 KB
BUILD/SRC_W14U/TXTWIND.PAS
2022-03-26
20:18:38
8
N
2970716199
5.9 KB
32.4 KB
BUILD/SRC_W14U/VIDEO.PAS
2021-05-11
18:28:20
8
N
1312057982
3.2 KB
12.3 KB
BUILD/SRC_W14U/ZZT.PAS
2022-03-26
01:22:56
8
N
2882333399
1.9 KB
4.6 KB
BUILD/TOOLS/
2021-02-28
18:29:52
0
Y
0
0 bytes
0 bytes
BUILD/TOOLS/DATPACK.PAS
2020-05-07
02:02:26
8
N
2407820745
2.0 KB
5.4 KB
BUILD/TOOLS/LZEXE.DOC
2020-05-07
02:02:26
8
N
3617347544
5.0 KB
12.8 KB
BUILD/TOOLS/LZEXE.EXE
2020-05-07
02:02:26
8
N
2904363714
11.5 KB
12.0 KB
DOCS/Completion % locations.txt
2022-04-12
04:41:32
8
N
65996288
732 bytes
1.4 KB
DOCS/Devlog.html
2021-03-07
11:07:48
8
N
854546200
194 bytes
356 bytes
DOCS/EP2 OOP Changes.txt
2022-04-13
22:43:20
8
N
3855249991
663 bytes
1.1 KB
DOCS/new sources/
2022-04-12
01:58:26
0
Y
0
0 bytes
0 bytes
DOCS/new sources/blaineW.png
2022-03-26
12:44:24
8
N
2974665776
13.4 KB
15.8 KB
DOCS/new sources/castle entrance.png
2021-07-17
10:32:46
0
N
3415187201
4.9 KB
4.9 KB
DOCS/new sources/cz1.png
2021-07-17
10:30:46
8
N
4080076807
8.3 KB
11.0 KB
DOCS/new sources/factory entrance.png
2021-07-17
10:31:52
8
N
3461038465
14.3 KB
14.9 KB
DOCS/new sources/new_banner.png
2022-04-12
01:58:26
8
N
2102568463
30.2 KB
30.5 KB
DOCS/new sources/nz1.png
2021-07-17
10:29:38
8
N
2872679588
9.3 KB
11.9 KB
DOCS/new sources/stationE.png
2022-03-26
12:38:04
8
N
267112783
15.6 KB
17.5 KB
DOCS/new sources/stationW.png
2022-03-26
12:40:32
8
N
3563301900
13.7 KB
15.8 KB
DOCS/new sources/subW.png
2022-03-26
12:39:10
8
N
3114152392
11.3 KB
12.5 KB
DOCS/OOP Changes Summary.TXT
2021-03-07
11:30:30
8
N
1822550025
3.7 KB
8.7 KB
DOCS/PAL and CHR files/
2021-04-26
14:27:18
0
Y
0
0 bytes
0 bytes
DOCS/PAL and CHR files/binb.pal
2020-12-20
13:19:06
8
N
2058526173
44 bytes
48 bytes
DOCS/PAL and CHR files/BINB5.CHR
2021-01-15
06:34:46
8
N
2553082568
1.5 KB
3.5 KB
ROZ-LICENSE.TXT
2021-02-27
15:44:30
8
N
2030390879
688 bytes
1.2 KB
SDL2.dll
2021-01-26
18:42:46
8
N
4127166023
537.1 KB
1.4 MB
WEAVE14U.EXE
2022-04-20
03:31:12
8
N
2540198247
43.8 KB
45.5 KB
zetaw14s.exe
2021-03-06
13:52:50
8
N
2743226751
190.4 KB
362.0 KB
ZZT.CFG
2021-03-09
01:33:40
0
N
2570763218
4 bytes
4 bytes
ZZT.DAT
2021-02-28
18:31:56
8
N
3901029757
1.8 KB
2.5 KB
File Navigation (with a file selected)
Shift + +/J: Next file
Shift + -/K: Previous file
Board Navigation
+/J: Next board
-/K: Previous board
Numpad 2/4/6/8: Follow board connection
Double click on a passage () to travel to its destination
Tab Hotkeys
W - World tab
B - Board tab
E - Element tab
S - Stat tab
P - Preferences tab
Misc
Shift + B - Toggle high intensity backgrounds (blinking)