Happy anniversary!
Yes, one ago today the very first Publication Pack was released. Back then, the queue was an unwieldy beast that frequently rested at three pages. Since then it has repeatedly been cleared entire, but with today's publishing of nine worlds, there's still plenty in the queue for another pack immediately after this. This wasn't my original plan, since once I noticed the anniversary was coming up I figured it would be nice to publish on this exact date. Little did I know there'd be a huge number of new releases to match with the vintage unpreserved worlds received from asie.
Taking these nine with the releases from previous packs, that gives us 430 files added in the past year! If you played one file per day since this series began, you wouldn't be caught up! It's a bit unfair to compare new releases attributed to a specific year versus releases across all years that weren't archived until this past year, but that number is larger than the 407 releases of 2001: the biggest year for new ZZT worlds by volume.
Meanwhile, asie's queue still has well over 300 more worlds to be properly archived here, which combined with so many new ZZT worlds still being made today means you can expect similar numbers a year from now.
For this pack as I'm picking and choosing rather than going with everything, I opted for new releases only. This is mostly thanks to an apparent newcomer that's had a very busy April! (Yes, one of these files has the date marked as unknown for the time being. Deal with it~)
In short: 4/19 play ZZT every day
Contents
"Bloomy: The Feloriah Chronicles" by TheBigtimeDude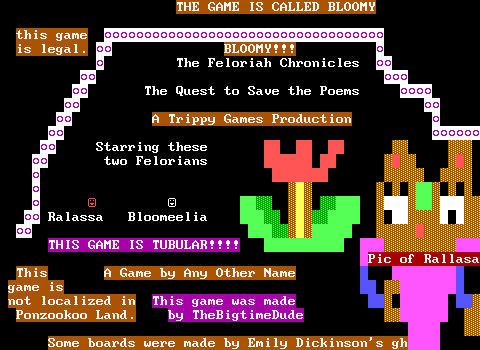 What seems to be the main event of the various surreal looking ZZT worlds by TheBigTimeDude. Its introduction simply explains: "The world can only survive if good poetry thrives."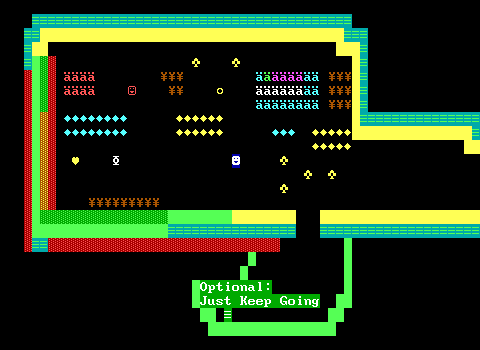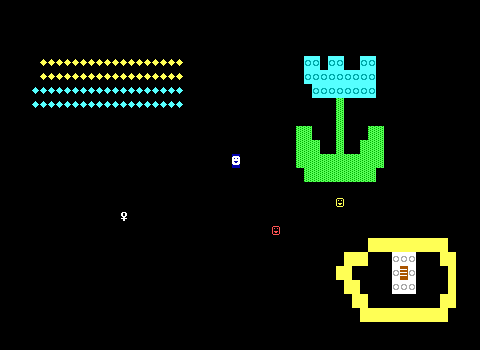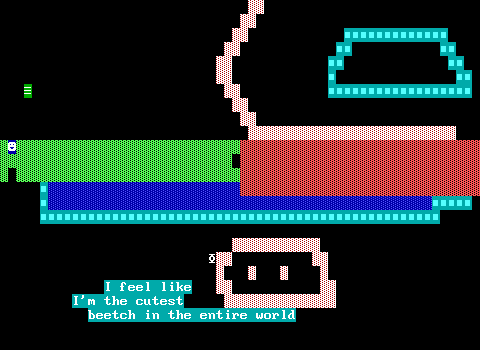 ---
"Death Muppet Demo" by TheBigtimeDude (2022)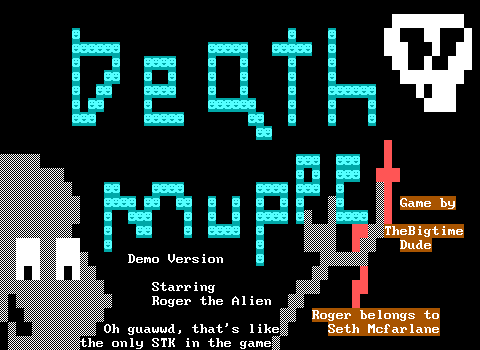 Roger the alien, from American Dad, must travel back in time to 2098 to kill Jelmo the Death Muppet, thus righting the wrongs of the far future.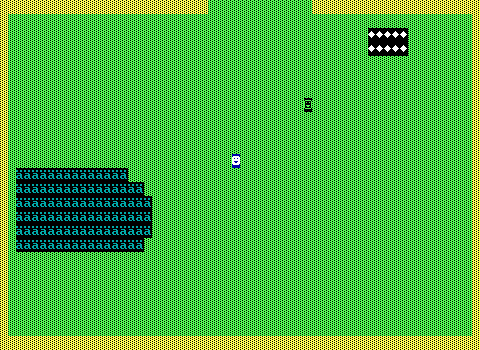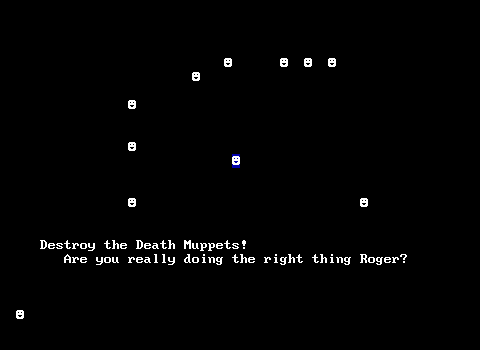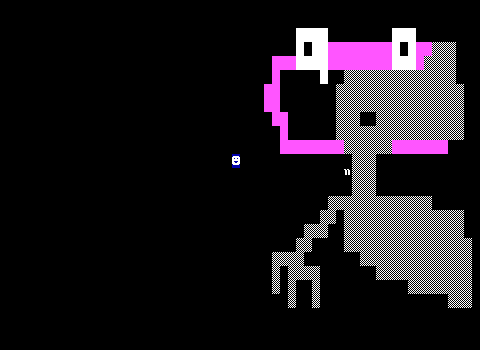 ---
"The Rescue of Planet Plibble" by TheBigtimeDude/Zooshy Fruit (2022)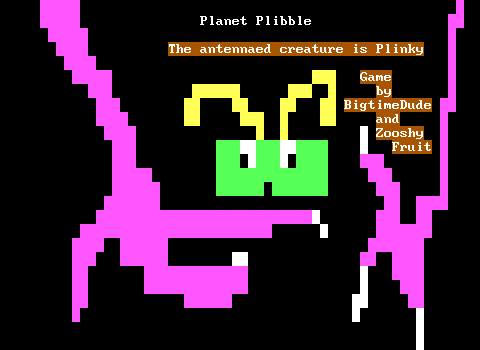 A dragon scientist creates a small creature with antennas in order to power his space weapons, but the creature ends up going on an adventure to thwart the plans of said scientist.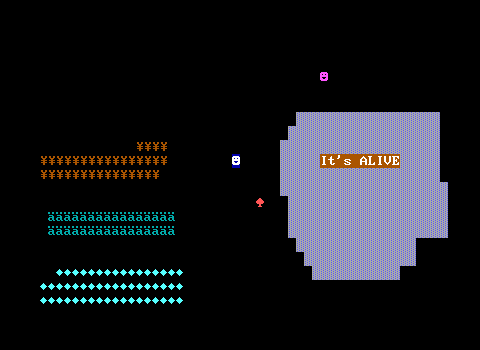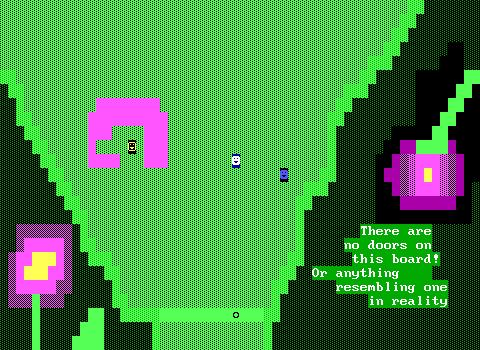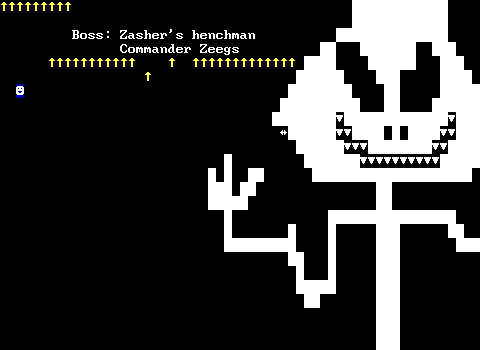 ---
"The Pancake" by TheBigtimeDude (2022)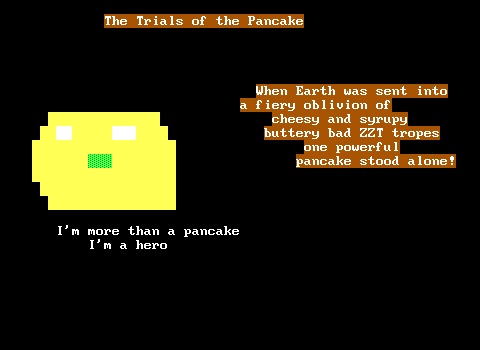 This is a joke game designed to show bad ZZT tropes such as too many enemies, yellow borders and how NOT to make a ZZT game.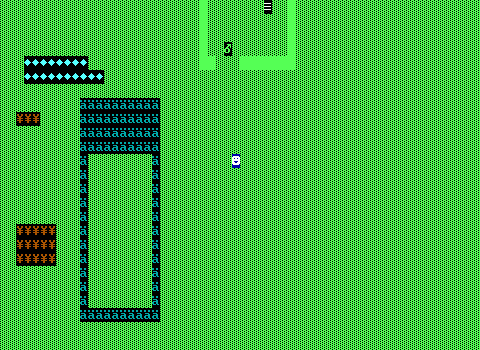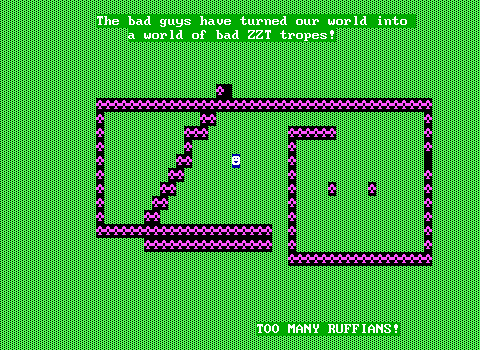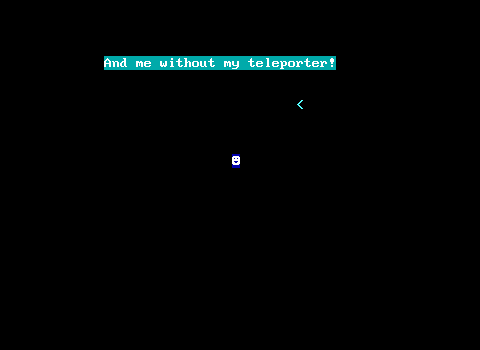 ---
"Dragonway" by WiL (2022)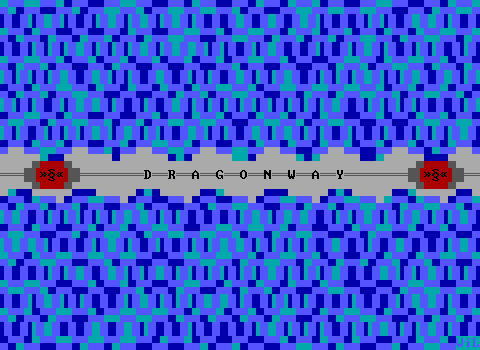 Be a dragon! Walk down the dragonway. Contemplate this.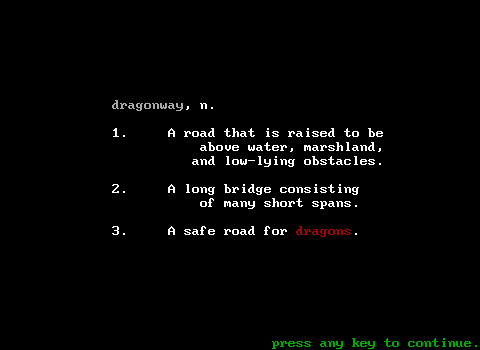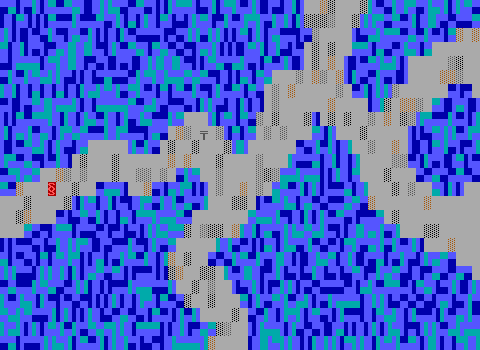 ---
"Hall of the Kunger Binb: Episode 1+2" by LOVELOVEKITTY/WiL (2022)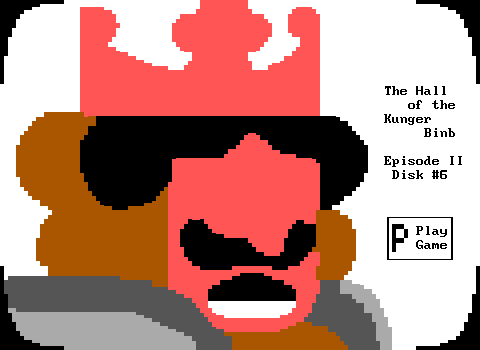 Rating
No rating (0 Reviews)
Publish Date
Apr 21, 2022, 06:02:27 PM
Program Description
This is not meant to be a replacement for the Extreme Edition. This is the necessary content to play episodes 1 and 2. For the goodies and extras, please see the Extreme Edition of Episode 1
I still never finished episode 1, and the file viewer is a hot mess with games using non-ZZT v3.2 rules for elements, so I bring you these screenshots directly from WiL himself and suspect that will be enough to garner your interest.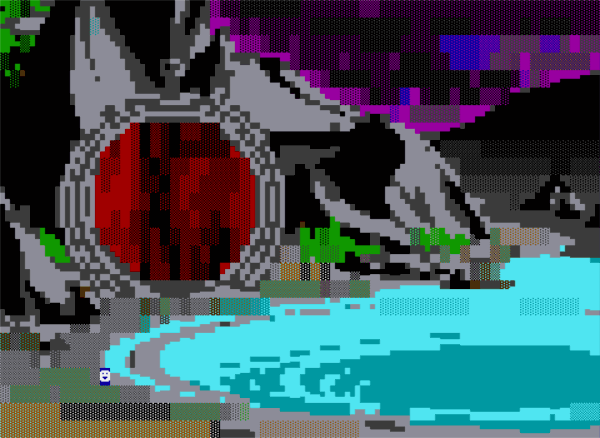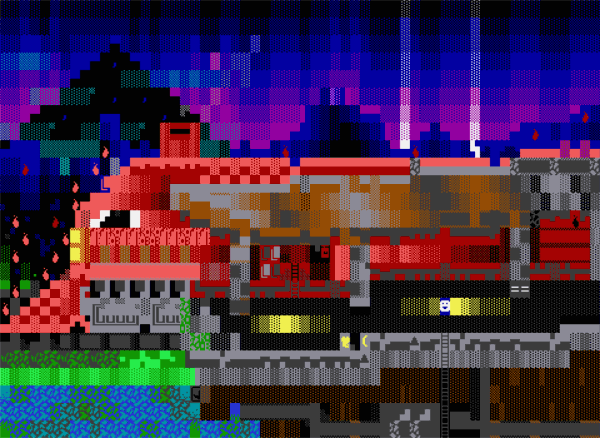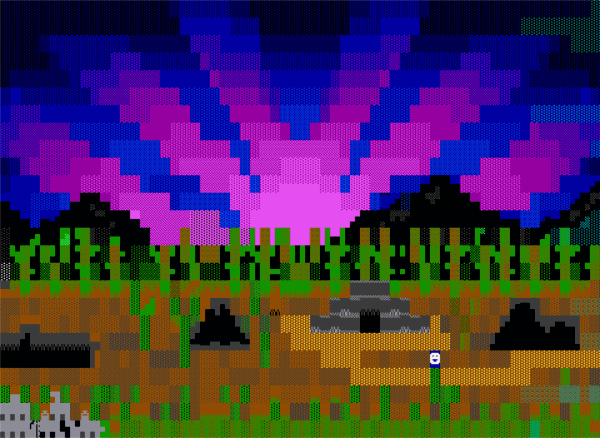 ---
"P+D: The Search for Pepe, Special Edition" by Agent Orange/Unknown (2022)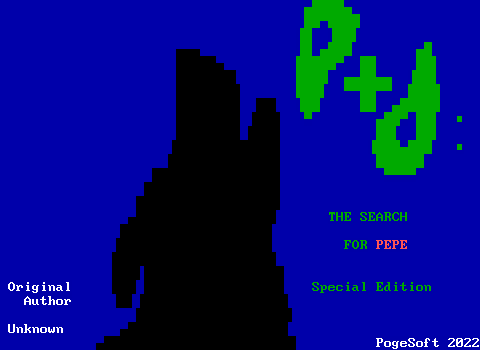 A fan-made Special Edition of The Search For Pepe. This leans in heavily on the original's interest in creating a story set in a cartoonish world rather than shooting/puzzling in ZZT.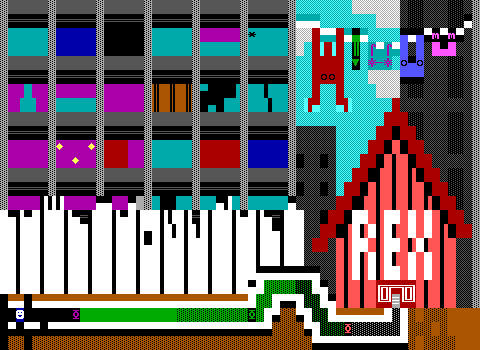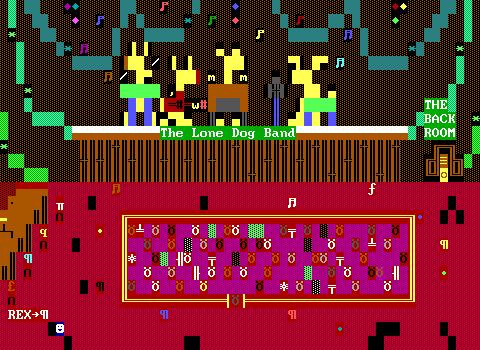 ---
"Paintbox" by Snorb (2022)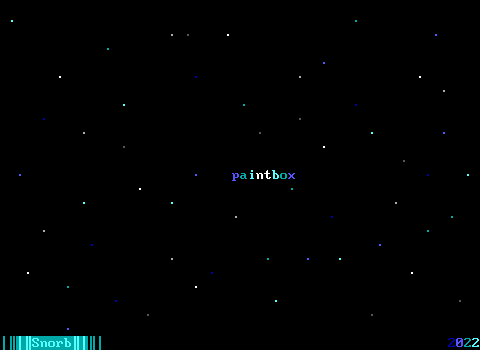 More art! Title screens for ZZT games that may not exist. I'm a big fan of the SoftDisk styled City of ZZT title in particular.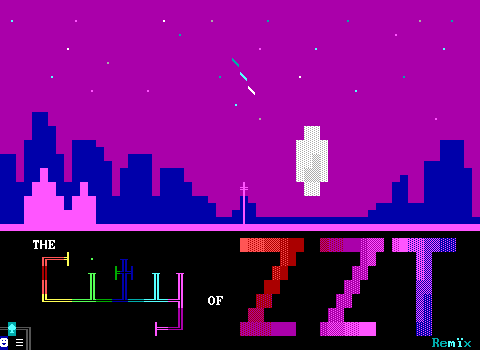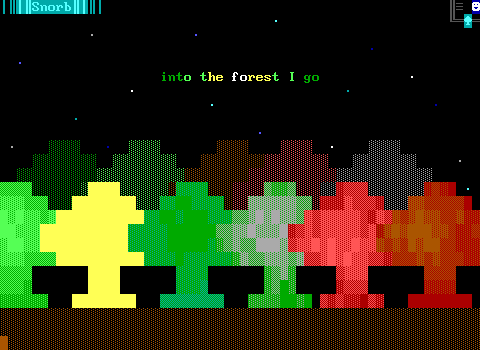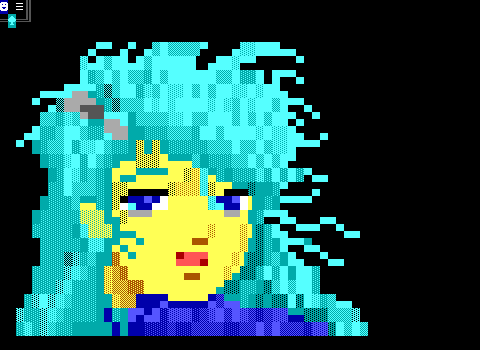 ---
"Will they like me?" by Agent Orange (2022)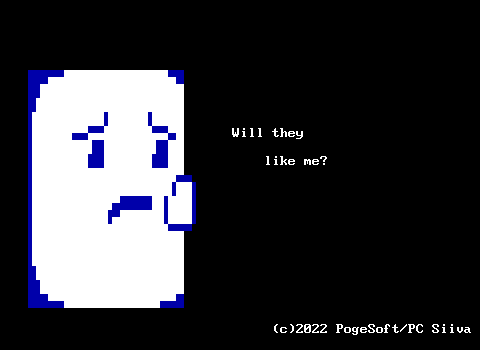 "A friendly welcome from the contemporary ZZT community."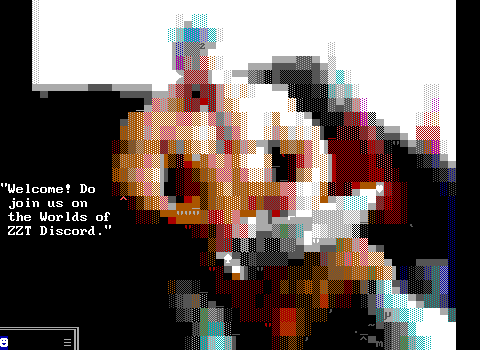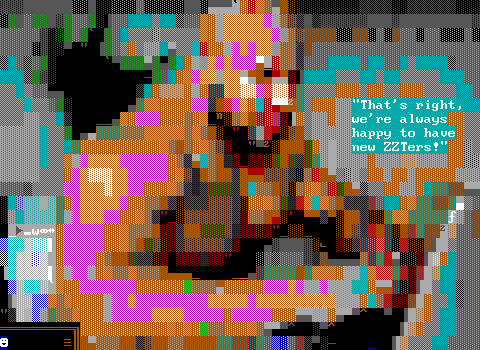 ---