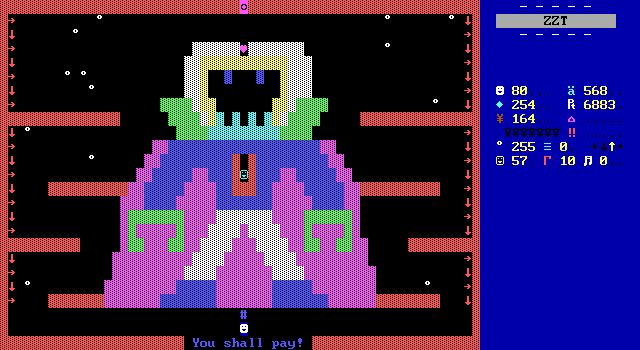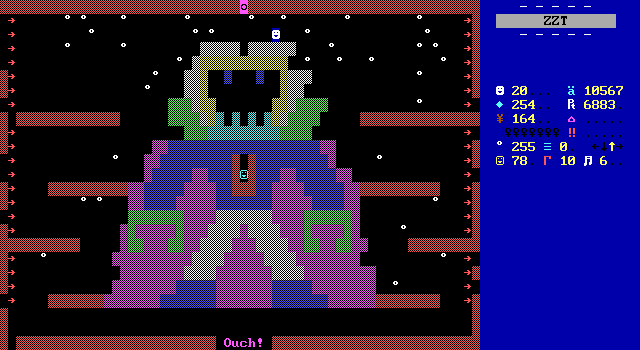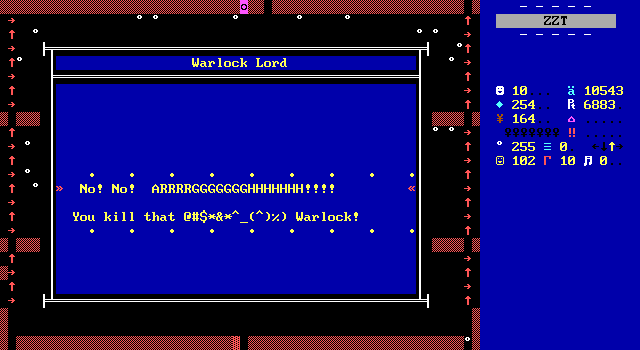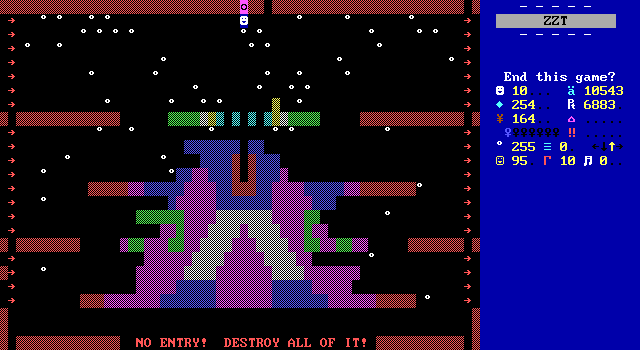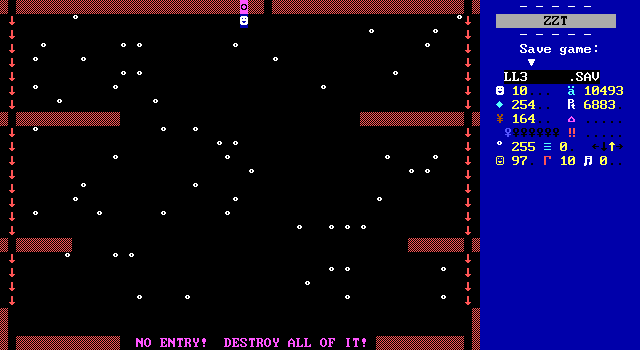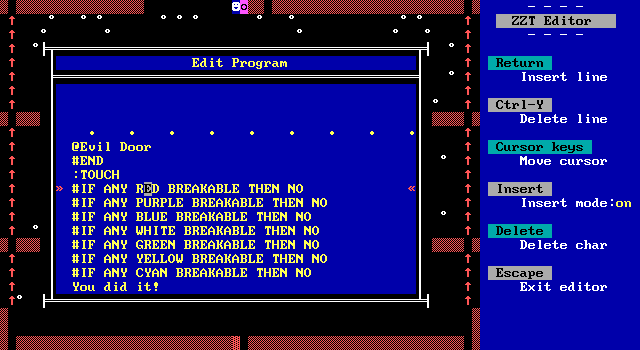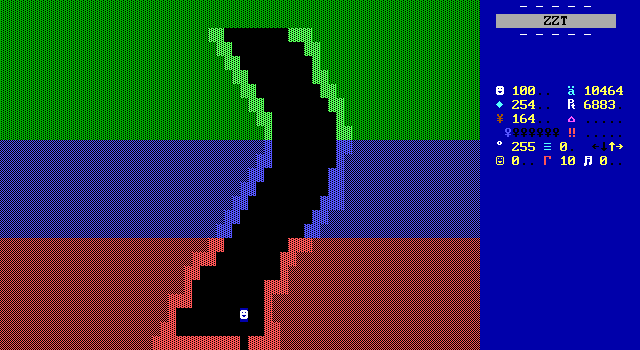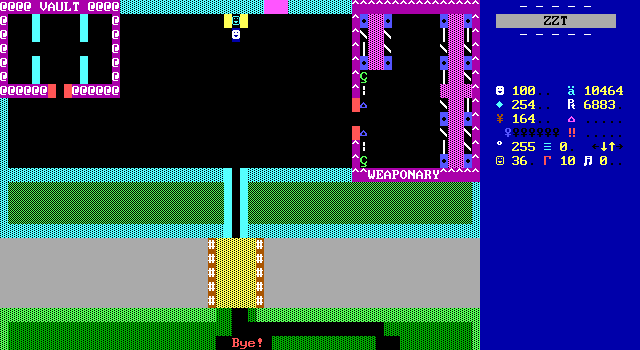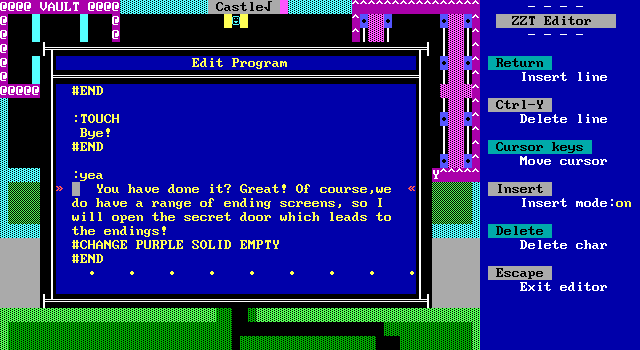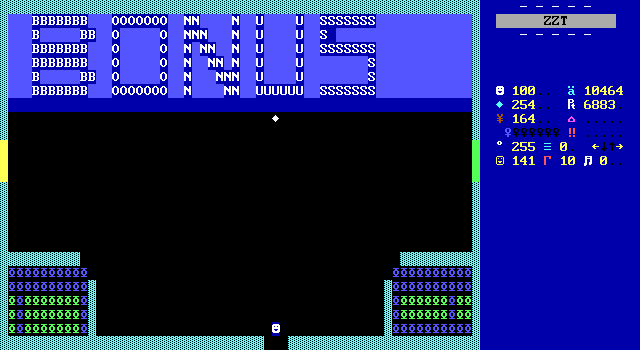 Bonus Games
• • • • • • • • •
@ Bonus Game
Yes,you get your 10,000 points,but how
about 25,000 points? There are more rooms
ahead! If you make it,you get an extra
15,000 points. If you die,it was worth a
shot. How about a go?
Yes!
No.
One thing,you don't see the fun endings
if you try for more.
• • • • • • • • •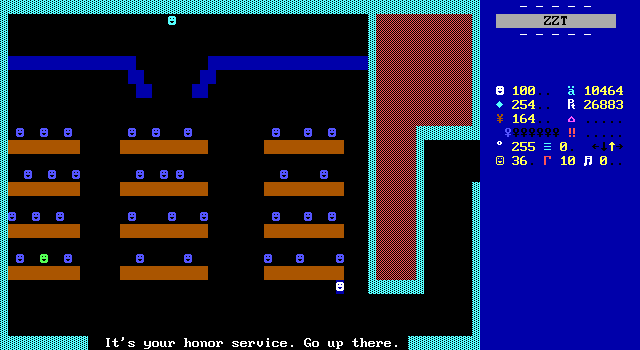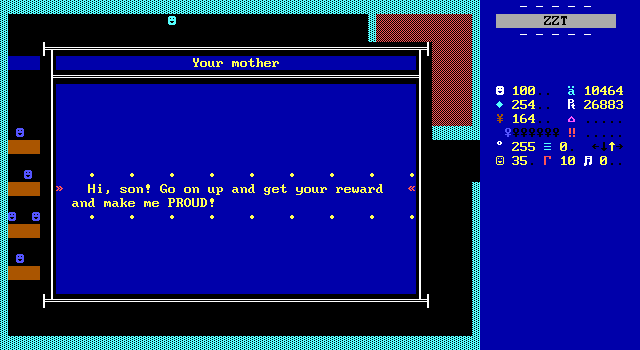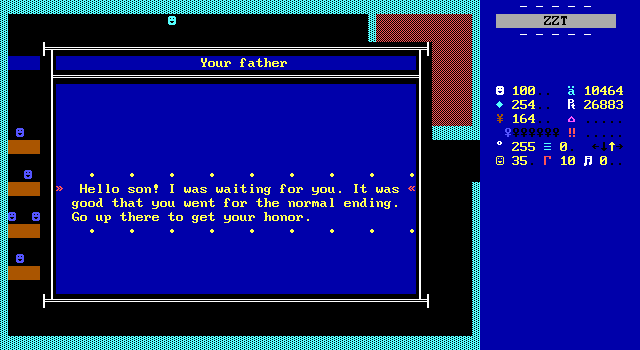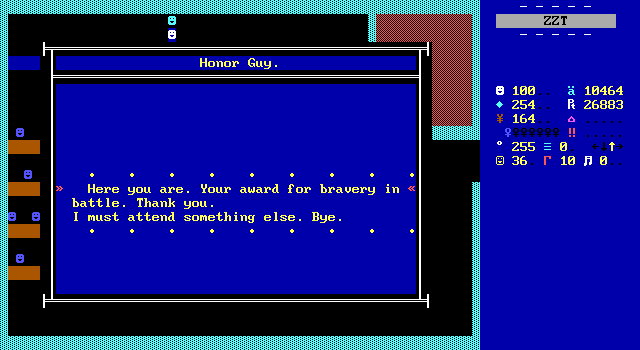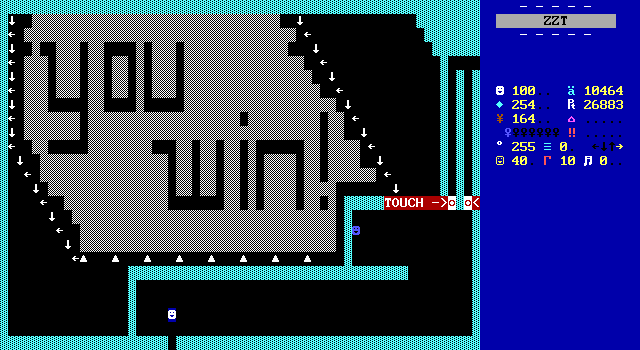 Interaction
• • • • • • • • •
@Creator of the series: JOE MOONE!
Hiya! I shall give you the order form.
You don't have to print it, but write it
down.
TITLES
-----------------------------------------
GAME 1= LANDLAND- Beginning of the series
GAME 2= LANDTWO - This game!
GAME 3= LANDIII - Final series game.
-----------------------------------------
Sub-games........
-----------------------------------------
LEARNKID= Kids! Play a learning game in
ZZT! Action and thinking required!
Grades 1-6 please.
------------------------------------------
And at your request,more to come!
Seriously,here's the form:
■■■■■■■■■■■■■■■■■■■■■■■■■■■■■■■■■■■■■■■■■■
LANDLAND=__ games. $5.00 cost.
LANDTWO =__ games. $5.00 cost.
LANDIII =__ games. $5.00 cost.
LEARNKID=__ games. $5.00 cost.
■■■■■■■■■■■■■■■■■■■■■■■■■■■■■■■■■■■■■■■■■
And the request sheet.....
■■■■■■■■■■■■■■■■■■■■■■■■■■■■■■■■■■■■■■■■■
More games? YES__ NO__
How many? A FEW__ SOME__ A LOT!__
Suggestions for me?______________________
_________________________________________
_________________________________________
_________________________________________
_________________________________________
■■■■■■■■■■■■■■■■■■■■■■■■■■■■■■■■■■■■■■■■■
Include money only. No checks,credit,
or money orders. Cash only. If you want
the whole LANDLAND series, send $10.00
and write on a piece of paper WHAT-A-DEAL!
No catch. Just send the money, with your
address and the money, the order form,and
the request sheet. Shipping and handling
you must send $2.50. So,that's it. If
you'd like to encourage more creation,
send more money. Game developers need
money for design and stuff. I need a
hard drive for quicker creation. So.I
now end this object. Last words: If you
want to talk,or anything,I am on AQUILA.
My address and order form destnation is:
XXXXXXXXXXXXXXXX
XXXXXXXXXXXXXXXXX
Joe Moone
And don't forget it!
• • • • • • • • •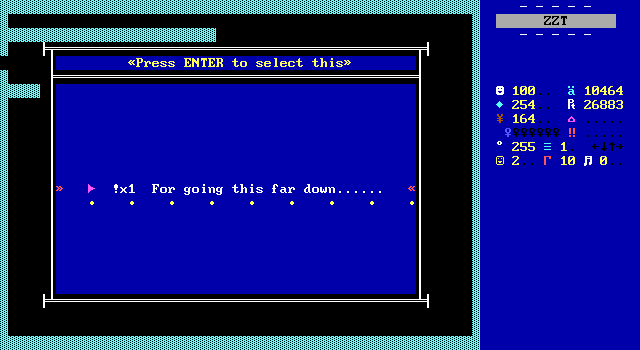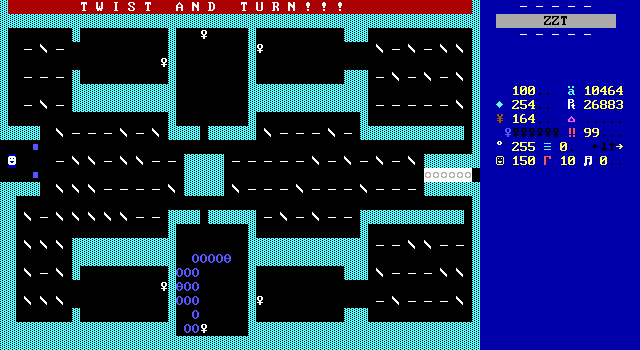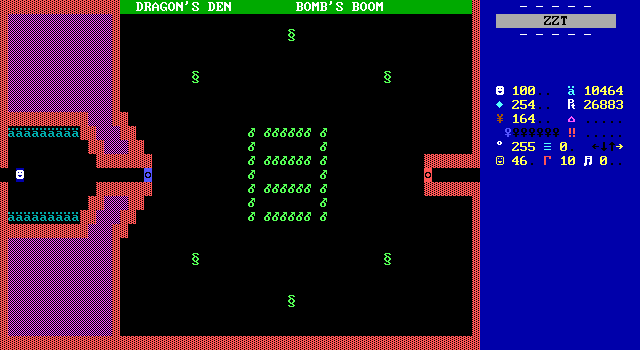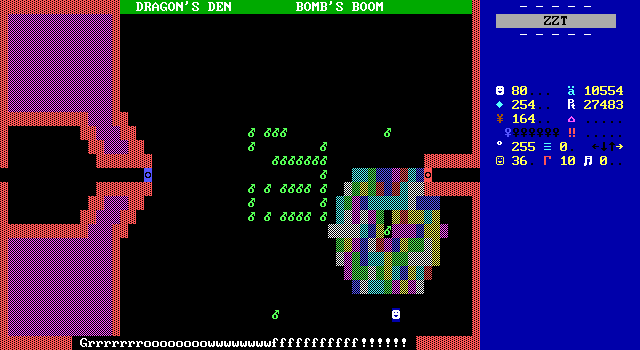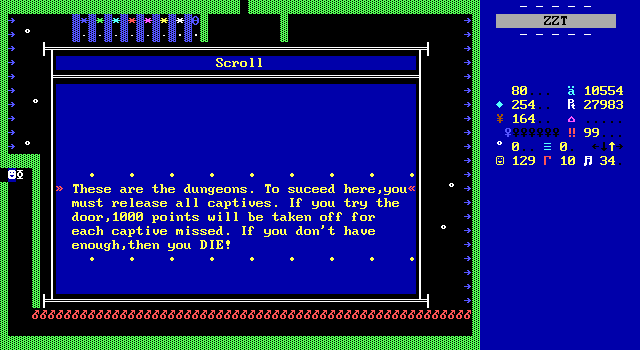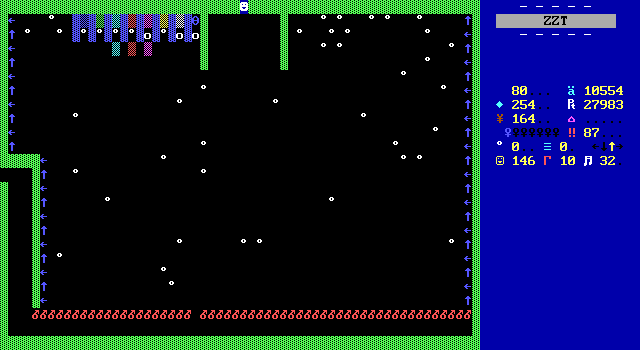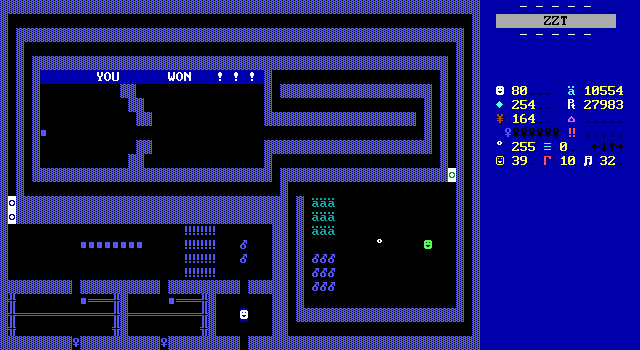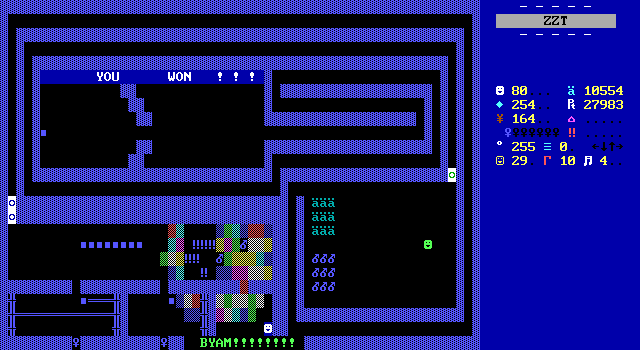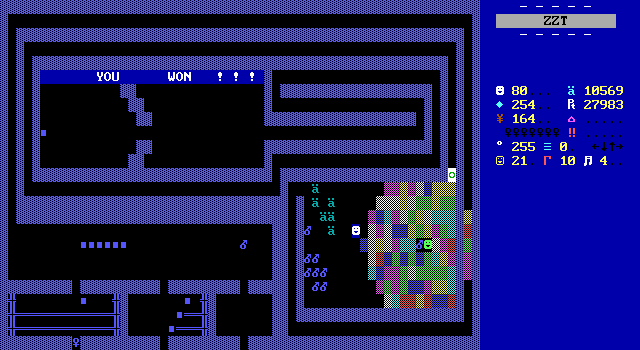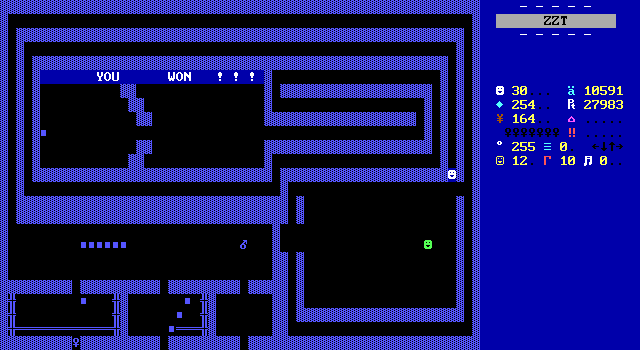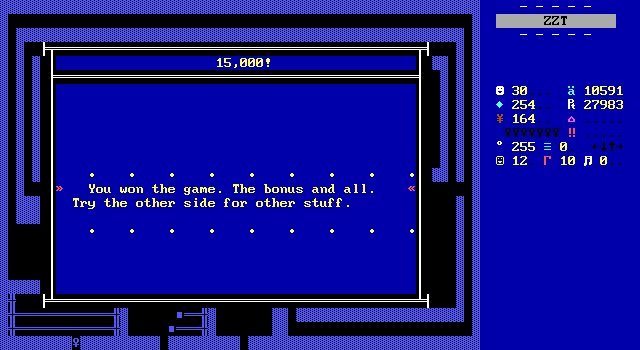 Final Thoughts
AAAAAAAAAA
Are these two games the worst I've had to write about? That may very well be the case. Flipping through the list there's been plenty of games which have been bad, but they never go on for this long. A good reason for that is my mistake of doing this as a double-feature and immediately going from Lands of the World of ZZT to LandLand 2 without stopping. Yet, even on their own both these games are pretty rock bottom. A short length is always the saving grace of a bad ZZT world, and LandLand 2 is anything but short.
Is it an improvement on the original? Barely. They say you only get one first impression, but LandLand 2 demonstrates that it can still be worse if the second chance given is another flop. Early on you can convince yourself about Moone's improvement. There's a better hook for the story and the first few boards seem reasonable. You have ammo this time. You don't need to grab eight keys on every board. It's just enough to give you hope. Surely Moone improved from his first release based on how the second begins. As things go on though it becomes really clear that the ways LandLand 2 improves on the original, an actual story with characters, more generous ammo distribution, and more original boards rather than Town knockoffs, aren't the things that most needed improvement. LandLand 2 still hasn't gotten any testing. It's laughable just how many screens in this game have objects that spit out error messages.
At least with Final Fantasy 2 its author was upfront about not knowing how to properly program their objects. That game was a disaster, but they recognized it as such. Moone's games are instead written with total confidence that they work as intended. Untested ZZT worlds are sadly a lot more common than anybody would like them to be, but this one really goes all out with how many errors occur.
It's not even a case of these bugs being what hold the game back. LandLand 2 is full of tedious mazes, (luckily often broken) instant game overs, punishing arbitrary traps, and giant centipedes for days. Fix the bugs in code but not the bugs crawling around every other board and there's not much you're salvaging. The game would get bumped up to a "D" with plenty of work to be done in order to bring it to mere mediocrity.
We don't know the story of this game. We don't know what Moone is up to nearly thirty years later. Maybe he kept on learning programming and game development outside of ZZT. Maybe he was 10 when he made this. Maybe this is a beta copy a friend had and put on a BBS that got corrupted and wound up on shareware CDs and was never intended to to get out in the wild. There's a story here that we'll likely never be fully privy to, and a bad thirty year old game is incredibly unimportant for whatever Moone did go on to doing. Hell he could have released these games last week and they'd still not make him less of a person. Sometimes a game is bad, and that's okay too.
The LandLand series is indeed notable for its unusual journey. It took so long to actually let anybody play these games from start to finish, and I think it's kind of funny that the issues in the game mean that Moone never did either. They're notable for how difficult preservation can be, and the great lengths that some have to go through in order to make them playable. GreaseMonkey rescued these games. They are artifacts of the earliest days of ZZT when there was little to reference in terms of design. It's easy to dismiss these now that they're readily available. There are no more "what-ifs". There's far less excitement in hunting for an original working copy. It's important though to not forget that even a buggy game can still have something special to it. This game gave us a new exploitable glitch in ZZT with #change. The previous may be the first giant ZZT boss ever put in a game. There's still some beauty and worth to even the messiest of releases.
======
A Worlds of ZZT Production
======
The Worlds of ZZT project is committed to the preservation of ZZT and its history.
This article was produced thanks to supporters on Patreon.
Support Worlds of ZZT on Patreon!