Welcome back! I planned for this update to empty the rest of the various uploads from asie's streams. Wouldn't you know it though, June has been quite a busy month. This update brings us another arbitrary code execution exploiting world, a demo created for a game jam, an Oktrollberfest sequel turned glitch demonstration, and an official release of an incomplete sequel to a childhood favorite of mine!
"PortalZ" by Some Random Nerd (2021)
This one just barely sneaked in after the last publishing article was already done, and it would have fit in quite nicely.
Portal Z continues the forays into arbitrary code exploits in ZZT. It does so not only with a new method, but it goes a bit beyond "proof-of-concept" creating a short playable game that turns the player's shooting abilities into a Portal gun with a bonus rocket launcher arena shooter mini-game with explosive bullets as well!
As expected with ZZT games that are messing with DOS memory layouts, this is one for DOSBox and not Zeta. The "Play Online" link should default to the archive.org DOSBox mirror if you want to quickly see this for yourself. (Control+F12 to increase emulated CPU cycles as needed.)
Also the game doesn't actually tell you, but use left shift and right shift to select the portal colors. It took me a bit to realize that was how it worked.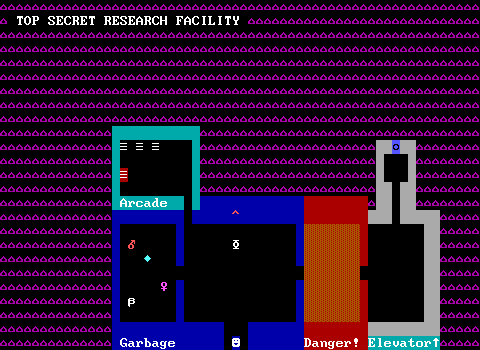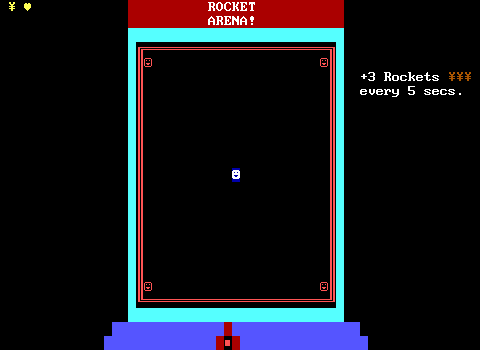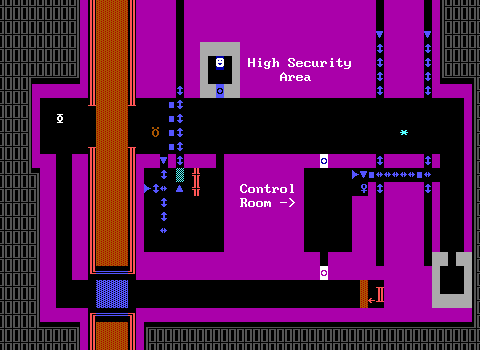 "587 Squadron Demo" by Agent Orange (2021)
PogeSoft returns with a pretty looking engine game created for the 2021 DOS Games Spring Jam. The game is inspired by the 1993 DOS game Zone 66, another early Epic title.
You can also grab the game on Itch rather than the Museum at its itch.io page.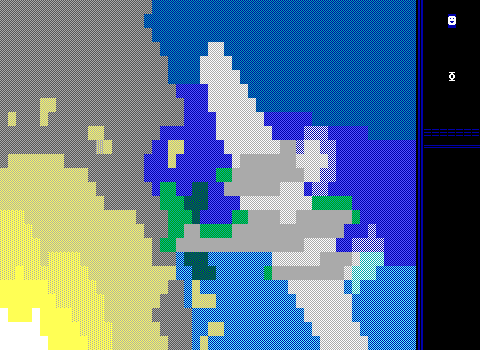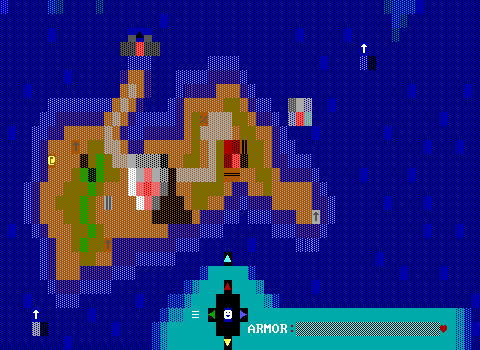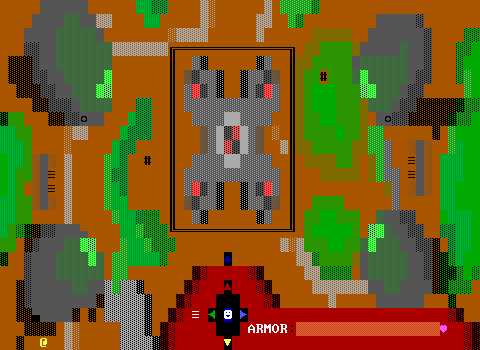 "Wake Up and Unlock the Door" by Dr. Dos (2021)
A glitched turned game. After running into a very strange bug in a playthrough of a game for an upcoming Closer Look article I realized there was an exploit to be had with #change. Young Timmy Billings returns in this sequel to the Oktrollberfest game Wake Up and Save the World. This time Timmy has managed to lock himself out of his home and needs to get inside before his parents come home and discover he forget his house key again.
Follow the instructions carefully as you go from world to world to world to take advantage of the DIAL-A-KEY service in order to not be stuck outside all afternoon.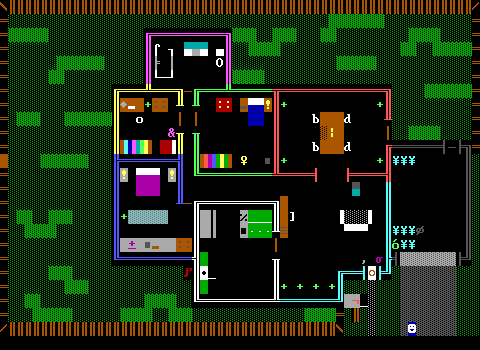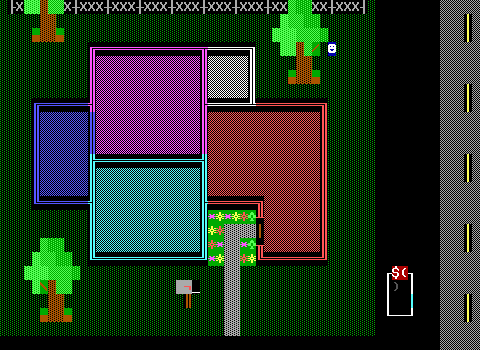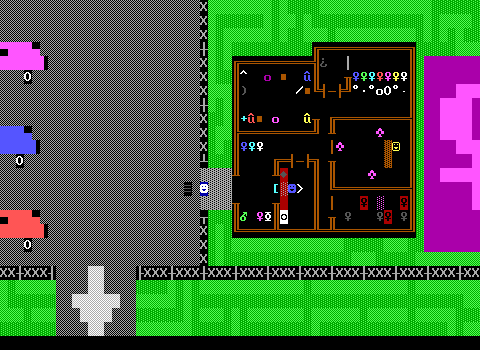 "Llama Masters 3" by Scott Hammack
Lastly, the older title I was super excited to see get an upload! The unfinished third entry in the Llama Masters series takes a radical departure from the earlier titles with far fewer giant bosses and far more cornfields. Play as the newly hired White Llama on a Blue Background and fight evil while helping the Great Llama get some more Doritos.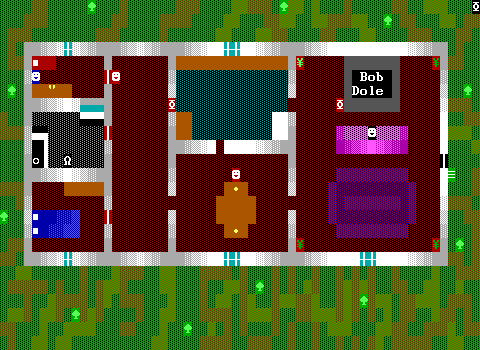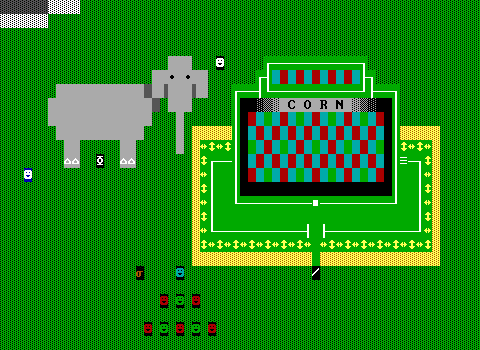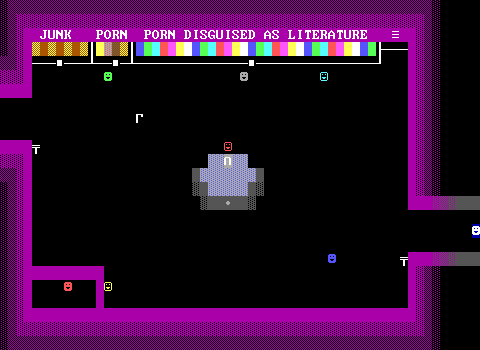 "Conspiracy" by Aaron Greene/Benco (1999)
The earliest title attributed to Benco, a community staple of the early 2000s, who these days is best known for his beautiful puzzle and story game Ana. Ana is both a personal favorite and the game that I like to use as a dividing point between the previous era of ZZT and its current one.
But we're not here for Ana, we're here for Conspiracy!
Take a trip down goverment game as you take on a thrilling game with a thick plot and tricky puzzles!!!
Speaking of conspiracies that FBI building sure looks familiar...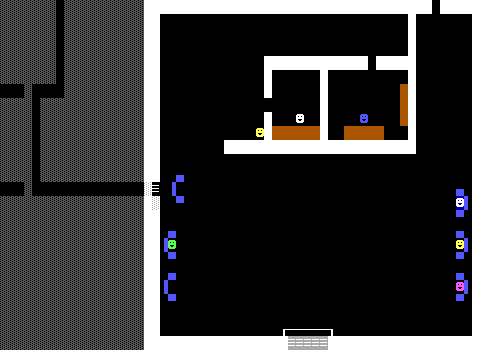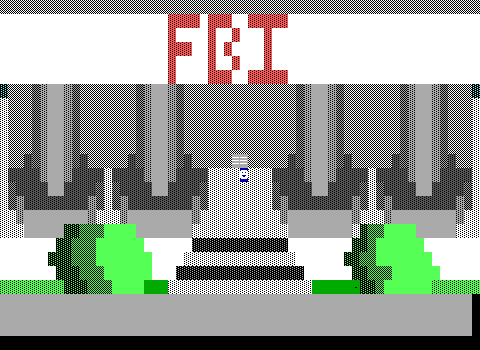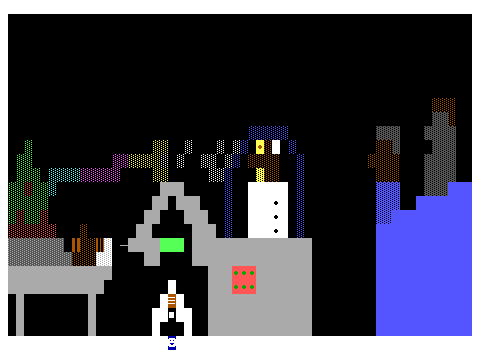 "The Town of GoTS" by John Harger (1992)
That's "Greek Travelers Settlement" of course. In GoTS you need to stop Pharsas from taking over the town by finding a powerful wand currently held by a recent deceased hero's captured dog. It's certainly original.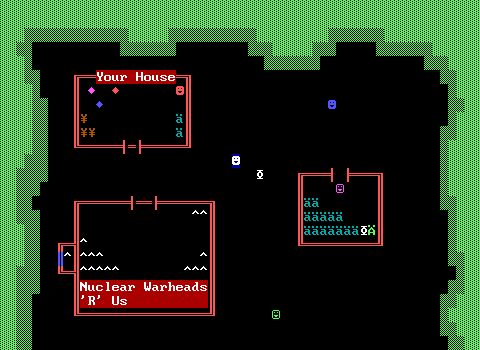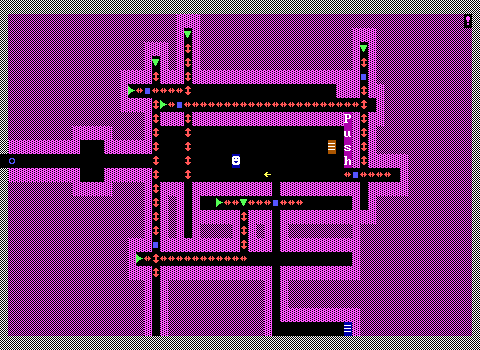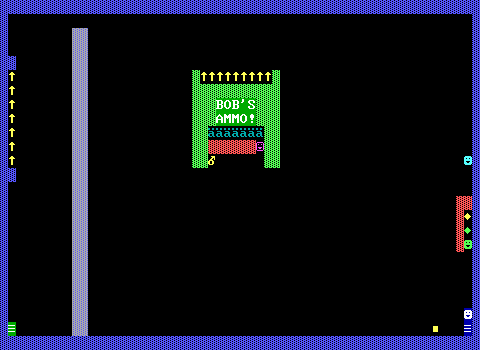 "Pro Wrestling Tournament" by Brian Davison/John Davison (1995)
This is hardly the greatest ZZT game out there, but as far as ZZT wrestling games go I think it's at least an interesting idea. The sole opponent in the game is Diesel with the player getting a chance to learn about his strengths and weaknesses before heading to the ring. There the combat is done through text, with announcers commentating on the action and the player having to pick from a list of moves given the current situation to best turn the match in their favor. Successful blows score points (keys) while incorrect options lead to a loss of health. Do well enough in the ring and proceed to the next fight. Which there isn't one, but there is a request for help with writing scenarios for more in the future!
It's not that complex in that the fight does boil down to picking an option and then seeing the outcome before heading to a new scenario, but I feel like with some actual branching paths within the text rather than all choices leading to the same situation next time you'd have an interesting puzzle interpretation of the kind of thing that ZZT otherwise can't really do.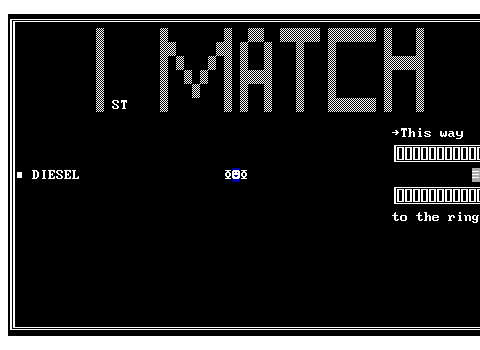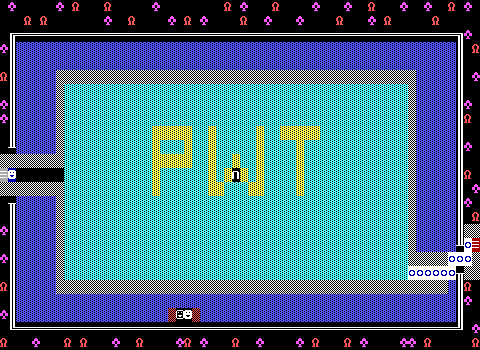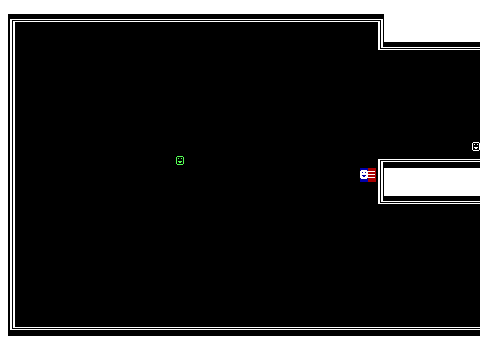 "Joe City" (1995)
The Briefing of this mission is you must wander throuh the city in order to save Mary Jo Lee. There is a big reward. Now out and find her. GOOD LUCK!!!
A very strange detective game.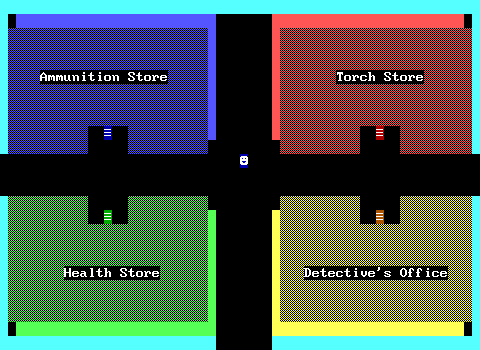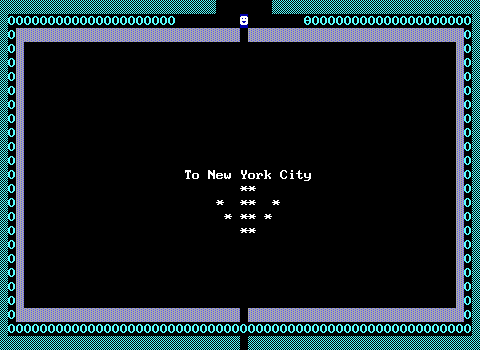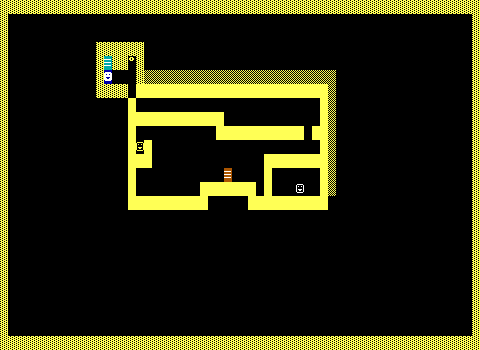 "Longest ZZT Game Ever" (1994)
Why do I get the feeling I'm being trolled here?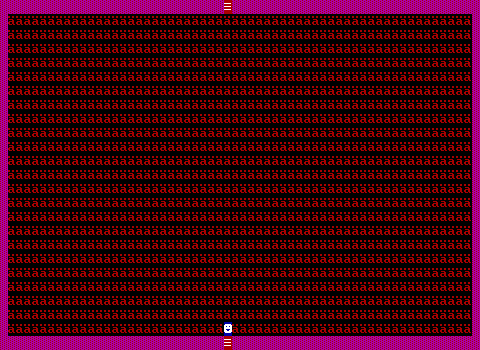 "Space War" by Jonathan Kayes (1995)
Opening with being asked if you want to fight in the space war, and being told "Go anyway!" if you say no gives this game a great start. It's kind of difficult to figure out what you need to actually do on most boards and mostly just mashes up some sci-fi space stuff.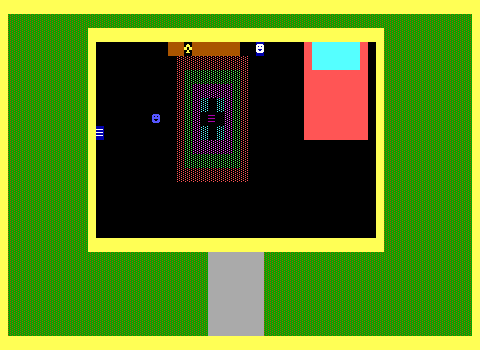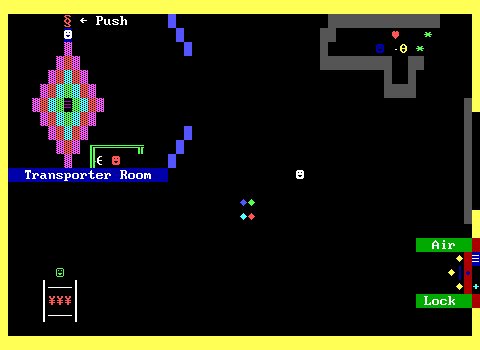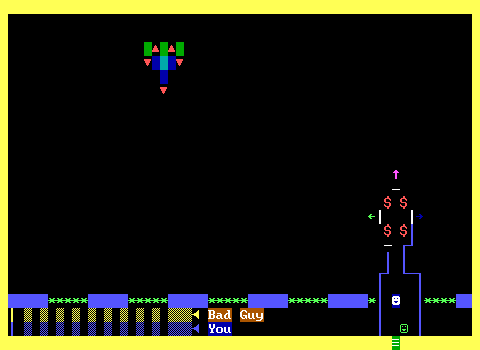 "Happy Birthday, Patrick" (1994)
A birthday world! Hopefully Patrick's birthday wish was to see the USS Enterprise explode as that's about all that happens here.