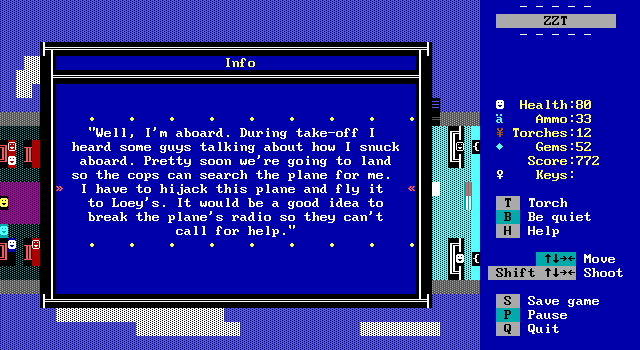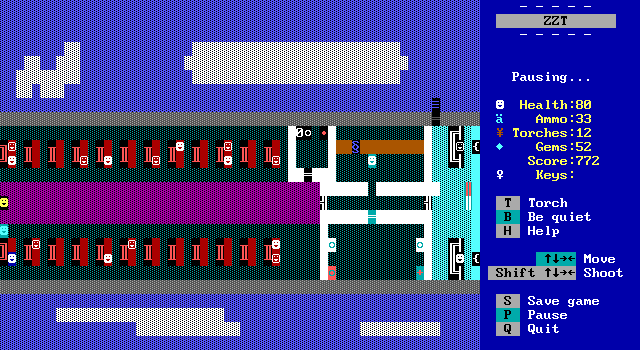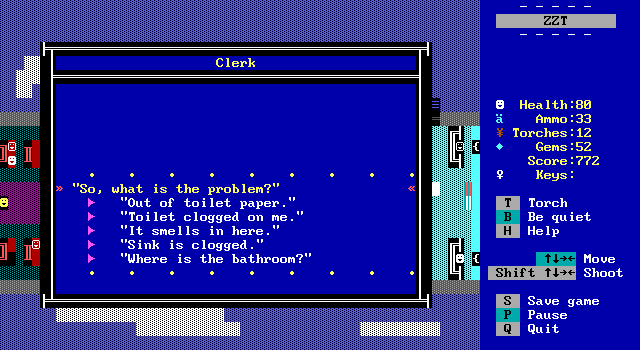 "Toilet clogged on me."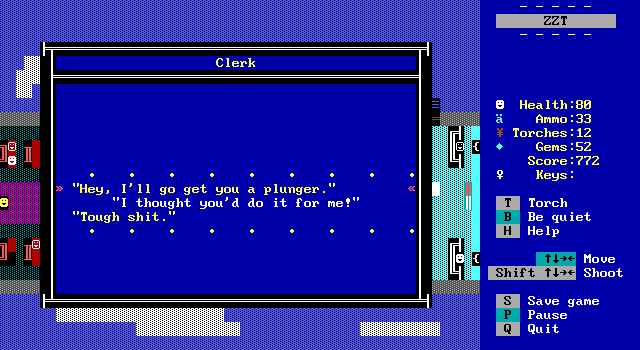 "Sink is clogged."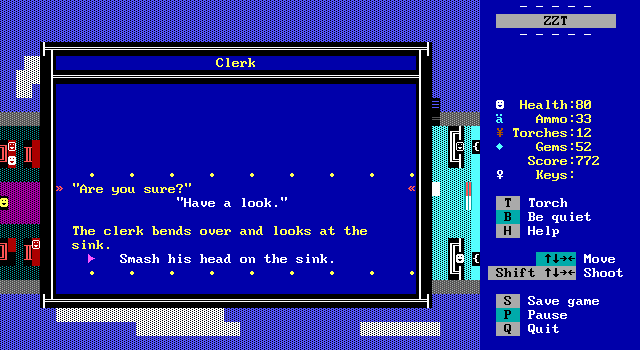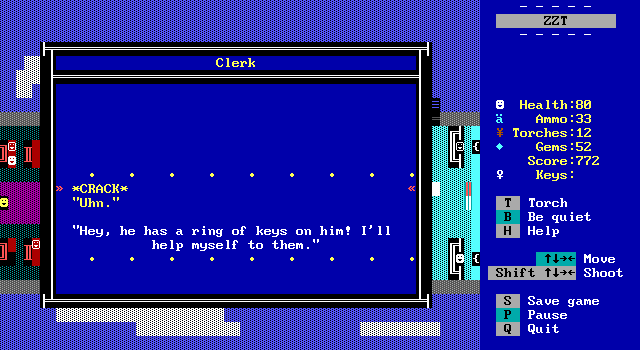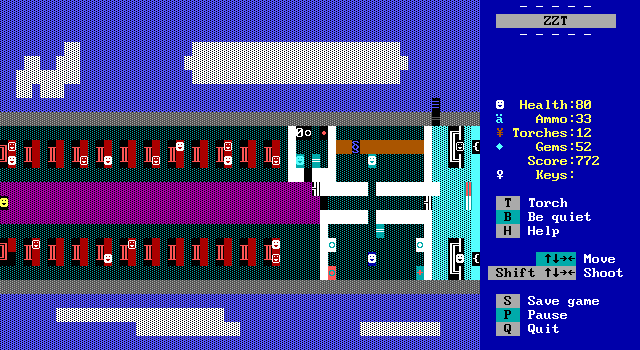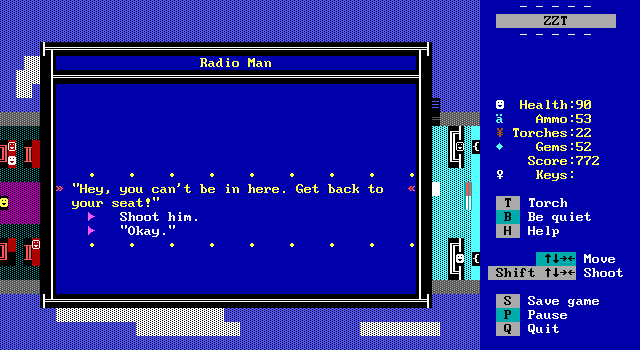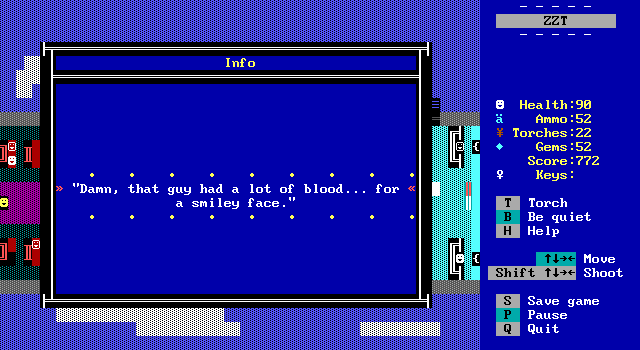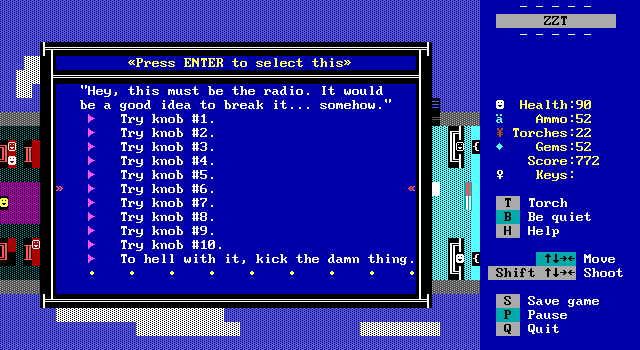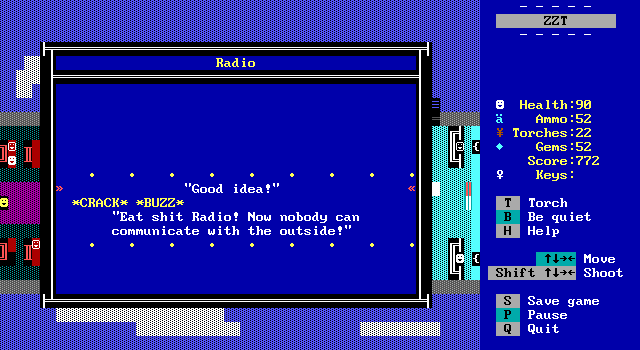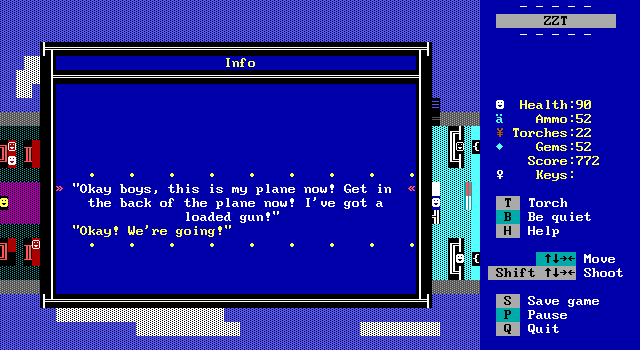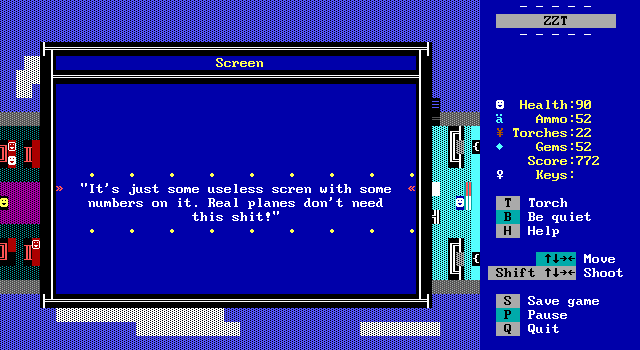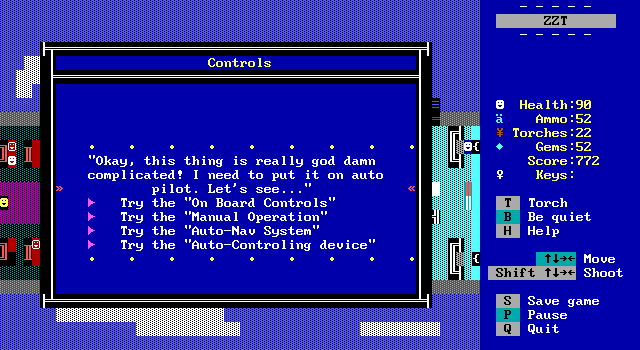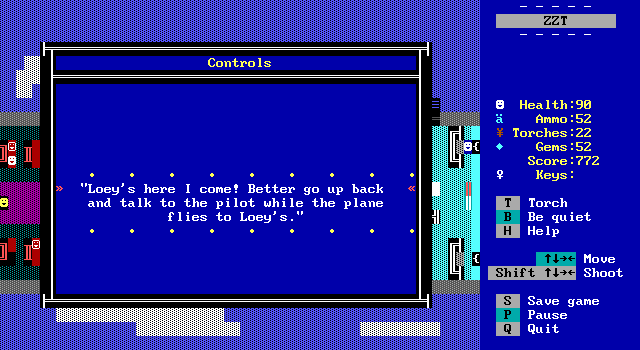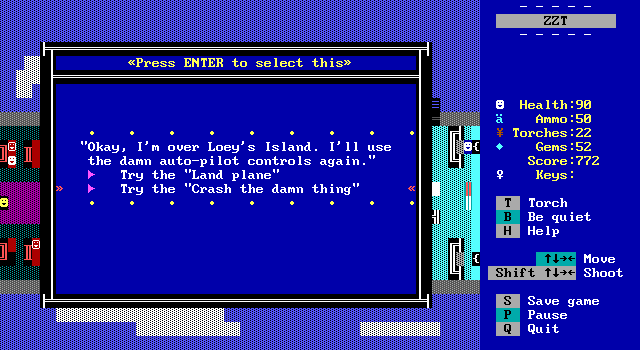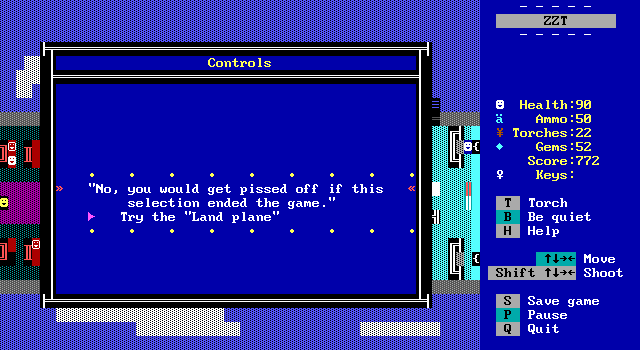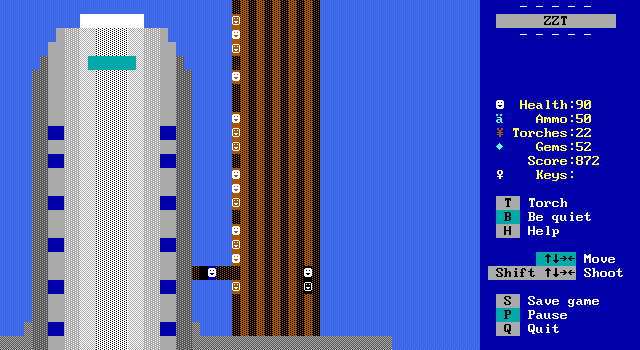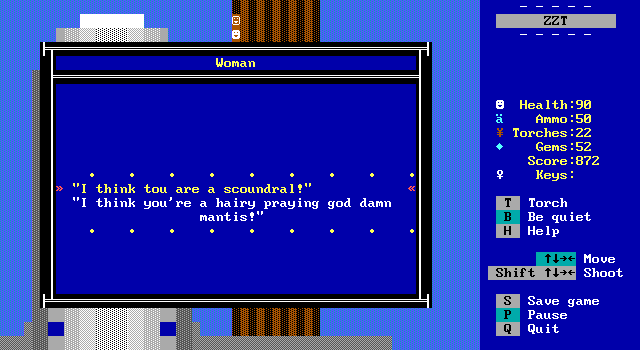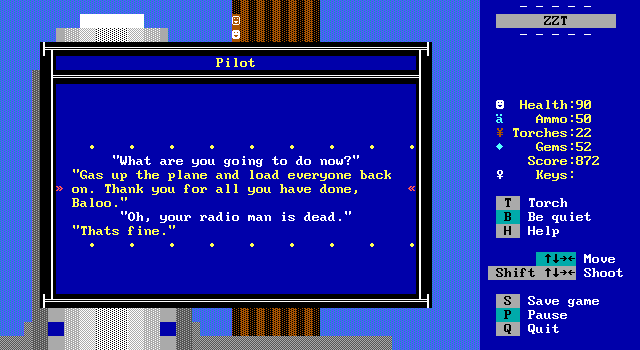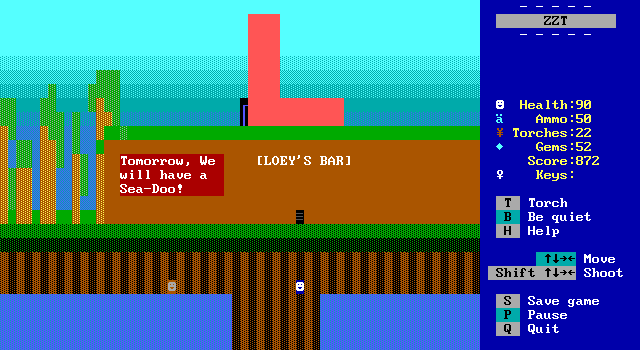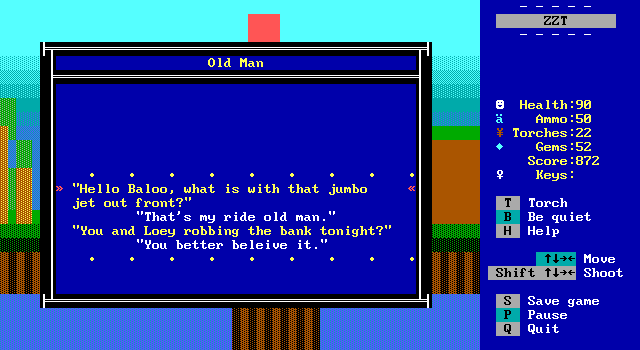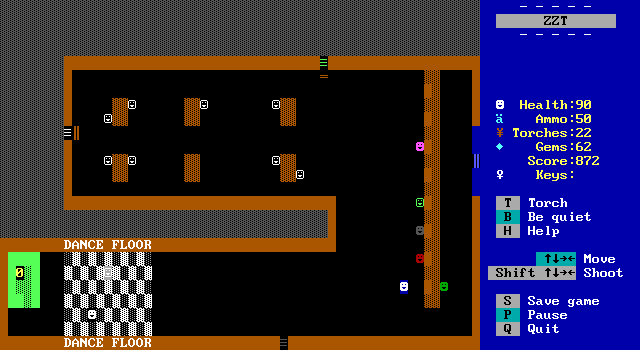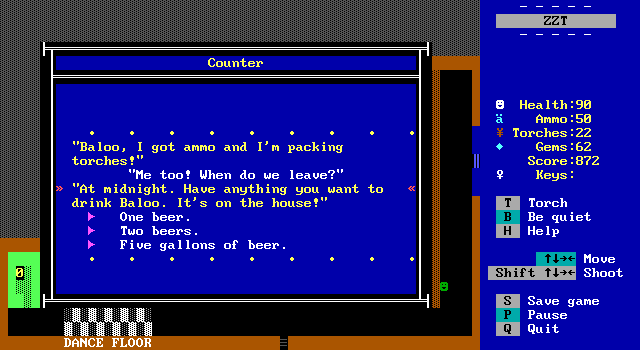 Counter
• • • • • • • • •
"Give me the five gallon 'Baloo Special'
Loey!"
"Baloo, are you sure?"
"Hell Yea!"
"Okay, here is five gallons."
*GULP*GULP*GULP*GULP*GULP*GULP*GULP*
"That's one ga- ga- gallons."
*GULP*GULP*GULP*GULP*GULP*GULP*GULP*
That's two."
*GULP*GULP*GULP*GULP*GULP*GULP*GULP*
"Th- Th- three."
*GULP*GULP*GULP*GULP*GULP*GULP*GULP*
"F- F- Free plus one!"
*GULP*GULP*GULP*GULP*GULP*GULP*GULP*
"Fi... Fi..."
"Five?"
"Fi... Uhhhhnn."
You fall asleep.
"Baloo! Baloo, wake up!"
"Loey?"
"Yea, it's midnight. Ready to got going?"
"Yea, I guess so."
"Okay, here is the plan. We get in the
Sea Duck and-"
"Oh shit! Loey, I forgot!"
"What?"
"The Sea Duck is in Walla Walla!"
"Son of a god damn bitch."
"Hey, Ace London was bragging about his
new plane. We could steal Ace's plane,
fly it to Walla Walla, get back the
Sea Duck, then fly to the bank and rob
the place."
"Damn it Baloo, this really puts a damper
on my master plan, but it's the only way.
Okay, Ace's plane is out back. Come on,
I'll take you to it."
• • • • • • • • •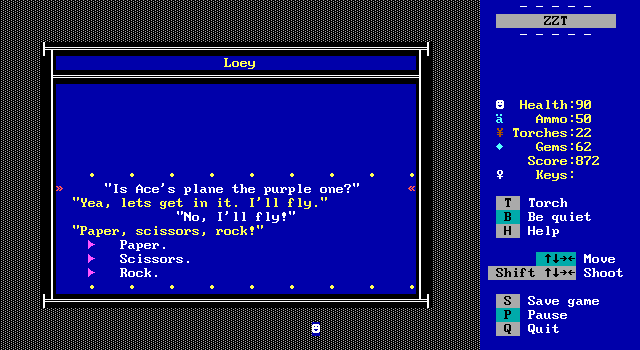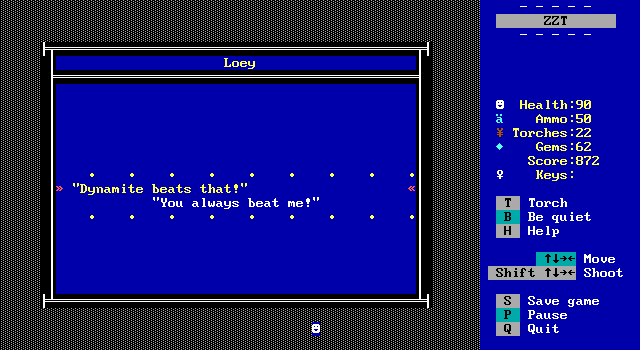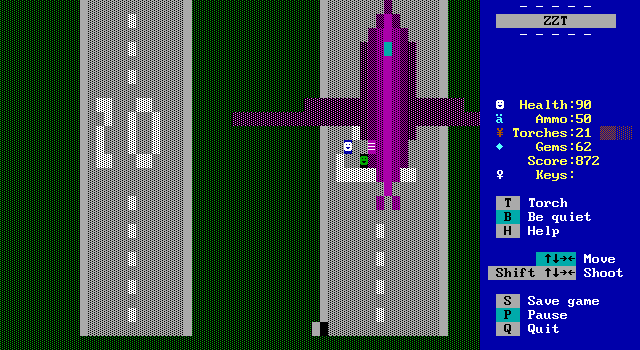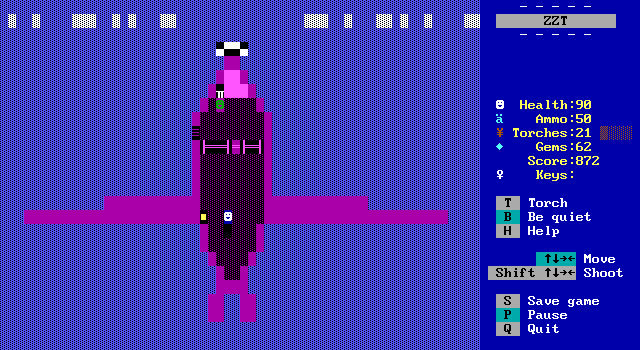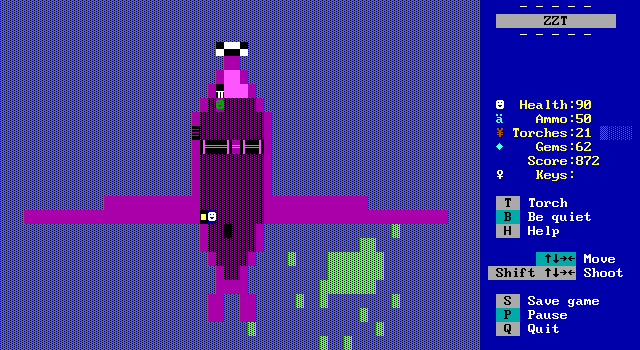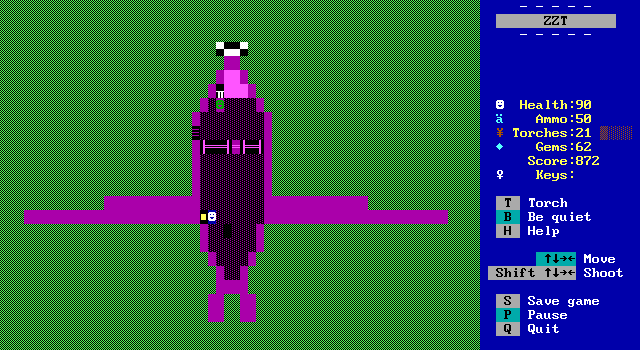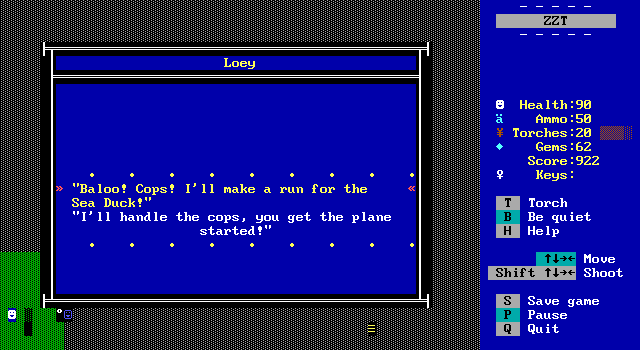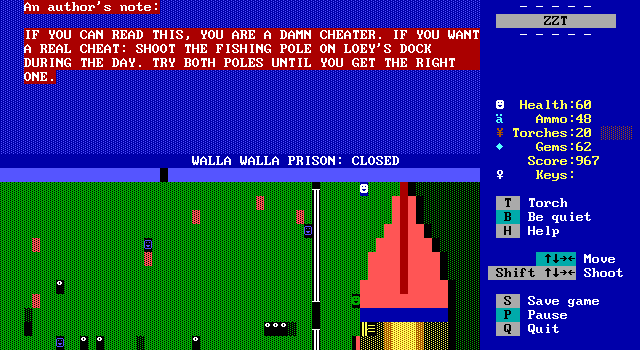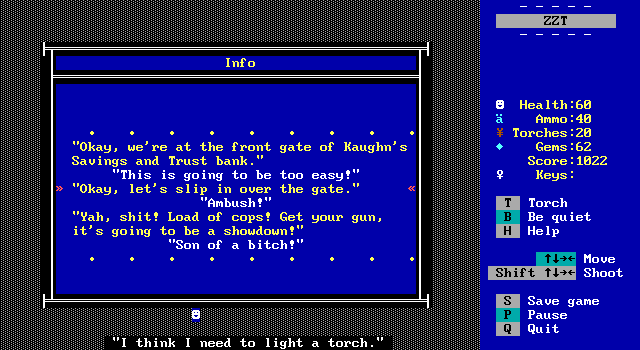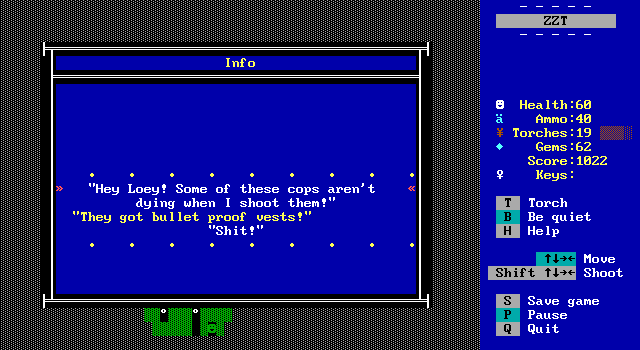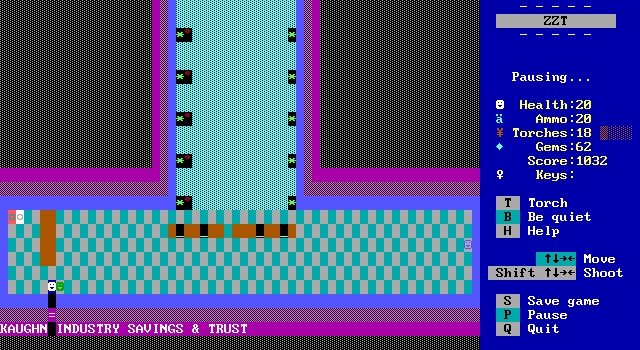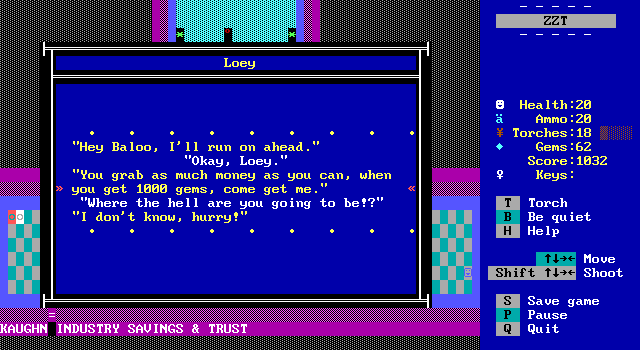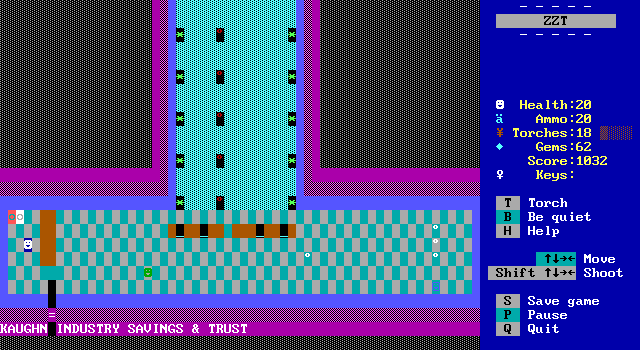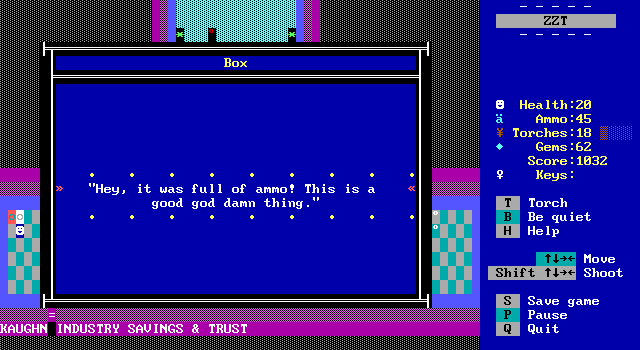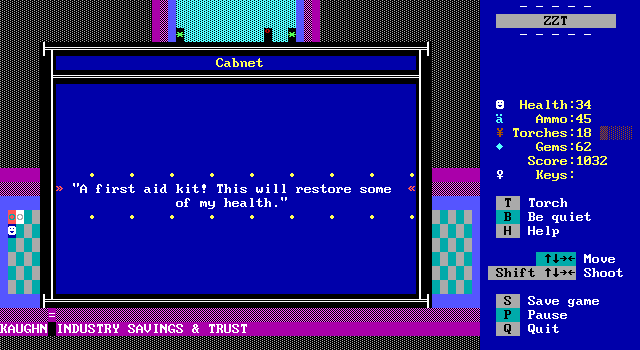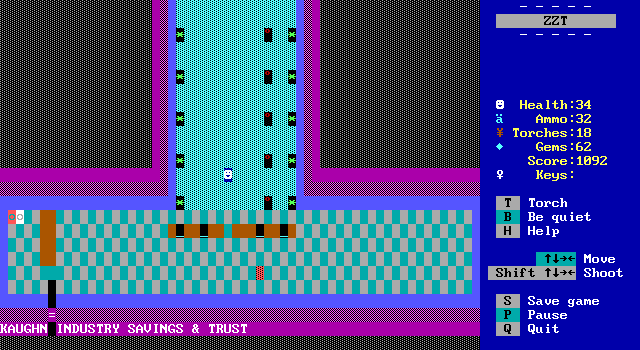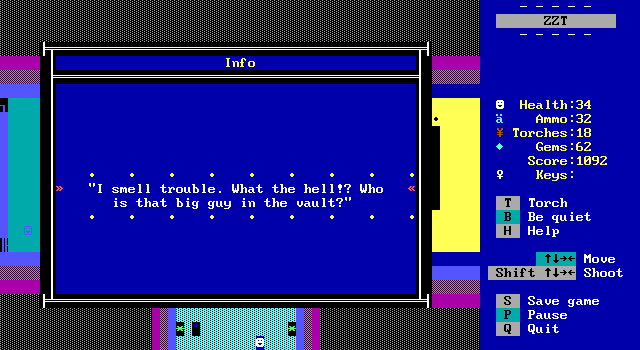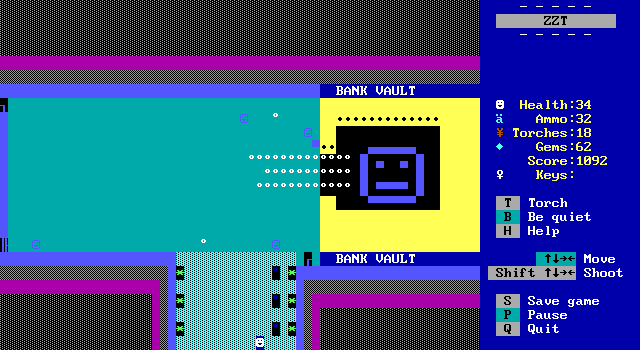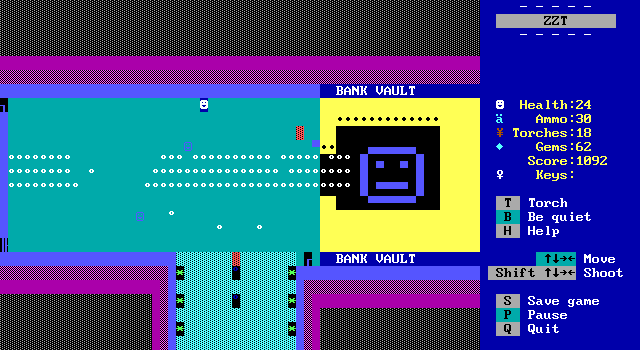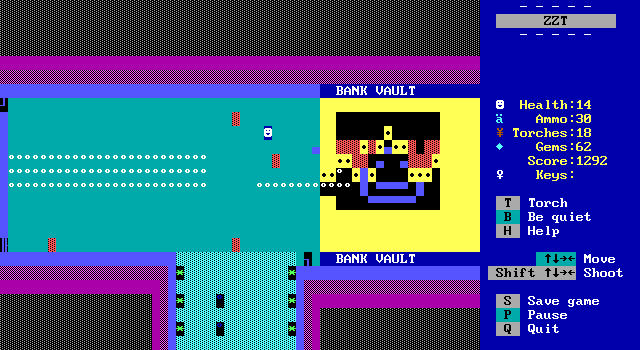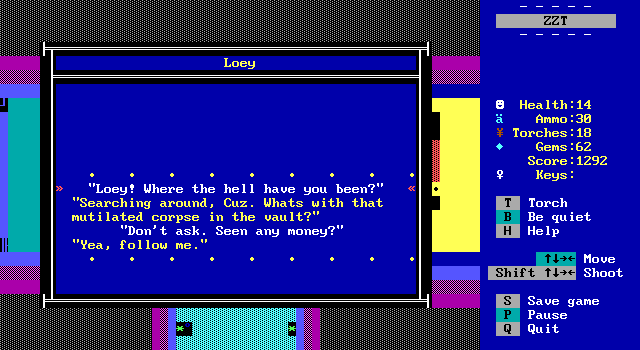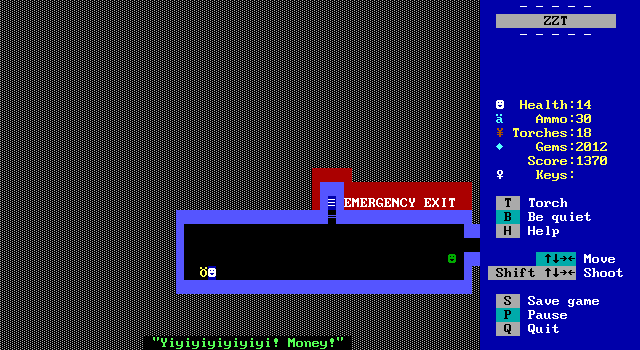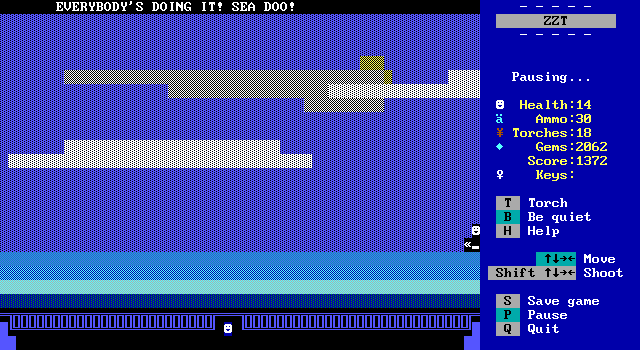 Info
• • • • • • • • •
"Hey, Loey got his Sea Doo. I got back
the Sea Duck, and I still don't know
what the Thunder Road is."
"If you really want to know how you did,
I made a ratings sheet."
▓▓▓▓▓▓▓▓▓▓▓▓▓▓▓▓▓▓▓▓▓▓▓▓▓▓▓▓▓▓▓▓▓▓▓▓▓▓▓▓▓▓
SCORE ▒ RATING
▓▓▓▓▓▓▓▓▓▓▓▓▓▓▓▓▓▓▓▓▓▓▓▓▓▓▓▓▓▓▓▓▓▓▓▓▓▓▓▓▓▓
900-1000 ▒ "Average first time."
1000-1200▒ "Hey, you're pretty good!"
1200-1400▒ "True Baloo."
1400-3000▒ "Damn, you are a super player."
3000-????▒ "You found the secret, right?"
▓▓▓▓▓▓▓▓▓▓▓▓▓▓▓▓▓▓▓▓▓▓▓▓▓▓▓▓▓▓▓▓▓▓▓▓▓▓▓▓▓▓
"See you later, perhapps in a new game.
It depends on you're comments. Send them
to: (kellis@mint.net)."
"Tell Jerry what you thought of his
game, or ask for help. If you are a
skilled ZZT programmer, send your boards
to Jerry if you wanted them in the new
Baloo game. Don't write if you want to
get mad at Jerry."
"Oh, and if you're curious, us here at
Gin Software beat the game with AMMO: 85,
TORCHES: 20, GEMS: 2039, and a score of
1397 points!"
• • • • • • • • •
Final Thoughts
Baloo Episode 1, The Thunder Road was quite the trip. It's exactly the kind of game that you go into expecting the worst, hoping maybe some stilted writing or bizarre non sequiturs. Compared with the Nintendo-themed Keesh's Quest series, where you get to meet various WWF-era wrestlers (which is honestly more what you'll find in ZZT fangames overall), Baloo is remarkably grounded. I mean, it's still very much out there. We're talking about a cartoon bear from a kid's show robbing multiple banks for the game's main plot.
Somehow though, it works quite well. This game feels less like a young child writing their fanfiction in an interactive medium and more like somebody well beyond TaleSpin's target demographic trying their hand at parody. While ZZT is loaded with parodies like the dozen Barney the Dinosaur worlds out there, most of them really fall flat today relying on the humor of taking something intended to be light and fluffy and turning it dark and violent. Ellis manages to instead create a game that has more effort put into it than merely taking the expectations of the source material and doing the opposite with the characters. A lesser game would have made its Baloo protagonist completely unlikable. He'd just go on a shooting spree and show no remorse as he guns down Louie, Kit, and Rebecca merely because they're friends on the show. The Baloo here defies expectations. His personality deviates from the show, but in a way that's not too far off. From his origins singing about only needing the bare necessities, this Baloo still wants the easy life, but now he's willing to take action to make it happen.
This Baloo is detached from responsibilities, but not emotionally distant. He's selfish and uncaring towards those who doesn't know, but still has a circle of friends he cares about. Baloo is more than willing to kill from the very beginning, but it's focused on bank guards keeping him from money, not at Louie who took his plane. He has some kind of personal morality, and as the woman on the plane he hijacked says, he is very much a scoundrel. Ellis makes the scoundrel into an interesting antihero. Baloo lies, cheats, and steals his way to money and does so in a way where you're rooting for him the whole time. I feel like an entire essay can be written on Baloo here and that's what makes Baloo the game so great. The character absolutely carries an otherwise mediocre title into something admirable in a way. This game constantly defied expectations and feels years ahead of its time.
Within a year of Baloo, the ZZT community would start leaning heavily into the sort of shock humor exemplified by Draco's Teen Priest. Having replayed that one in 2017, it was a bit miserable to go through. Johnny Danger, the teen-cop gone undercover is an asshole like Baloo but without the charm. The power fantasy of Teen Priest is that Johnny get to be an asshole and never suffer for it. The power fantasy for Baloo, is that his actions have consequences, and its through quick thinking that Baloo can stay one step ahead. Baloo beats the odds to escape a bad situation which gives gives you something to root for.
I need to stop talking about Baloo already sheesh.
Outside of the character that steals the show, Baloo Episode 1 is mostly straightforward adventure. It has some impressive visual design, particularly in how the game handles its vehicles. The action sequences definitely fall on the easy side as whatever objects are meant to be gunning down Baloo mostly gun down each other. In a game with lesser writing, this flaw would be more severe, but here it keeps the game moving. The writing does have its own unfortunate issues with a few casual homophobic jokes sprinkled in. They can be avoided, but when the strongest aspect of the game is the writing it means that these lines are scuffs on an otherwise pristine aspect of the game. The player actually being interested in this game's dialog means that if you're playing this game prior to reading about it here, you're almost certainly going to interact with every person you can ensuring their appearance.
Those blemishes are unfortunate, but overall Baloo is a rather unique ZZT game. Despite its 1997 release date, it has gone unpreserved on z2 and only acquired by the Museum shortly before this article's creation. Baloo has been nearly inaccessible for a good twenty years and potentially more and it's really a shame because while it's no top-tier ZZT world, it's definitely a fun enough journey that I'm sure it would have some positive reputation in the ZZT community throughout the 2000s had we known about it. It's not a recently rediscovered lost gem, but maybe a lost twenty dollar bill. It's not going to change your life, but you should think twice before passing this one by.
======
A Worlds of ZZT Production
======
The Worlds of ZZT project is committed to the preservation of ZZT and its history.
This article was produced thanks to supporters on Patreon.
Support Worlds of ZZT on Patreon!