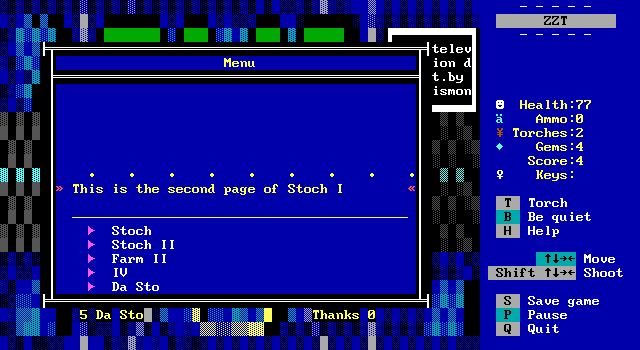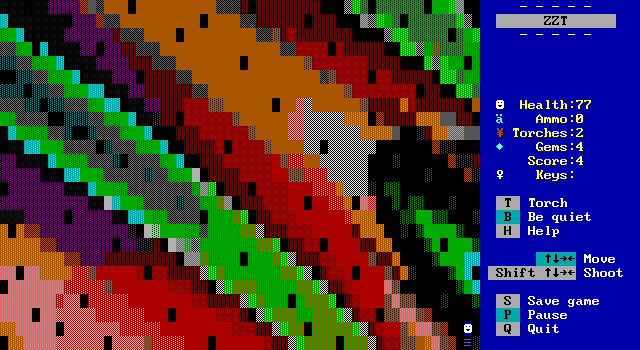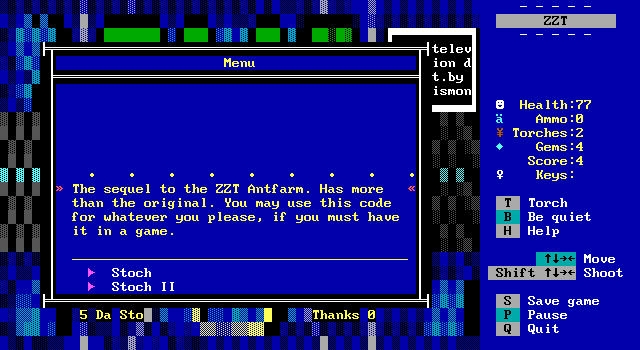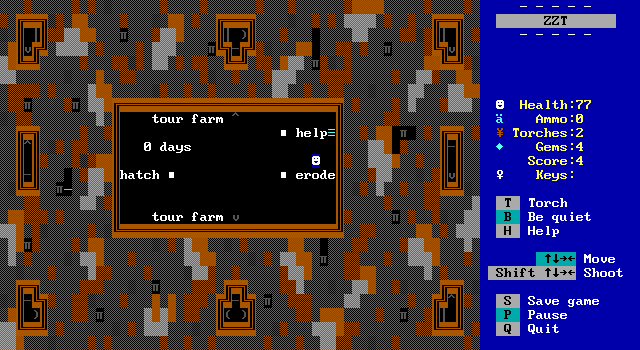 Antfarm Version II Info
• • • • • • • • •
▄▄ ▄ ▄ ▄▄ ▄▄ ▄▄ ▄▄ ▄▄▄
---▐▄▌▐ ▌▌ ▐ ▐▄ ▐▄▌▐▄▌▐▐▐ ---
▐ ▌▐ ▐▌ ▐ ▐ ▐ ▌▐ ▐▐ ▐
Version 2.0
Info:
Welcome to ZZT Antfarm Version 2.0. This
is a bit more advanced than the original,
and has more features. You are basically
the one who supports the farm and you care
take it. The ZZT Antfarm is a simulation
of a real ZZT antfarm, but as most
simulations go, they aren't exactly like
the real thing and don't discuss all the
concepts.
Anyway, the features are:
--Tour
You are able to take a tour throughout the
antfarm and observe it in many different
views. This is so you may be able to study
their habits and see to it that all ants
are seen. Also, since ants have a natural
attraction to the scent of a human, they
tend to burrow in your direction but are
limited by the walls which surround you.
--Clearing out dirt
The ants use this wind force to remove
the dirt in the way. They have 2 different
wind forces.
--Larvae
Sometimes, as the days go by, the tigers
lay Larvae behind.
--Hatch
Use this to hatch larvae.
--Erosion
Destroy all the ant's creations, the days
go by.
--Days
This happens every time erosion is
selected. This is just a measurement of
time.
--Young
After hatched, the young are the cyan ones
roaming around the place.
Some bugs: Sometimes the ants shoot into
the bug-free areas. This happens very
rarely, but in case this happens, press
the erosion button, and your health is
restored. Another bug is that when some
bugs hatch, they are unable to be
programmed to do what you want, so they
end up not shooting stars, and laying more
larvae, ETC. Also, sometimes if the eggs
are hatched near other elder ants, the
elder ants inherit the dirt clearing habit
the young do. Sometimes it even switches
roles where the cyan ants shoot stars.
This is rare. At times, the elder ants
undergo massive fire, where they massively
fire bullets to clear dirt instead of
the star, like usual. That is all
-Viovis Acropolis
P.S. I hope quiet mode fits better. If it
doesn't kick in, press escape a few times.
Oh, it is also better if this is done in
a higher speed. I reccomend second-highest
speed.
• • • • • • • • •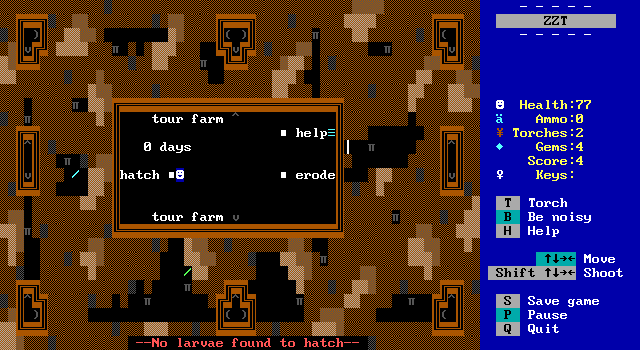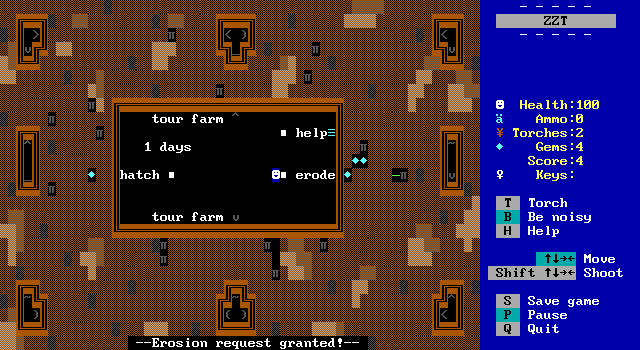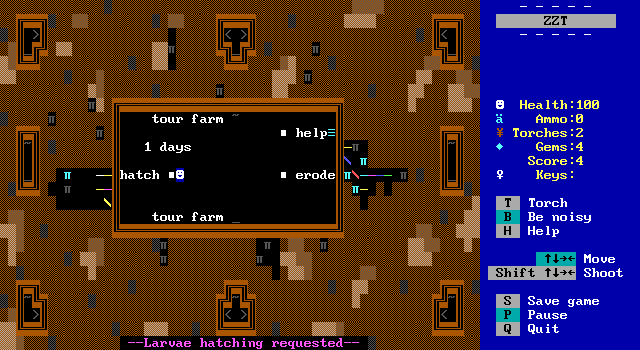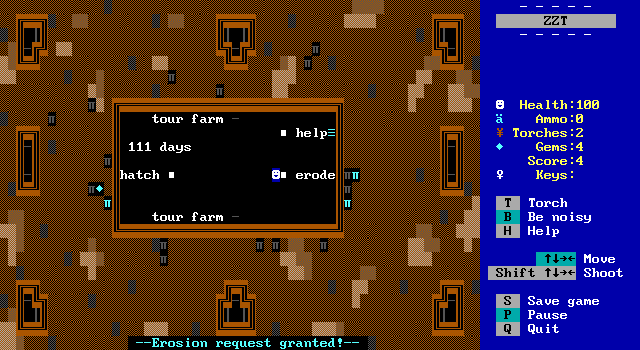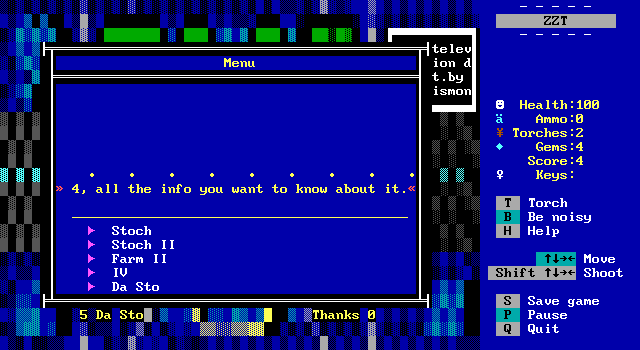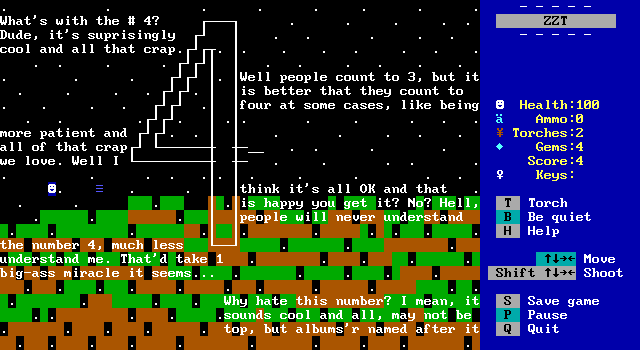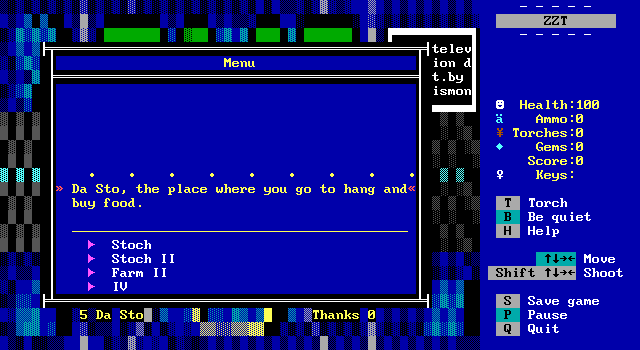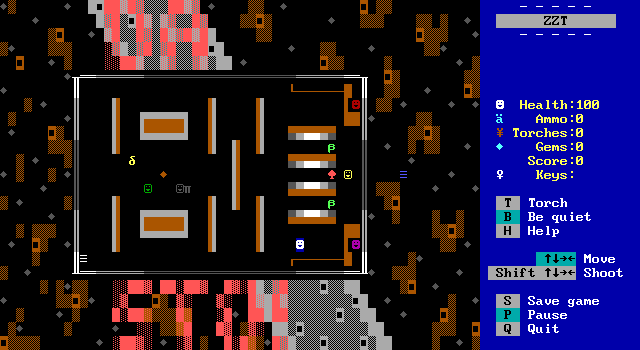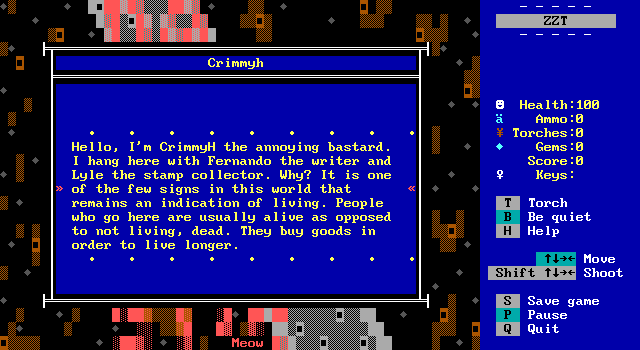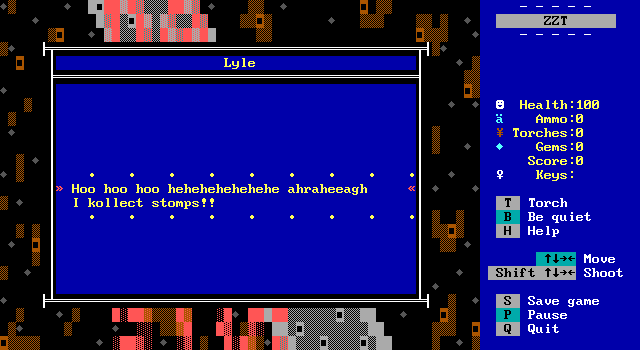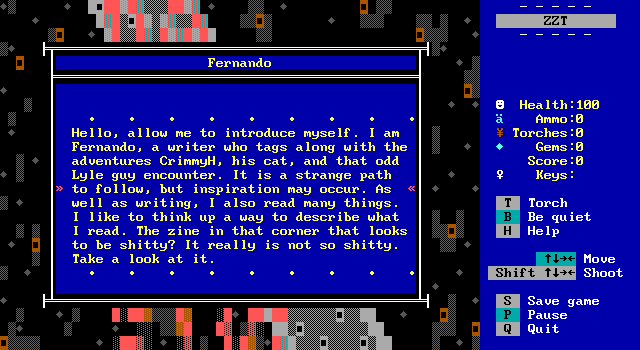 Brocs
• • • • • • • • •
Travel Brochures:
Trip to Montana
Trip to Oklahoma
Trip to FARTAHARTO
Trip to Heaven
Trip to Hell
Areas:
My fucking busstop
My fucking park
My fucking driveway
Helpful Guides:
Eating right!
Picking out the right travel agent
Exercise
Guide to guides
Commands
Eat Brochure
Don't Eat Brochure
Spin Brochures around
Exit this cruddy menu
• • • • • • • • •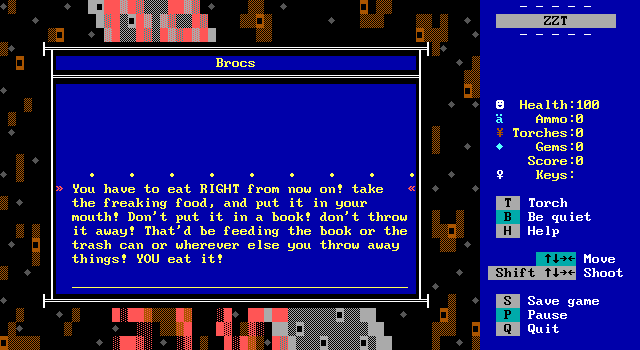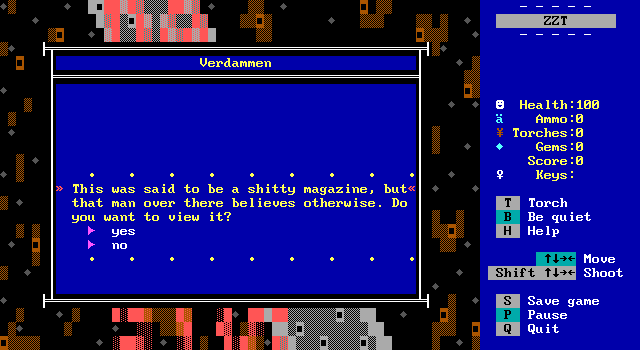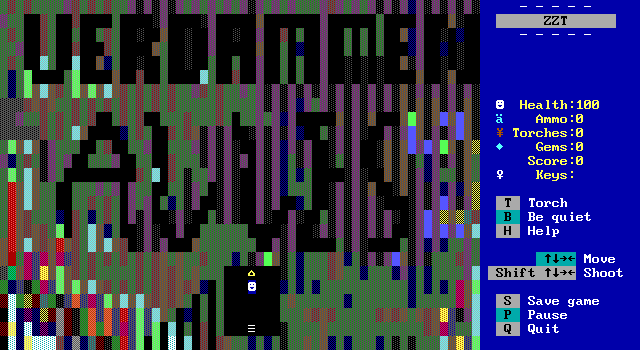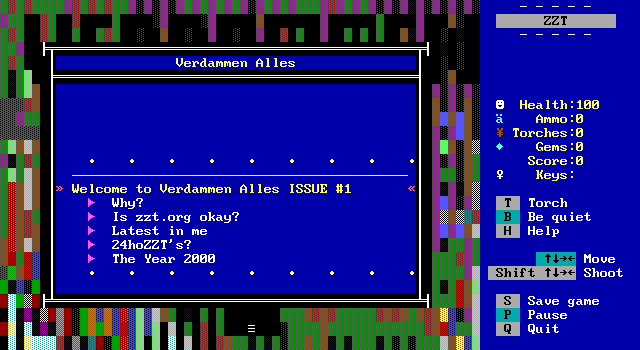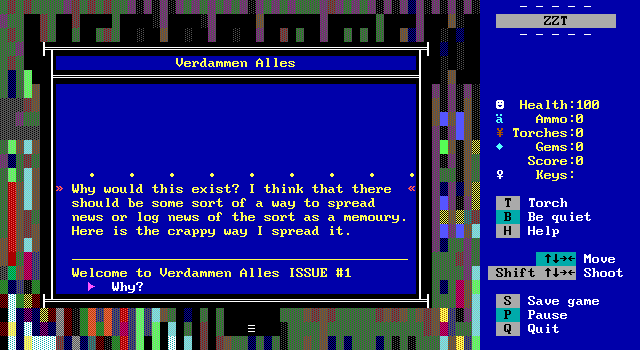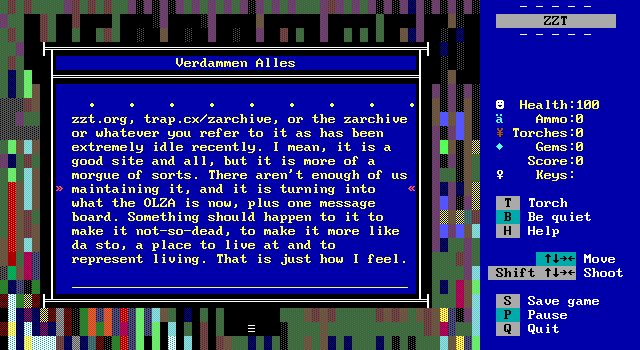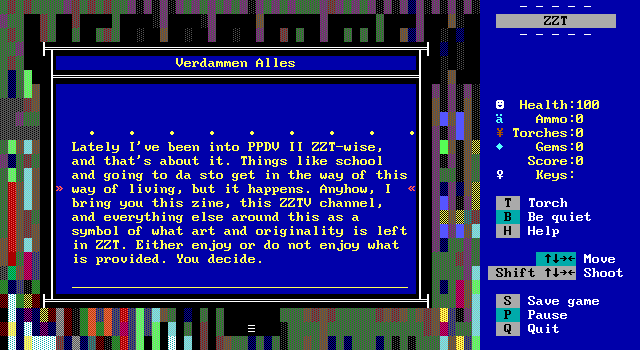 Verdammen Alles
• • • • • • • • •
24hoZZT's, a torture, or a pleasure? I
like them myself. I enjoy playing them, I
enjoy making them, and I enjoy the little
thing of competition in them. That all is
the pleasure of them. I hate staying up
long, I hate having to play through those
games which are buggy or ugly, and I hate
the strike of impatience for feedback
after creating them. That is my way of
seeing them. The pros and cons balance out
in my point of view. I crave them, I
savour them, I make the most out of them
despite the results. I want to be in more
of them. One a season is too little, and I
feel that they should be whenever
necessary. People have recently complained
about people planning too many of them and
how they will become boring. I believe
there should be official ones, and
unofficial ones. The official ones with a
straight set of rules, pre-planned dates,
etc, while the unofficial ones can be
page-less and free-form, with less people
but more thorough in reviewing at the end.
I just appreciate all of 24hoZZT and the
concept because I tend to get something
done that way.
• • • • • • • • •
Verdammen Alles
• • • • • • • • •
The year 2000 is coming by soon. What does
that mean to me? NOTHING. I'll just be
angst about it, as I should, because that
is how I come up with a result like this.
The year 2000 is endoursed way too often,
and everything about the endoursements are
fully unnecessary. All this stuff about
the end of the world or the Y2K is
annoying. If any of this were to happen,
I'd rather hear it once so I'm aware of
it, and not much further because it is
just one additional thing to worry about.
All this Y2K stuff at first sounded
feasible, before all the shoes and sports
cars. The concept made sense, the random
deletion of things, I am unsure of.
Basically, it was a bug the original
programmers didn't think of, and then they
realize it, with the thought of earning
additional cash by coming up with a fix of
the bug. That's all common, things could
happen. We could say nothing would, we
could say things wouldn't work as well as
before, but that doesn't explain the
market they came up with. I think it is
all just a conspiracy planted so they
could further the development of fooey
marketing. I'm tired of writing this now.
• • • • • • • • •