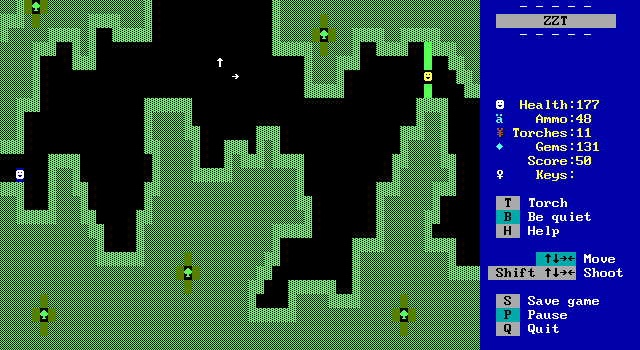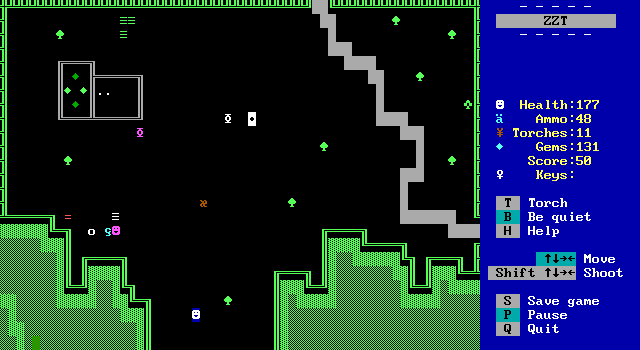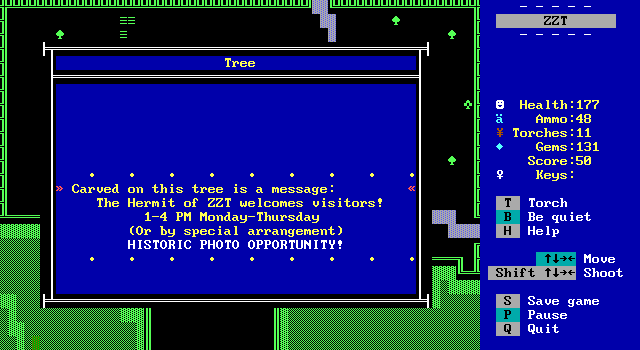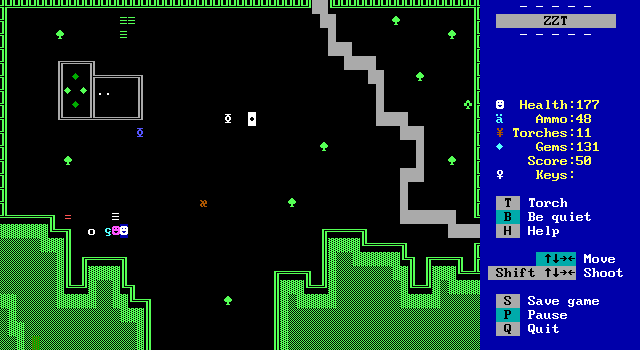 Hermit
• • • • • • • • •
You are the Hermit of ZZT?
Yes.
Why did--
Don't say it! Everybody always asks me
why I became a hermit.
Sorry.
Well, I'll tell you. Once upon a time, I
was the head programmer for a huge
computing firm. But over the years, they
started making me do more and more work,
and gave me less and less time to do it
in! And once I'd written a program, they
went out and sold it for twice what it was
worth! I told them, when you do that, you
upset the programming gods, but they
didn't listen! So I quit and became a
hermit. Last year their LAN system went
down and all the programmers quit at the
same time. I warned them...
What does this have to do with the game?
Let me finish!
All right.
So I became the Hermit of ZZT,
programming for the joy of it, shunning
material goods, and working at my own
pace! That is the true way of programming,
unfortunately nobody practices it anymore.
Programmers wonder why they never get any
babes, that's why.
Well, what does this have to do with the
game?
Hm, I seem to have forgotten. There seems
to be something terribly important I need
tell you, and that's why I'm in the game,
but I can't remember what it is. Maybe if
I had some coffee I could think better.
Here's my coffee mug, go get me some
coffee from the machine over there.
• • • • • • • • •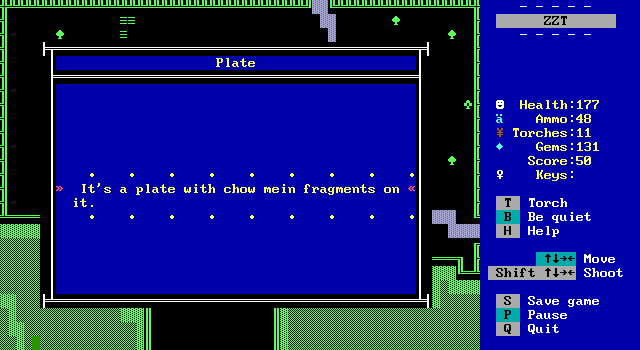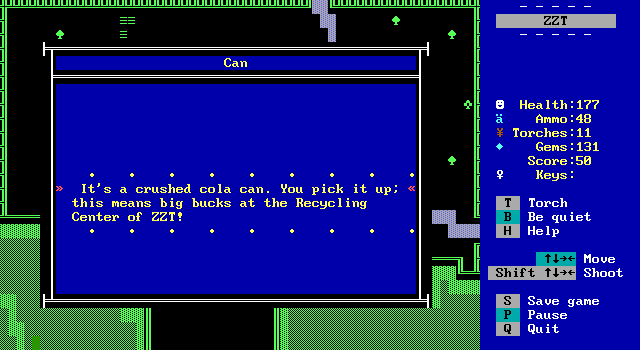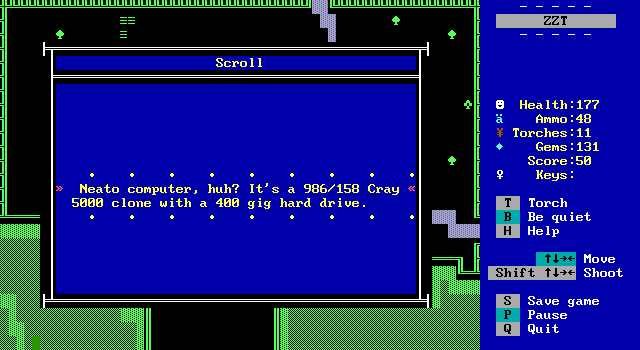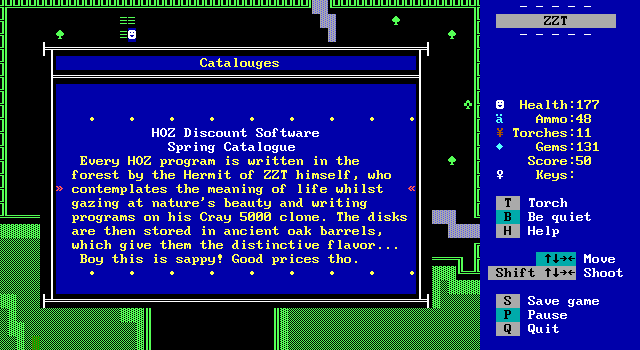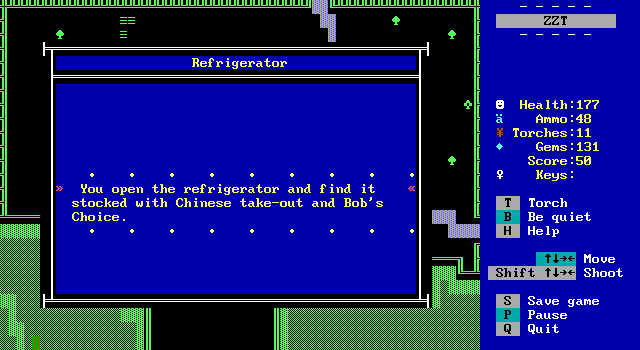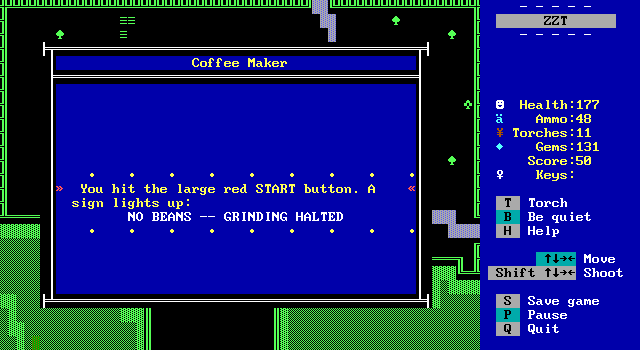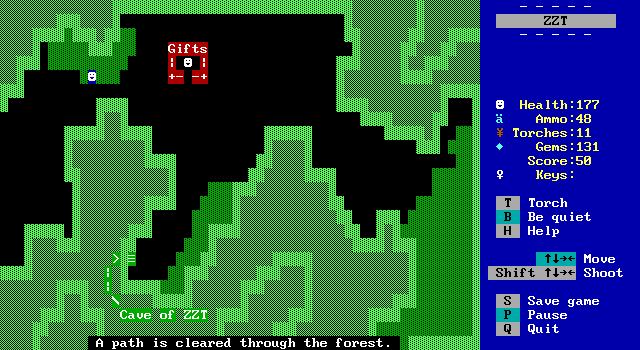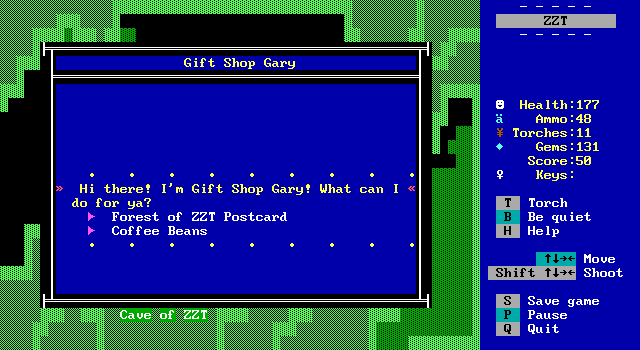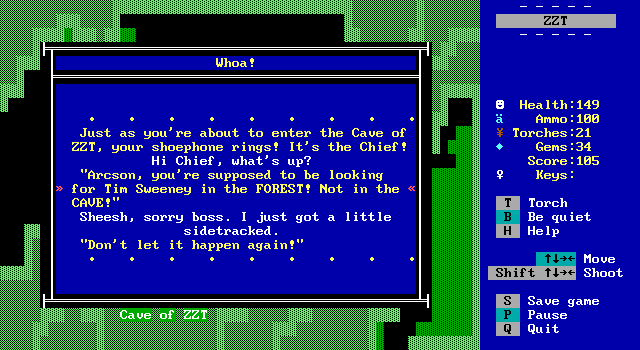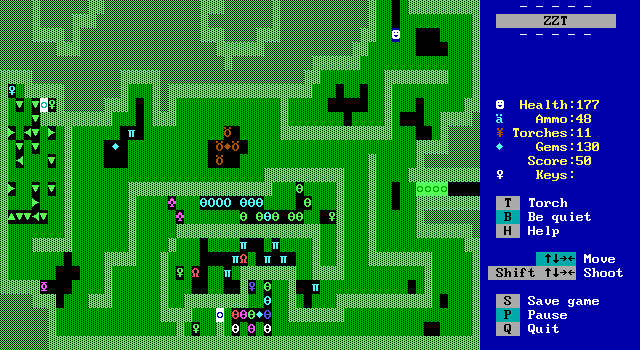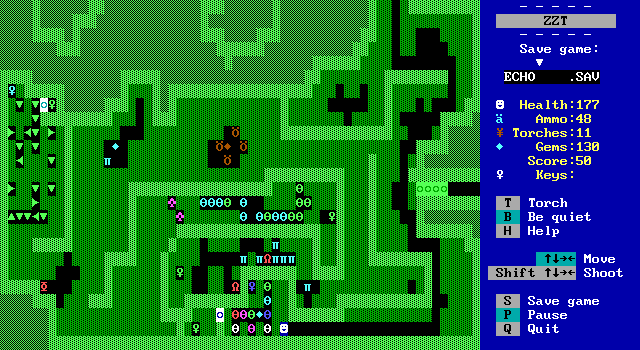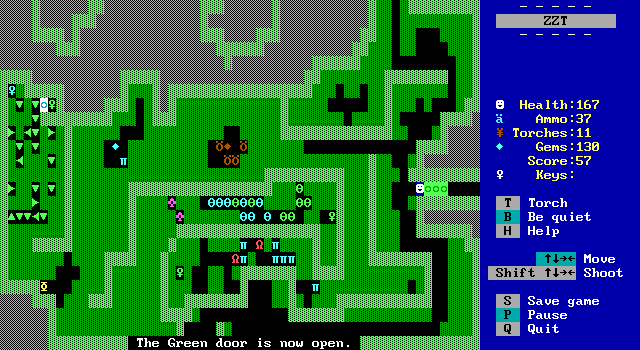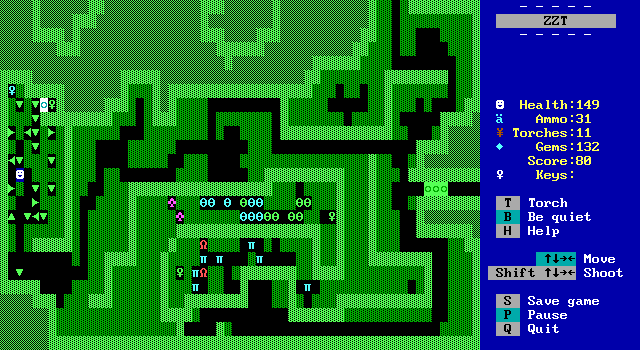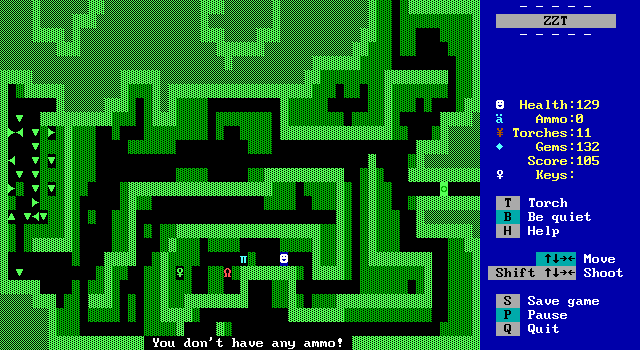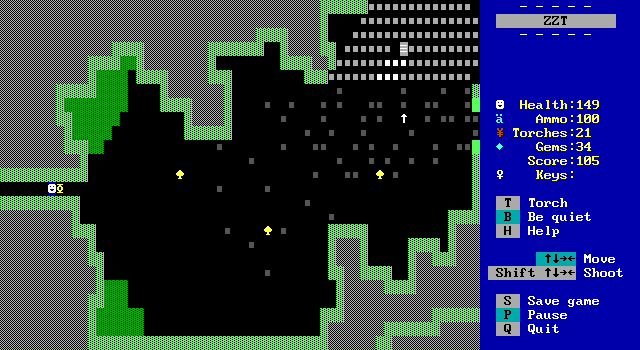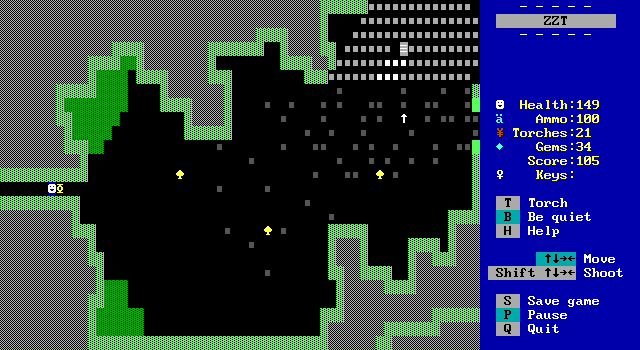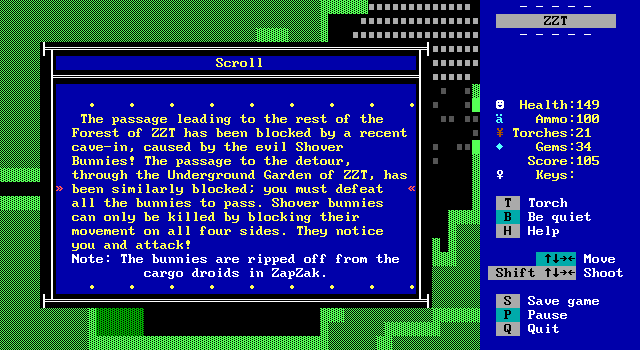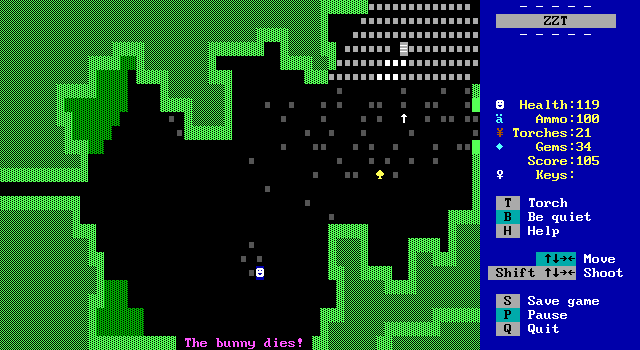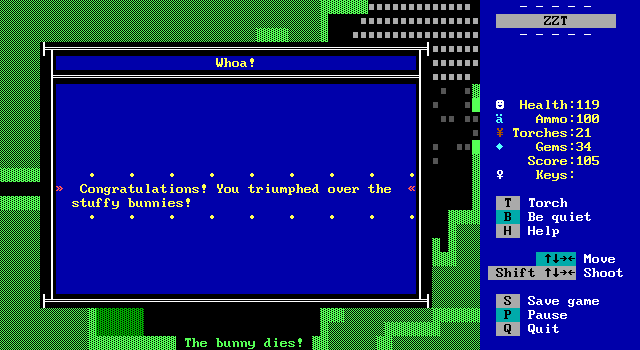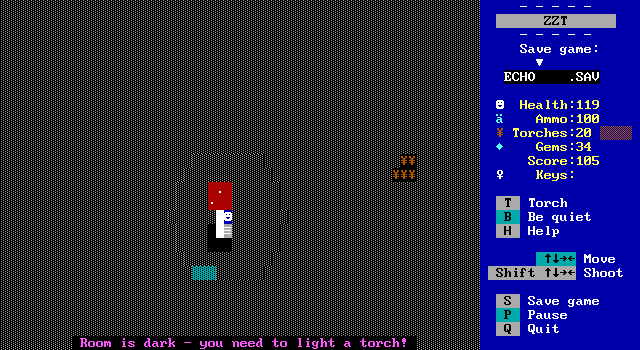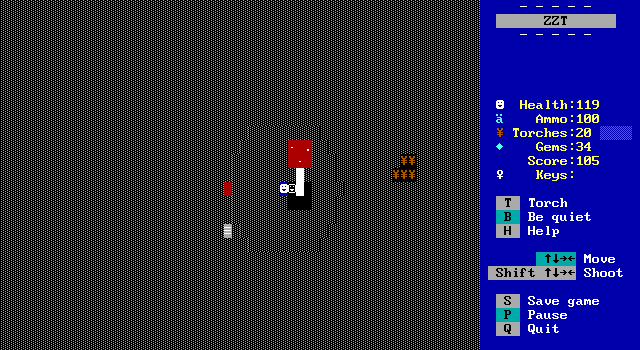 Skeleton
• • • • • • • • •
It's the skeleton of a dead adventurer.
In his pockets you find two mysterious
scraps of paper:
∙
∙ · --Flammable
∙
.· --Shrink
∙
∙ --Grow
· .
∙
And the other one:
(***) ***-****
• • • • • • • • •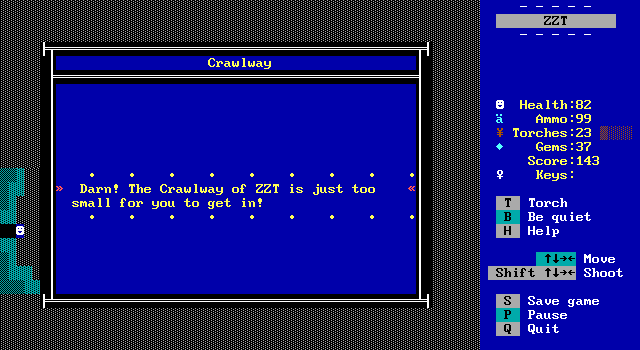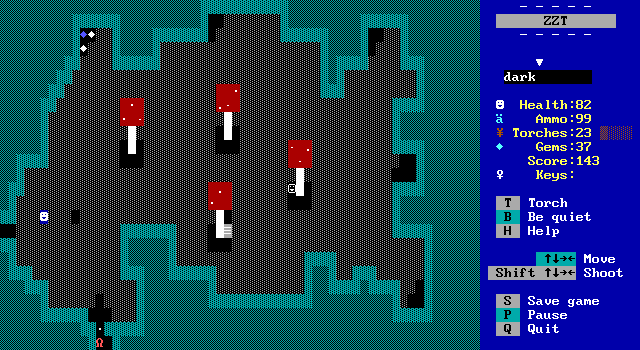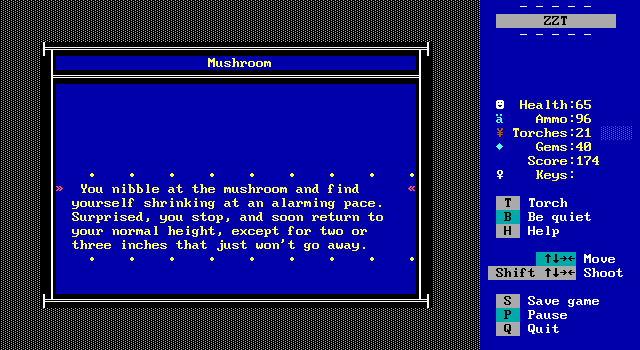 Mushroom
• • • • • • • • •
You nibble at the mushroom and suddenly
see Dan Quayle at his 1996 inaguration.
Not realizing that it's a hallucination,
you panic, have a heart attack, and die.
• • • • • • • • •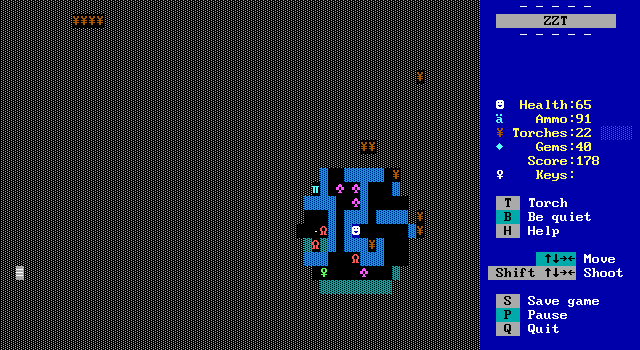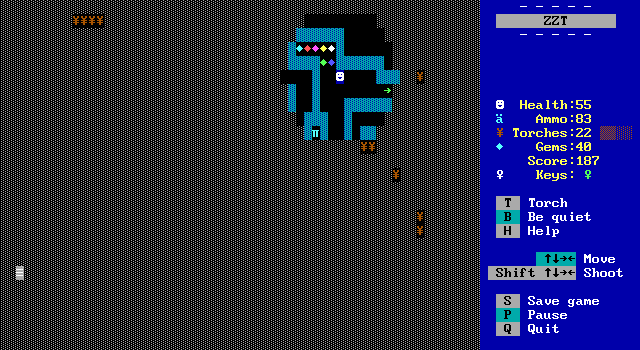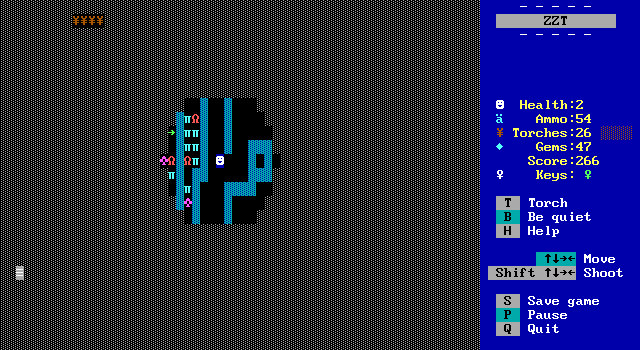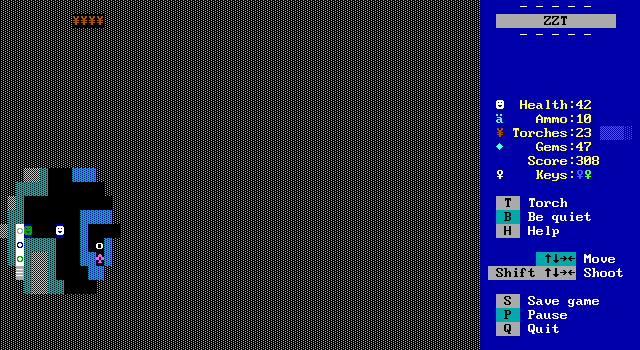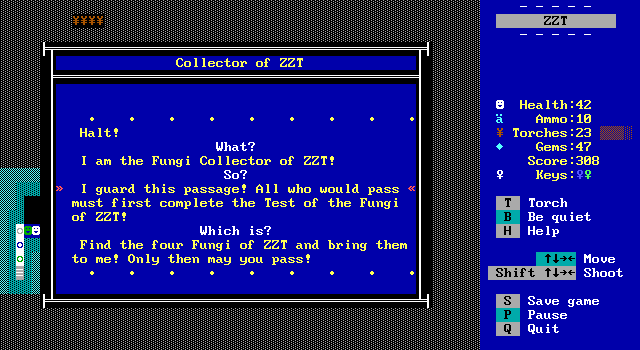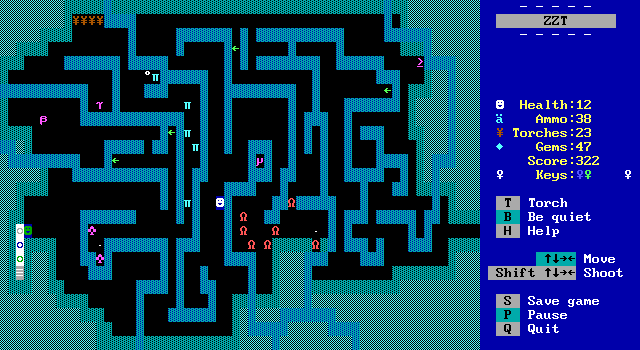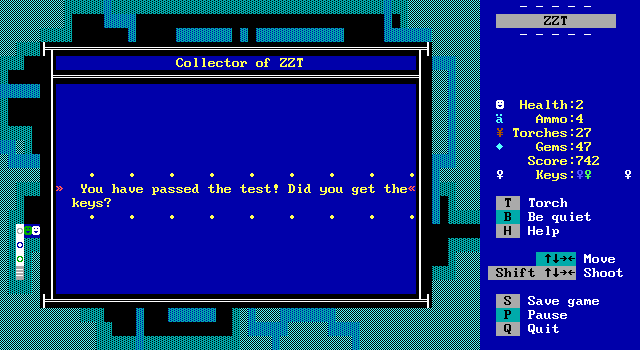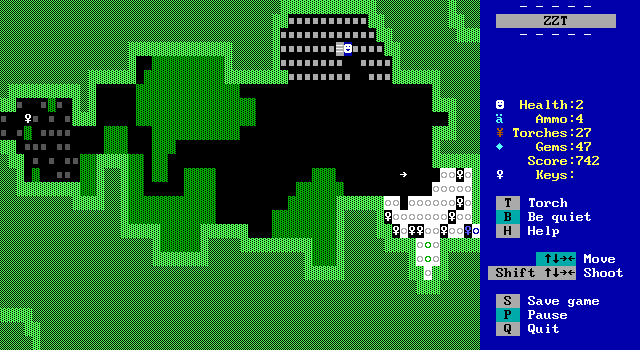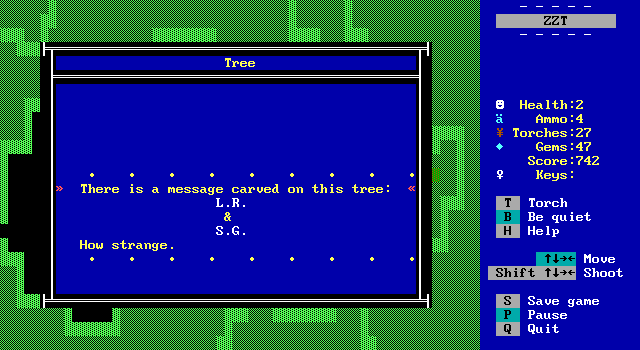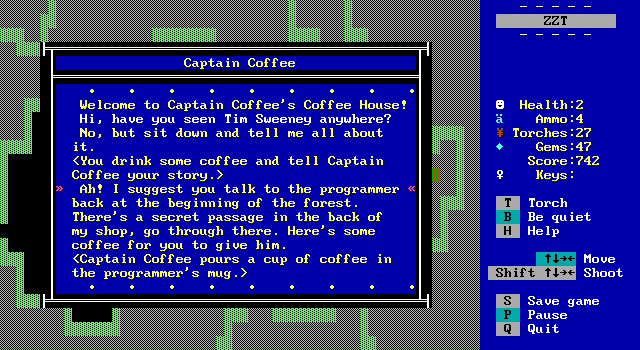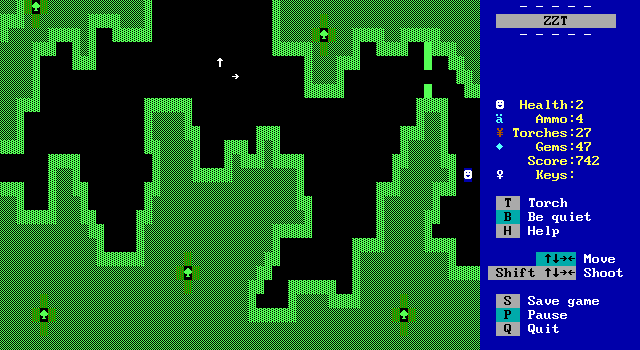 Hermit
• • • • • • • • •
<SLUUUUURP> Aaaah...
Aha, now I remember why I'm in this game!
To tell you to call Da Warren BBS at
(***) ***-****! And to allow you access to
the Amazing Talking Tree of ZZT, across
the river from here. He claims to know
where Tim is.
• • • • • • • • •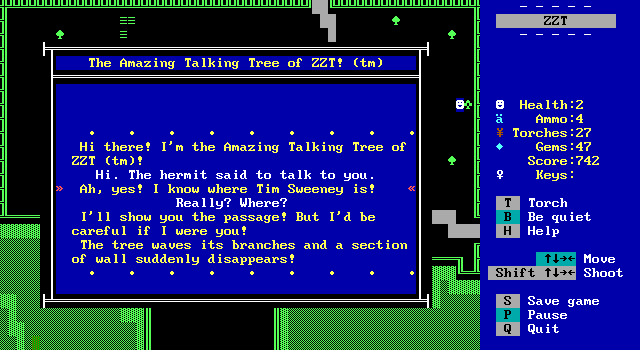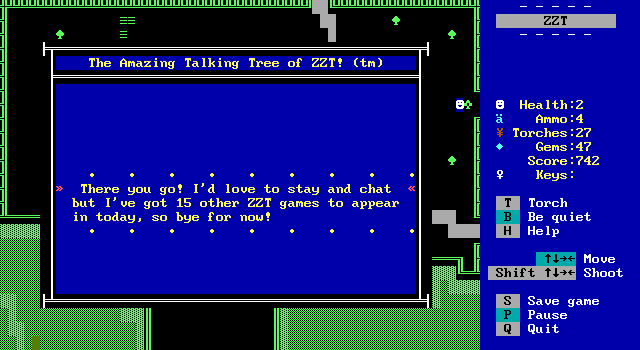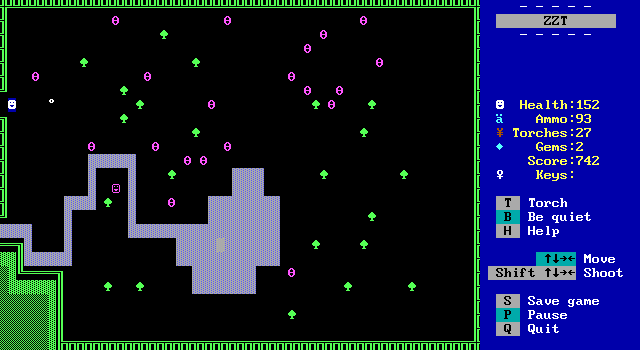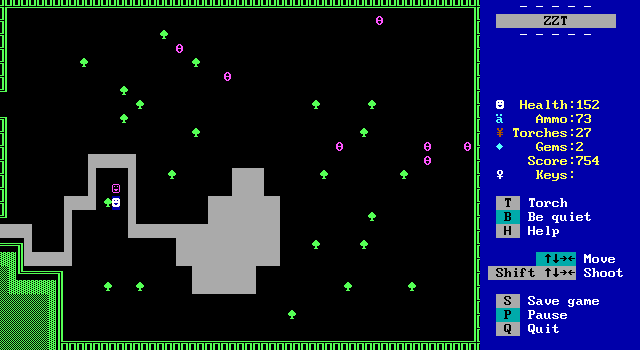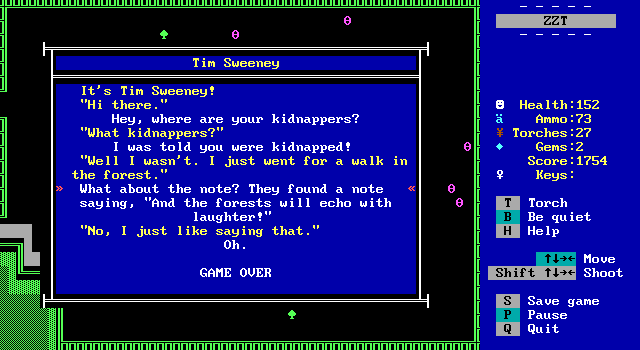 Tim Sweeney
• • • • • • • • •
Yes, you have successfully rescued Tim
Sweeney from the utter evils that hadn't
kidnapped him, and in the process been
promoted to Leiutenant! Aren't you lucky!
Credits
Game written by:
Leonard Richardson
Game tested by:
Leonard and Susanna Richardson
Shameless plugs for Da Warren BBS by:
Leonard Richardson
Rubber vomit supplied by:
Bob's Rubber Vomit Ltd.
Many of the scenes in this game were
of an extremely silly nature, and were
performed by experienced stunt workers. Do
not attempt to duplicate them at home.
• • • • • • • • •
Final Thoughts
This game is such a timepiece. It also feels very transitional. The early game is very much in that mid-90s vein of ZZT worlds where you're supposed to touch every object and get something out of it. Jean-Pierre's home fits right in with Code Red and the many games it inspired (despite predating it by a few months!) where it feels like there's a lot to see. Yet at the same time it feels very old fashioned once you're actually in the forest. Suddenly it's all about shooting lions and solving some simple puzzles. The cave segment feels a lot like something out of Beth Daggert's Ezanya.
Overall, it's still fun to play, and is a pretty brief game. It's just very frontloaded. You can see the humor in it, but the vast majority of the jokes and references feel dated and cliché today. More than twenty-five years after its release, it's not all that compelling, but it doesn't overstay its welcome and excluding the instant game over from the pizza delivery, is generally well designed if nothing too amazing.
For somebody looking for an old fashioned ZZT adventure game, it's fine. I wouldn't put it on a list of the best ZZT worlds of the era or anything, but you could definitely do a lot worse. For those with an interest in early internet history however, I think there's a lot more to appreciate, as Richardson's many reasons to visit his BBS feel so surreal now. Star Trek and Rocky Horror in a world where getting information on such things isn't a matter of checking a massive wiki-based database. It's a neat like relic of its time, and if you are into old online culture it feels like it's a good cross-section of what you might be looking for.
As a tribute to Tim Sweeney, it's, well, whatever. He's there to get your attention turned to Da Warren and to give the game a light-hearted ending. It's far more of a tribute to the BBS than anything else.
One last thing to note is that Richardson actually released updated versions of a few of his games in the later 1990s. There's a 1998 edition of The Forests Will Echo With Laughter which adds some shading and makes the game a bit prettier overall without seeming to touch the game's writing. Up until quite recently, this was the only version of the game readily available so it was neat to see the more primitive versions of each board. If you do decide to check this world out, there's little reason to go with the 1993 edition over the remastered version.
Oh. And here all all the "of ZZT" things mentioned in this game:
City of ZZT
Couch of ZZT
Word Processor of ZZT
Apartments of ZZT
Forest of ZZT
Soda of ZZT
Squad Car of ZZT
Housing Developments of ZZT
Boring Slider Puzzle Factory of ZZT
Amazing Talking Tree of ZZT! (tm)
Hermit of ZZT
Recycling Center of ZZT
Cave of ZZT
Underground Garden of ZZT
Crawlway of ZZT
Fungi of ZZT
Collector of ZZT
Captain Coffee's Coffee Hosue of ZZT
Feel free to make a Twitter bot that's just every noun + of ZZT.
======
A Worlds of ZZT Production
======
The Worlds of ZZT project is committed to the preservation of ZZT and its history.
This article was produced thanks to supporters on Patreon.
Support Worlds of ZZT on Patreon!