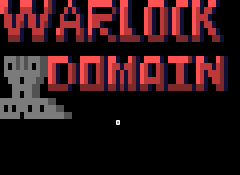 Imagine a game with epic scope contained within one castle. Imagine a game where your character's heroic qualities are undermined by other characters' single-minded determination. Add a plot with wonderful twists, and gameplay that never gets boring and you've got Warlock Domain. Alan Chan's first published game shows that he knows what's up in ZZT. Warlock Domain features all the aspects of a game made by a veteran ZZTer with a touch of rookie flavour. It's also a prequel of sorts to Alan's sadly unfinished Htrae saga, which is highlighted in a short but glorious demo: Htrae I : The Crimson Omen.
You start the game with basic adventurer knowledge: Princess Daisy was kidnapped by the Warlock Daimon, all rescue attempts have failed. If Daimon marries the princess, he will take over the kingdom. You can't let this happen. With that you begin in front of Castle Shadow, Daimon's lair. Alan's subtle humour is apparent from the start as you try and talk your way past skeleton guard guarding the gate. This humour is what allows the game to flow so well. Jokes don't feel like they're jammed in to force a laugh, rather they are used purposely to develop the characters better.
As soon as you enter the castle you've got loads to do. A lot of the castle is open for you to walk through and explore. Each room is vastly varied and there isn't any space wasted. Puzzles present themselves immediately but the answers are not available right away. In some cases it's a "find the right item" sort of puzzle, this doesn't mean you don't have to think though. The other puzzles are original, fun and never annoying. The security system that guards the chalice, and the stuck switch are good examples. You're always on your toes in this game. Never are you bogged down with the tedious adventure thought process of "I need this so I can get that to go there and get that to save blah blah blah." Instead you've got mostly free reign over a majority of the castle. Can't go that way? That's okay. You've got plenty of other places to explore.
Of course as you explore the castle, you must fight its inhabitants. The game doesn't falter here at all. Almost every fight is varied. There are the skeletons that you shoot with your arrows, the enchanted lions you kill with your sword (rouge-style), one of the bosses you defeat using a magic staff, in the cave there are pre-fab monsters(!), and then of course RPG battles. The RPG battles happen at a quick pace and are intense sometimes. It's a very good system, comparable to the one in Rhygar, and is used very well in the game. Some of the story even develops in the battles. Alan does a good job of switching it up. Combat is never tedious or boring. It happens in brief spurts which keeps the adventure going at a brisk pace.
Alan Chan's artistic abilities are well highlighted in Warlock Domain. While simplistic it shows that a great deal of effort was put in to designing the castle. Still Alan shines through this simplistic facade with some great effects. Daimon's taunting visage at the entrance of the castle, four skeleton guards merging to form Skeletor, the battle with Molloch, and the animations of monsters in the RPG battles all showcase both great drawing combined with great programming. The cutscenes, which don't show up until the end of the game, are few but look great. One of them features great animation as well.
Music is the game's only weakness. It's not terrible, it actually adds to the game, but you'll probably be running for the "B" key when the ending sequence starts up. We hear a few Final Fantasy tunes in there and they help to create a good feeling while also giving a nod to the series. Overall I'd rather have the music there rather than silence. The sound effects prove to be easier for Alan and there are a bunch of nice ones here.
Warlock Domain is my personal favourite ZZT game. It's fun and well written with strong characters and a great story. It's a shame the Haetre games never were completed. But we have Warlock Domain to satisfy our ZZT fantasy needs. If this game leaves you hungry for more sword and sorcery goodness, I suggest Legend of Brandonia.