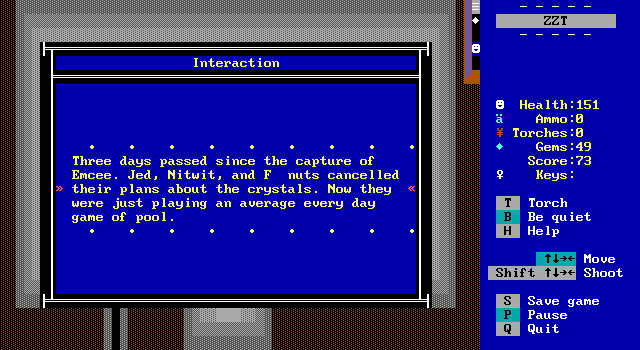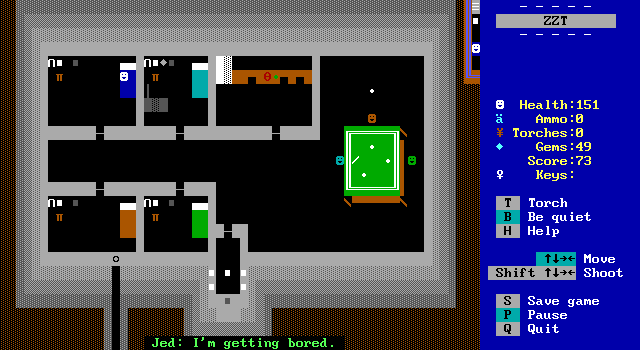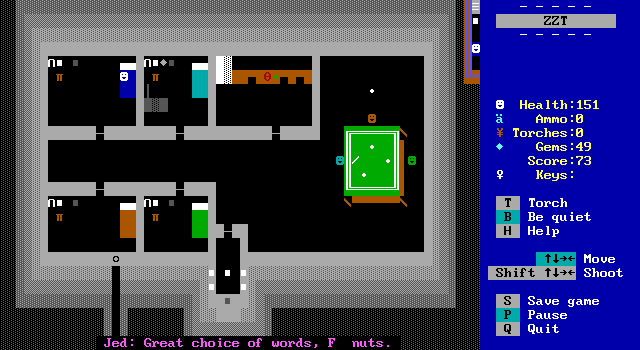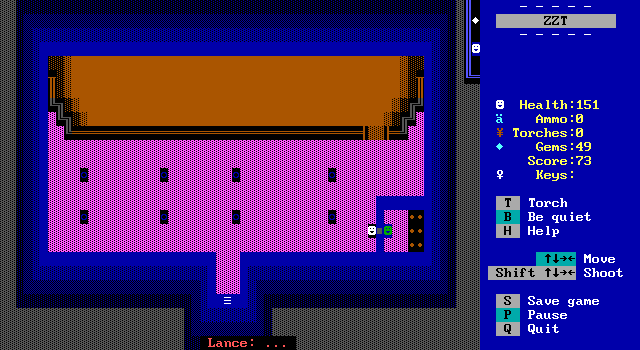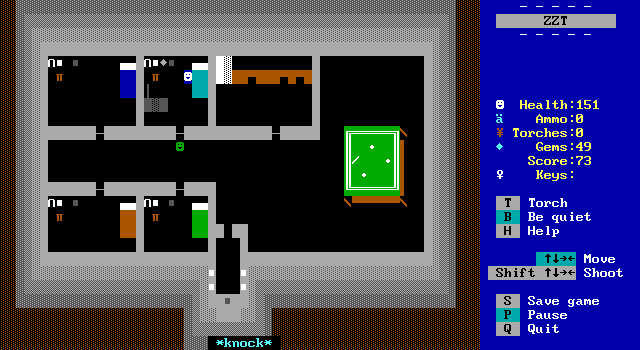 Interaction
• • • • • • • • •
LANCE IS MISSING, MANNNNN!!!!
THE HELL!?!?!?!
THE ANGELS MUST HAVE TAKEN HIM!!!!
I'm not so sure about that.
BUT HE'S DEEEEEEEEEEEAAAAAAAADDDDDDDD!!!!!
...where's Nitwit?
...he left, dude.
Shit. Where?
HE MUST BE DEEEEAAAADDD!!!!!
Oh, shut up.
...
Come on. Let's go.
Ok, man. But let's take the secret
staircase this time. Nitwit locked the
other way out.
• • • • • • • • •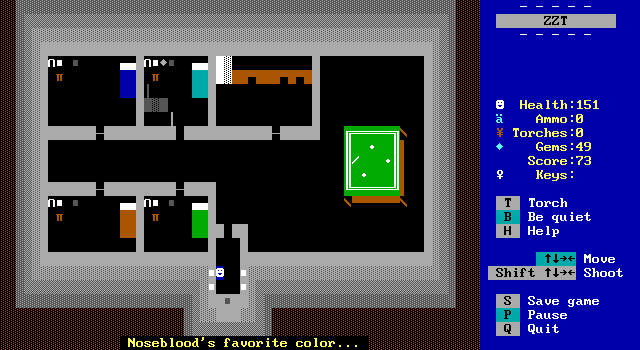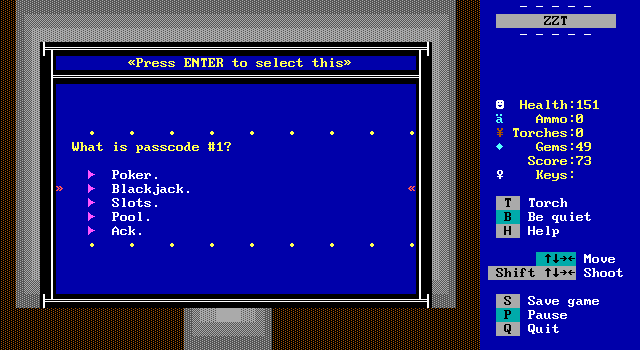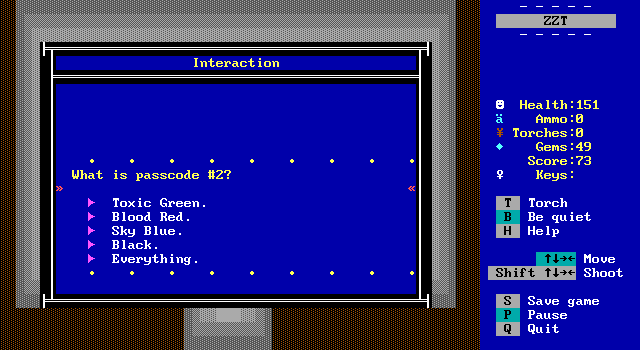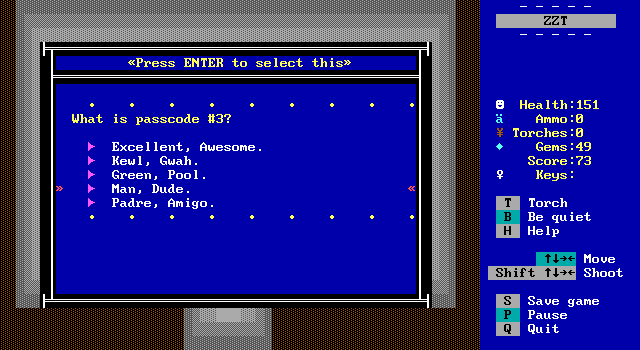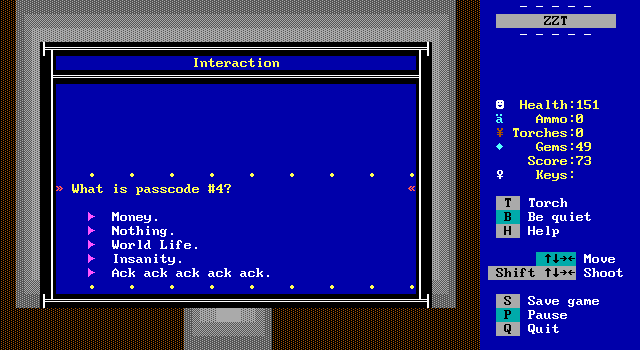 I almost regret not censoring F*gnuts as Mandude.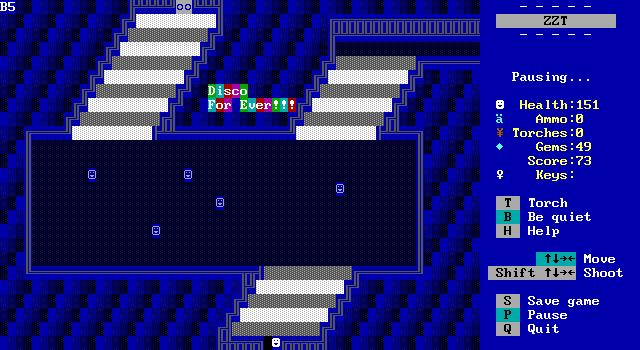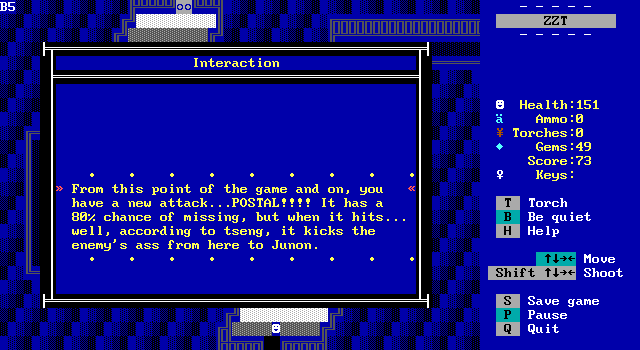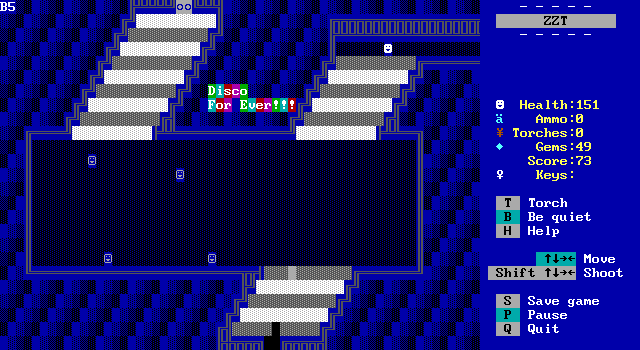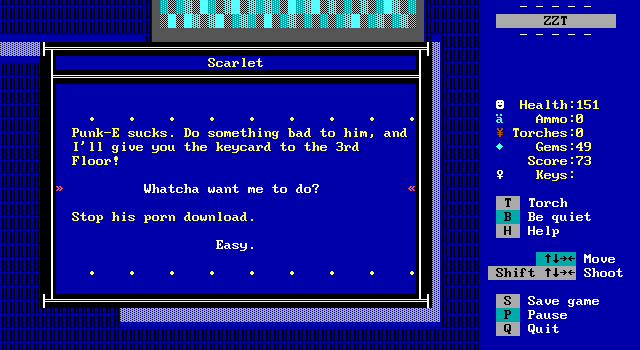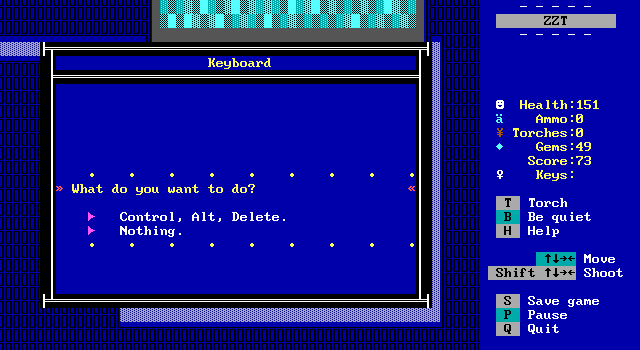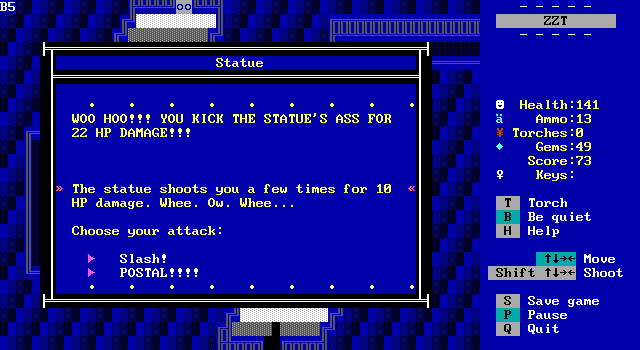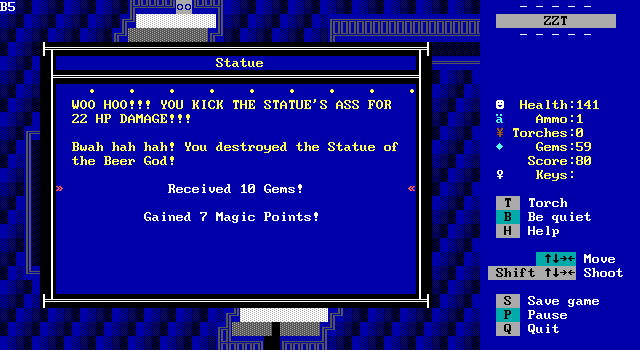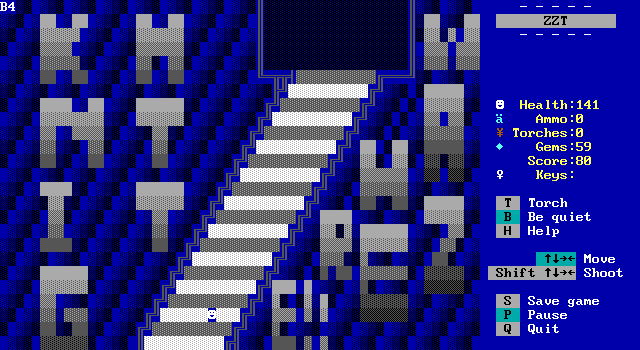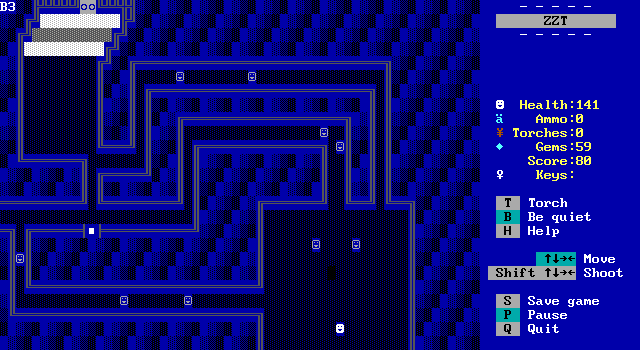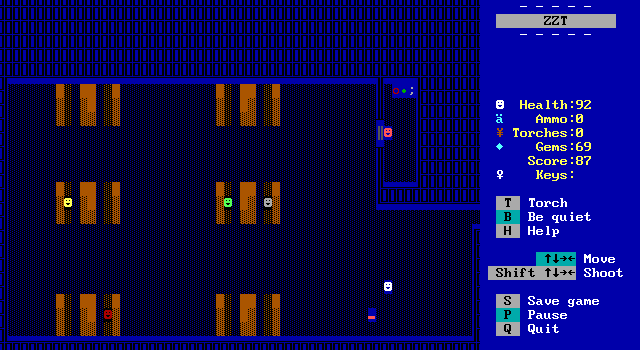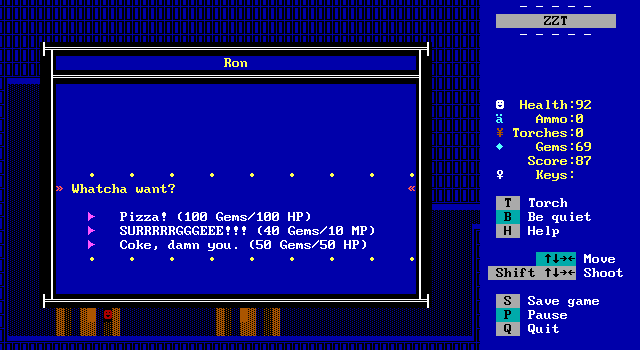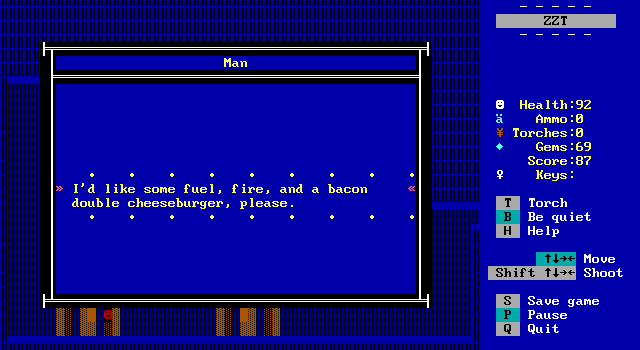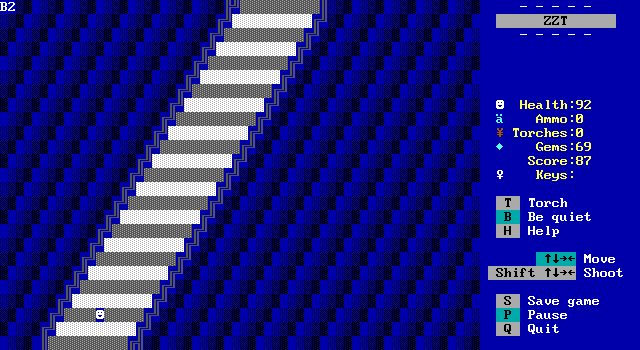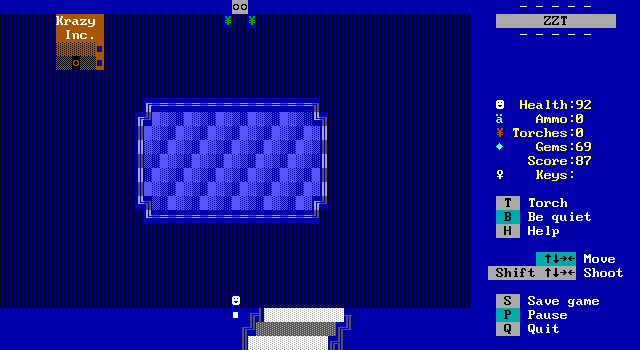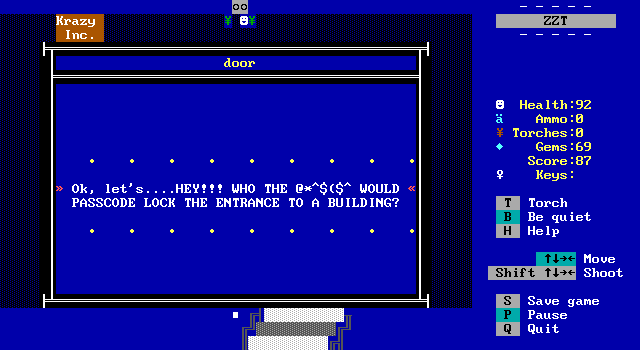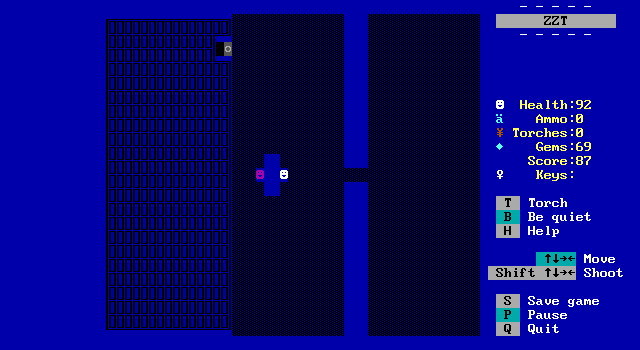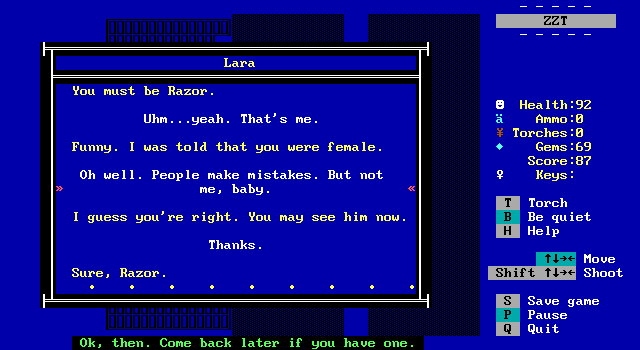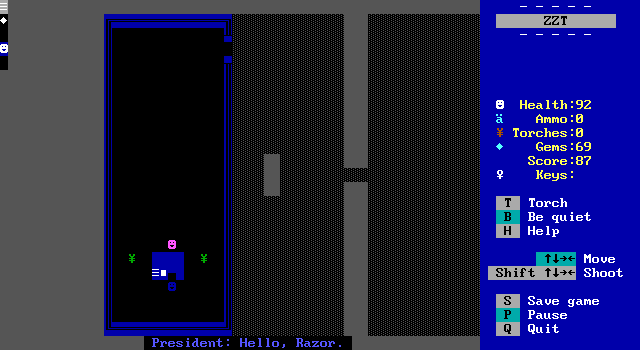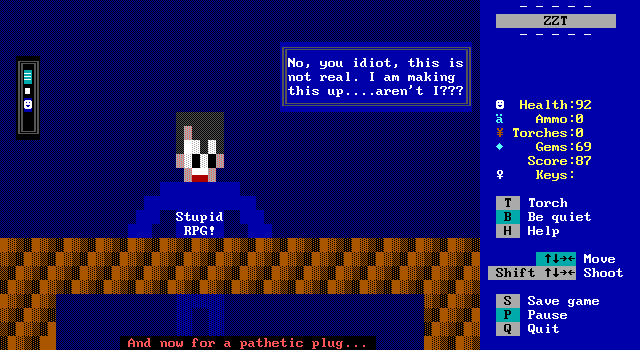 ======
A Worlds of ZZT Production
======
The Worlds of ZZT project is committed to the preservation of ZZT and its history.
This article was produced thanks to supporters on Patreon.
Support Worlds of ZZT on Patreon!
HEY-OH!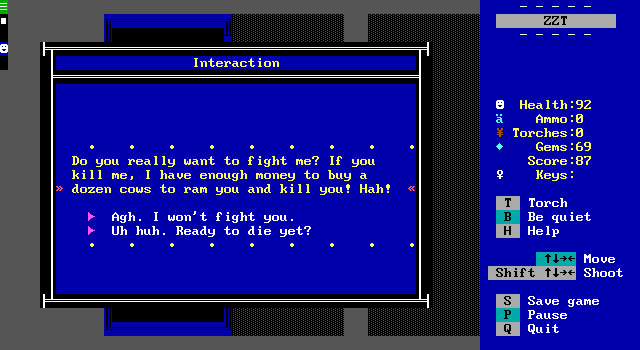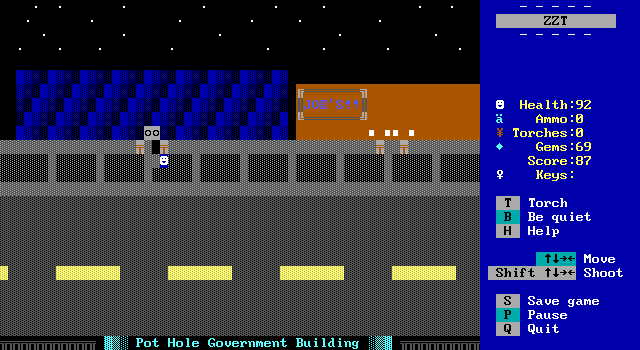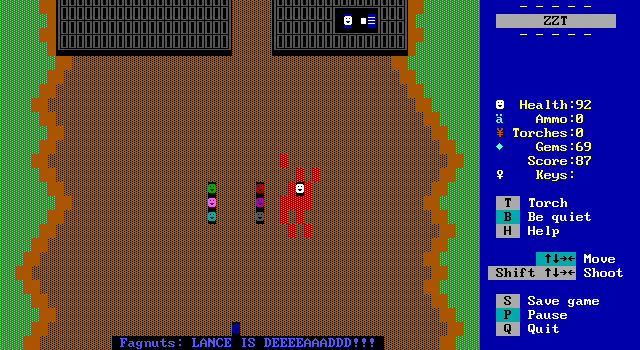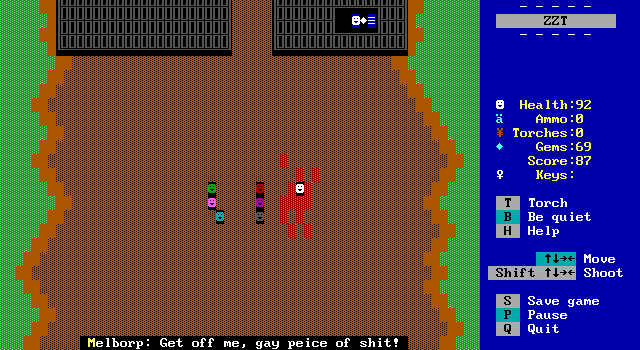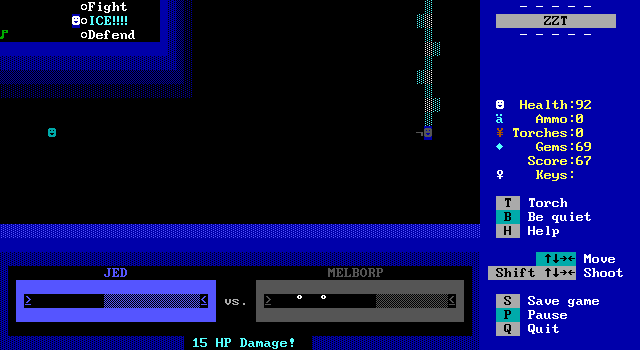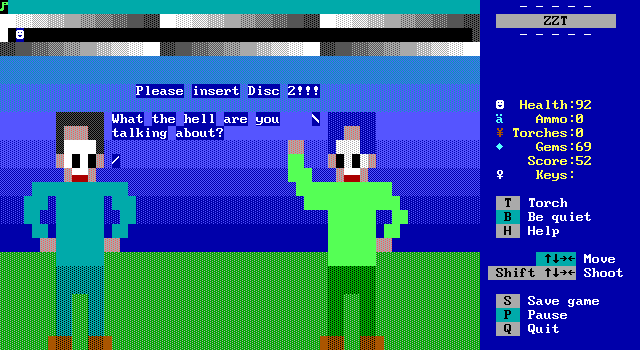 Interaction
• • • • • • • • •
Wait a minute. The second part isn't out
yet! Haw haw! Well...uhm...have some
yummy credits to eat. You looovee credits!
▓▓▒▒░░ Story ░░▒▒▓▓
Knightt
▓▓▒▒░░ Programming ░░▒▒▓▓
Knightt
▓▓▒▒░░ Music ░░▒▒▓▓
Masamune
▓▓▒▒░░ Beta Testers ░░▒▒▓▓
tseng
masamune
gchucky
▓▓▒▒░░Mentioned For The Hell Of It▓▓▒▒░░
tucan, the nut who thinks that he
created Melborp.
Stupid RPG was originally planned to be
released on christmas day, but problems
lead it to a release date of new years
eve. Gwah.
Stupid RPG will have AT LEAST 3 files.
File Two is due for April 21, 1999, the
anniversery of my first year of zzting.
I hope you had fun. Cya in File Two!
• • • • • • • • •
Final Thoughts
Oof.
Playing this game honestly raised a lot more questions than it answered. I wound up digging around on the old ZZT wiki and through some ZZT magazine worlds to try and find anything on this game's reception since if it had any reviews in its day, they've since been removed when Knightt requested his games be taken off the archives.
I only managed to uncover two reviews, both of the special edition, by Nadir and an unnamed individual (I assume Ethan Hunt since he's the one who put the magazine it was contained in together). Neither really gives much insight, but Nadir claims to be looking forward to the second game. The anonymous review gives the game's story an 85% which is very generous and the highest rated attribute of story, gameplay, graphics, music, and programming.
While Knightt went on to become a major player in the ZZT community, it looks like it had far less to do with the Stupid RPG series and lot more with his active involvement on forums and IRC. He obtained a role as admin on zzt.org and made his opinions well known, often coming off as antagonistic.
Whether or not the ZZT community drama of the day involving Knightt is his own fault or not is hard to say with so little of that era surviving that wasn't captured in ZZT worlds. The fact is that he became a big name, relevant through the mid-2000s and eventually taking his leave quietly like the majority of the 90s crew.
But we're not here to talk about Knightt's rise, fall, and martyrdom in the eyes of ZZTers. No, we're here to discuss this mess. For the most part, it's simply a mess. The game is very incohesive and it seems very likely to have just been made up board by board with whatever idea was floating around in Knightt's head at the time. The characters, both the heroes and villains are both lacking in distinguishing features. We know Melborp likes blackjack because a lady in a bar said so. We know F*gnuts because that name stands out, but I kept finding myself having to double check who was in each scene as I wrote this.
The game wants to be a spoof of the RPG genre, particularly Final Fantasy 7, but only really does so by saying chocobo a few times, having some crystals that are almost never actually seen, and trying to introduce a major villain in Hiroth that has no leadup or followup that his presence just doesn't matter. If the city of Pothole is supposed to be this world's Midgar, it fails dramatically at capturing any of that city's aesthetics.
As an RPG, it also has RPG battles, but in such an extremely weak way as well. There's no thoughtfulness in enemy placement, variety, and the player never feels like they have meaningful choices in these fights. Admittedly, it's quite difficult to pull off this sort of thing in ZZT, but the lack of any sort of customization really hurts it. No weapons, no armor, no magic (in the minor battles), no leveling, just rolling dice and hoping the buffer of health you have is enough to let you roll longer and better than the opponent.
The major battles don't feel any better, upping the stakes to make the damage race more tense and adding in a single spell. To compare it to something like the 2007 Commodore title, Psychic Solar War Adventure is unfair to this game, but it does show how ZZT can be capable of accomplishing RPG combat in a way that feels strategic. A more relevant example from closer to Stupid RPG's release would be 1998's Nivek's Defender of Castle Sin which was released just two months earlier yet offers the player the ability to gain new spells and figure out their tradeoffs.
As Knightt's first title, Stupid RPG demonstrates the basics. The code works as intended, and Knightt has a playable RPG, but it just doesn't excel or even show promise at anything more. The game's strongest feature is that it has a neat looking pool table, and that can't even begin to put a dent in the crass writing and poor taste humor that doesn't offer anything to players today beyond the ability to awkwardly try and say it's a product of a teenage boy in the late 90s.