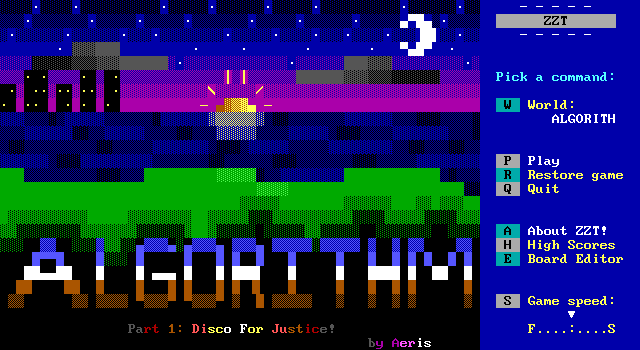 This one is an interesting one because you can read _so_ much into it, but I have nothing to back up any interpretations I can come up with other than my own gut instinct. Our poll winner for December is Algorithm Part 1: Disco For Justice, a game of my choosing after stumbling across it and learning a bit of what it's about.
Around 2003, a new ZZTer arrived to the community who, on any given day would go by the name Develin, ZZDevelin, or Dron. They showed up at the wrong time, being an annoying young teenager who didn't fit in with all of us cool slightly older teenagers. They pretty heavily ostracized for various reasons during their stay in the community ranging from general annoyance, to not shutting up about how Doom 3 was going to be the best game ever. Their ZZT worlds were pretty abysmal games about escaping from HELL and fighting DEMONS and there was BLOOD and basically your typical teen that latched on to something "subversive".
One other notable thing about them was that they frequently bothered fellow ZZTer Zenith Nadir, asking him for his "graphical secrets" as they also showed up shortly before Frost 1; Power was released. Nadir apparently tried to give them some guidance, but turned off by Dron's biggest-fan-ever behavior that went beyond wanting to learn and was mostly just endless praise to the point Nadir wanted him to just shut up and go away.
Their story has one more anecdote that needs to be shared. Dron participated in the Spring 2003 24 Hours of ZZT contest ran by Hercules and was disqualified for "violation of the 'Do not use pre-made ZZT stuff and do not rip stuff from other ZZT games' rule". Then in the Summer 2003 24 Hours of ZZT contest he won first place, and the victory is generally considered a good example of how much the 24HoZZT contests had fallen from their heyday.
But this game, with its quite nice looking title screen, by Aeris is by none other than Dron themself, making a return in 2008 out of nowhere and now named after, (but legally distinct from) Aeris, the pink cat from the webcomic VGCats by Scott Ramsoomair.
Did a few years of growing up lead to a better ZZT experience? Kind of. Algorithm is still a pretty bad game, whose humor would've fit in better in 2003 than 2008, and just falls completely flat in 2018. It's random and it's nonsensical, and it's not gonna be a fun ride generally.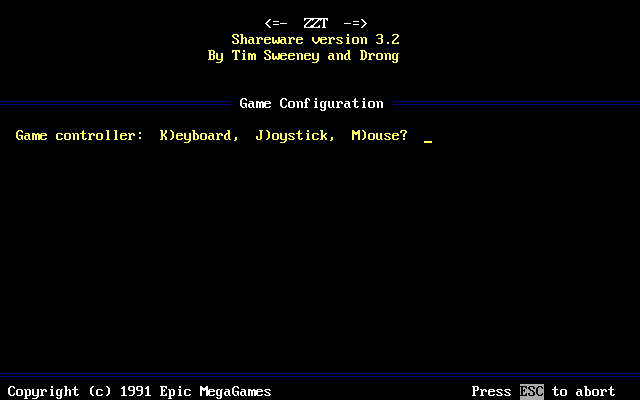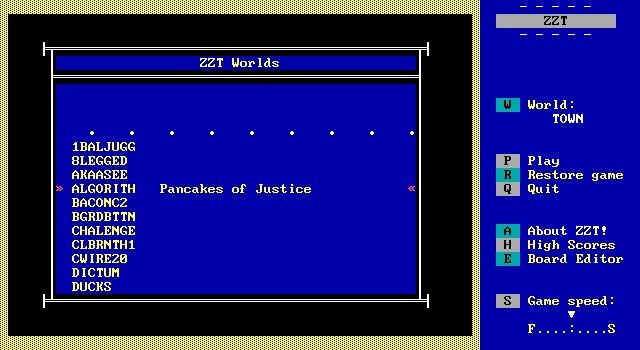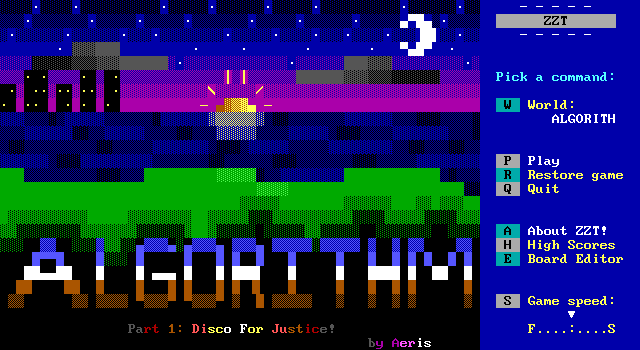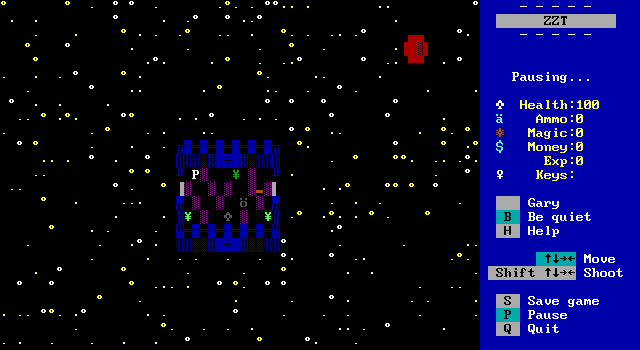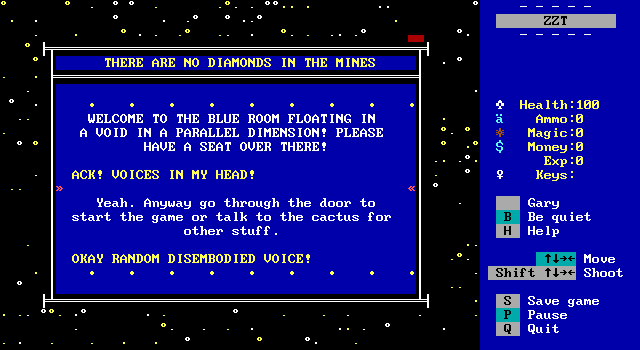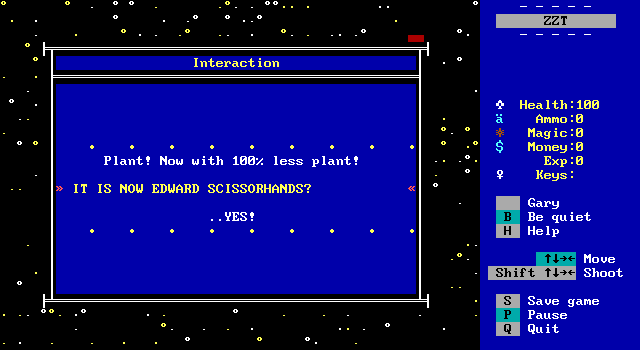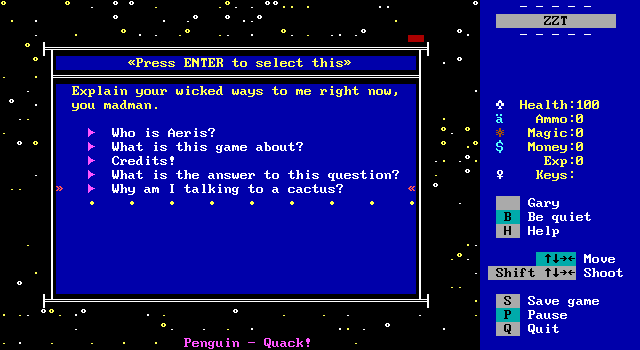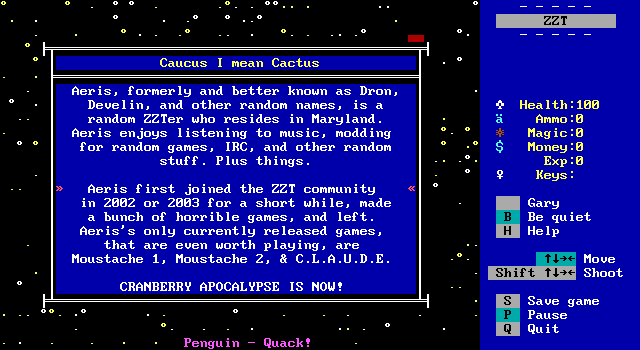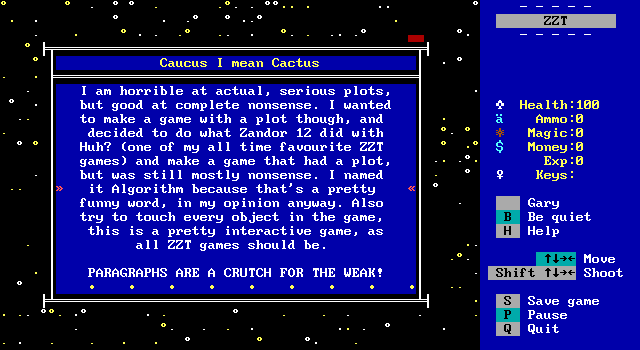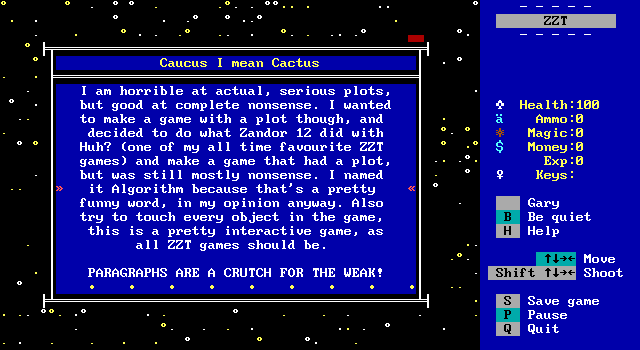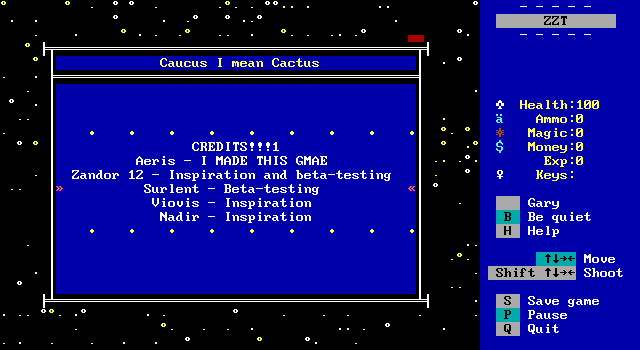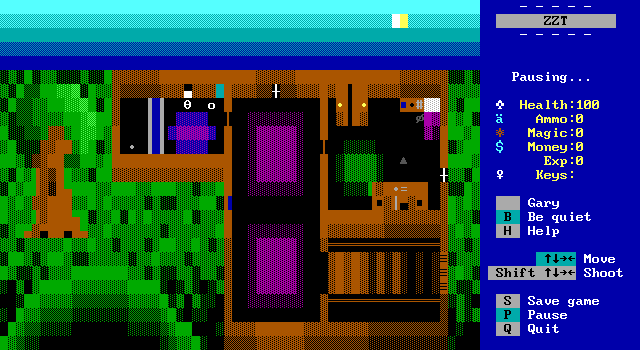 I HAVE NO IDEA WHAT TO TYPE HERE
• • • • • • • • •
*You wake up, and after 15 minutes of
careful planning, you decide to eat
breakfast.*
BREAKFAST IS GOOD!
Yes, now shut up and let me read the
rest of the pointless intro with my
deadly powers of narratorism.
OKAY MRS. PIGGY WIGGY
You are Dron, an anthropomorphic black
cat who lives in The Middle of Nowhere,
Nevada. Nobody is around for hundreds of
miles because demons invaded and killed
everyone, or a giant plothole engulfed
the whole universe, or something
similiar.
Due to the fact that there is nobody
and nothing around for seemingly forever,
you have nothing to do except somehow
watch Cartoon Network. You'd find out how
that is possible but you're scared you'd
end up breaking it and being stuck
arguing with yourself over whether there
really is a Pizza Hut somewhere around
here. You als-
WHY MUST YOU TELL ME THIS EVERY DAY, EVIL
DISEMBODIED VOICE OF DEATH?
It is my mission.
Oh, okay.
Now get dressed and eat some breakfast
or something already.
OKAY GOOD SIR!
• • • • • • • • •
The very interactive game has a lot of random messages when the player touches an object such as: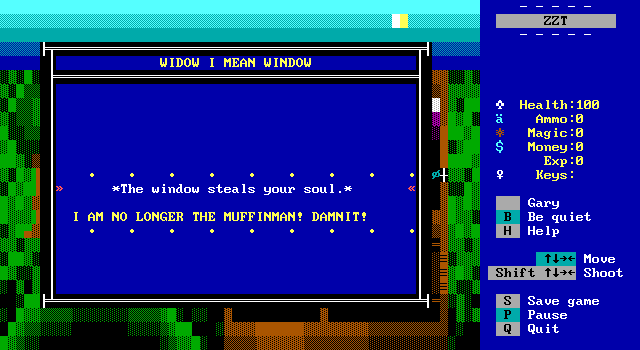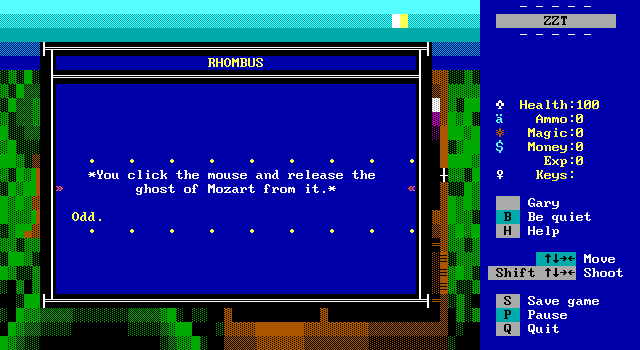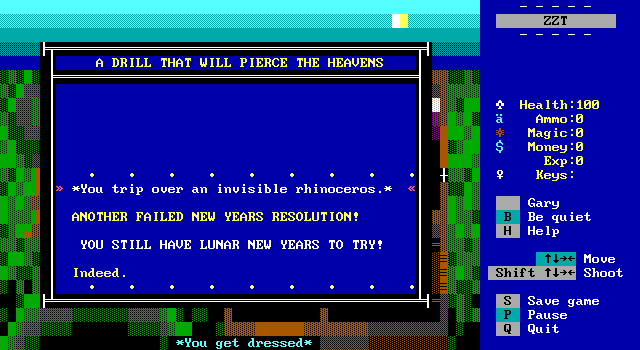 And still more. Before the player can leave their bedroom, they need to touch the wardrobe to get dressed.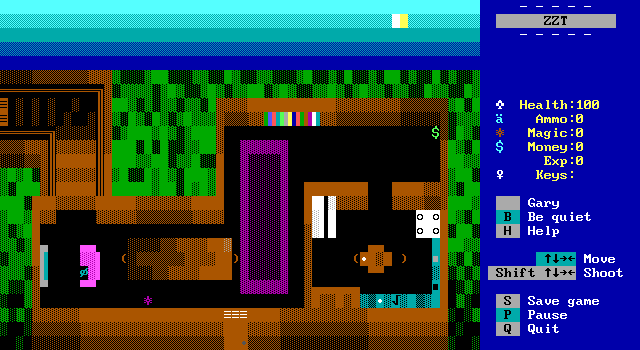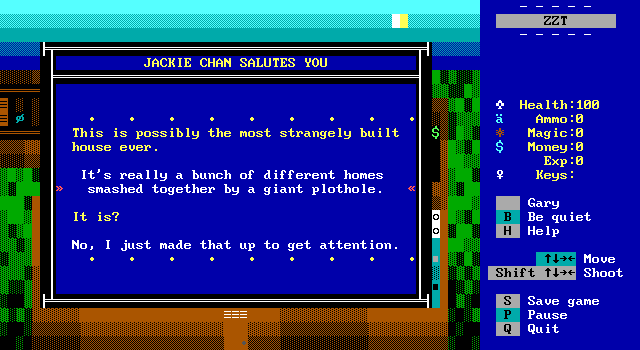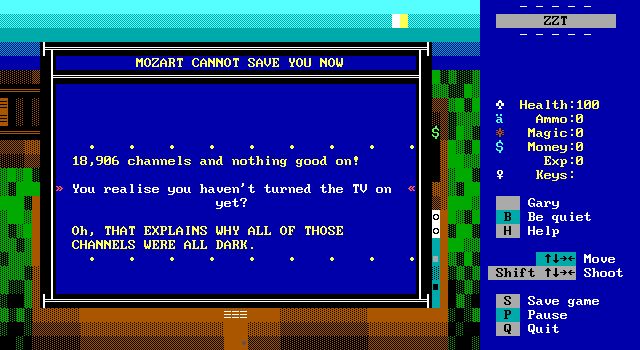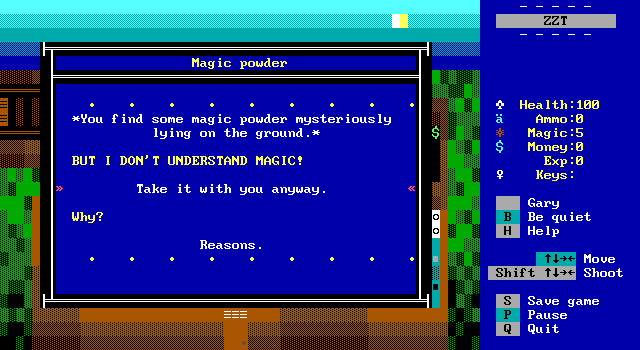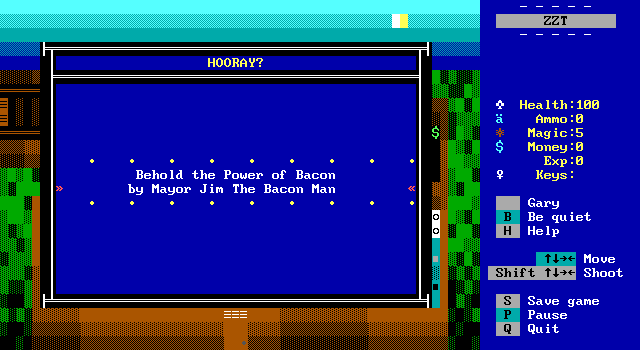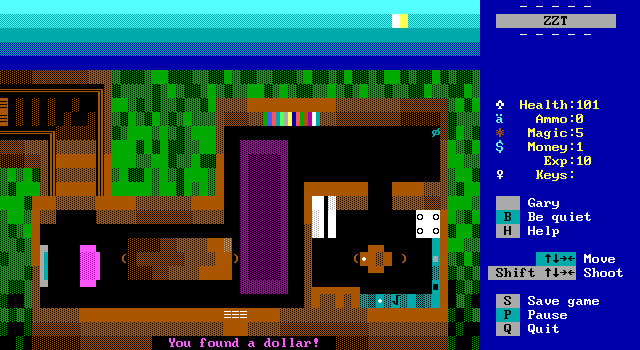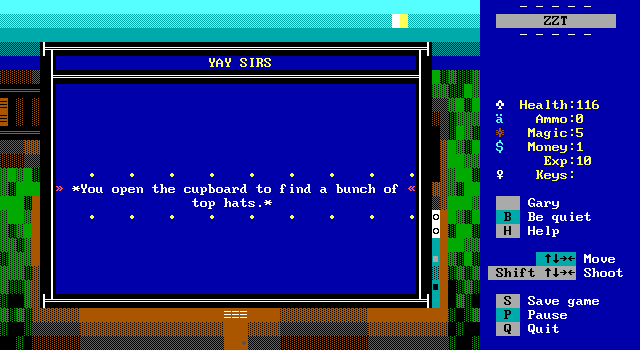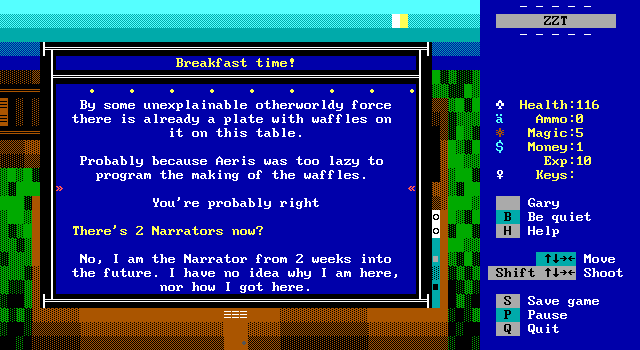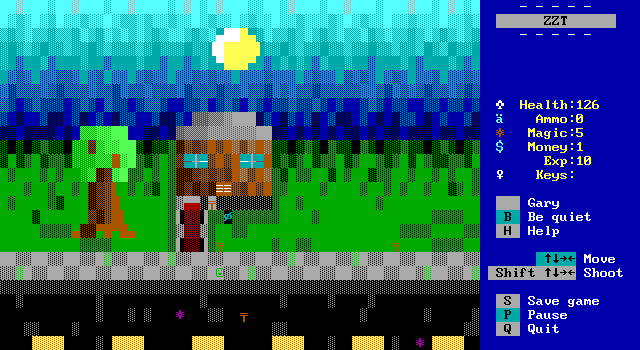 SIGNS ARE KEEPERS OF INFORMATION
• • • • • • • • •
A sign appears to have sprouted out of
the concrete overnight.
*You read it.*
North - A house
East - Stuff, now with stuff! (hint hint)
South - Canada
West - Canada
..Why is Nevada bordered by Canada?
The same reason everyone for hundreds of
miles has mysteriously vanished.
And what's that?
No reason.
• • • • • • • • •
THE UNATTAINABLE IS UNKNOWN AT ZOMBO COM
• • • • • • • • •
*You notice an odd looking stranger
standing in front of your house, he looks
extremely confused.*
WHO ARE YOU AND WHY DID YOU TAKE MY EGGO
WAFFLES?
RAAAUUUGGGGHHHHH!
GOOD ANSWER, YOU HAVE PASSED THE
IMMIGRATION TEST TO SOMEWHERE!
RAAAUGGGHHHH!
*You realise he's a zombie.*
.....!
..
WOULD YOU LIKE TO GO BOWLING WITH ME?
*But just then the zombie was randomly
deported to Jamaica for no reason.*
That was the last person who visited
here in the past 4 years!
• • • • • • • • •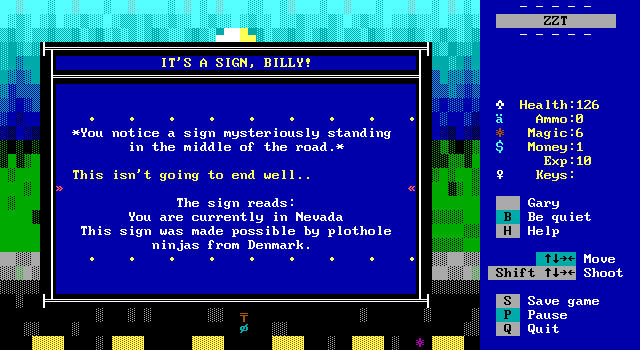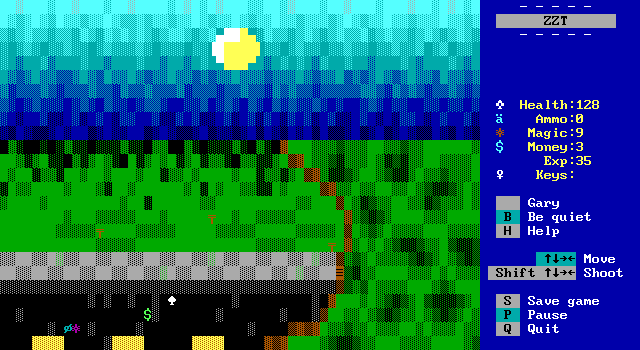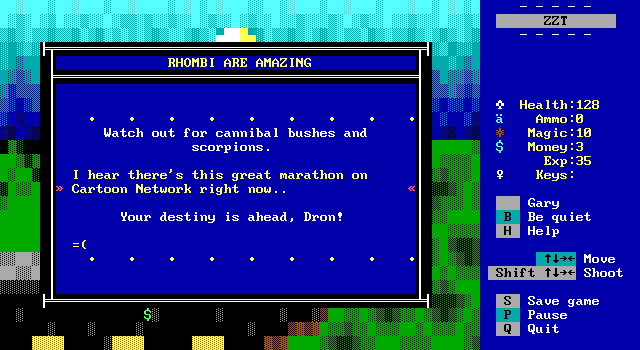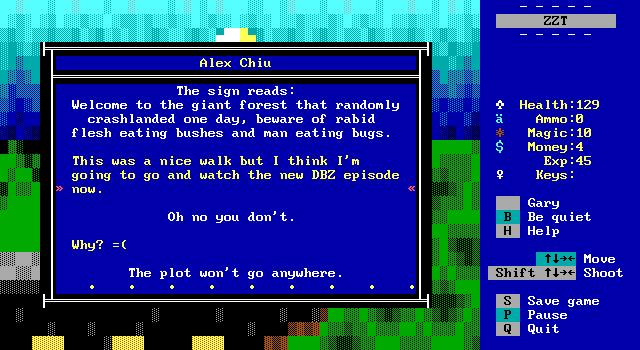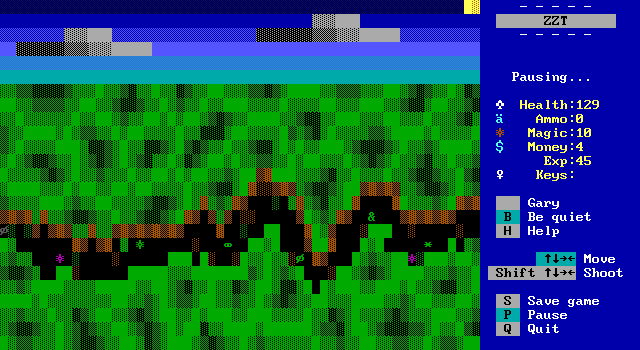 STOP! HAMMERTIME!
• • • • • • • • •
*You walk into a deep part of the forest
and suddenly see a bunch of rabid bushes
run at you waving swords.*
I knew I should've went back home and
watched Cartoon Network!
Dron! Don't forget you are incredibly
strong! Use your claws, you should be
able to rip them apart real fast.
Oh yeah.
*You draw your claws.*
VIOLENCE TIME!
• • • • • • • • •