Dragons - Disc 1 by Nixon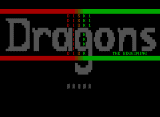 Title Screen
Nixon has interested me over his short history in the ZZT community with a number of short games of reasonably high quality, including Tank Wars and Army Men. There were several uploads of April, including Shujj's Forest of Light which I felt for a newbie game deserved an honourable mention, but Nixon's Dragons - Disc 1, the first disc of a story of gang warfare, was the game that impressed me most.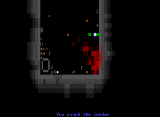 potat*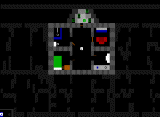 oh shit it's nadir =((
Looking past the title screen's misspelling of 'beginning', Dragons is a decent short action game with some very simple puzzles and slightly above-average graphics. You are plunged immediately into the action by the murder of your friend at the hands of the Green Dragons, an act which prompts you to fly into a rage and knock the two of them out by yourself. A passing Red Dragon is impressed by this and invites you to join the gang. You do so, apparently with the aim of further avenging your friend in mind, and join up.
Later that night you are kidnapped and incarcerated by the Green Dragons, in a cell within their base. Escape is a surprisingly easy matter, and after that it's just a matter of getting past the guards and leaving the base unhurt. There's also a shootout scene at a later point in the game.
vrooooooooooooooooooooom!
There's not too much more to be said about it, really. It's a decent short action game with a simple plot and not a great deal of character development, involving simple touch-and-go puzzles and ZZT gunfights. It's worth looking at, but there's nothing truly fantastic here.
6 / 10