Vegetable Takeover Part Two by hazard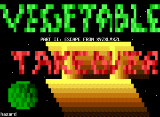 Title Screen
Ladies and gerbils, it is 2003.
January ... hell. I spent a while downloading everything on the list this month, expecting some very difficult decisions and newbie tears, but not so. A disappointing month in terms of quality, with only a few exceptions; including the ever-in-progress craNKGod RPG Demo, JohnWWell's never-before-released (or so it would seem) classic game Scarlet, Green, and Part Two of hazard's epic tale of ... world domination by vegetables. Very much a case of me-use-brain versus hunt-the-switch, the latter two were the main competitors; and it was hazard's game that I liked best.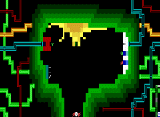 Trial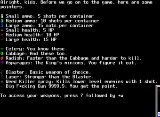 The Lowdown
Having been captured by the evil Asparagus King after causing mayhem on the invaded planet Earth, our hero Jim has been condemned to death. In an obligatory ZZT jailbreak scene, he begins roaming the ship looking for a way to escape. Along the way he will face such feared garden produce as stalks of celery, cabbages, radishes, and asparagi, using weapons such as the Blaster and Weedkiller Spray bottle, solving small and well-put-together puzzles in mediocre graphics environments in order to acquire keys to open the next door.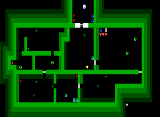 eww veggies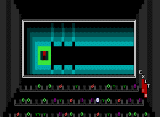 In th'cinema.
OK. Sounds dumb, but it's actually not that bad to play, and it's original, as far as I know. The enemies are well-coded and a sufficient challenge for the player to hit, although I do not believe there is sufficient health for the player. The weapon engine, allowing selection of different weapons at any point in the game (provided such a firearm is within your possession) is a nice touch, and the object animation is above-average in places.
There are also very few bugs, evidence of thorough testing. The game does become a bit monotonous in places, but hazard has injected a little personality into it, making it a light-hearted action game that is quite clearly the cream of this month's crop. There's even a surprisingly nice-looking RPG engine. No art boards and (I think) no music ... well, it is an action game, I suppose ...
hazard's up-and-coming! Watch this guy. You never know in whom the next big thing lies, do you?
6 / 10