The Living Dead by Commodore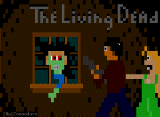 Title Screen
August's pick had some rather impressive games to its name; in particular, Quantum P.'s second installment of Operation: GAMMA VELORUM, and Master Raze's amusing short cinema game Operation: MOUSE. But after some careful deliberation, it was decided that the best game uploaded this month was The Living Dead by a relative newcomer, Commodore, from Mirror Image Games.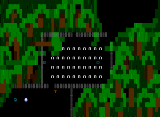 Graveyard
Beginning with a chilling description of Friday the 13th's reputation in myth and folklore, The Living Dead places the main character, John Williams, straight into the action right from the beginning. Stranded outside a graveyard, where zombies are roaming, he takes refuge in a nearby farmhouse, and assists a mother and father with their injured child.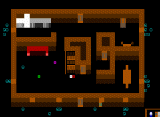 Zombies Attack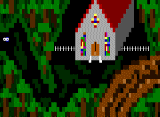 Church
Suddenly, they are attacked by a number of undead, invading their home. John tries to keep the zombies out, but they are all attacked and they are TRANSFORMED INTO ZOMBIES OMG!!!1
Yes, it sounds corny; but there's some neat gameplay, decent graphics and even some reasonable attempts at spooky-sounding music (this is the first MadTom's Pick to make an attempt at music).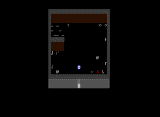 The Shed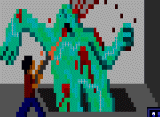 The Boss
The ... uh ... plot isn't particularly subtle in places. "Jill is a beautiful girl... she could definitely be some sort of love attraction for you during the course of these events. It's a good thing you're an [sic] young, strong, dashingly suave, and handsome man." There's nothing impressively original ... the primary strength of the game is in its execution.
You are able at one point to choose which character you will thereafter play as ... meaning there are two endings. The final graphic was just redone with a different character, though.
It can be slightly spooky in places ... in particular the 'shed' scene was quite well put together (excuse the pun). The sound effects, when repeated, are slightly annoying ... for example in the Boss battle at the end of the game, yes, I must admit, I, MadTom, pressed 'B.'
Not bad ... not bad at all. Better than The Search for the Magic Flamingo ... but not as good as Operation: GAMMA VELORUM (Part One).
7 / 10