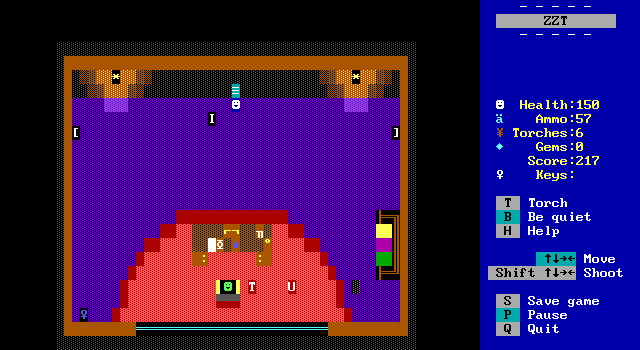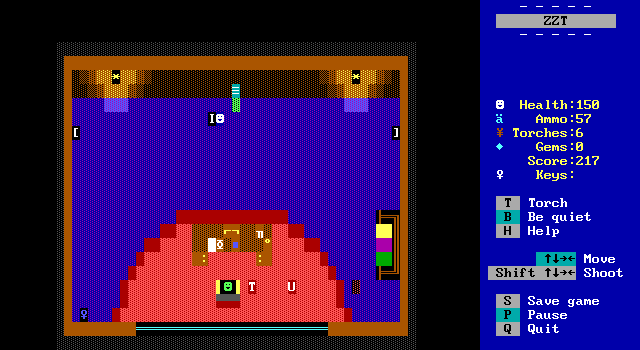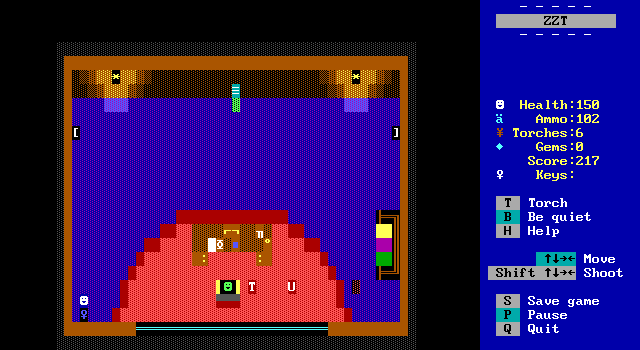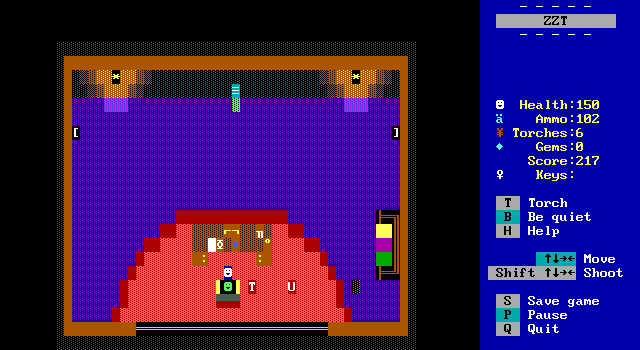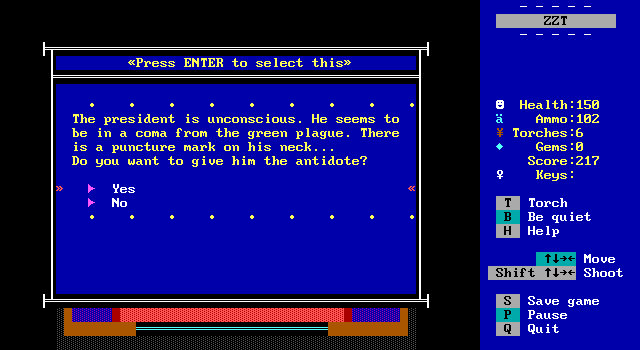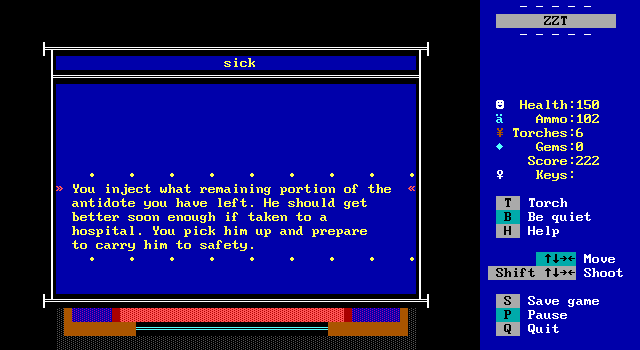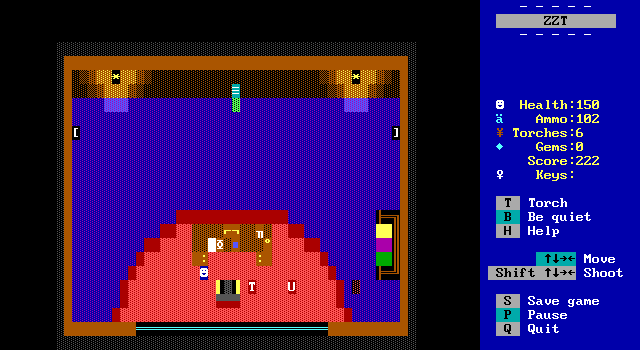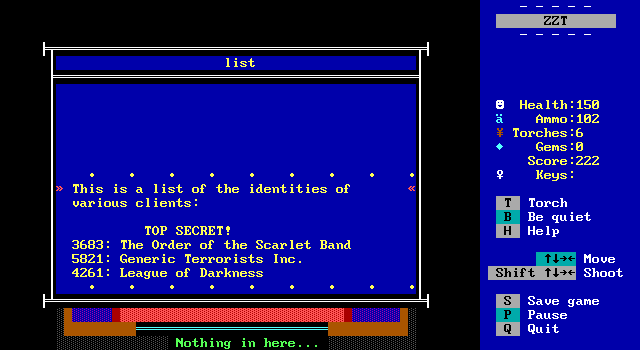 laptop
• • • • • • • • •
Jackpot! You've found a laptop with
internet access! Now you can do some real
detective work.
You look up the Order of the Scarlet Band
and find that they have set up a website!
The Scarlet Bands appear to be alchemists,
a profession thought dead long ago (for
good reason). Apparently they see the
scientists of Baille Labs as "charlatans"
. On one portion of the page you see a
complete dismissal of scientific method.
This is rather odd, indeed. Would a hatred
of modern science be enough of a motive
for them to cause the destruction of
Baille Labs? They apparently do seek to
bring about a new "alchemical age",
and are willing do take whatever action
is necessary. What a bunch of nuts.
The Scarlet Bands clearly commissioned
the labs to create various biological
weapons, then somehow released them.
How? You seem to have replaced one
mystery with another.
Suddenly, a figure emerges from behind
the bookcase! The robed man says,
"You may have divined our plans, but
you shall not live to tell the world of
them! Prepare to die!"
• • • • • • • • •
scarlet
• • • • • • • • •
Band: Hold it... What's my
motivation here? How should I play this?
Should I act calm or fanatical or what?
A hollow voice booms:
LOCK.
Just fight the player, you moron.
Band: I am not an object. I am an ACTOR!
I want CONTEXT!
A hollow voice replies:
As a matter of fact, you are an object,
and if you don't stop whining, I'll turn
you into a brick wall!
Band: You can't do that!
The hollow voice booms:
See?
Band: Okay! Okay! Where was I? Oh, yeah:
"Prepare to die!"
Band: "Nothing personal, man. It's just
my job..."
Voice: "CUT THAT OUT!" "UNLOCK!"
• • • • • • • • •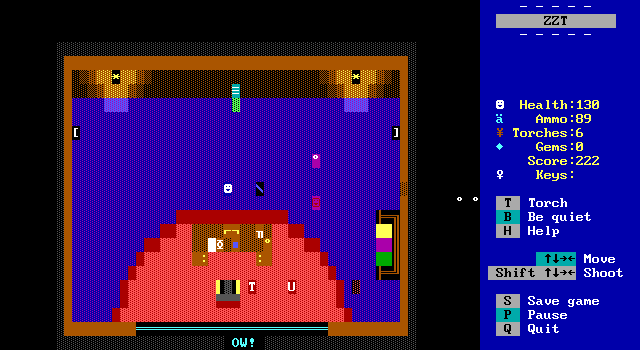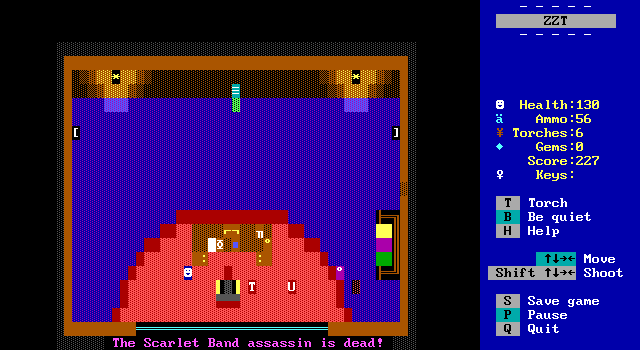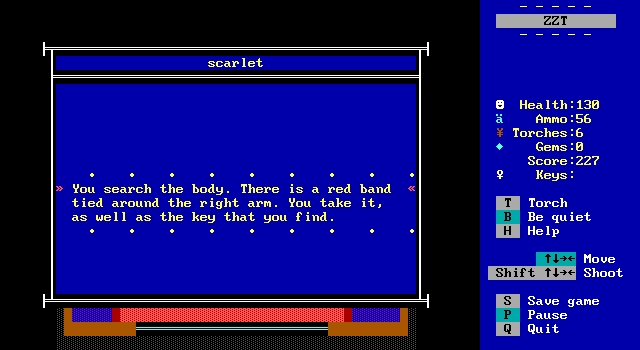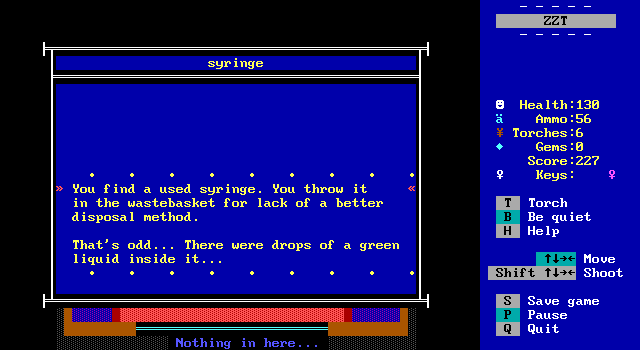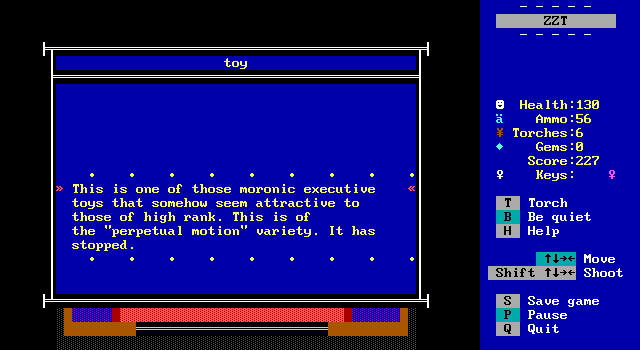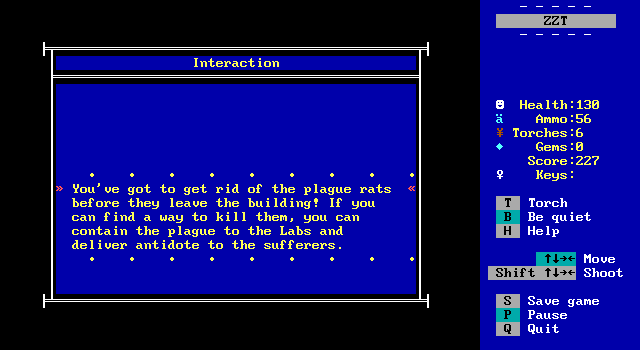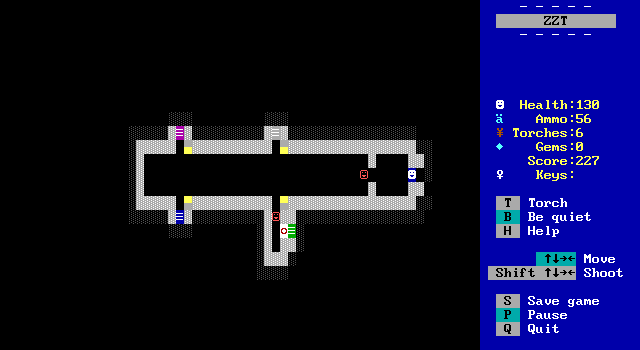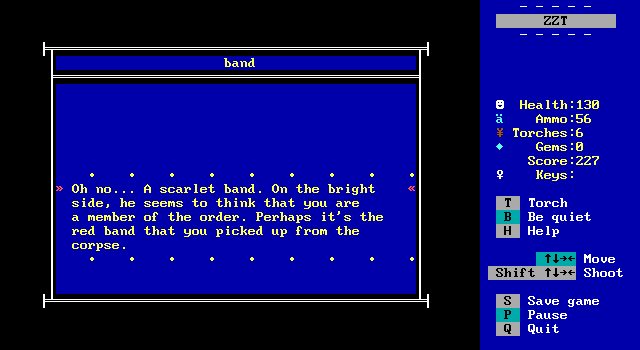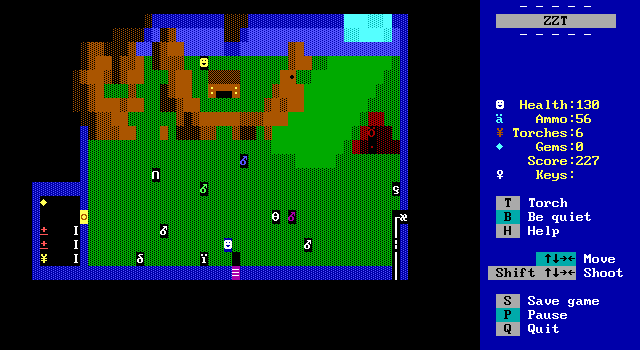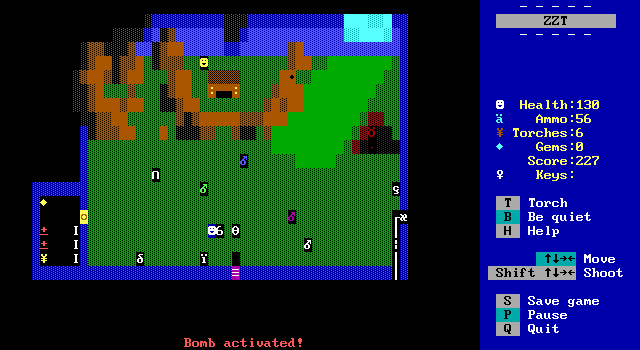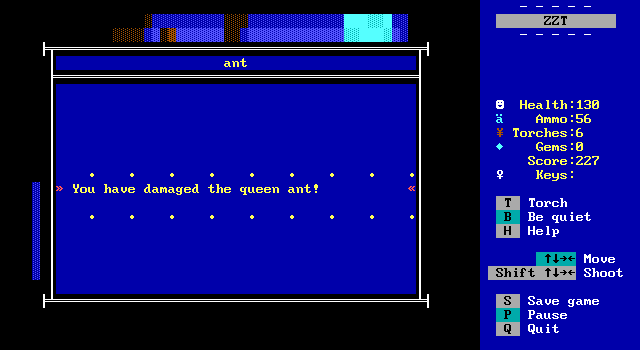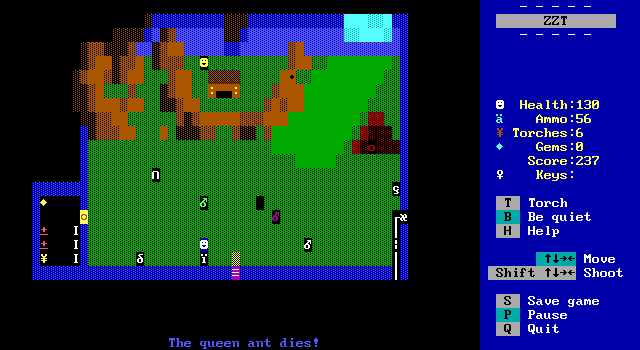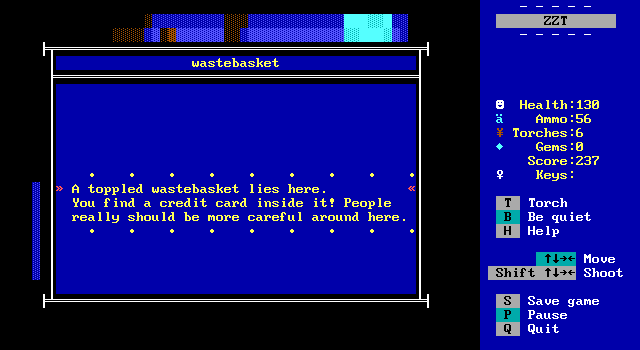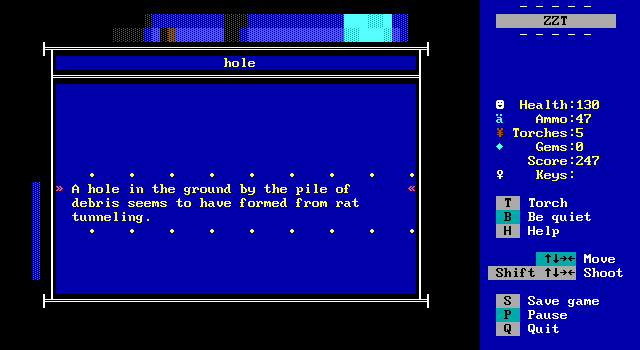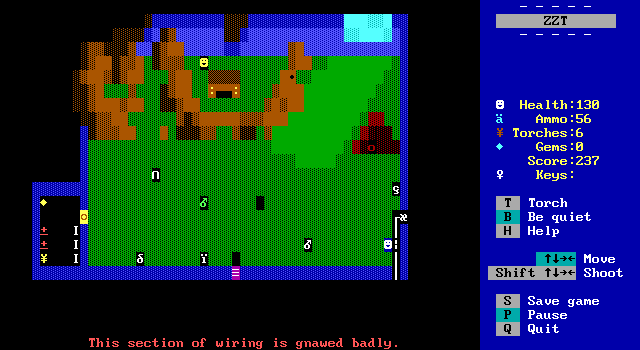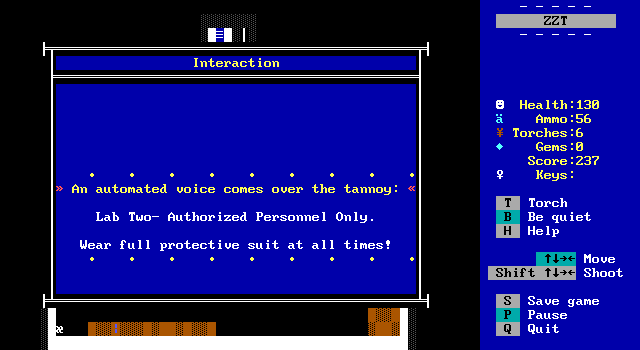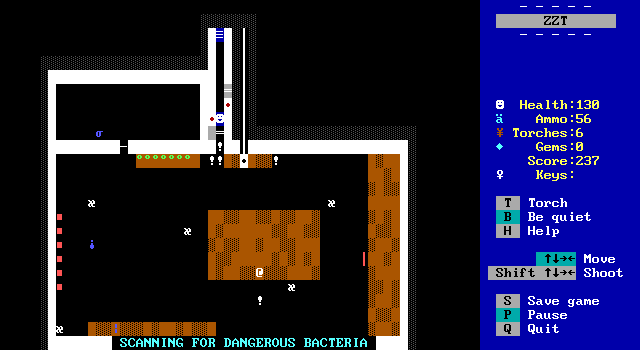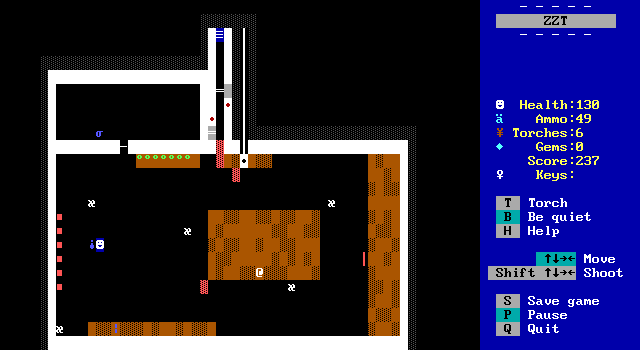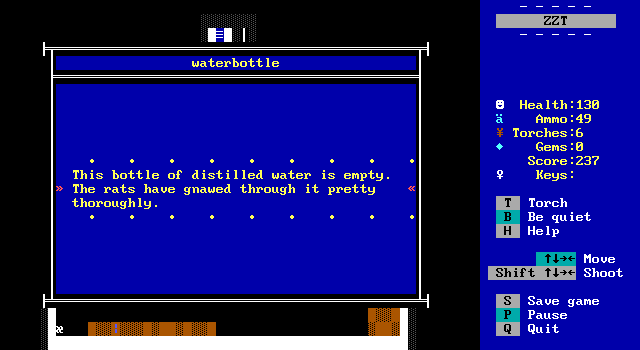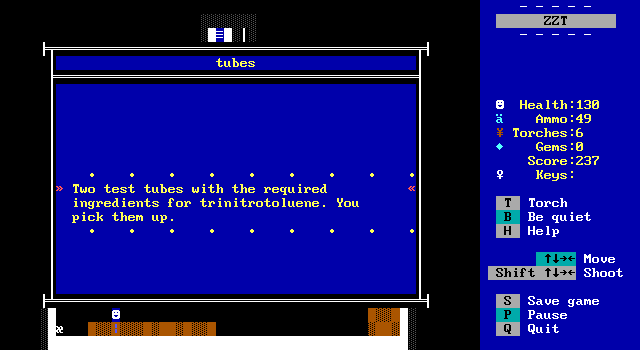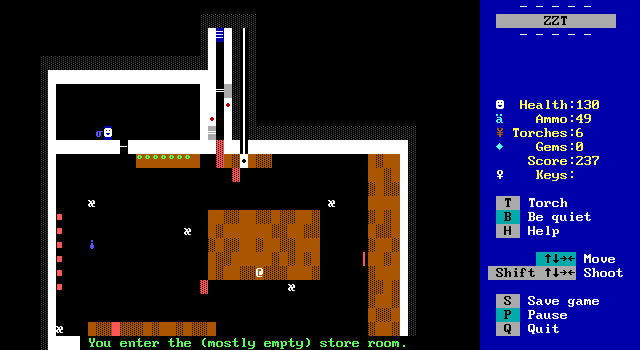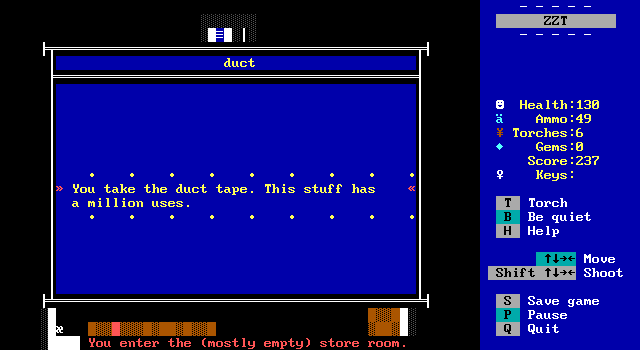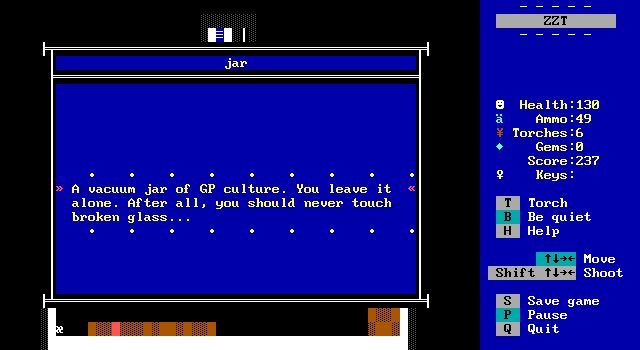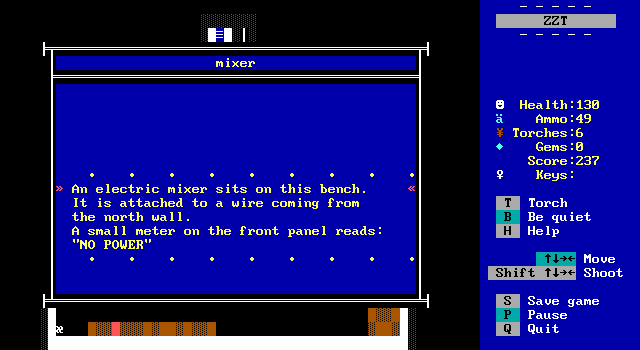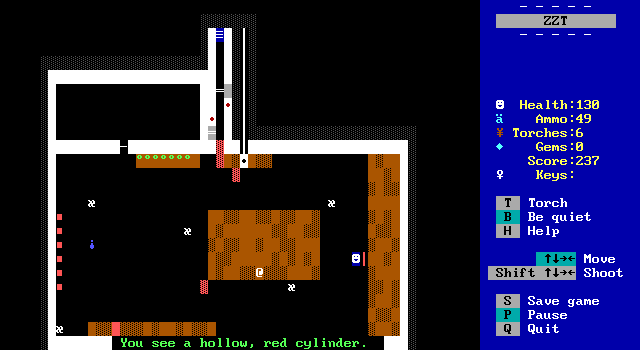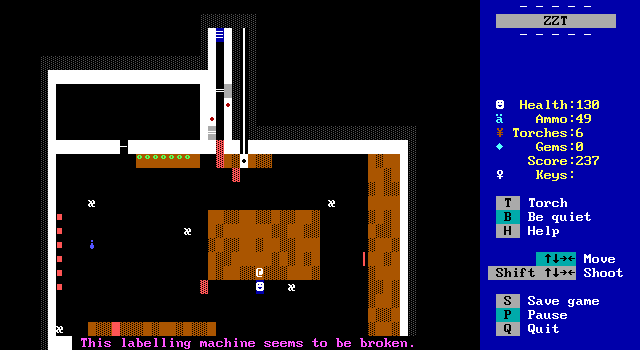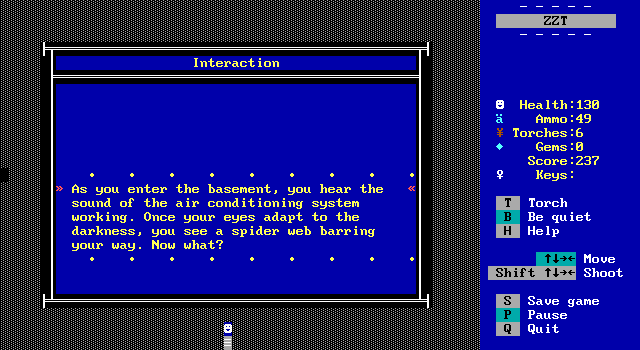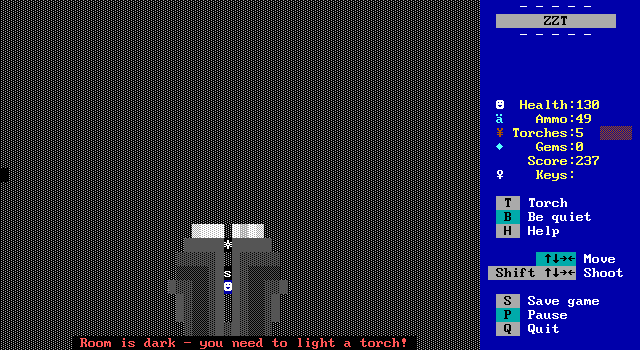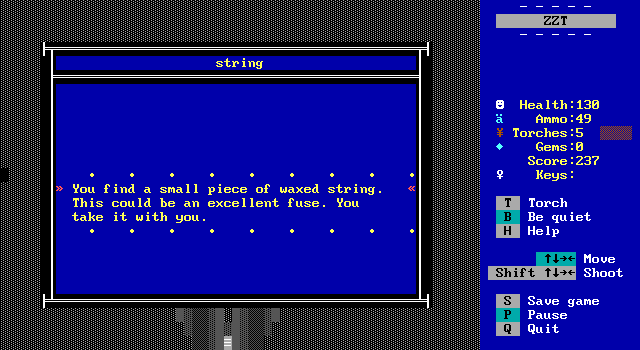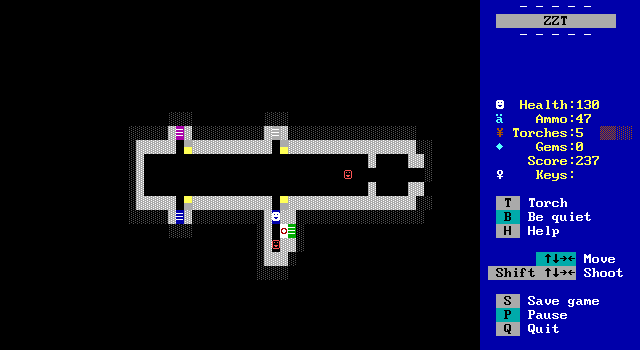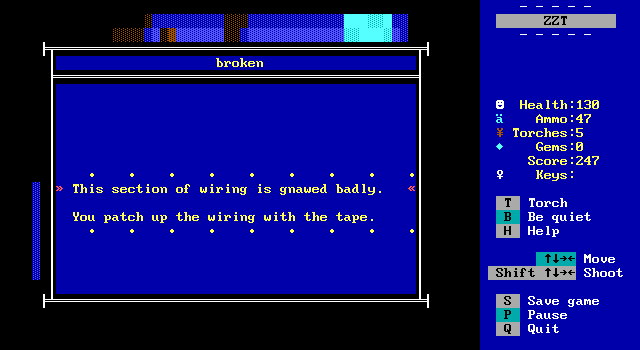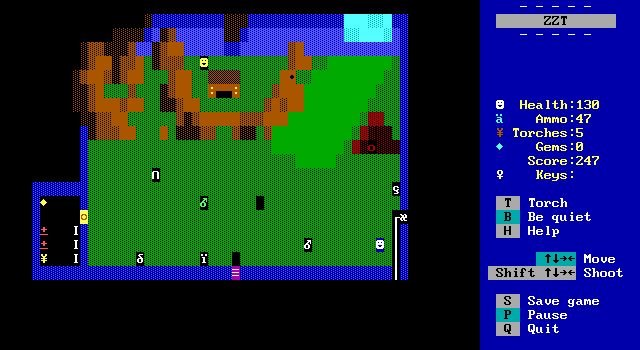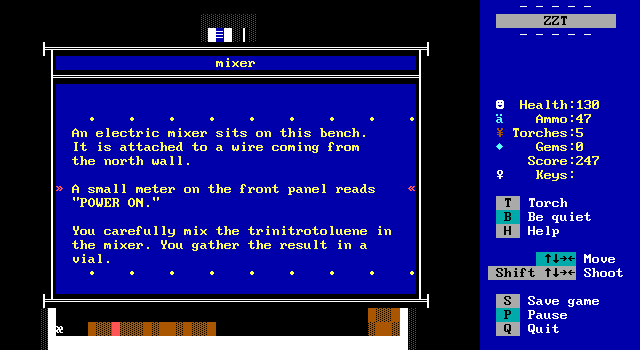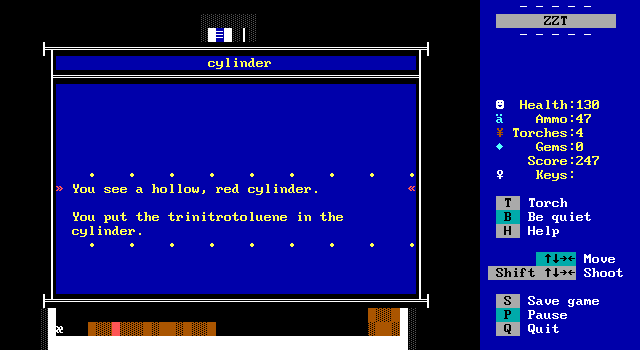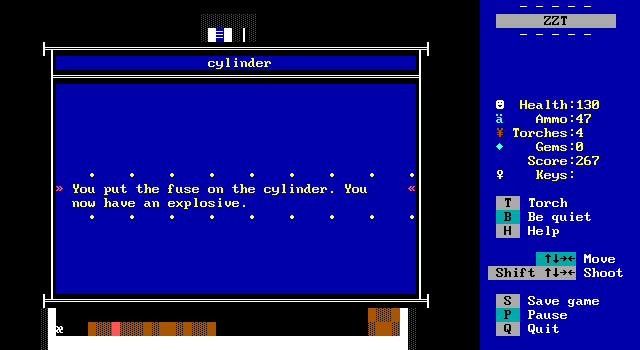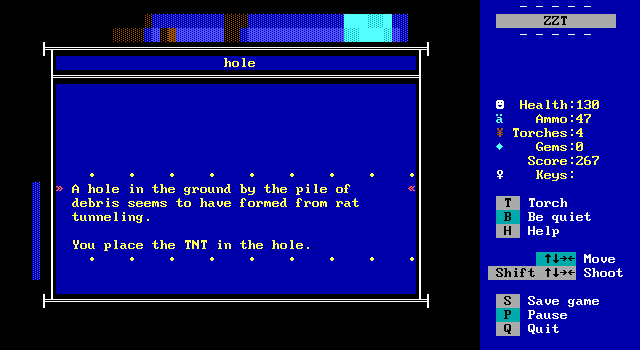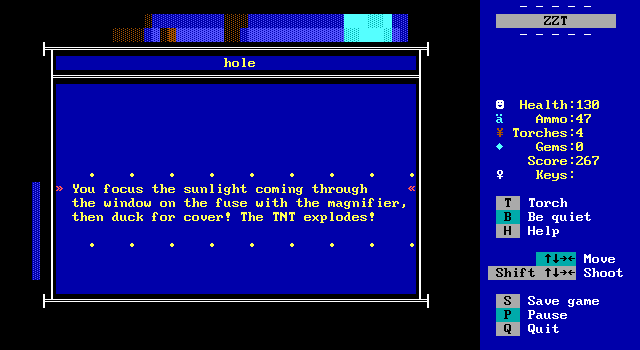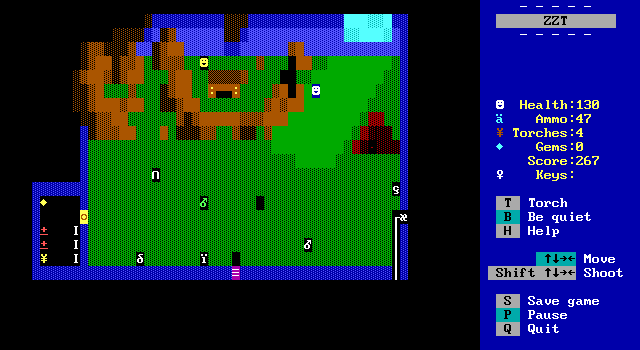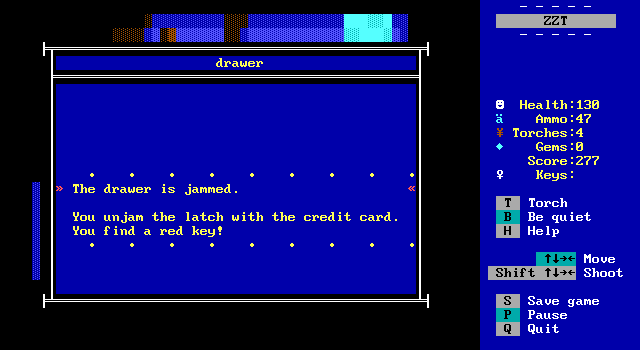 chief
• • • • • • • • •
Chief: Thanks. We've got to do something
about the rats. I have an idea: We could
flood the vents with a pesticide. It
should do little harm to us, but will
kill the rats in a matter of minutes.
The pesticide is kept in the custodian's
office. The key to the custodian's office
is in my desk. My desk is jammed, and
the latch is bulletproof. Maybe you could
flip it with something...
Once you have the pesticide, go into
the vent room in the basement and release
it into the building. After that, play
it by ear and try to get us out of this
mess with the Order of the Scarlet Band.
Oh, wait... Here's the key to my supply
cabinet.
• • • • • • • • •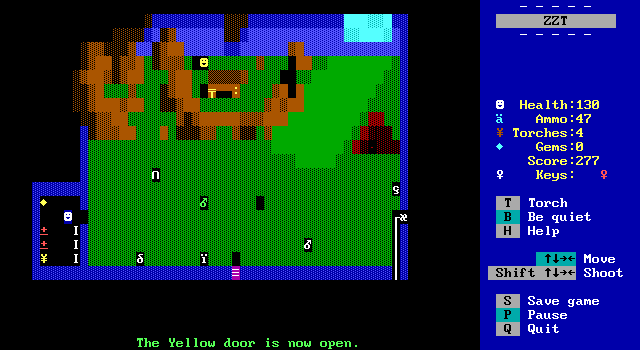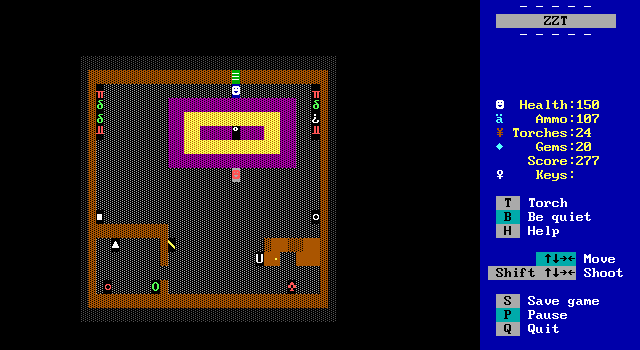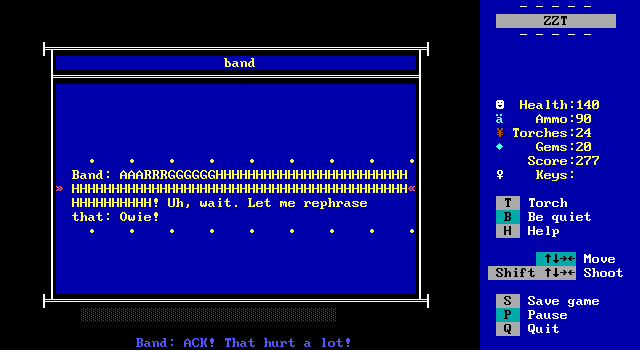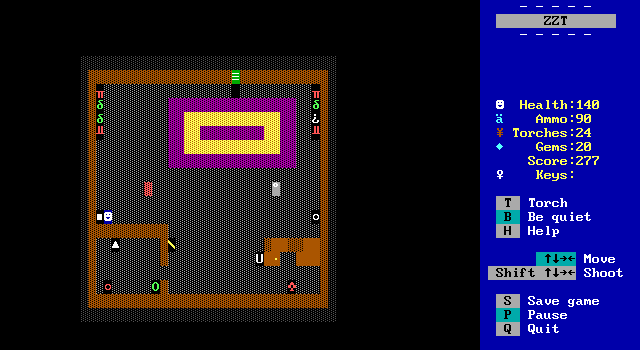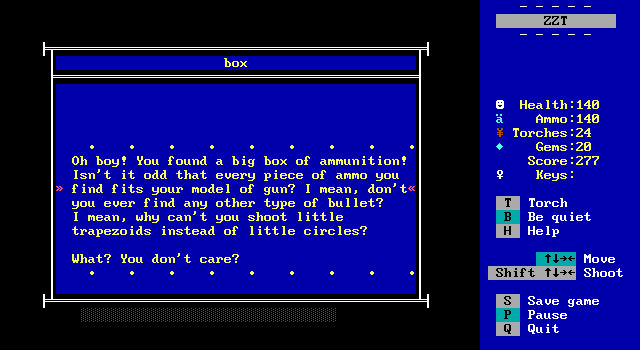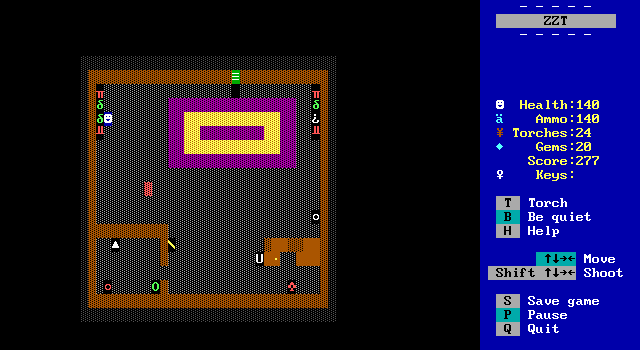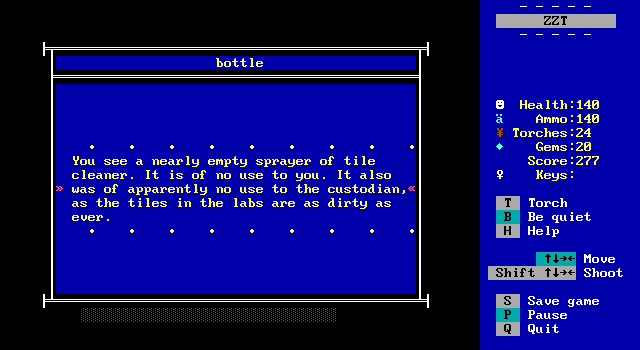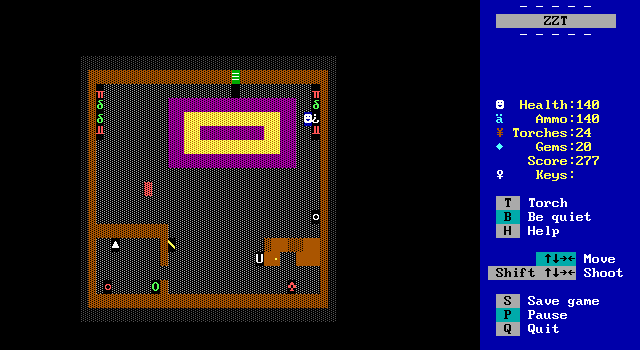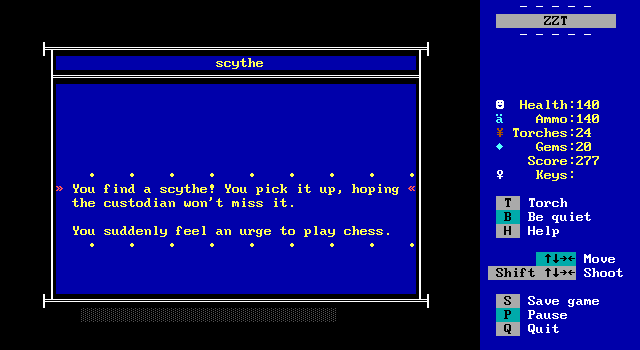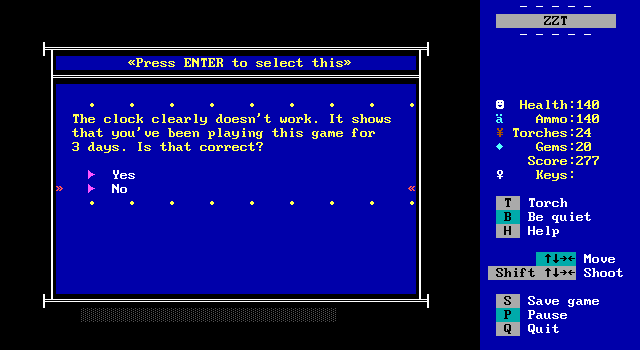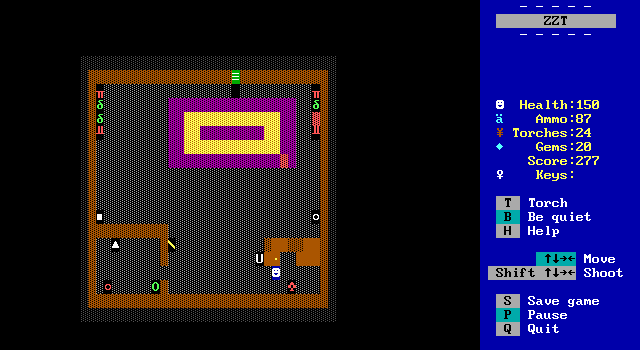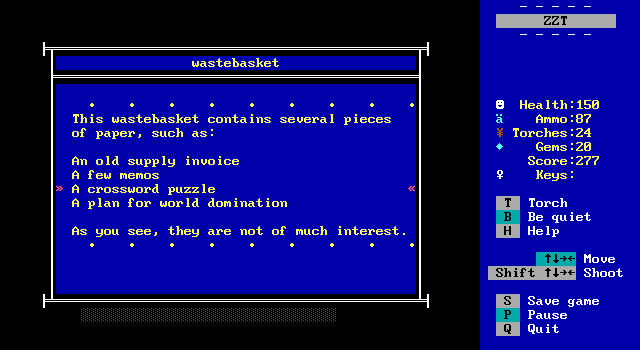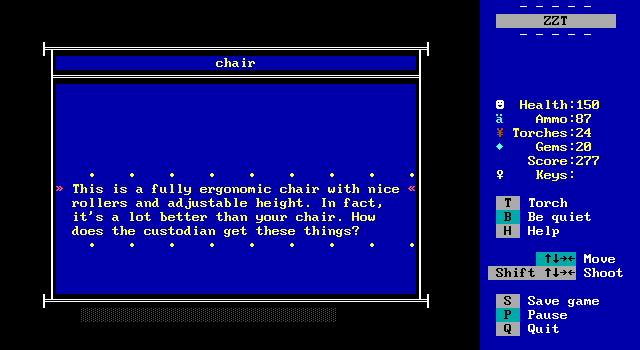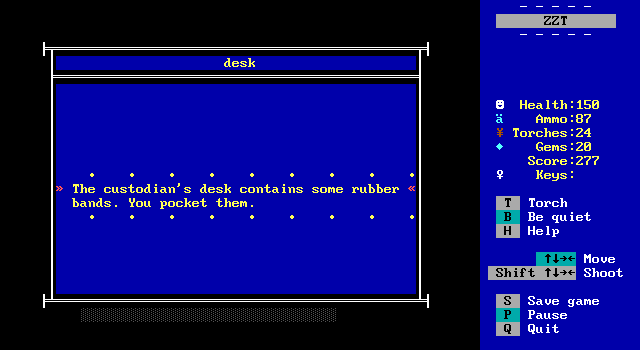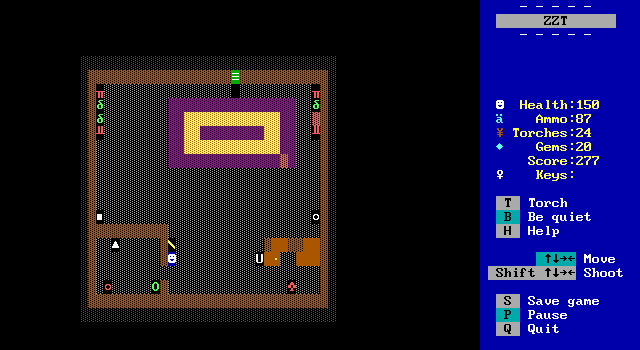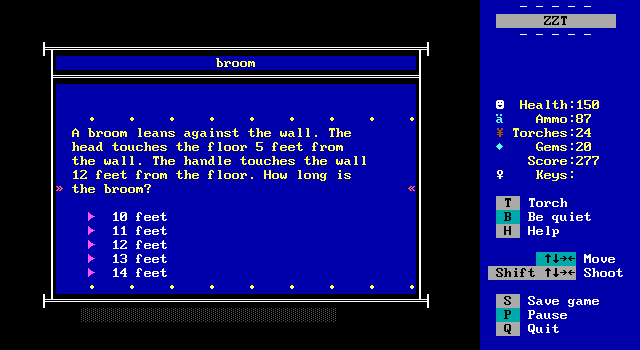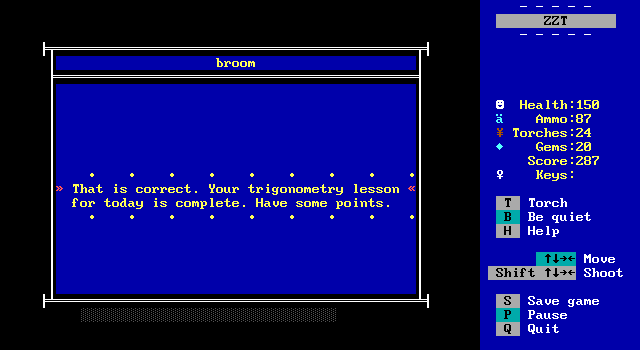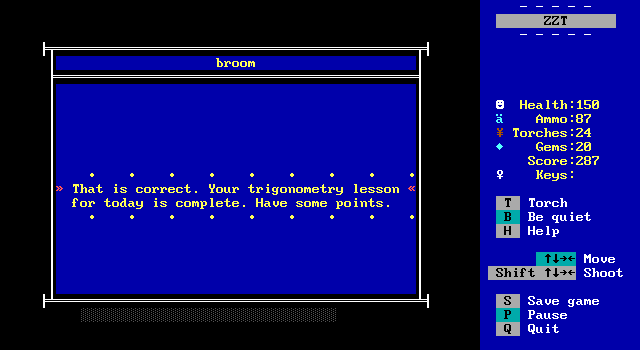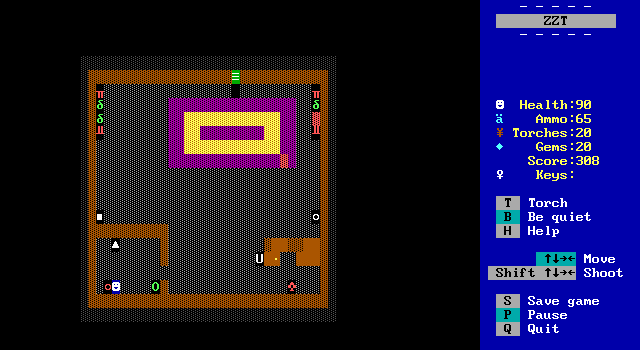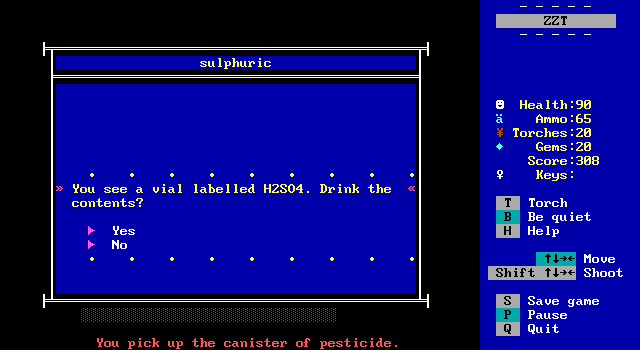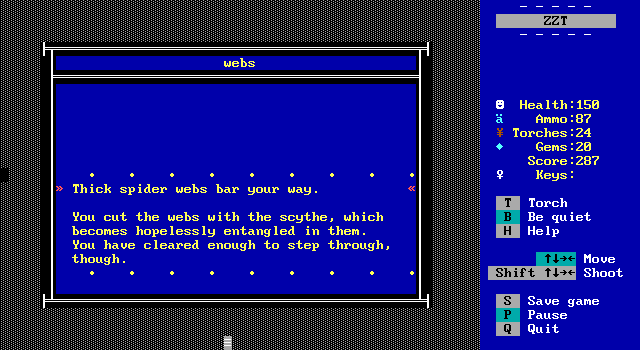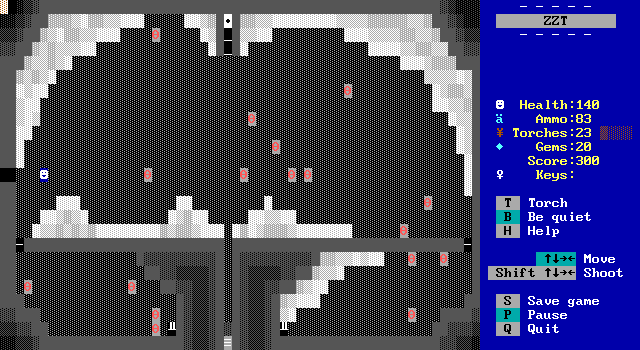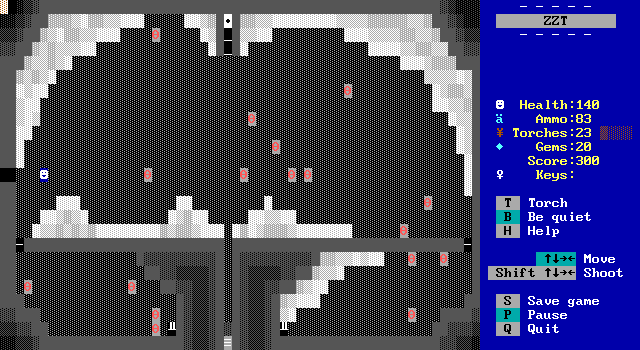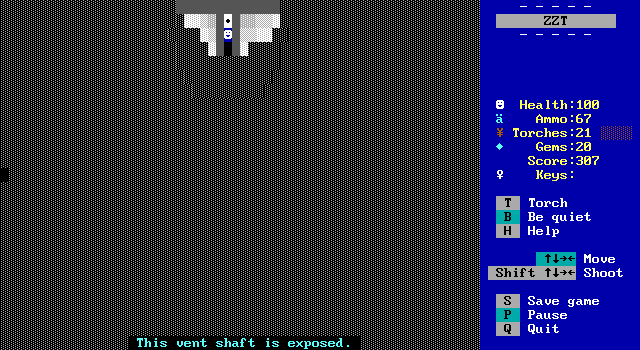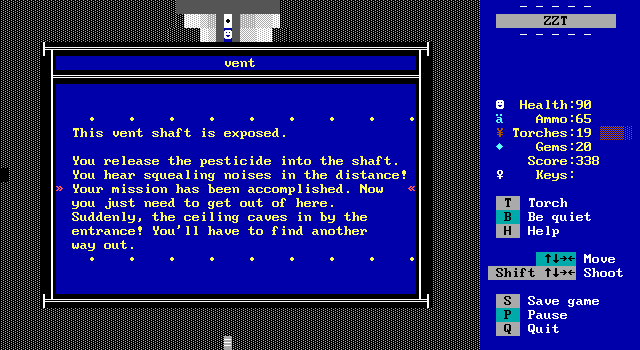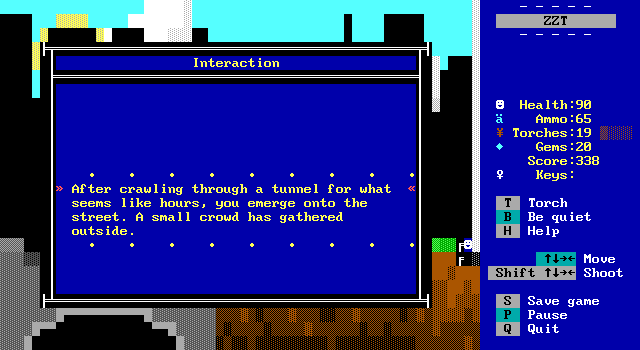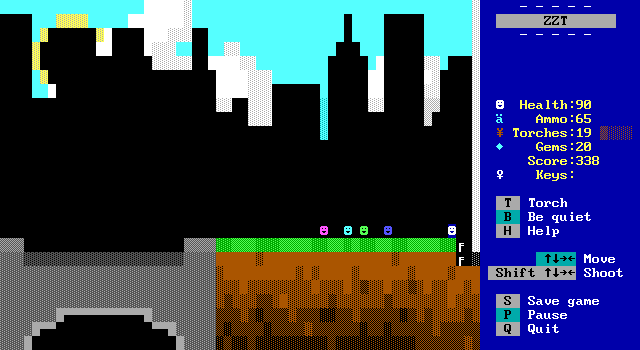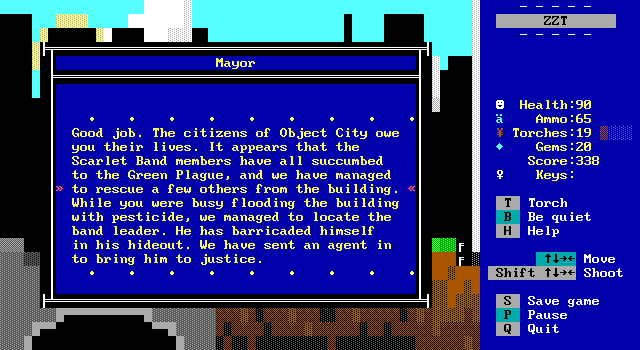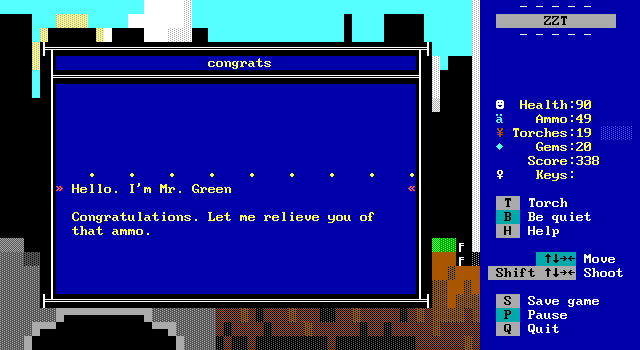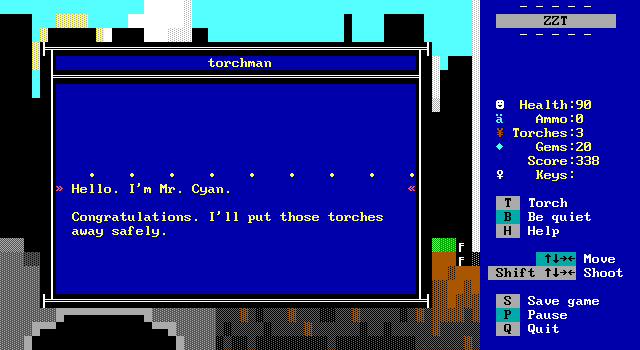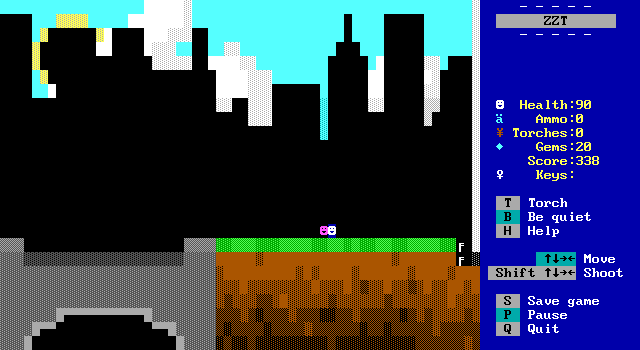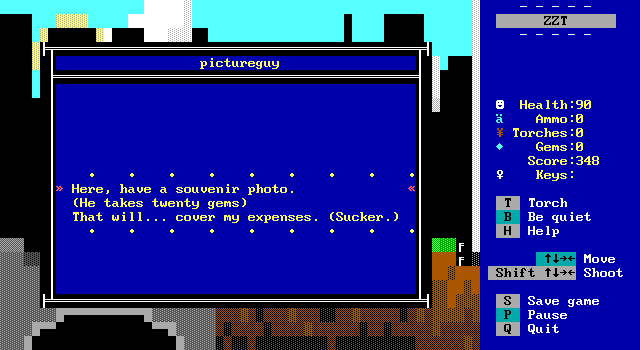 ender
• • • • • • • • •
Thank goodness that ordeal's over! You
take a taxi home and go to bed. Now you
can catch up on some lost sleep.
Maybe there you can get the movie rights
to this whole sordid business, anyway.
Five minutes into your nap, the phone
rings.
Stein: Hello?
A familiar voice replies in a rather loud
tone: "WHERE ARE MY CAR KEYS?!"
"Ask nicely..."
• • • • • • • • •
Final Thoughts
Scarlet, Green isn't a bad game, but it feels like Wells didn't really have his footing here. It's difficult to describe the experience of playing it without sounding too hard on it. Things move at a steady enough pace that calling it "tedious" is too strong, but I'd be lying if I said it was overall enjoyable. For me, somebody committed to playing it for a poll (albeit a game I put on the poll because I wanted to experience it), Scarlet, Green felt like homework. This is especially apt given that I solved a math problem for extra credit.
But it isn't terrible. It's the usual bland ZZT adventure. The sort of game that makes up probably a third of ZZT worlds out there. If it's your first time playing something like this, you'll probably get something out of it, but I've shot a lot of centipedes and mutant animals in these games over the years so for me the effect is lost.
Scarlet, Green doesn't really excel at anything. The action is adequate. The puzzles solve themselves for you, though in a way where the alternative of having to do things like pick temperatures or adjust the timer on the microwave to properly make some substrate, and mix the right chemicals with the right tools probably wouldn't have been particularly fun either. The sort of puzzle whose solution is just "did you write this down" or not.
The graphics are all over the place. Likely because of Funk taking a stab at cleaning things up. The title screen is good! Your home is not. There are these hints of smart and rarely seen forms of shading like the silhouetted buildings at the end and the shadows of buildings being cast on the Baille Labs building. For another fun ESP comparison, that game's city hall is deliberately meant to look garish and it fits it a little too well here.
The game is probably just the right length.I was definitely starting to get impatient towards the end, but there wasn't much left by that point, and I played through it in one sitting. Talking with Wells about the game's history he revealed to me that a lot was stripped out of this release to make it less tedious. It was a good call, though apparently things really went absurd and Dr. Stein went inside an arcade machine at some point. Maybe I'd have appreciated a more absurd game just to give me more to say about it.
If you look at the game in the editor, there are an extra twenty-one blank boards at the end. If those were all removed gameplay boards it would more than double the number of boards! Yikes. As terrifying as that sounds though, Wells has since found an provided me with a copy and I feel like I've got to stream it at some point.
The best reason to play this game is to appreciate ESP all the more, both in terms of the few similar threads of story as well as seeing just how much of a difference in quality there is. I can't recommend this one, but you have to crawl before you learn to walk, and as this game wobbles and tries to find its footing, know that it was necessary to have been made in order for Wells to truly shine later.
======
A Worlds of ZZT Production
======
The Worlds of ZZT project is committed to the preservation of ZZT and its history.
This article was produced thanks to supporters on Patreon.
Support Worlds of ZZT on Patreon!