⚠️ Support for Weave ZZT content in the Museum's File Viewer is very limited. Weave specific features have not yet been implemented. Issues should be expected when exploring Weave ZZT related files (especially visuals).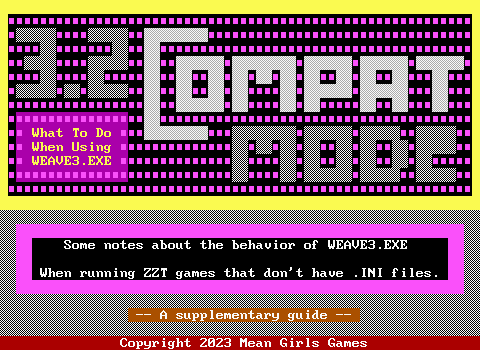 This is the complete Weave 3 suite, with the following tools and utilities included: The Weave 3 executable, the WEAVEDMO demo world, and the WEBWEAVE drag-and-drop tool. Please visit https://meangirls.itch.io/weave-3 for the complete download, including additional utilities and the file editing tools.
Zeta
Audio formats are not yet supported
Video formats are not yet supported
Weave3.0k-museum.zip
World
Board
Element
Stats
Prefs.
?
Overview
WEAVEDMO/COMPAT.ZZT
WEAVEDMO/WEAVEDMO.ZZT
!HOW_TO.HTM
EXTENDED.CFG
IMAGES/HOWTO1.PNG
IMAGES/HOWTO2.PNG
IMAGES/HOWTO3.PNG
LICENSE.TXT
OOP-QR.TXT
README.TXT
TEMPLATE.CFG
TEMPLATE.INI
UTILS/WEBWEAVE.ZIP
WEAVE3.EXE
WEAVEDMO/ANGRY.OBJ
WEAVEDMO/BEARBUL.OBJ
WEAVEDMO/EXAMPLE.OBJ
WEAVEDMO/GREET.OBJ
WEAVEDMO/LICENSE.TXT
WEAVEDMO/THAT.OBJ
WEAVEDMO/THING.OBJ
WEAVEDMO/WEAVEDMO.CFG
WEAVEDMO/WEAVEDMO.INI
WEAVEDMO/WONKY.OBJ
WEAVEZZT.CFG
Filename
Mod. Date
Comp.
Dir.
CRC-32
Compressed Size
Decompressed Size
!HOW_TO.HTM
2023-04-22
13:49:22
8
N
702112120
748 bytes
1.5 KB
EXTENDED.CFG
2023-04-22
13:49:22
8
N
64147422
4.8 KB
14.7 KB
IMAGES/
2023-04-22
13:49:22
0
Y
0
0 bytes
0 bytes
IMAGES/HOWTO1.PNG
2023-04-22
13:49:22
8
N
347037152
8.3 KB
9.3 KB
IMAGES/HOWTO2.PNG
2023-04-22
13:49:22
8
N
2709703533
7.3 KB
7.6 KB
IMAGES/HOWTO3.PNG
2023-04-22
13:49:22
8
N
546713991
13.2 KB
13.6 KB
LICENSE.TXT
2023-04-22
13:49:22
8
N
931917659
728 bytes
1.2 KB
OOP-QR.TXT
2023-04-22
13:49:22
8
N
21197870
7.3 KB
20.4 KB
README.TXT
2023-04-22
13:49:22
8
N
3041248600
1.3 KB
2.7 KB
TEMPLATE.CFG
2023-04-22
13:49:22
8
N
3132920347
1.8 KB
4.5 KB
TEMPLATE.INI
2023-04-22
13:49:22
8
N
3106928689
1.3 KB
3.8 KB
UTILS/
2023-04-22
13:49:50
0
Y
0
0 bytes
0 bytes
UTILS/WEBWEAVE.ZIP
2023-04-22
13:49:22
8
N
1066016324
525.1 KB
525.7 KB
WEAVE3.EXE
2023-07-15
23:53:34
8
N
308696292
50.0 KB
50.4 KB
WEAVEDMO/
2023-04-22
13:49:22
0
Y
0
0 bytes
0 bytes
WEAVEDMO/ANGRY.OBJ
2023-04-22
13:49:22
8
N
3300877715
72 bytes
73 bytes
WEAVEDMO/BEARBUL.OBJ
2023-04-22
13:49:22
8
N
1836715605
108 bytes
150 bytes
WEAVEDMO/COMPAT.ZZT
2023-04-22
13:49:22
8
N
1328944771
4.2 KB
12.6 KB
WEAVEDMO/EXAMPLE.OBJ
2023-04-22
13:49:22
8
N
389954926
332 bytes
614 bytes
WEAVEDMO/GREET.OBJ
2023-04-22
13:49:22
0
N
1114726443
55 bytes
55 bytes
WEAVEDMO/LICENSE.TXT
2023-04-22
13:49:22
8
N
2345647117
696 bytes
1.2 KB
WEAVEDMO/THAT.OBJ
2023-04-22
13:49:22
8
N
1105370154
200 bytes
410 bytes
WEAVEDMO/THING.OBJ
2023-04-22
13:49:22
8
N
1447385587
145 bytes
250 bytes
WEAVEDMO/WEAVEDMO.CFG
2023-04-22
13:49:22
8
N
2673625277
4.8 KB
14.6 KB
WEAVEDMO/WEAVEDMO.INI
2023-04-22
13:49:22
8
N
1757094410
1.4 KB
3.9 KB
WEAVEDMO/WEAVEDMO.ZZT
2023-07-16
00:17:34
8
N
532967054
51.3 KB
194.8 KB
WEAVEDMO/WONKY.OBJ
2023-04-22
13:49:22
8
N
2358175514
162 bytes
295 bytes
WEAVEZZT.CFG
2023-04-22
13:49:22
0
N
322267589
46 bytes
46 bytes
File Navigation (with a file selected)
Shift + +/J: Next file
Shift + -/K: Previous file
Board Navigation
+/J: Next board
-/K: Previous board
Numpad 2/4/6/8: Follow board connection
Double click on a passage () to travel to its destination
Tab Hotkeys
W - World tab
B - Board tab
E - Element tab
S - Stat tab
P - Preferences tab
Misc
Shift + B - Toggle high intensity backgrounds (blinking)