DEMO VERSION: Batman and the Mystery of the Talking Mouse of the Multiverse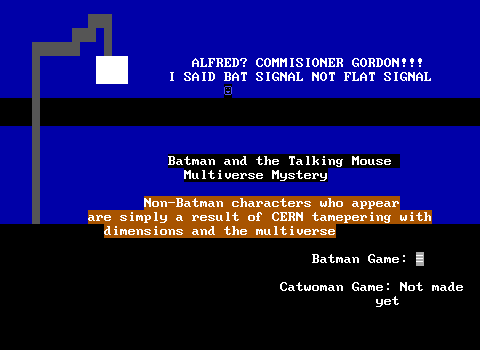 "The rich wealthy caped crusader Bruce Wayne could end up penniless if he doesn't stop a mouse who appears to be helping eradicate crime but may actually be just trying to put Batman out of commission. A ridiculous little game demo of what might become something bigger a long time from now, just made for fun. Who has bought out Gotham City?"
Zeta
Audio formats are not yet supported
Video formats are not yet supported
batmanandthemouse.zip
World
Board
Element
Stats
Prefs.
?
Overview
BATMOSI1.ZZT
batmangametextzcomedy.txt
Filename
Mod. Date
Comp.
Dir.
CRC-32
Compressed Size
Decompressed Size
batmangametextzcomedy.txt
2022-08-09
22:02:16
8
N
2385457285
240 bytes
368 bytes
BATMOSI1.ZZT
2022-08-11
20:02:54
8
N
2962059544
9.6 KB
28.4 KB
File Navigation (with a file selected)
Shift + +/J: Next file
Shift + -/K: Previous file
Board Navigation
+/J: Next board
-/K: Previous board
Numpad 2/4/6/8: Follow board connection
Double click on a passage () to travel to its destination
Tab Hotkeys
W - World tab
B - Board tab
E - Element tab
S - Stat tab
P - Preferences tab
Misc
Shift + B - Toggle high intensity backgrounds (blinking)