Here come another dozen plain old ZZT worlds, courtesy of the end of the upload queue. Excluding one upload that's been sitting around for a bit because it definitely needs to be published with a complimentary title uploaded more recently. Consider this foreshadowing!
Time Warpers II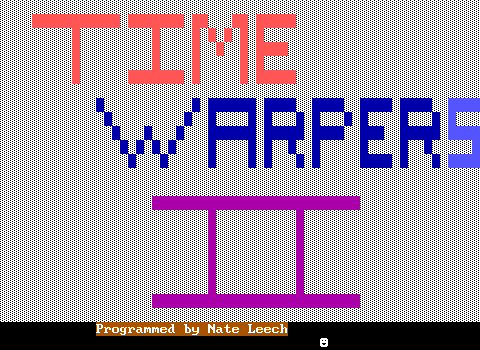 Starting with a sequel to something the Museum doesn't have.
Opening the game up it has several boards imported from STK right at the start, but doesn't seem to use anything it imported until the very final board.
Your time machine's battery has died and you're stuck in a year that isn't 3000. Nor is it 2050, when the battery you need was invented. I couldn't for the life of me tell you what time period this game actually takes place in.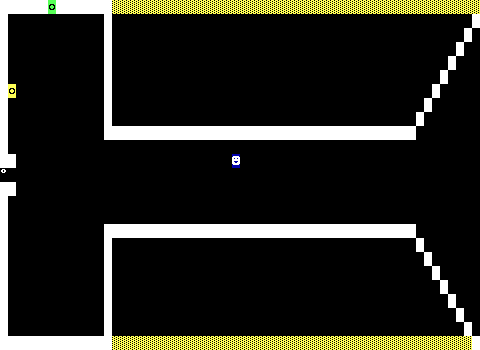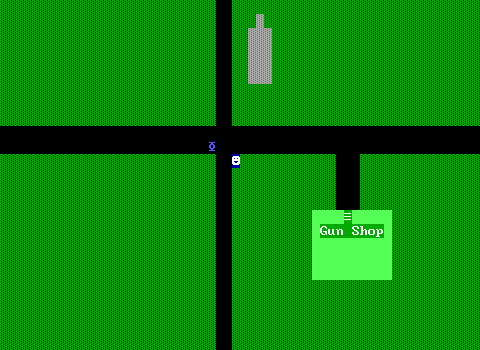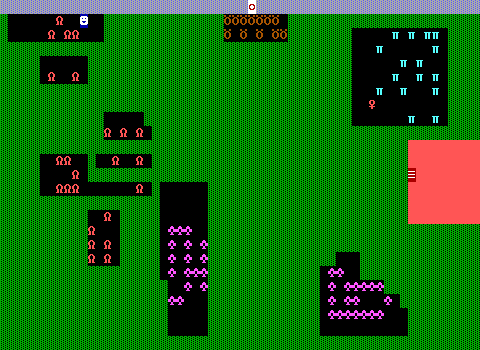 My Really Super Cool Place!!! The Quest For Knowledge!!!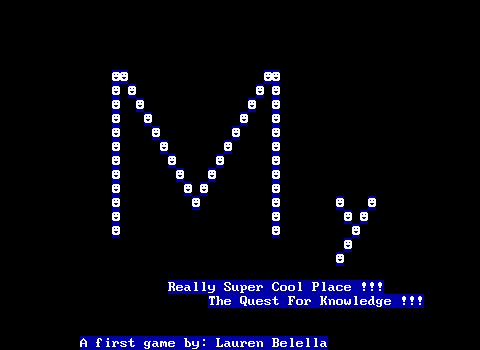 First games are always great to see. They're always bizarre and this one is no exception. Lots of instructions litter the boards telling the player what objects to touch, when to touch them, and what side to touch from.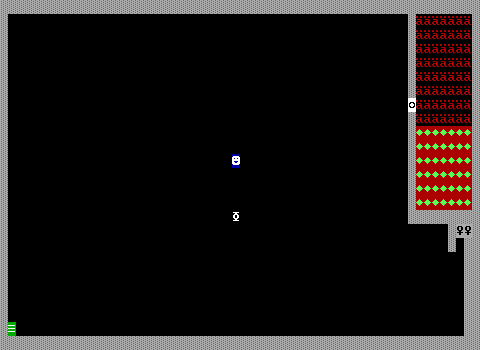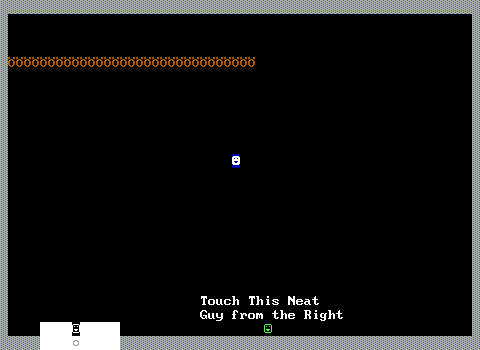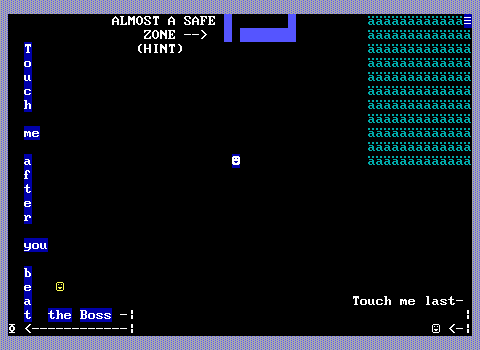 Adventures in Jaconia (Original)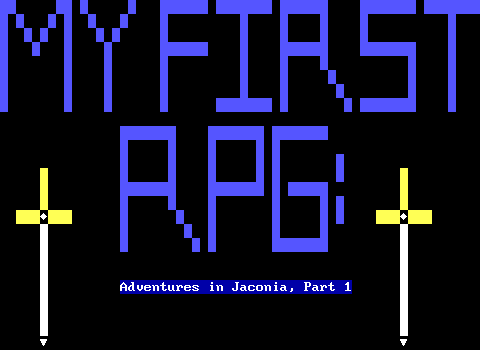 Speaking of first games. This one is a cool find as we've already had both a remake of this game as well as an expanded version included in a compilation of Jaconia 1-6.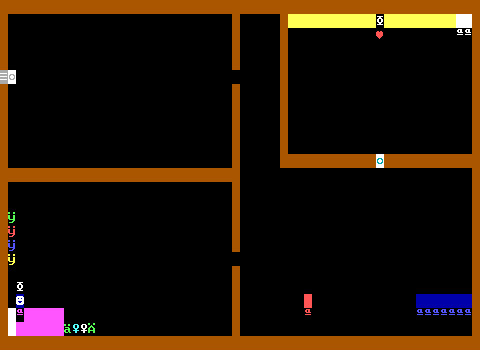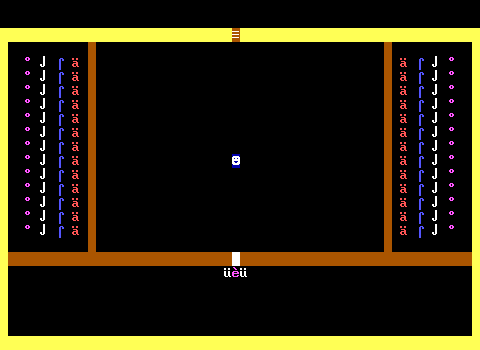 Puzzles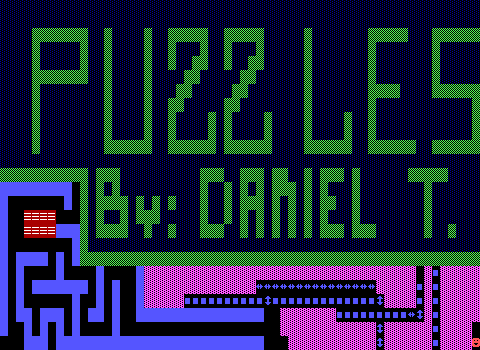 For better or for worse, this is a collection of common puzzle boards you'd find in ZZT games. Alas we're not talking about puzzles that are particularly fun to play. No, this is more focused on "navigate a maze of invisible walls" or "navigate a maze of fake walls" or "navigate a maze of transporters".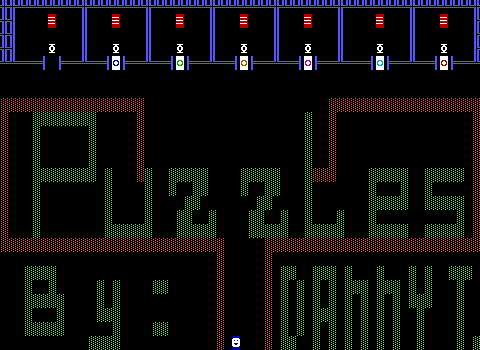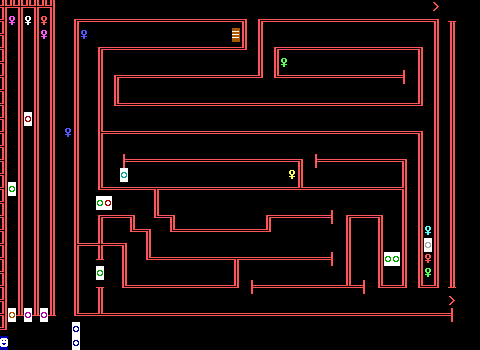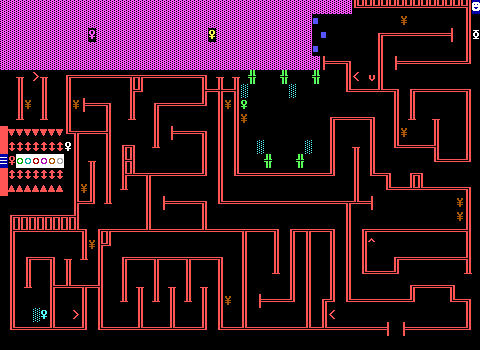 Cool Stuff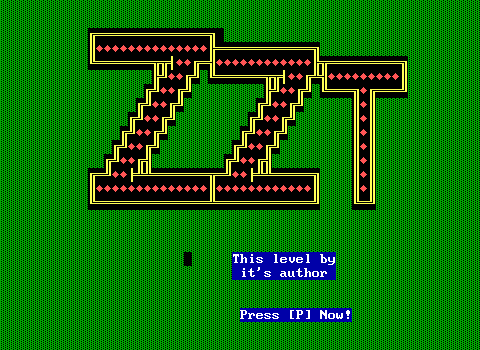 A strange one! This game is mostly just demonstration boards showing off what the author thought was cool (mostly big contraptions made out of conveyors), but it seems like there's some sort of actual gameplay here with collecting keys across boards despite it all fitting into a big menu of passages on the starting board/shooting gallery.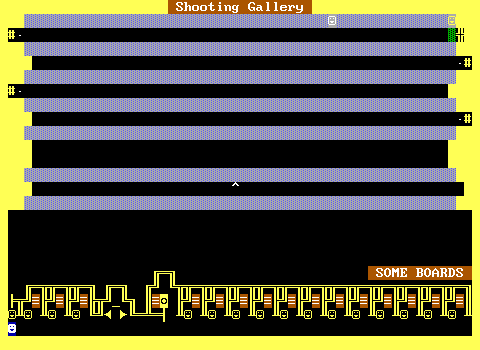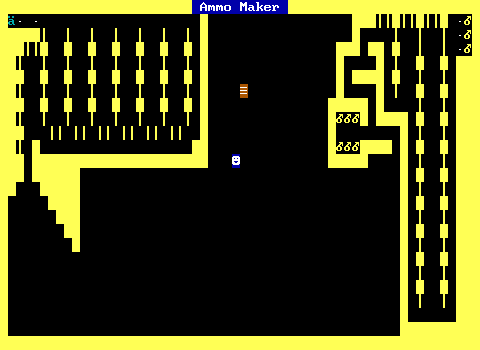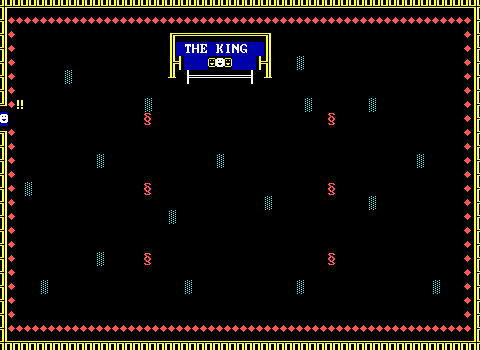 Chaos Fighters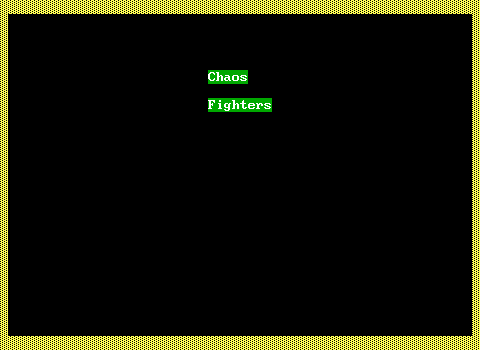 A very rough looking adventure, but I can't help but love the location names so it has that going for it. Consider that the last screenshot I chose is "Final Battle 2" (of 3).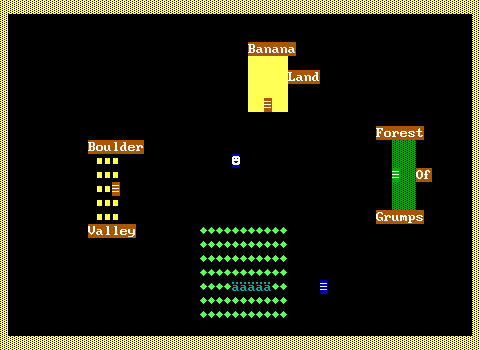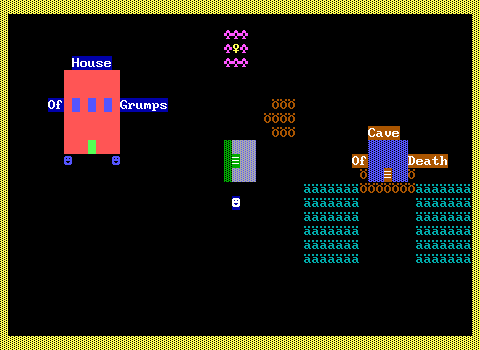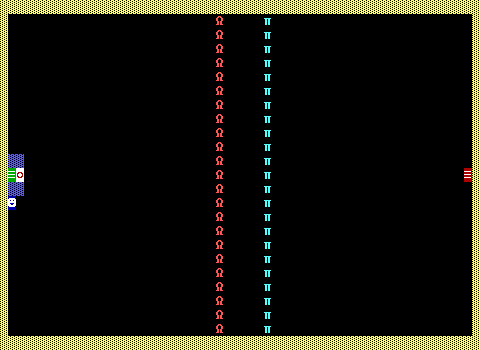 Try The I.Q. Tests!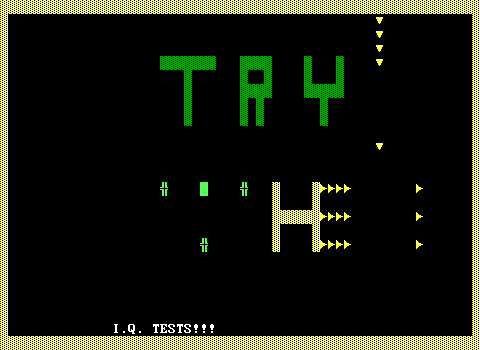 Hopefully you succeeded in the quest for knowledge earlier because now it's time for the I.Q. tests! Both kinds, ZZT and regular are tested here. When you've finished your tests, you can "play" soccer too!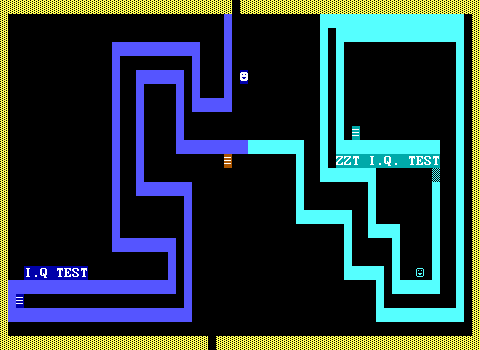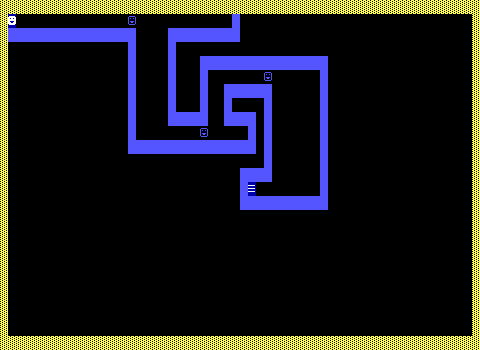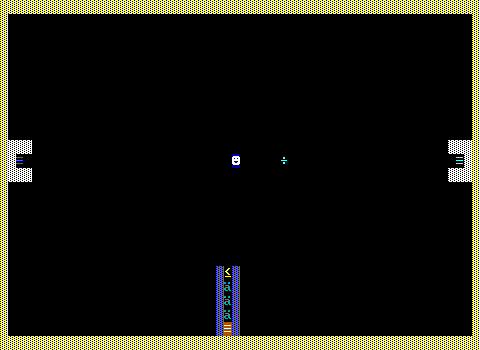 Weirdo Vs. All Of Normality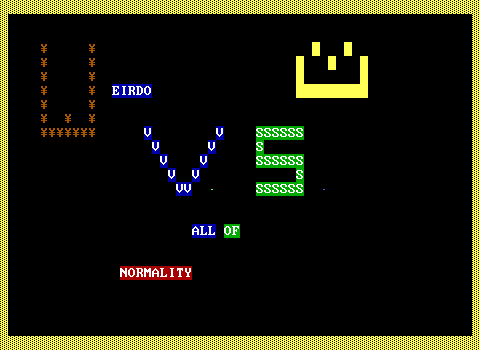 YOU ARE THE ONE AND ONLY WEIRDO, AND YOUR MISSION AS THE WEIRDEST GUY IN TOWN IS TO TAKE OVER ALL OF NORMALITY. YOU MUST GO INTO THE HEAD QUARTERS OF ALL NORMALITY AND SEARCH OUT THE PRESIDENT .... BUT HE IS A PRETTY NORMAL GUY SO BE CAREFUL.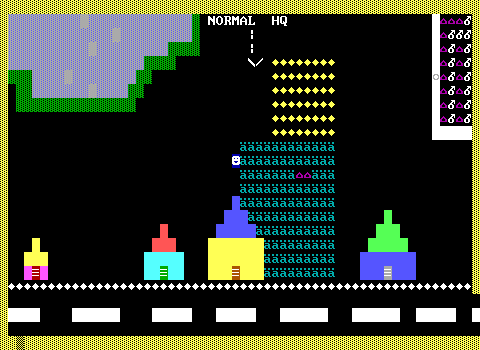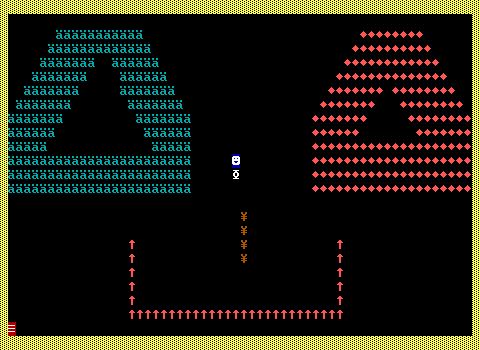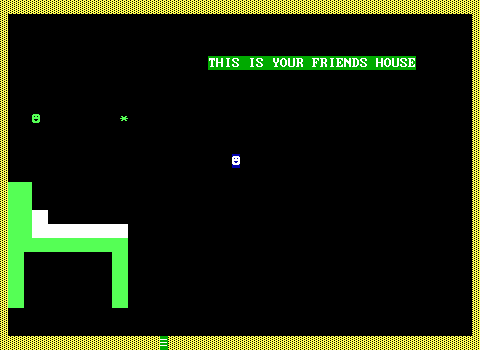 Court Or Die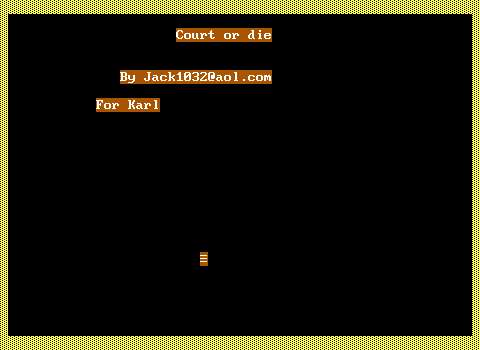 Court or die dude. You either court or you die.
A ZZT game which features OJ Simpson on trial and killing Barney? This is the most 90s thing imaginable. Make tough decisions about whether or not to nap. Careful, if you choose wrong the courthouse will become overrun with slime. Obviously.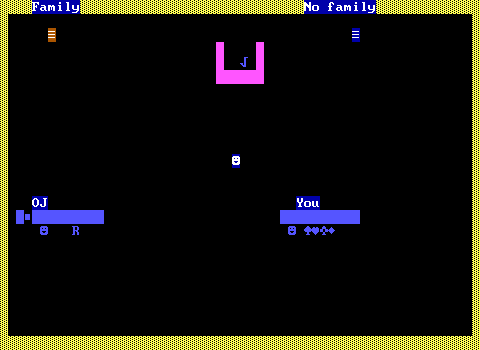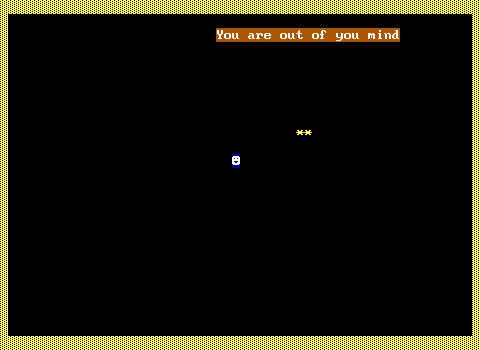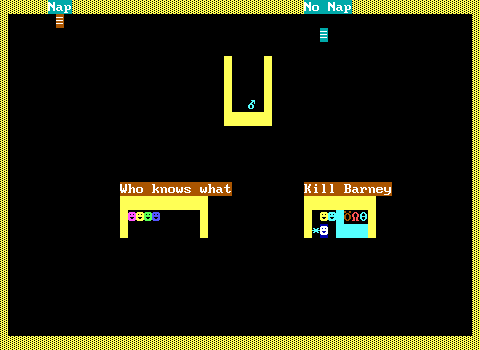 Run Run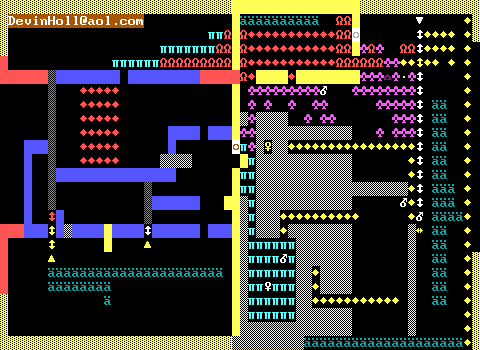 I feel like the author of this one challenged themselves to turn on drawing mode in the editor and NEVER TURN IT OFF.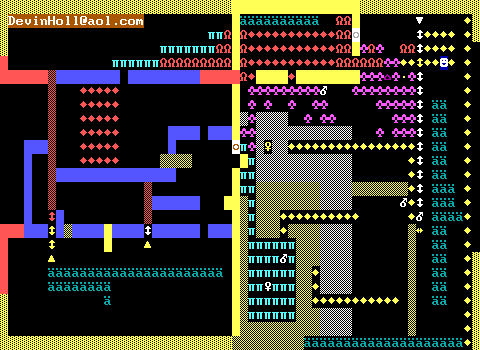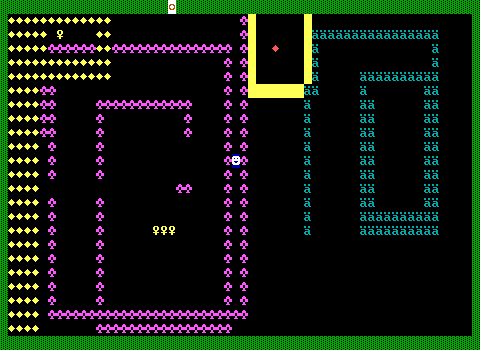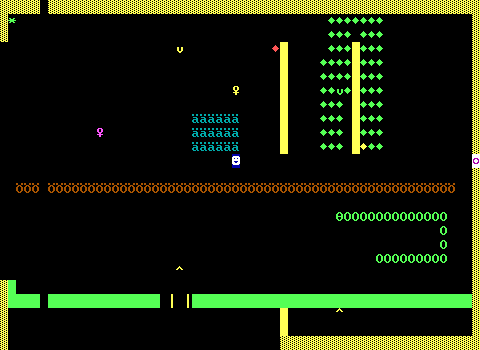 5 Stupid Dogs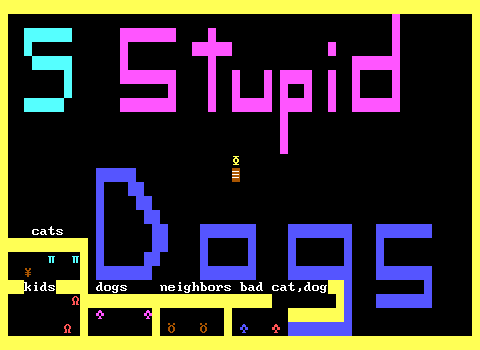 The title screen says "5". The filename says "5". The help file makes a large "5" out of "5" characters, but I'm still convinced this is supposed to be a 2 Stupid Dogs with a joke about the 2 being backwards. Nothing in the game indicates this to bet the case, but I will die on this hill.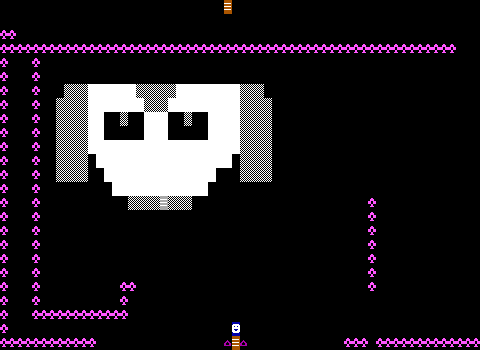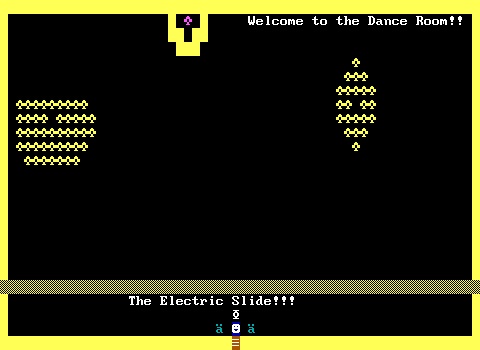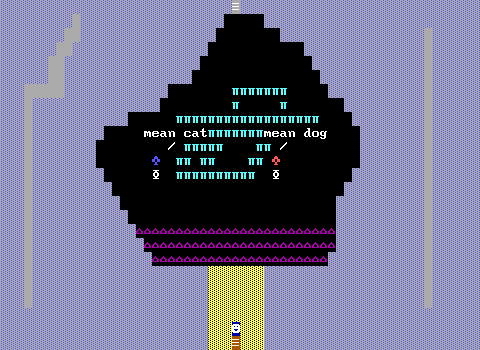 Jack Adventures Presents: Be Careful Where You Step!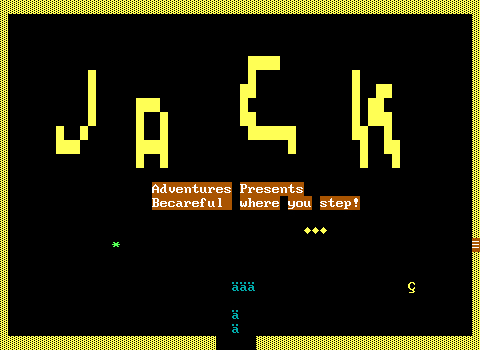 I don't know what to say about this one. Every board is covered in these screenshots.