This month's poll winner is a rather recent release! KKairos's Big Beast in the Maze, a 2020 title that I ended up overlooking due to the timing of its release. BBitM had the misfortune of being released less than a week before WiL's The King in Yellow Borders took the spotlight with its use of a custom ZZT fork which meant that you could never be sure what rules of ZZT would be broken (perfect for a horror game). This got compounded by the fact that a week after TKiYB, Verasev released her action packed dungeon crawler Dark Citadel, another eagerly awaited title over on the Worlds of ZZT Discord.
So, it kind of fell by the wayside. At least for me. Luckily these days I'm far from the only person that plays ZZT worlds and so my presence is hardly what makes or breaks a ZZT world's success.
Perhaps also lucky for me, is that Big Beast isn't a ZZT game meant to have a grand scale. If you're looking for that, KKairos already delivered an impressive feat of code with the original release of Computer Dungeon Slash: ZZT the previous year and its refined 2.0 update in May of 2020. So I don't have to feel too guilty having missed out on a more simply-designed world.
But as much as I do love seeing ZZT pushed to its limits via procedural generation, intricate combat systems, or just weaving the reconstructed source code into something new, sometimes you just want to play a fun little world and move on with your day, and for that, the game absolutely delivers.
Big Beast in the Maze is a ZZT world that I would highly recommend to newcomers. It's a light experience that tries to let the player lose themselves in atmosphere, something that most ZZT worlds establish primarily through their writing. KKairos tries for something a little different here. The story is mostly told through its introduction, and while there are plenty of characters to meet, there's no real conversation to be had. This game takes on the challenge of making a maze fun, and does a great job balancing a feeling of progression with a subtle fear that at any moment the game will stop being about exploring "the maze" and turn into dealing with a "big beast".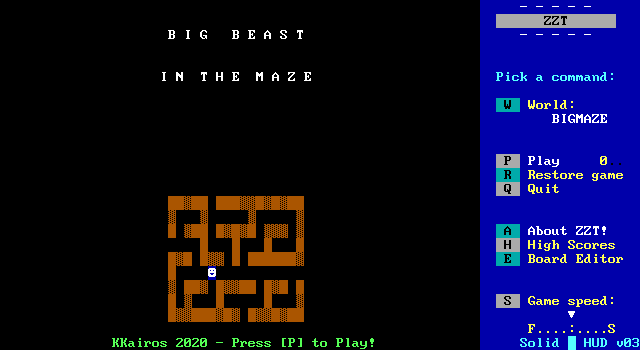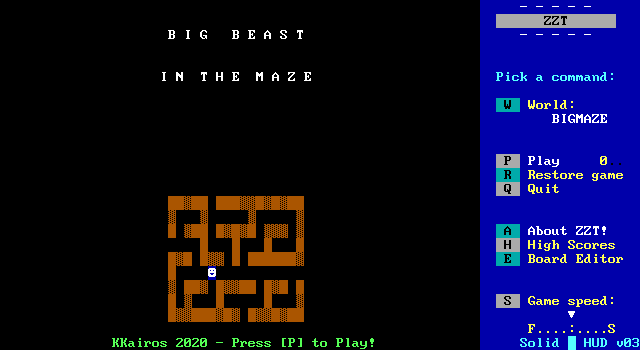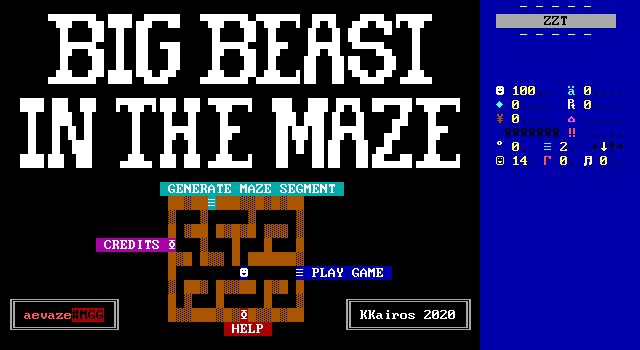 How to Play
• • • • • • • • •
In Big Beast in the Maze, you play as a
prisoner of the Empire of Agora, condemned
to die as a rebel for your crimes.
You are tasked with exploring a big,
labyrinthine island and pacifying the
man-eating beast within to win freedom.
To play, just explore things using the
[↑] [↓] [←] [→] buttons. Very little
except the Empire or the Beast can
actually hurt you.
I do recommend that you save when you find
the beast. There are multiple endings, and
not all of them are good.
The game is mostly atmospheric, designed
to be played a slower pace--there is one
"action" sequence which may occur, but
there is an option for a warning before
this happens.
If you want to see a bit of maze generator
action, check that out up top.
This game isn't procedurally generated the
way that Computer Dungeon Slash: ZZT is,
but I did start with generated maze pieces
and work mainly from there.
• • • • • • • • •
Credits
• • • • • • • • •
:touch
PRODUCTION
KKairos Scenario, Programming,
Art, Game SFX
Philosoraptor Beta Testing
WiL
Zephyr
Rabbitboots
astral
INSPIRATIONS
Lancer-X Unlimited Maze Works
Rabbitboots Pathfinding work
Maze Minders
Laughing Manatee making me want to make
maze game that needs
mapping
Rabbitboots encouraging my trolly
Philosoraptor game design impulses
Zephyr
WiL
All the ZZTers inspiring me
who've inspired me
SPECIAL THANKS
WiL Mean Girls Games tune
to go with logo
Helping with MGG logo
This on Discord:
"Mean Girls Games" would be a pretty good
rival zzt company for Burger Digital"
which sort of inspired
the joke company/logo
to begin with. Look
forward to many aevaze
releases which are
also under MGG or BD
Tim Sweeney Making ZZT
Alexis Janson Expanding ZZT
Dr. Dos Preserving ZZT
asie Zeta & Reconstruction
of ZZT
God and all my Supporting me all this
peeps IRL and time, because nobody
internets survives alone
--KKairos, 2020
• • • • • • • • •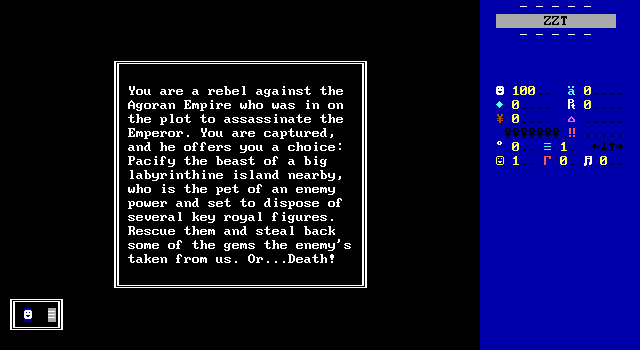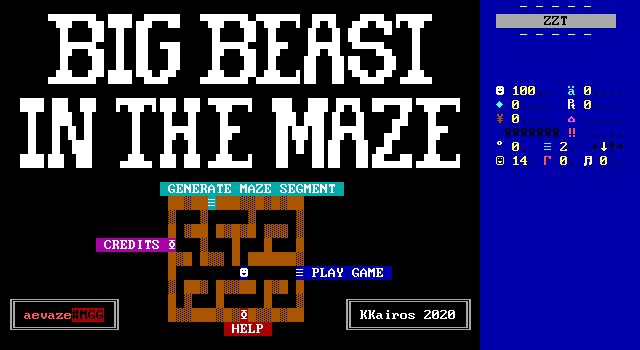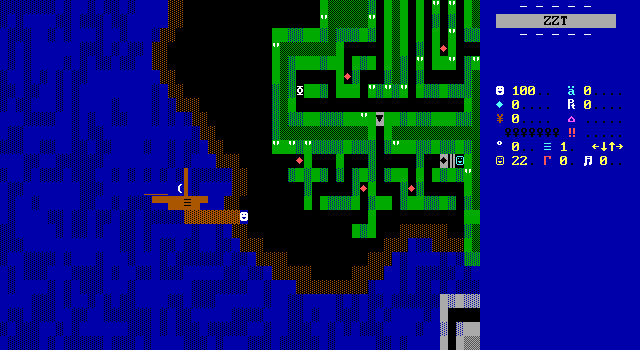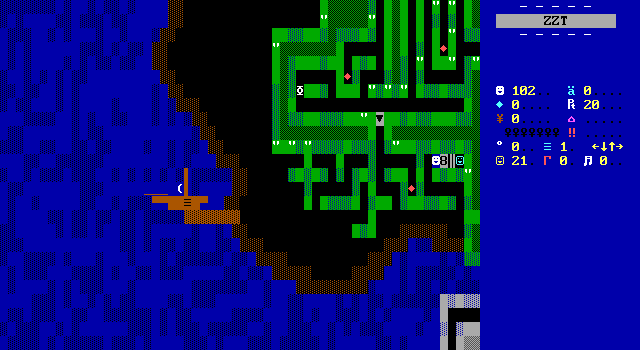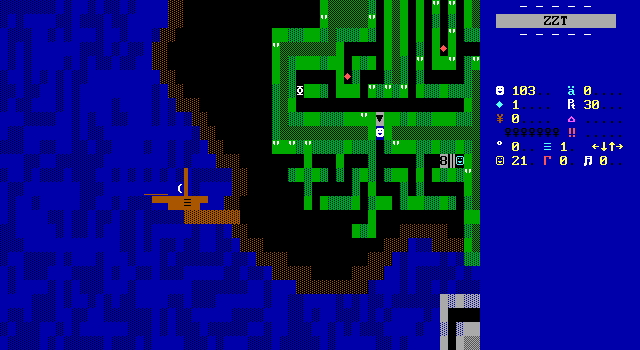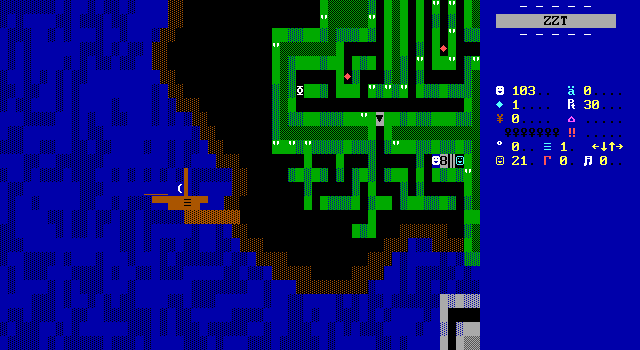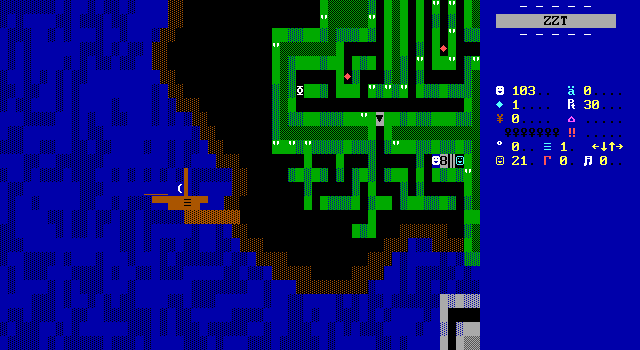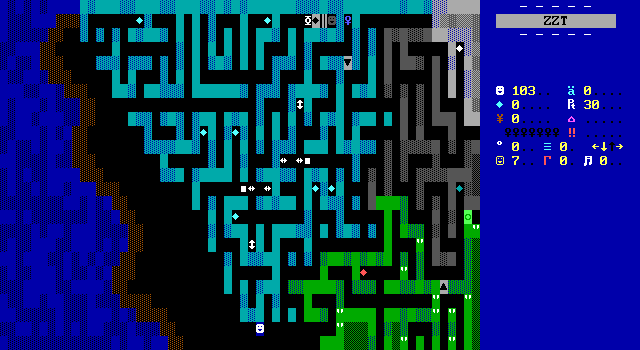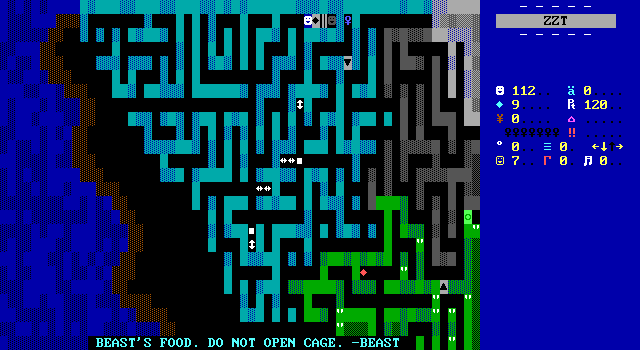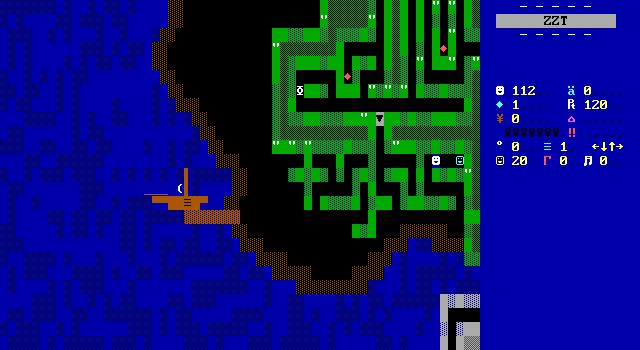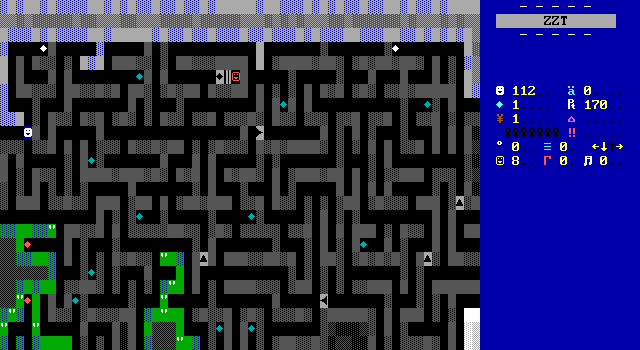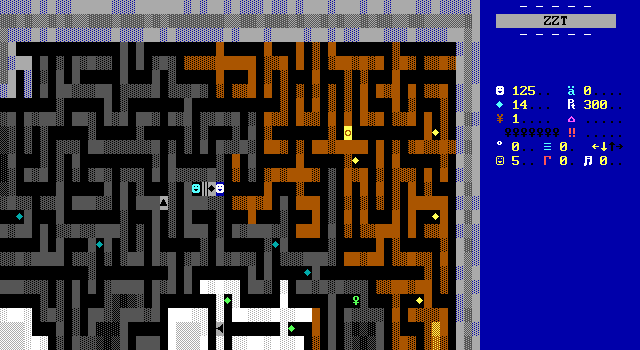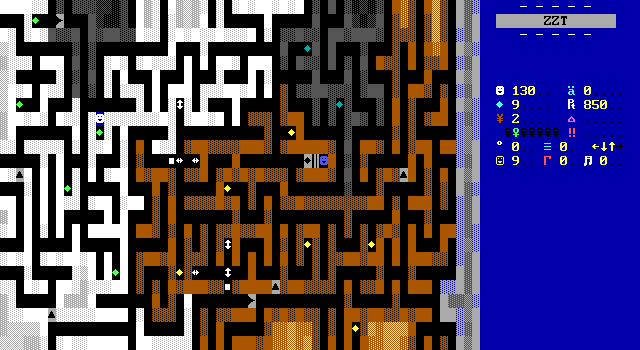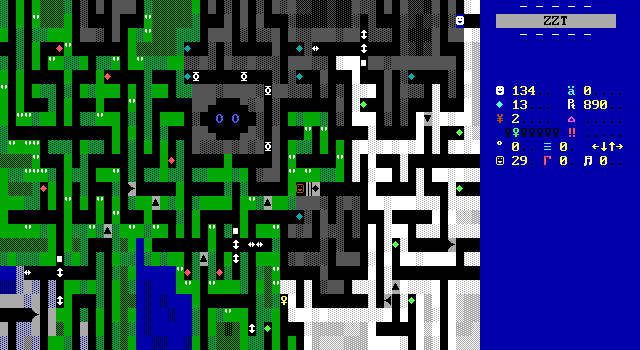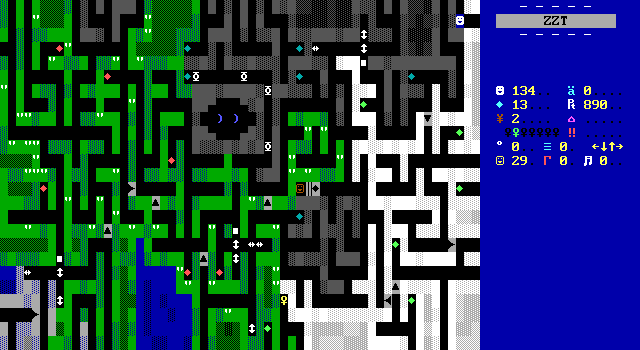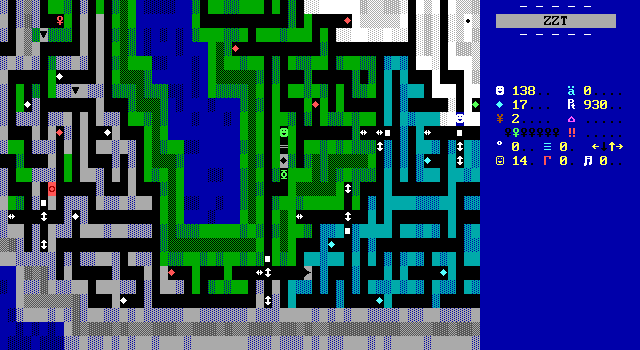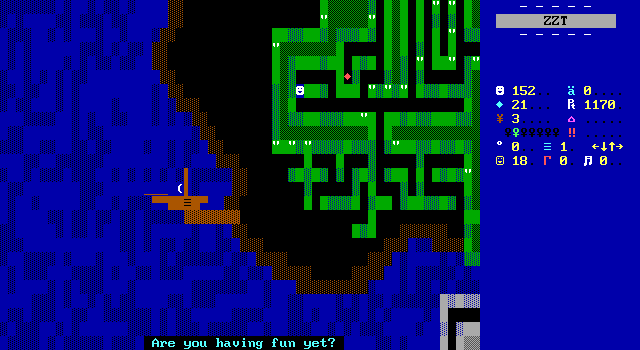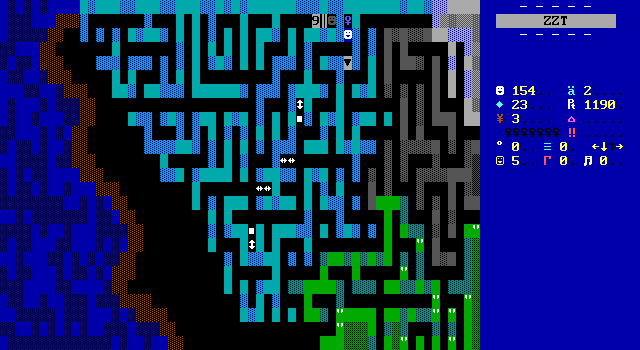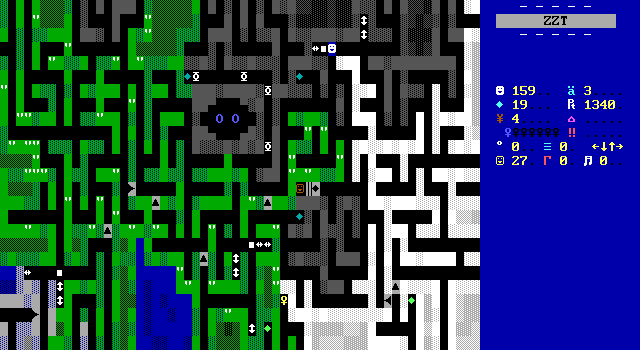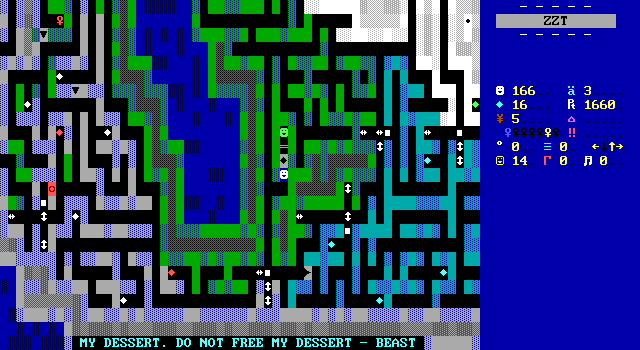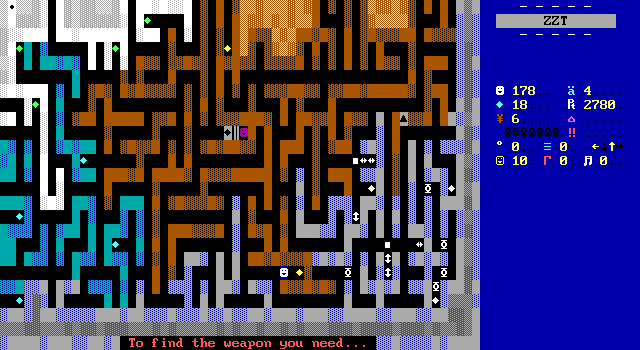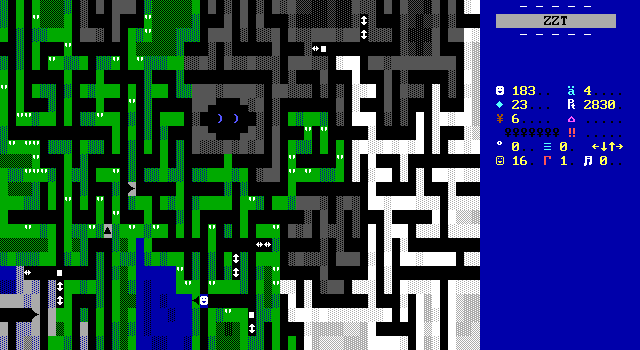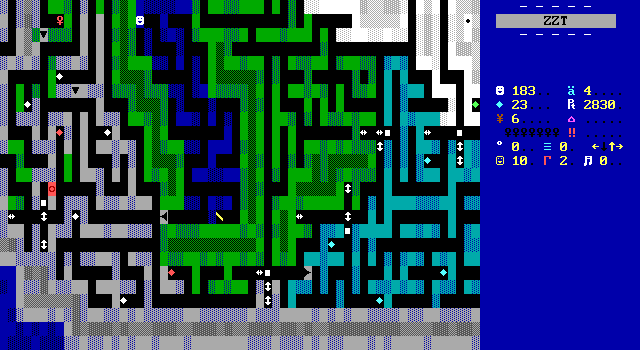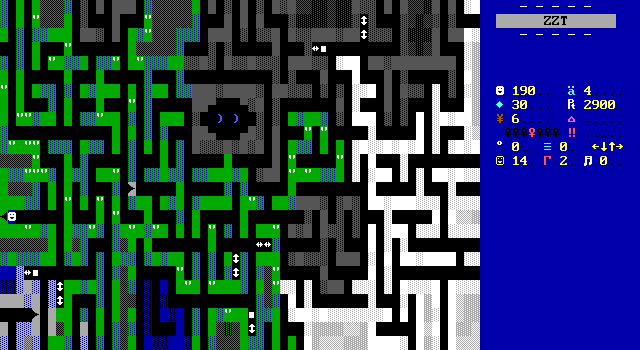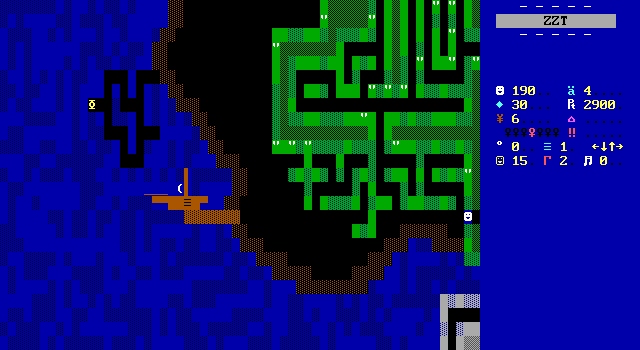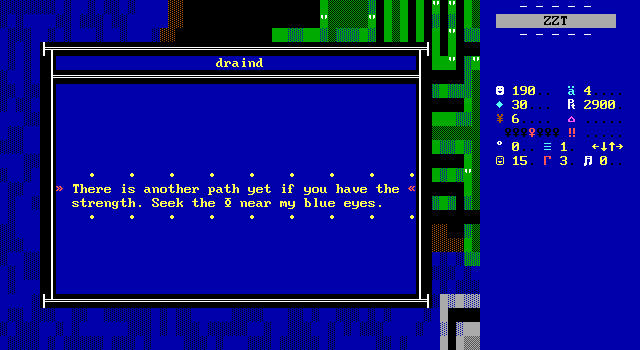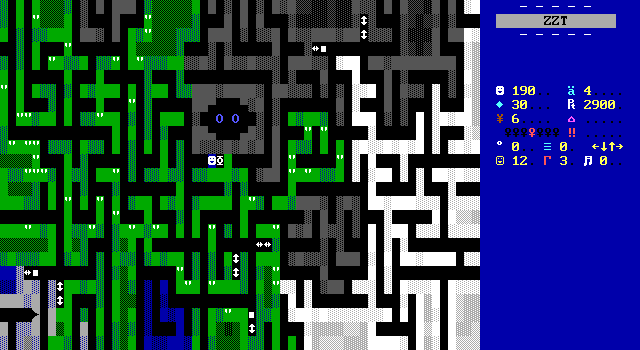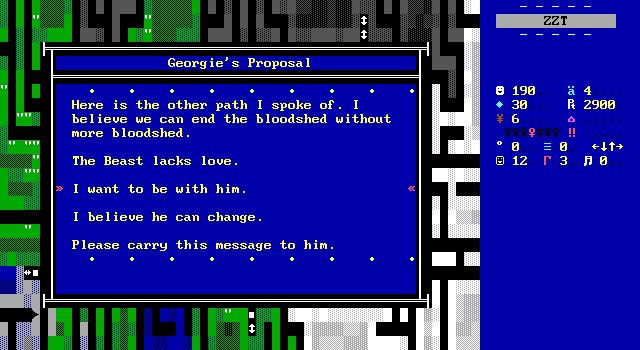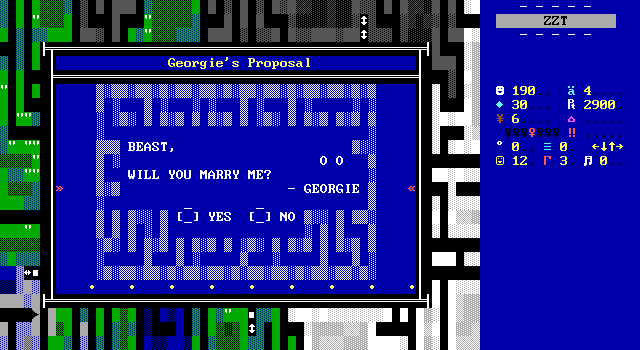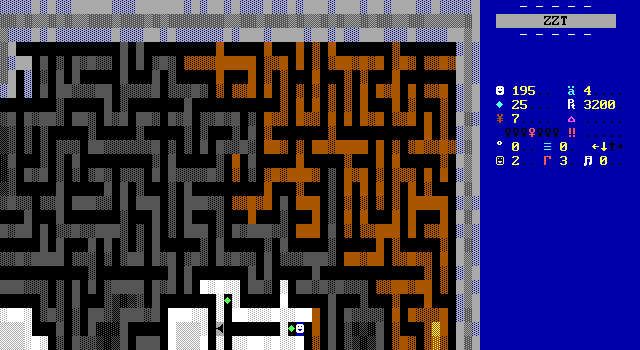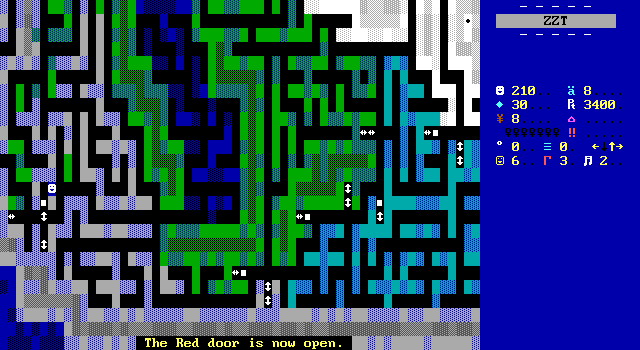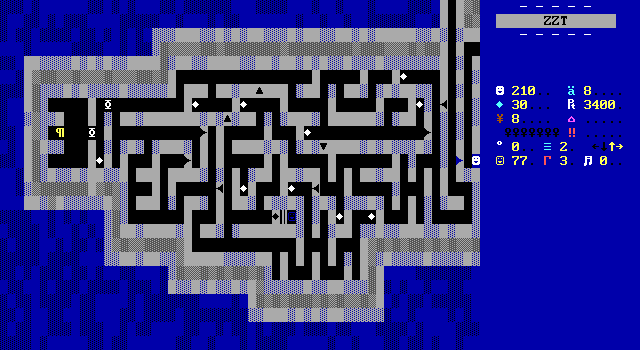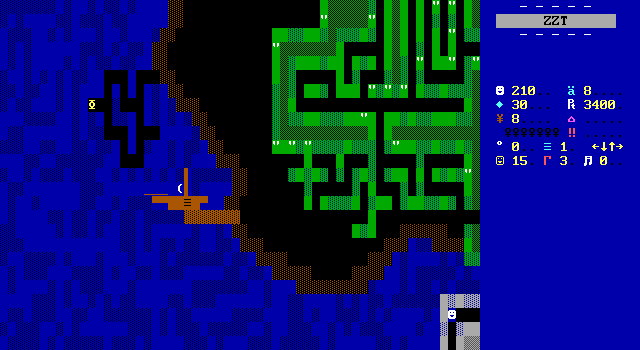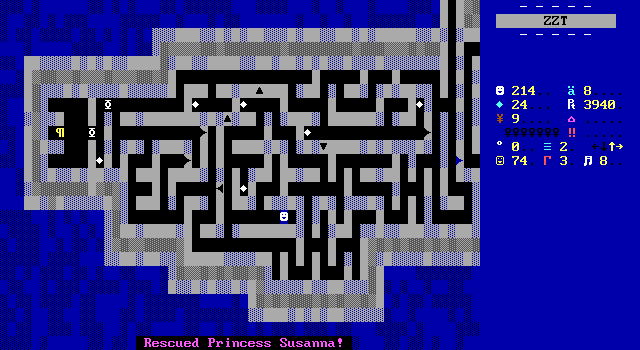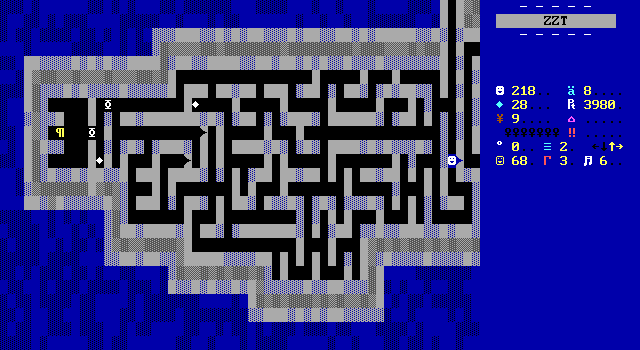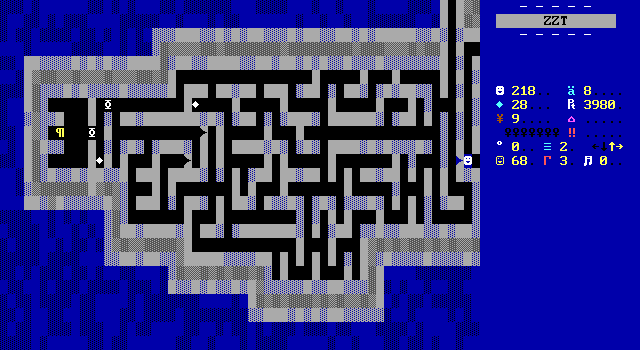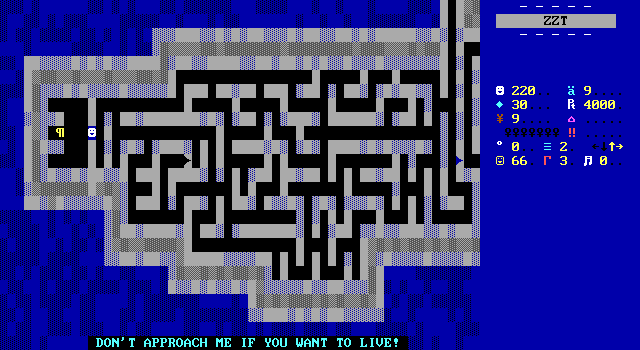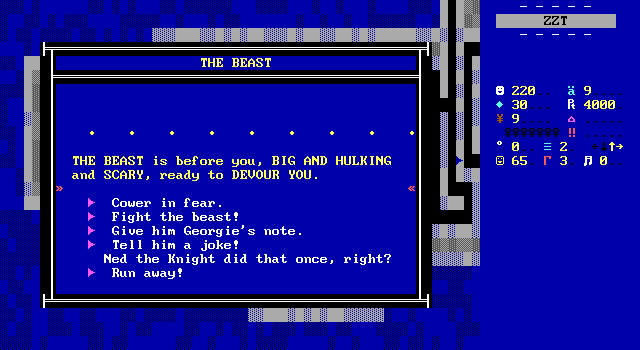 Cower in fear.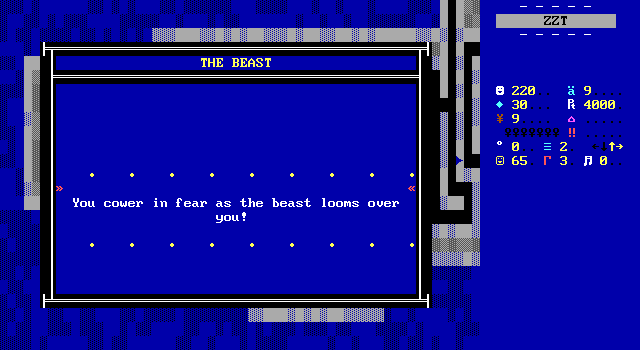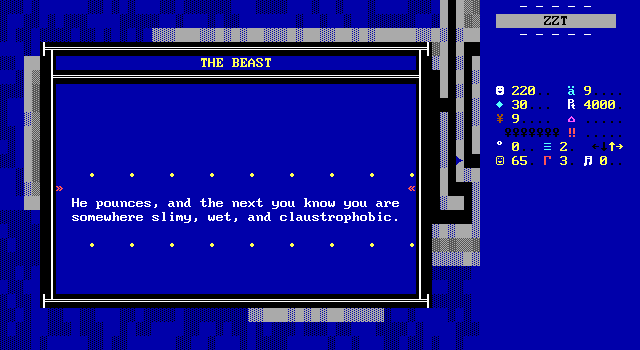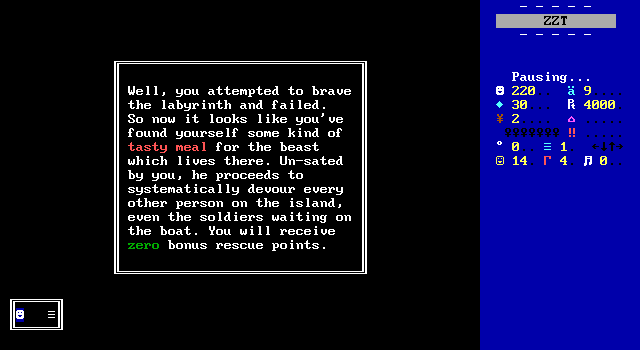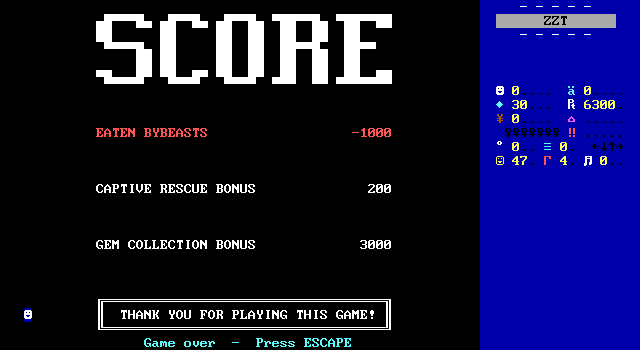 Fight the beast!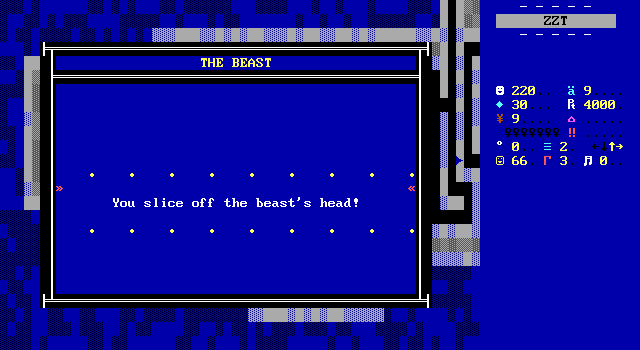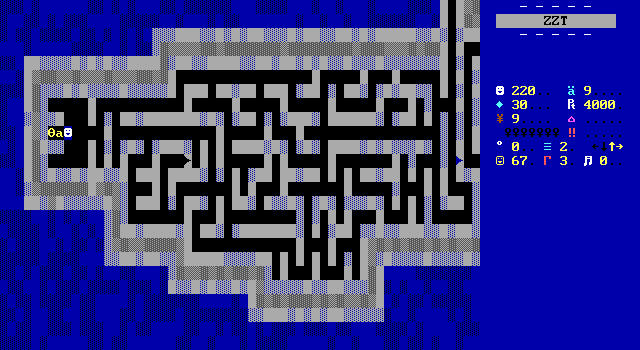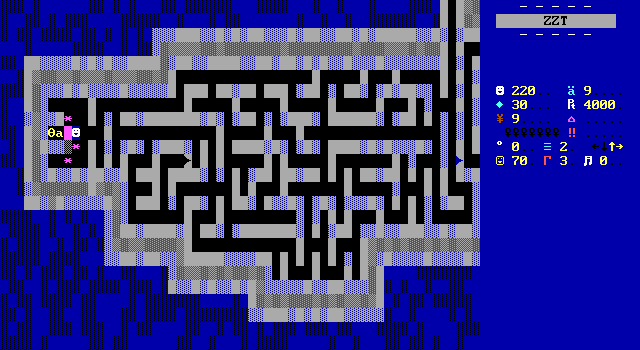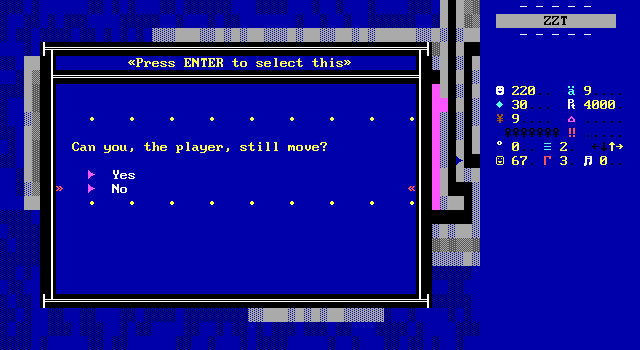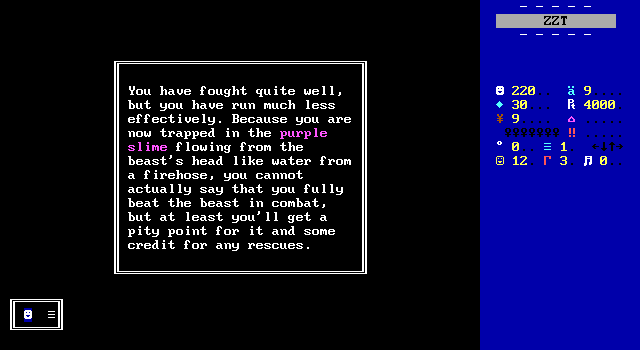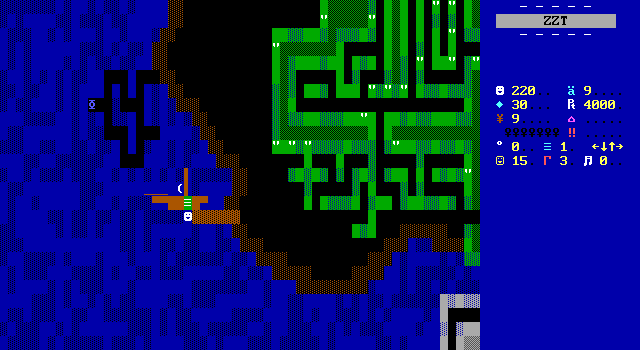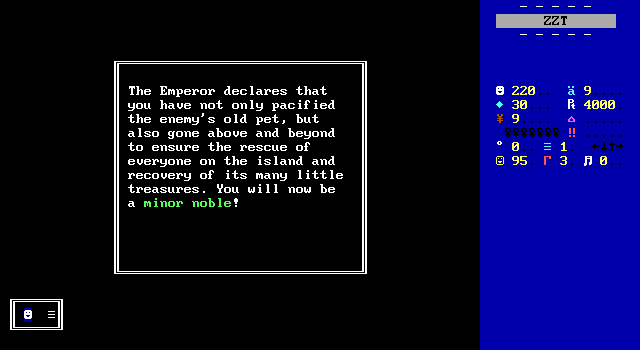 Tell him a joke!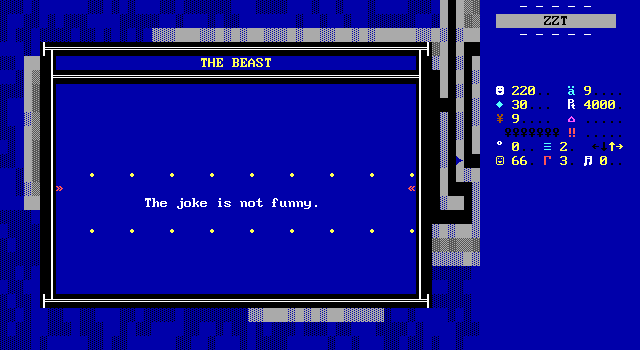 Run away!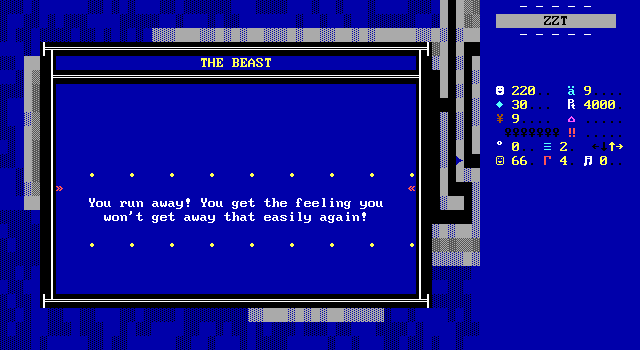 Give him Georgie's note.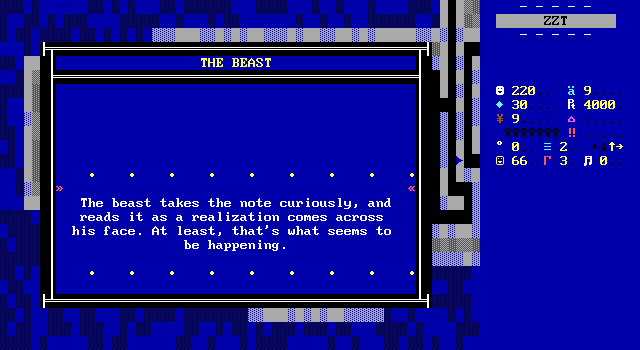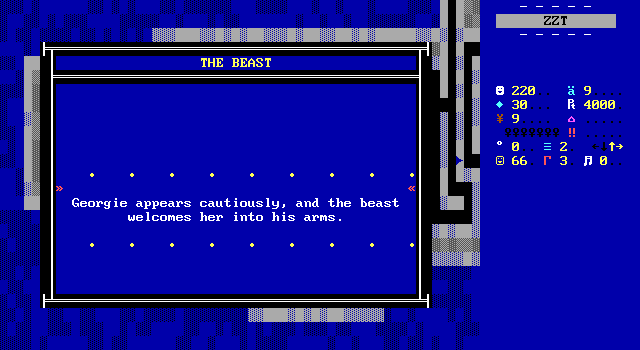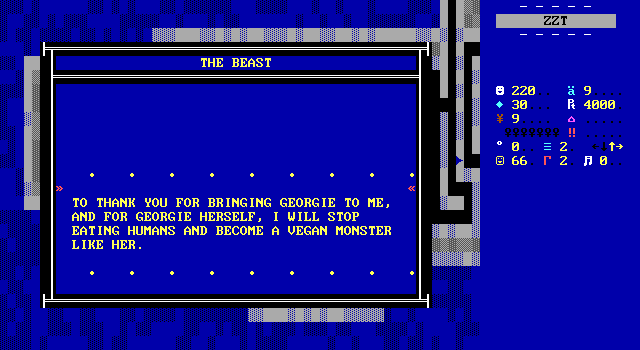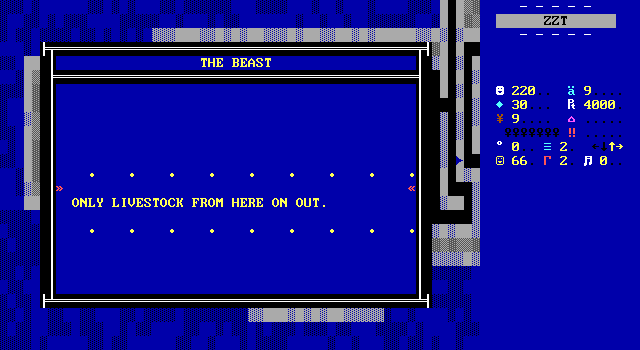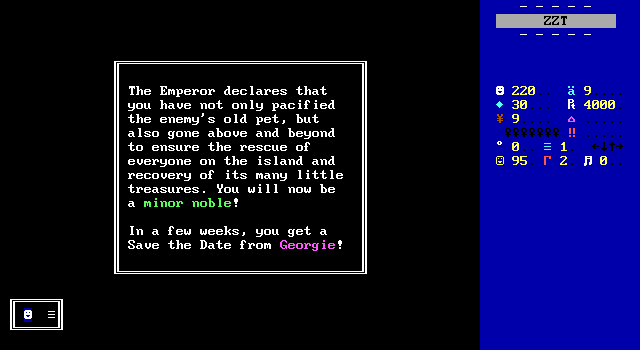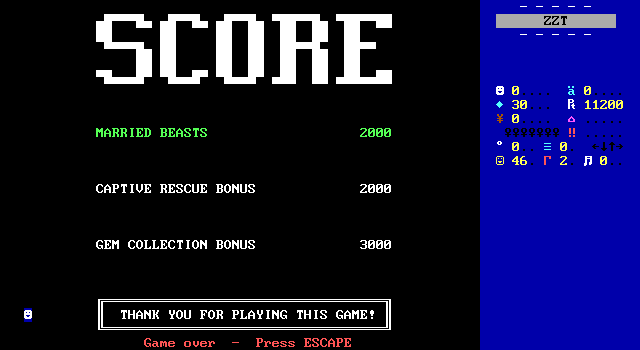 Final Thoughts
What a pleasant surprise this was! I mean, okay, it's not really that surprising for a KKairos game made in 2020 to be enjoyable, but this was one of those games that I unintentionally missed when it was new, and later in the year when I went and played a few 2020 games for myself without intending to stream or write about them I still skipped it. "Maze" is a very powerful word with so many negative connotations in gaming, and generally for good reason. Mazes in ZZT often add nothing but frustration to otherwise enjoyable games, and those that dare to make the entire game be about navigating a maze are typically just asking players to call it quits. For a maze to work, there has to be a hook to keep the player invested, something readily accomplished by the game's light-horror beginning that gives way to a more whimsical fairy-tale of a end.
KKairos absolutely figured this one out. Big Beast in the Maze correctly (subjectively of course) handles with the size of the maze, the duration of the game experience, and gently guiding the player with a breadcrumb trail of gems and scrolls. For what began with a randomly generated maze, you can really feel the care that was put into taking that raw lump of corridors and coaxing it into a far more deliberate design. A lesser design could have easily turned this into a dull slog, but instead this is a brief and pleasant journey that I highly recommend you take for yourself on a lazy afternoon sometime.
Truly, the closest thing to a flaw here is ironically the multiple endings. The effort required to 100% this game is barely more than the other endings. (Plus you can still get lesser endings if you get the beasts together but don't save all the captives.) I can't imagine a scenario in which somebody would play long enough to explore enough of the maze, kill the beast, and leave. These other endings feel like they exist more to handle weird combinations of play and say "Ah, but I thought of that!" when the structure of the game itself is constantly pushing the player to solve the problem without spewing purple slime everywhere. There's nothing wrong with these alternate endings, but they play the conceit of "kill the monster to win your freedom" entirely straight. Without Georgie's note, the endings available feel significantly more dull.
But it remains absolutely trivial to get that good ending which will leave you feeling much more satisfied with the time spent. So do go ahead and check out this not-too-big-maze with some big beasts inside. It's a bite-sized adventure that won't disappoint.