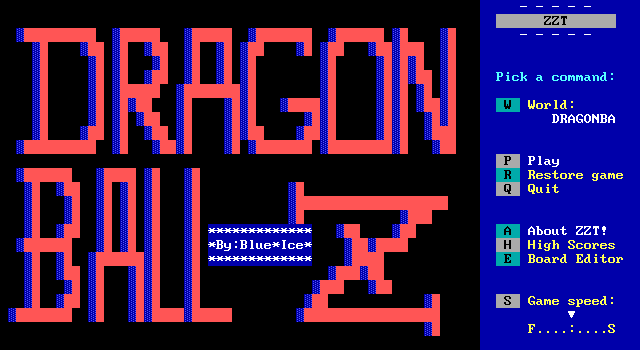 It's 2003 and the Toonami block on Cartoon Network just ended. Time to make a ZZT game.
I've discussed before how the anime boom of the early 2000s somehow managed to miss the ZZT community. ZZTers were certainly watching it, but as far as making these fan games go, you're pretty much limited to Pokémon and Dragon Ball Z here. I suspect this is mostly due to the lack of a fresh young audience by this point in ZZT's history. The big name ZZTers were wrapping up high school, and even the younger generation was just about to enter it. ZZT games based on existing IP are pretty typically the domain of a younger crowd (Yoshi, Final Fantasy, Chowder), while the older crowd was more interested in creating their own masterpieces (and instead just heavily taking inspiration from other IPs instead). So that makes Dragon Ball Z: Saiyan and Namek Saga an oddity for the era.
Unfortunately, while there is a greater understanding of ZZT-OOP here than some of the more notably poorly coded titles we've seen, DBZ is still pretty abysmal. Like, almost unplayably so.
So first there's Blue*Ice, the author. This individual has one other release to their name, Security, a series of three worlds with one gameplay board each that consists of elaborate security systems of blink walls and spinning guns very reminiscent of Town's jail. Despite this game being released right around the time I was most active in the ZZT community I have never heard of the author before, so I suspect they were on the fringe or not participating in the community's more social aspects at all.
Security is almost certainly the author publishing some of the very first things they ever made in the editor. I distinctly remember making the same sort of thing as a child (though unpublished). ZZT's default elements do a remarkably good job of providing tools for these sort of boards.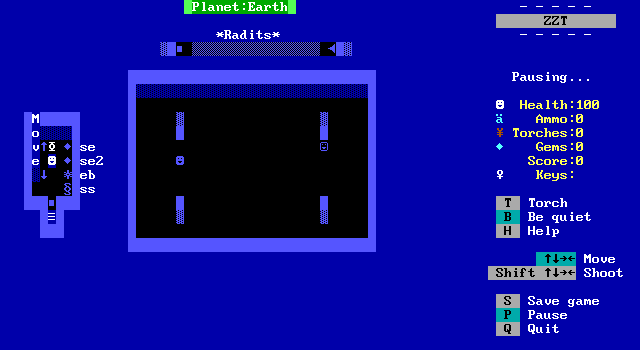 Scroll
• • • • • • • • •
█DragonBall█
-Changes-
Gems:Supresed energy
Torches:power level
Score:energy
-Instructions-
-First of all you need to build up some
energy. To do so you must press the top
gem. Every time you press it, it will take
one gem and give 10 energy.
-Now to dodge his bullets press the arrow
that is pointing in the direction you want
to move.
-To shoot an energy blast press the star.
Every shot takes 5 energy.
-To turn super saiyan press the big "S".
It costs 500 energy to use. The enemy will
freeze and you will shoot him 10 tymes.
-Good Luck-
• • • • • • • • •
Conceptually, this is perfectly fine. The need to channel energy and keep moving prevents the player from just firing endlessly, and playing well should be rewarded with the potential to go Super Saiyan (SSJ) for a devastating attack that the enemy can't do anything about.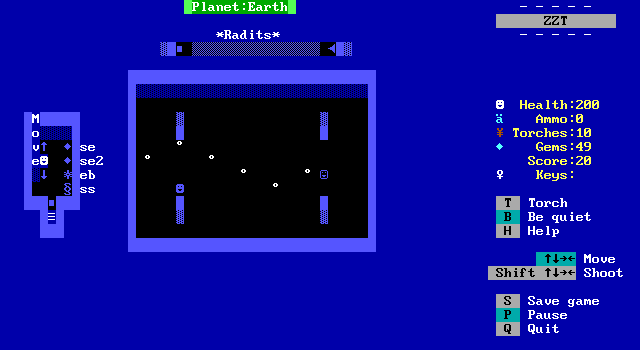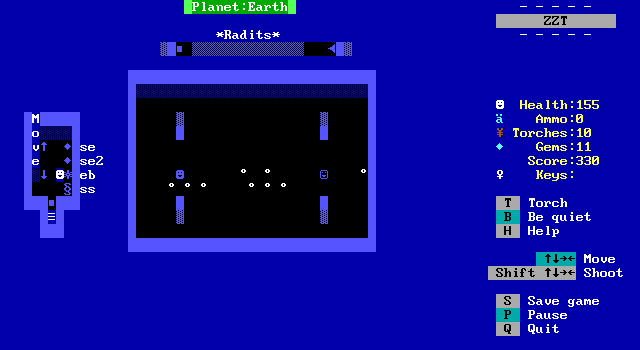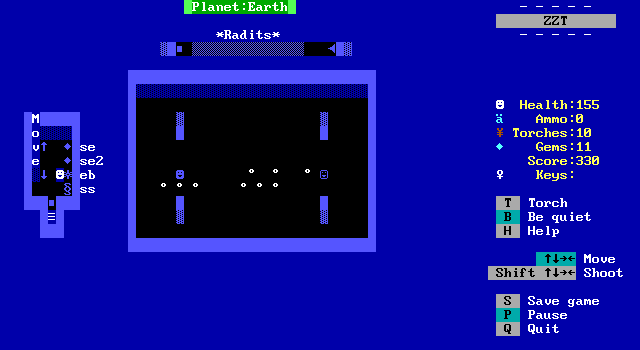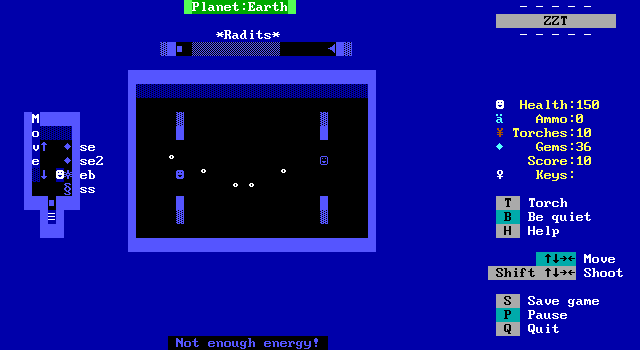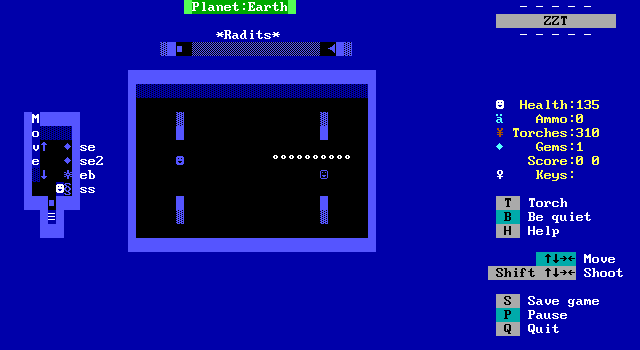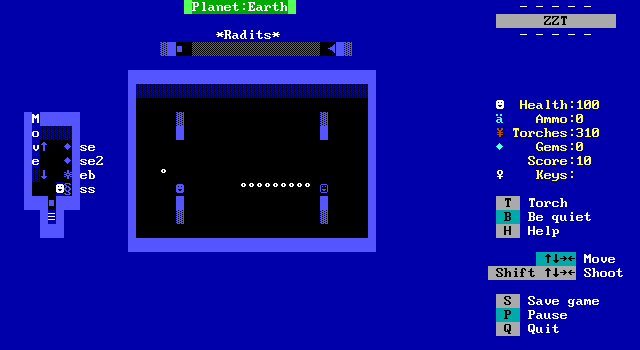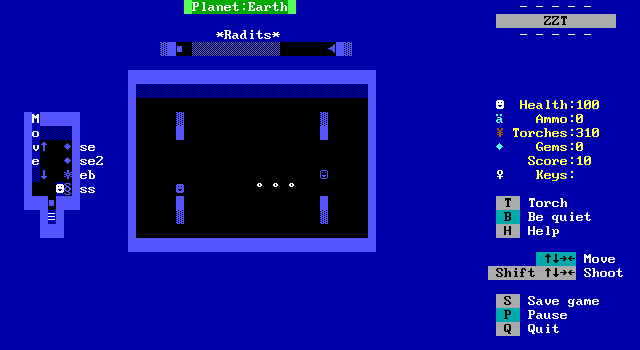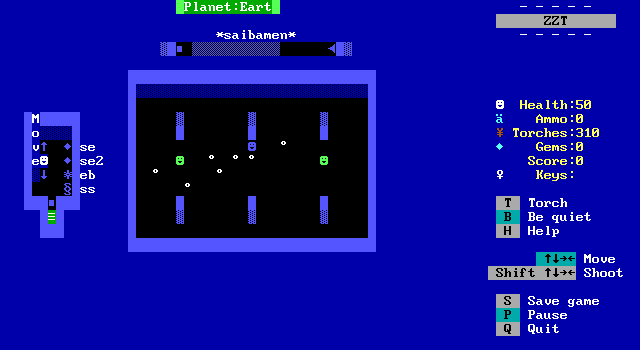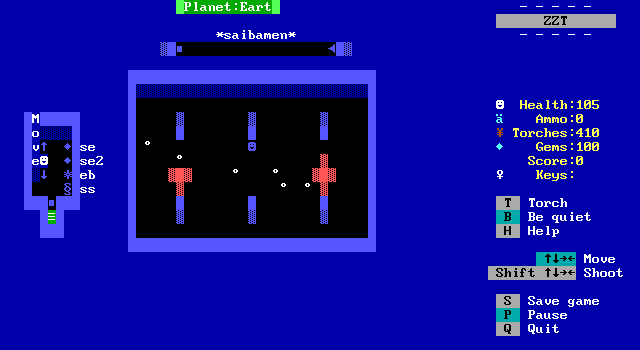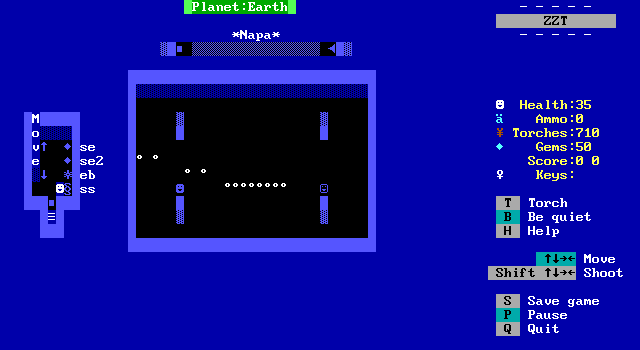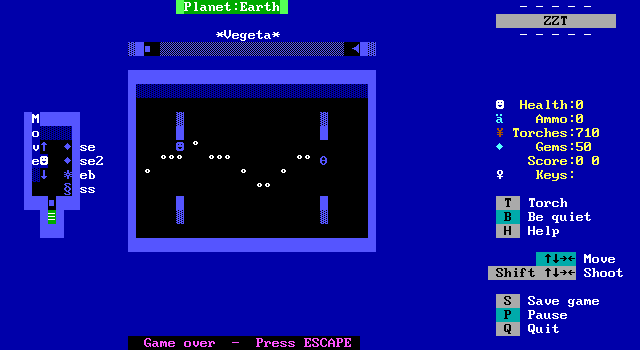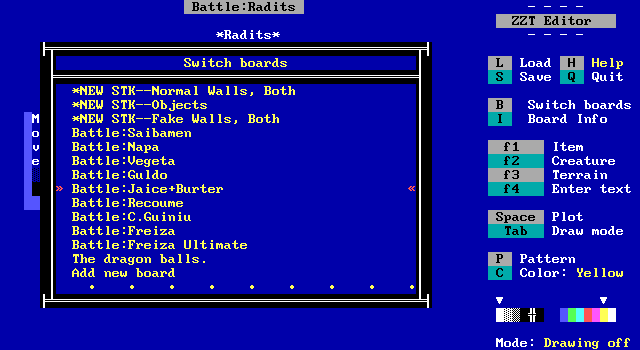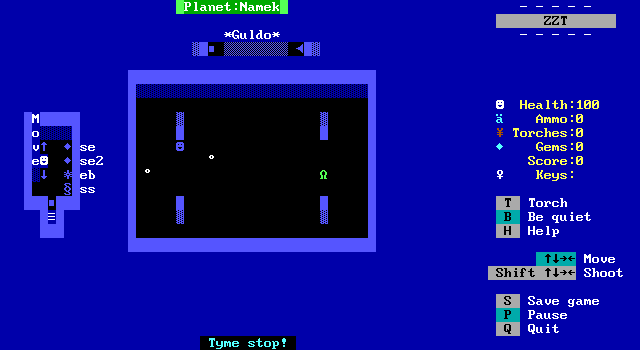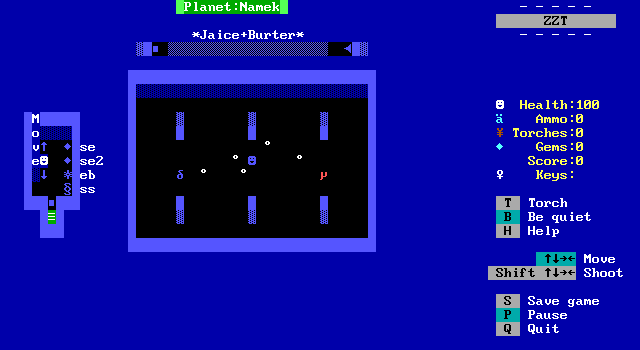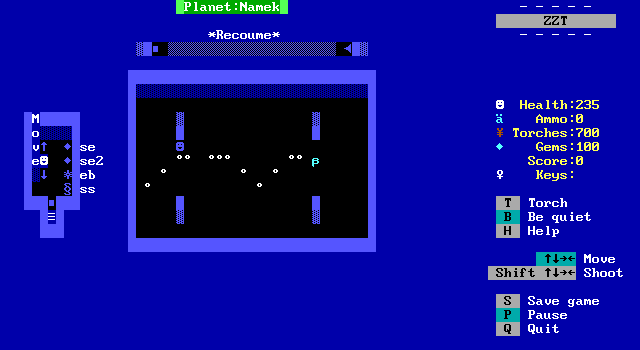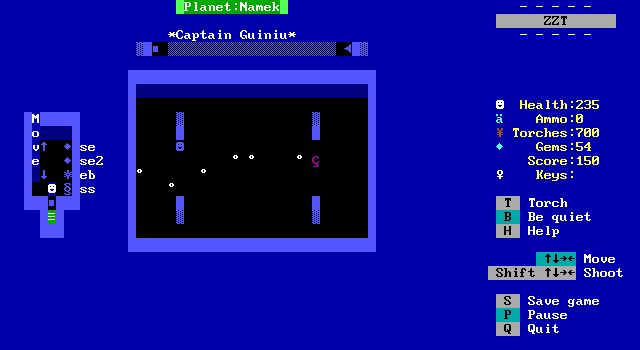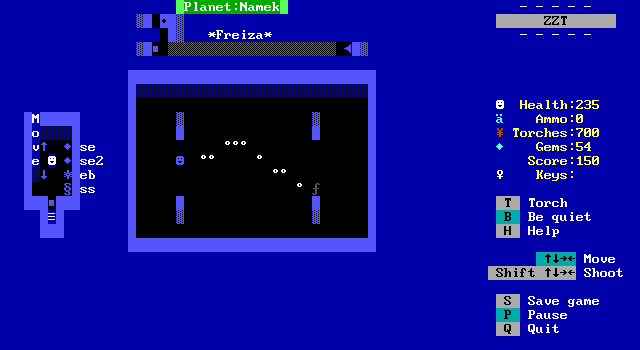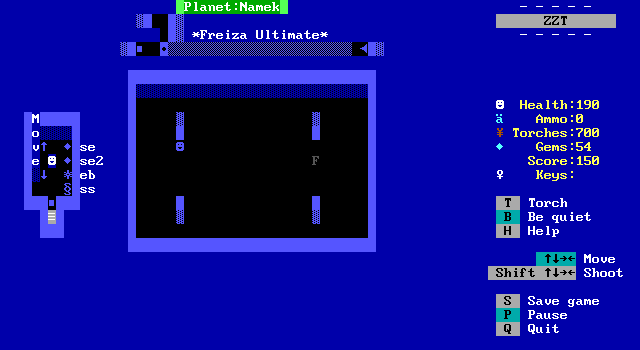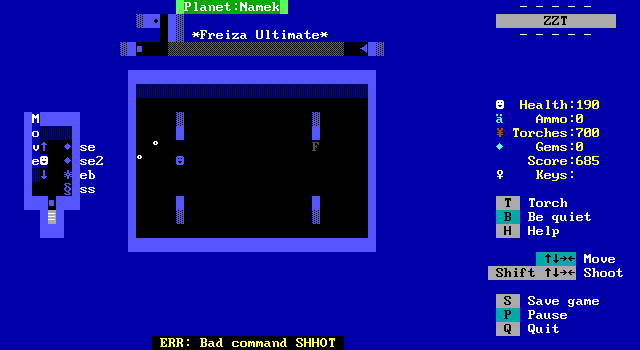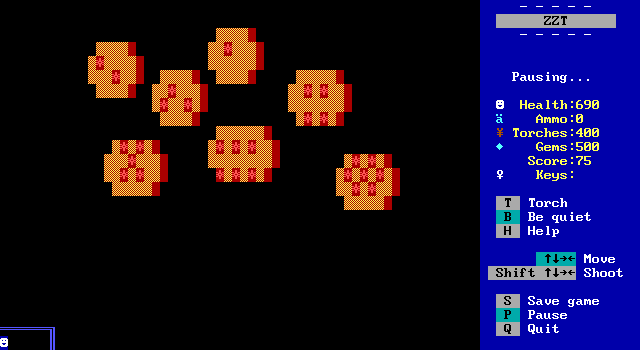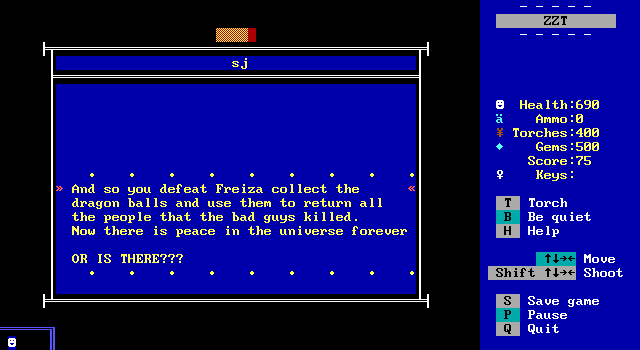 Final Thoughts
Okay this one was just bad. It's just an incredibly poor representation of a popular series that just has nothing to redeem itself in any way. Every fight is either standing still and shooting three or so energy blasts, not shooting at all while the enemies defeat themselves, or bugged entirely. It's not pretty to look at. (I'm kind of surprised it got past the STK rule since the only usage of it is on three objects and the stars on the Dragon Balls.) The mechanics are poorly implemented. It's just a mess all around.
I get that for a lot of kids in their early teens the big appeal of the anime was these over the top fights with two extremely strong dudes blasting each other and flying around and raising power levels, but this game doesn't capture any of that. While adding in the storyline the game ignores entirely until the last board wouldn't have made it worthwhile, it would have given it some much needed grounding. There's no sense of stakes to the fights and characters are completely unintroduced, they just shoot bullets until they die.
What makes it so disappointing though is that while ZZT can't really capture the fights all that well (heck, it seems like prior to 2018's Dragon Ball FighterZ nobody really could), it can absolutely tell the story. There are tons of generic ZZT adventures about fighting off some big baddie and saving the world, and these early arcs of Dragon Ball Z would fit the bill quite nicely.
No, actually what's most disappointing is that conceptually this game sounds like fun. Have Goku channel energy automatically, reward not getting hit with healing or faster channeling, and replace the bullets with energy blasts done by chaining #put commands to produce a row of boulders (and change them into solids) and you might be able to make something that can be enjoyable. Waiting for an opening to strike or dodging a series of rapid attacks with quick movements could do a lot to make things feel more responsive than waiting a second and a half from launching your attack to finding out if it hits or misses. These fights are supposed to feel flashy, and watching a theta bounce up and down and calling it Vegeta doesn't cut it.