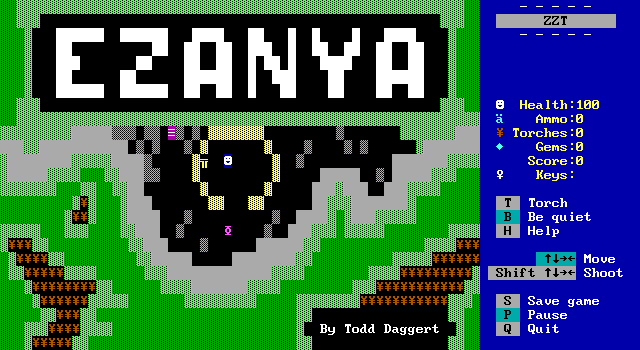 Back when ZZT was first released, Tim Sweeney had the wise idea to encourage some game creation and hosted a contest to submit content to be included in the Best of ZZT series. From the looks of it, it was quite successful as not only were there two Best of ZZT games released, but a few of the submissions went above and beyond and impressed him so much that they received official releases as ZZT's Revenge, a pack consisting of six worlds, and like Best of ZZT released freely. Of these, Ezanya was declared the winner, and it's pretty apparent why. The game is very ambitious for something so early, and easily stands tall with games released years and years later for ZZT.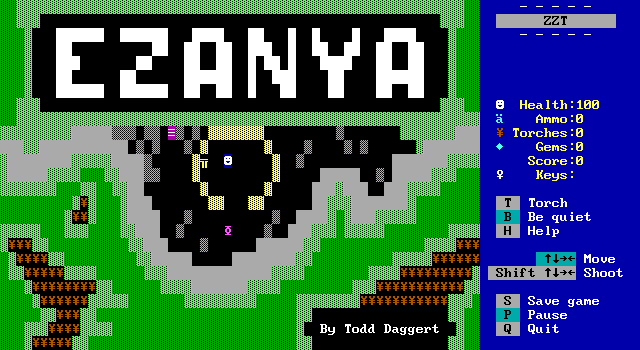 Scroll
• • • • • • • • •
Welcome to the World of Ezanya!
You play the role of a country
serf, ekking out a passable living from
the land around you. Life is hard, and
usually dull, but you have found the
honest company worth many times the
price.
Several weeks ago the local gossip
was all of the King's mysterious
disappearance, though over time even the
most flaming rumors fell to a low roar.
It seemed all would return to a quiet
tranquility, for the intrigues of court
little touch your life this far out in
the country.
All that changed, however, when
the breathless messenger arrived from
the capital yesterday bearing twin
tidings - the King had returned in
just as mysterious a fashion as he had
left, and your dear Aunt has passed away,
leaving her town cottage to you!
Breathless with hope for a brighter
future, you set forth for the city to
visit old friends you haven't seen in
years, and to seek out the adventures
which lie ahead.
• • • • • • • • •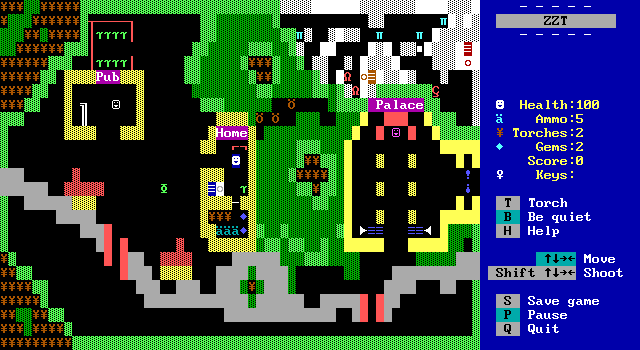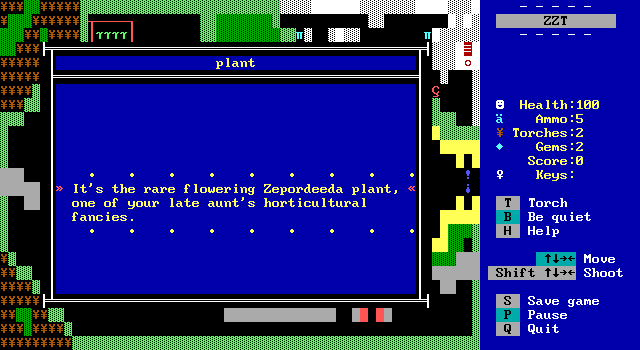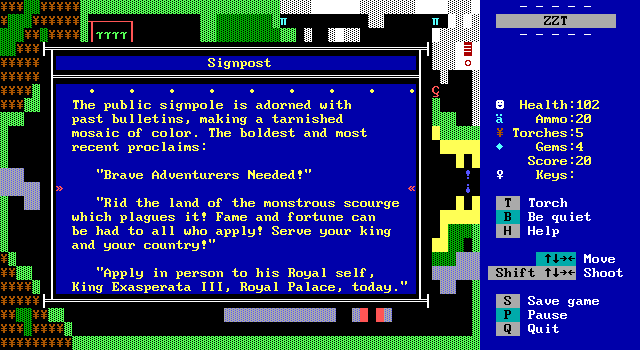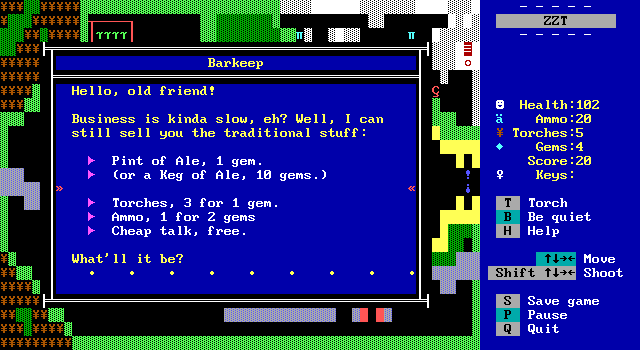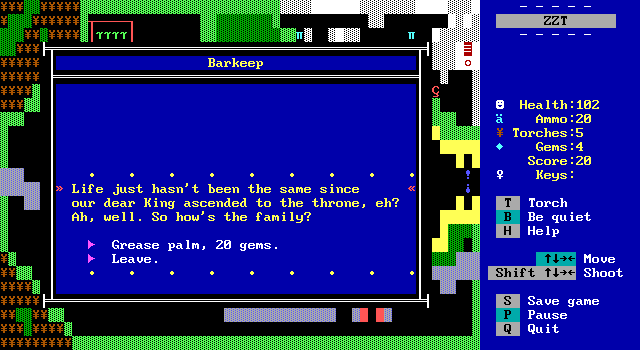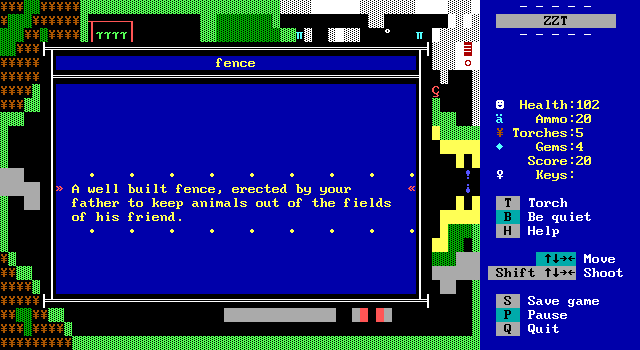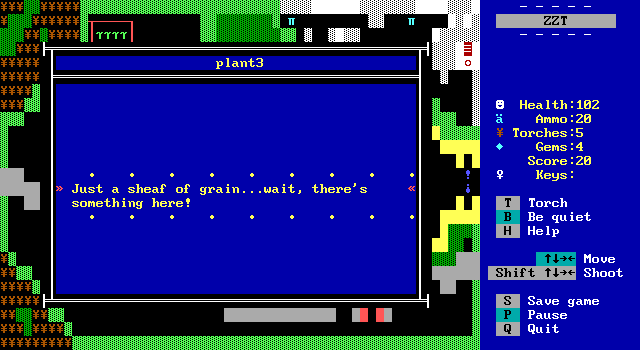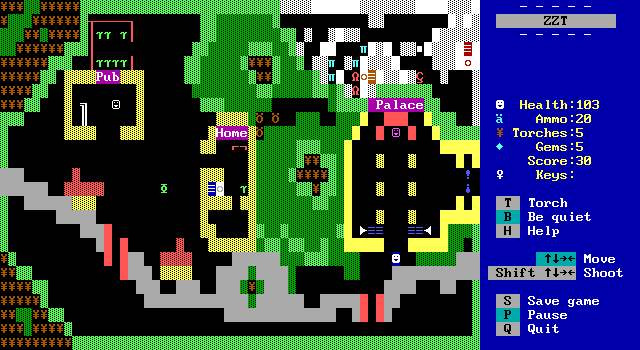 King Exasperata III
• • • • • • • • •
King Exasperata III, with regal bearing,
gestures for you to rise from your
genuflection. He then addresses you,
with a slight nasal twang:
"My loyal subject. You are honored to
be able to serve your country in this
hour of trial, and it is my solemn hope
that your abilities will suffice our need.
As you know, those malevolent cavern
dwarves have begun raiding the kingdom,
unleashing dragons and demons upon my
helpless subjects. I can stop them, but
only with your help. Several weeks ago
Dwarven spies infiltrated the palace and
stole the magical emblems of power that I
possessed. Without these I am powerless to
stop the growing evil. I charge you, in
the name of all that is good, to recover
for me the Royal Crown, Jewels, Sceptre,
and Signet Ring; in return you will be
granted fame for all time, and wealth to
last you all your days. I give you the key
to the Dwarven mines, may your strength
never fail! I give you my blessing."
With this he allows you to kiss his ring,
then he gestures you away impatiently.
• • • • • • • • •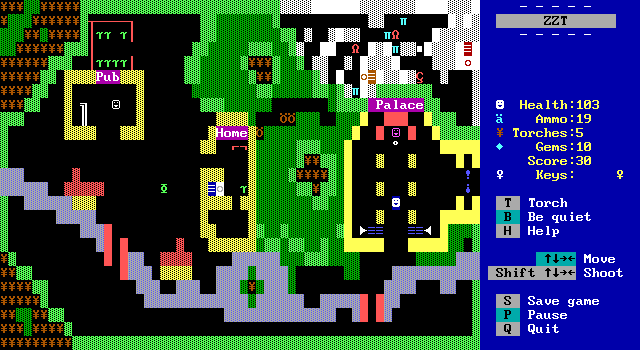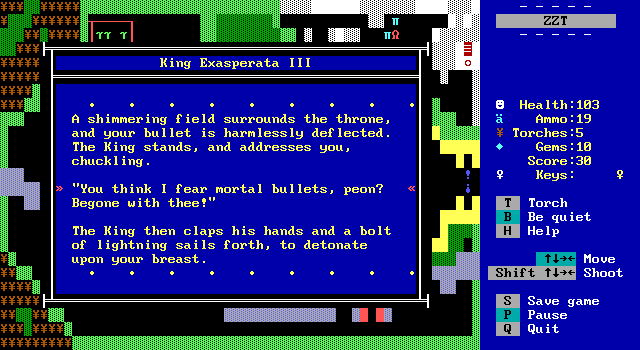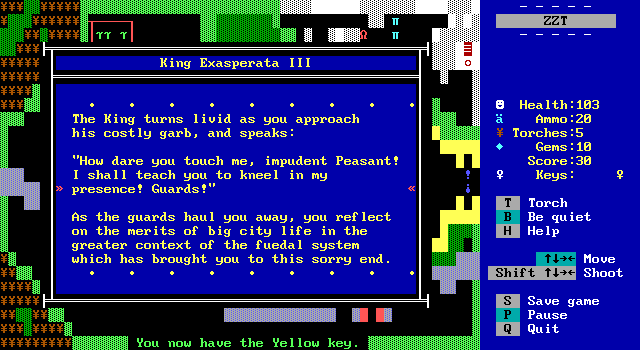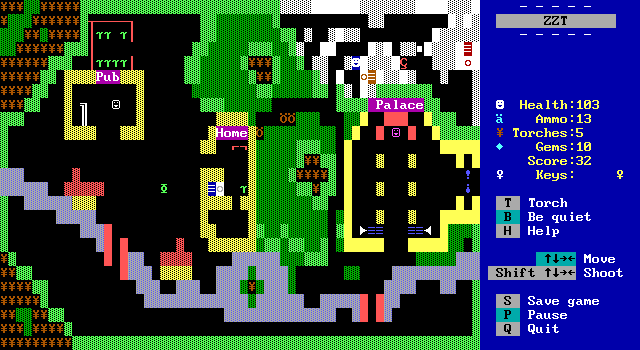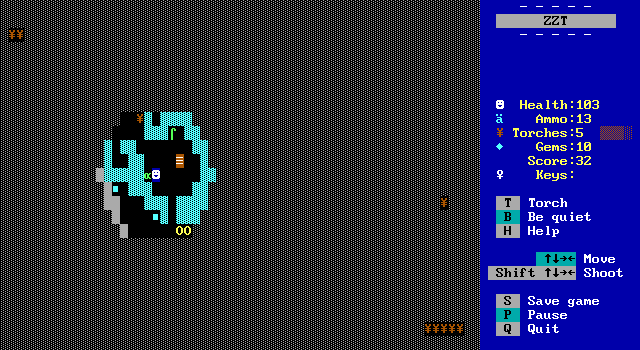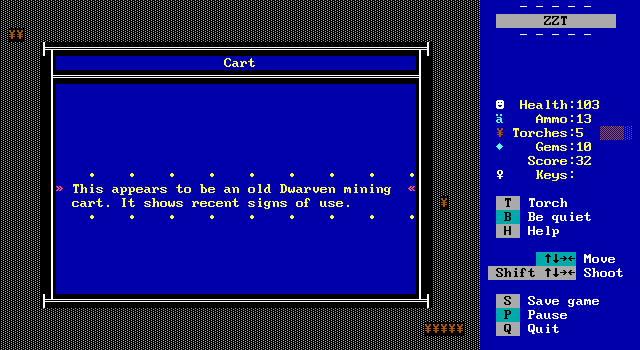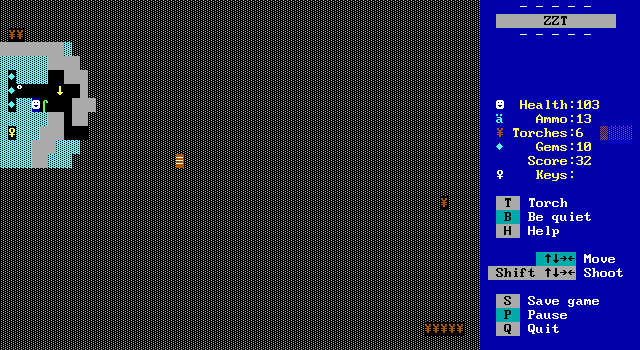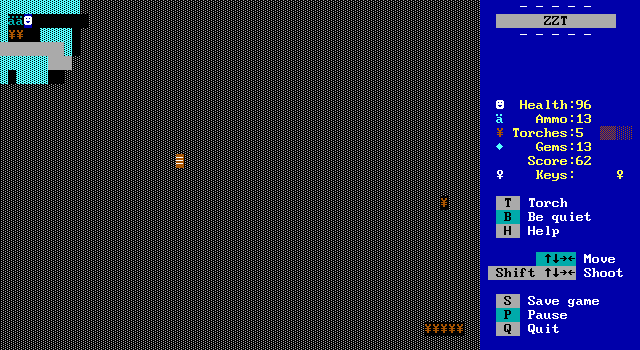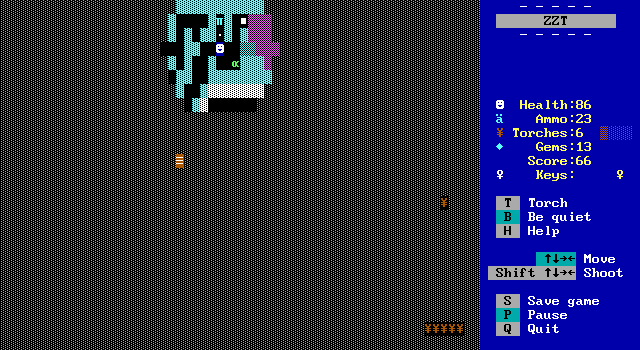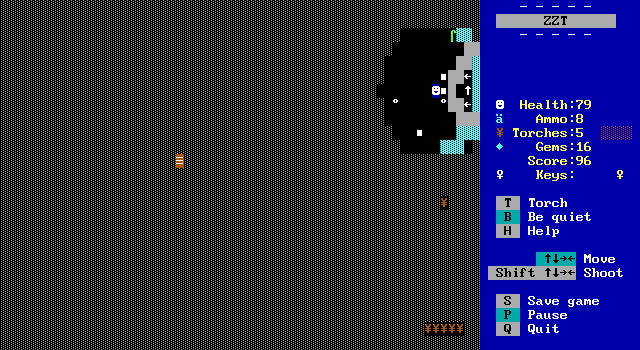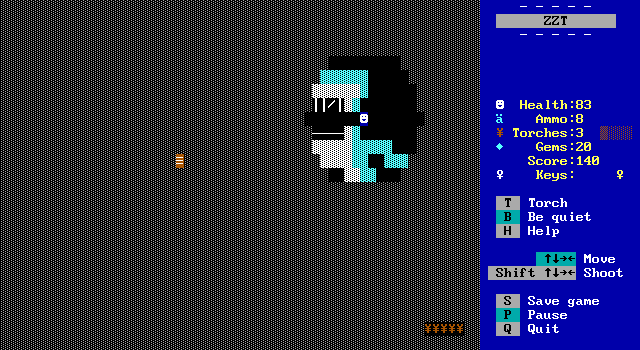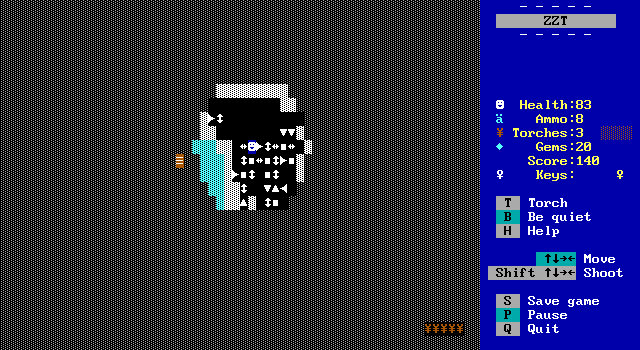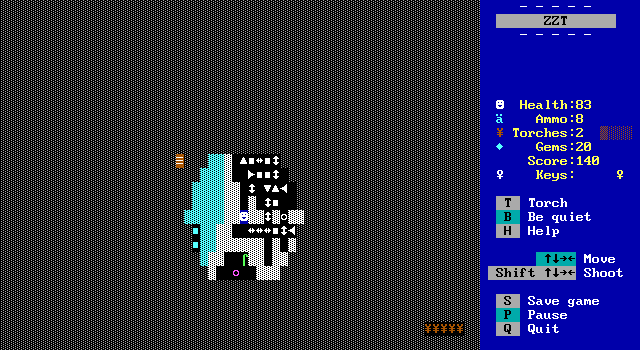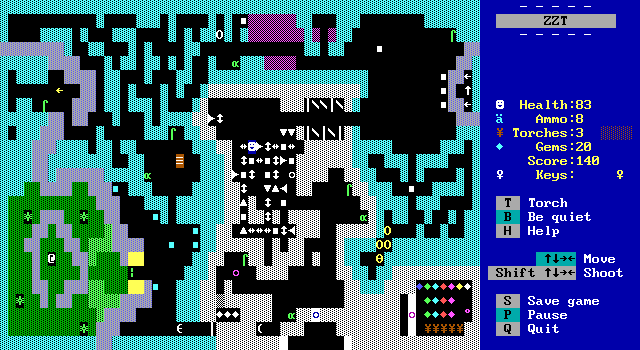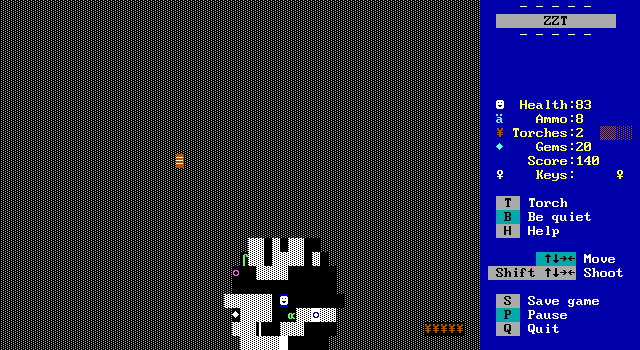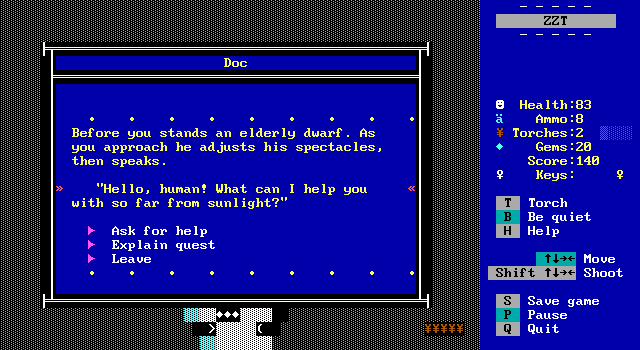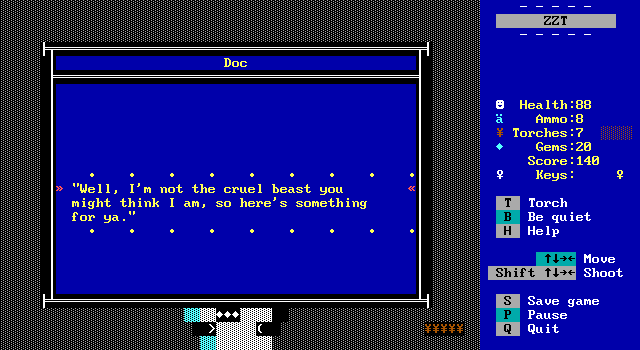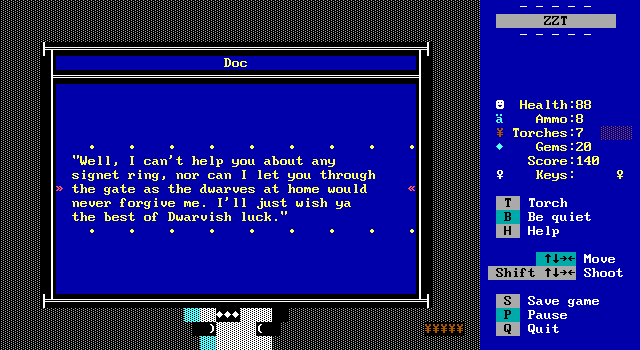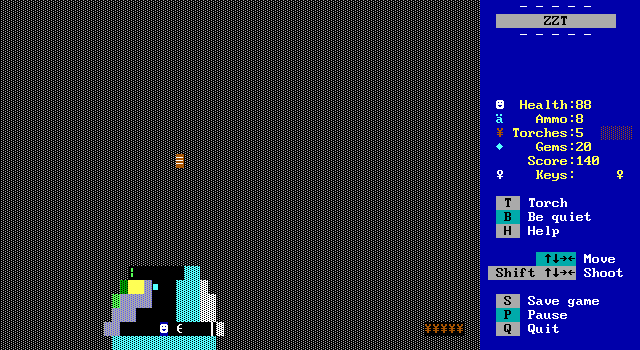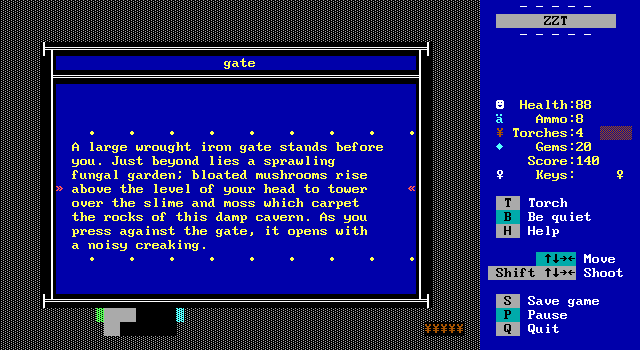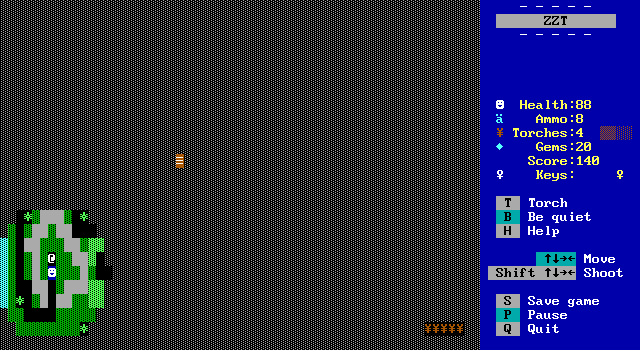 vortex
• • • • • • • • •
A shimmering vortex appears in the air
before you, and a deep voice speaks to
your mind.
"Welcome traveller, to my home. In you
I sense a deep feeling for the earth, in
you lies my true hope for freedom. My
cousins which work the rock and tunnel
the stone are dying, threatened by the
growing meanace above, as soon you shall
be if you succeed here. Do as you must,
but aid the earth as she moans in pain
at the birthing of evil. Seek out and
destroy that which threatens us. Spare
those who do not seek to destroy you.
I give you the blessing of the earthpower,
and pray you go swiftly.
The vortex then seems to dim, and
you feel a renewed strength!
• • • • • • • • •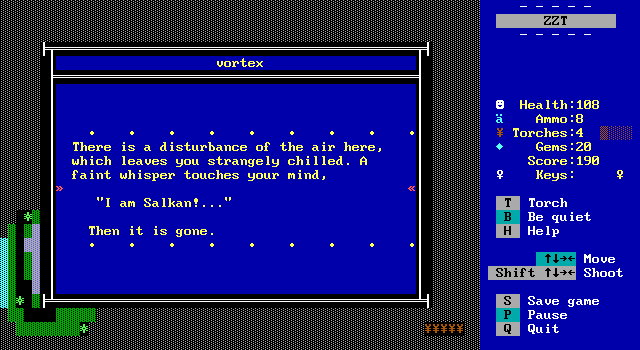 Doc
• • • • • • • • •
You explain your quest and he remains
impassive, until you tell him of your
encounter with Salkan. Then his brows
knit, and he becomes serious.
"I didn't know you were a friend of
the earth. Forgive me. I cannot speak
for the other dwarves, there are many
who cannot stand the sight of surface-
dwellers and would kill you out of hand,
but knowing this I at least will aid you
as I can. I am sworn not to allow humans
to enter the dwarven homeland so I cannot
let you past the gate, but I will give
you this key to aid your quest, and
truly wish you blessings."
• • • • • • • • •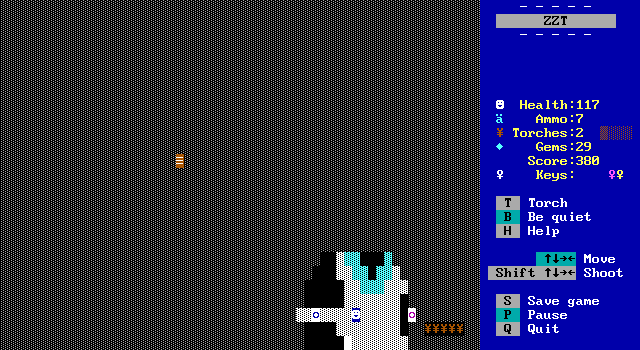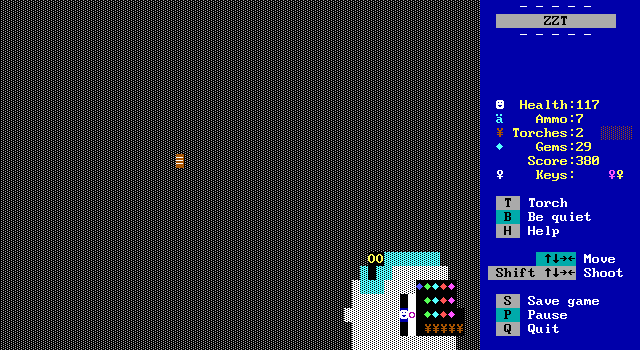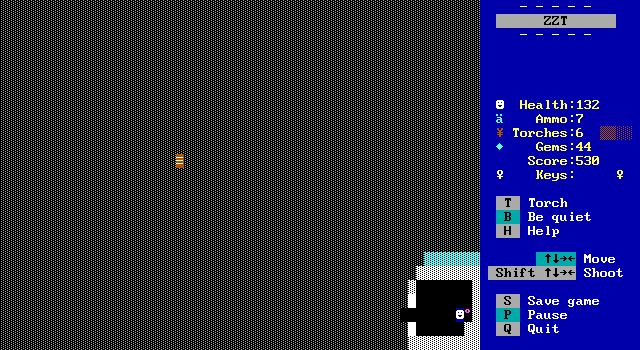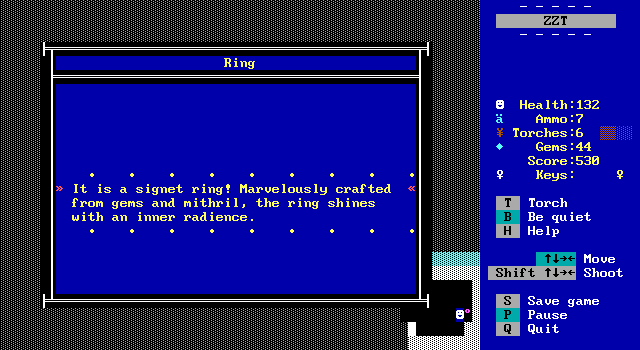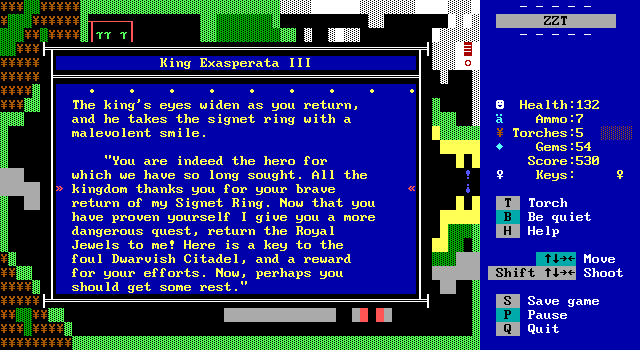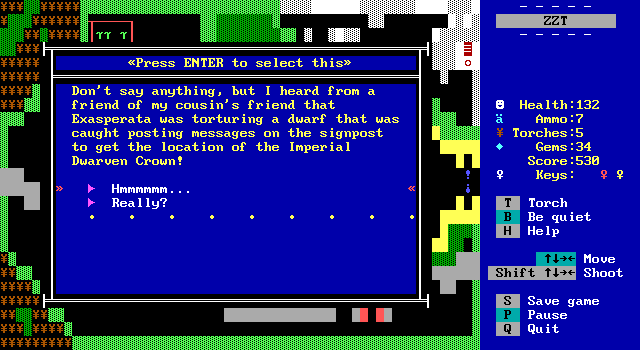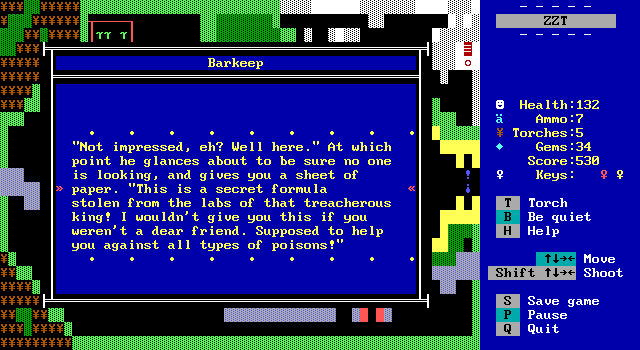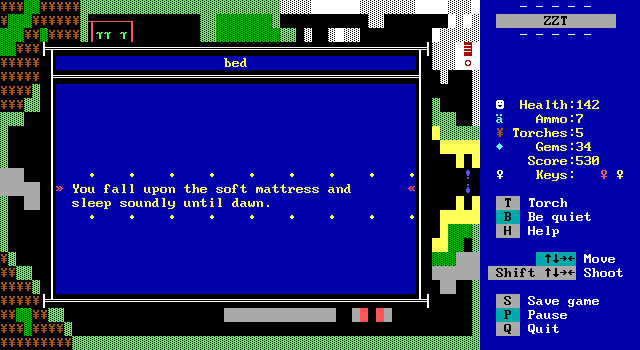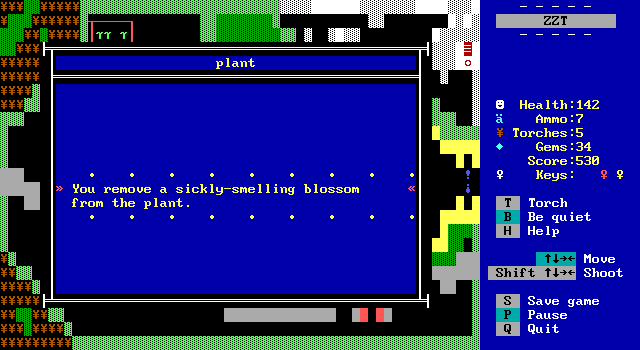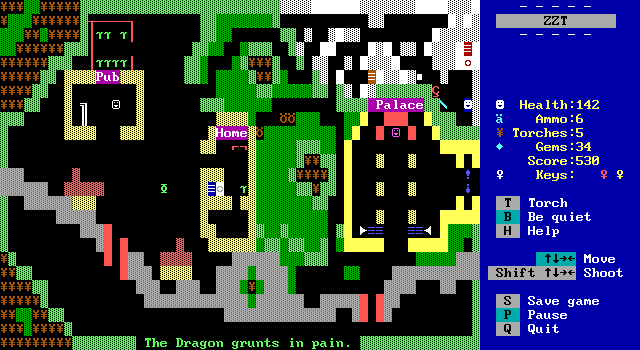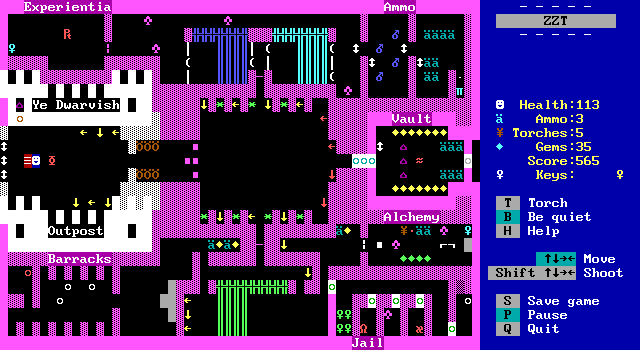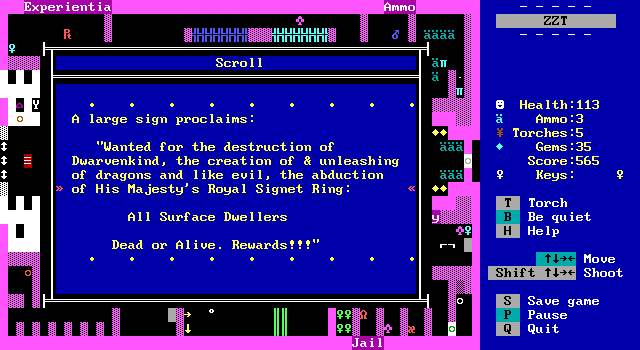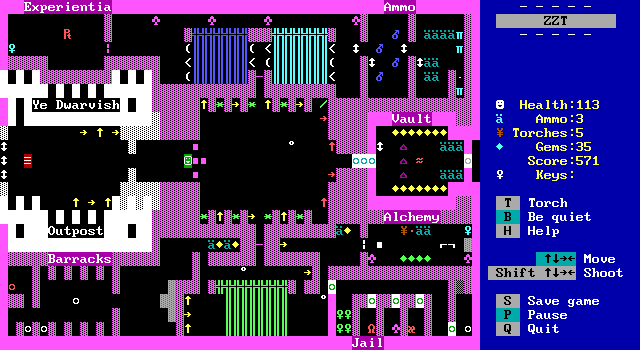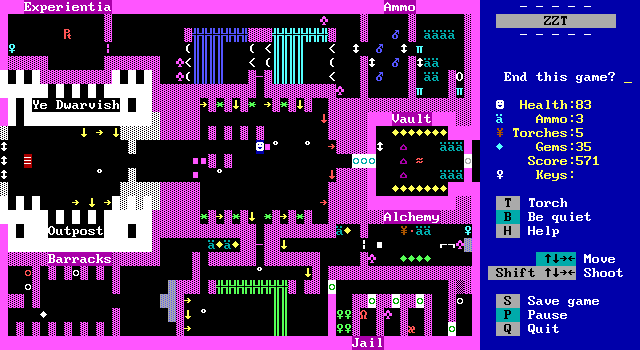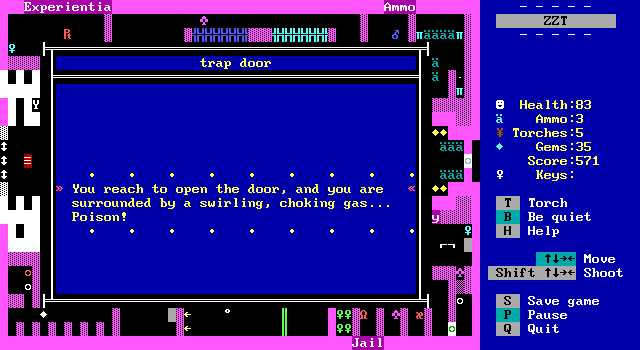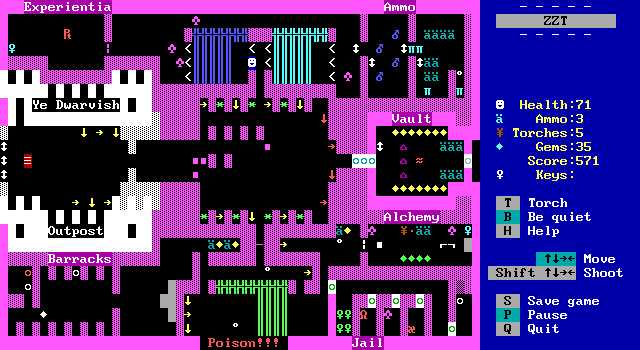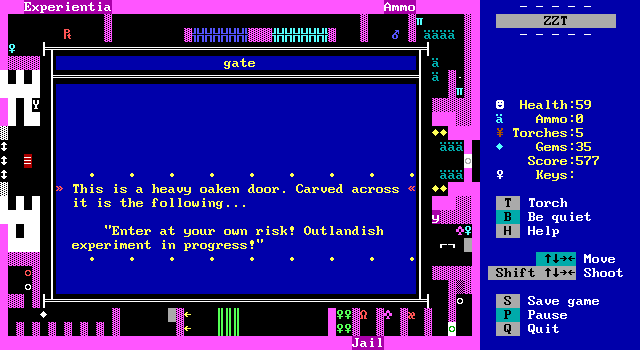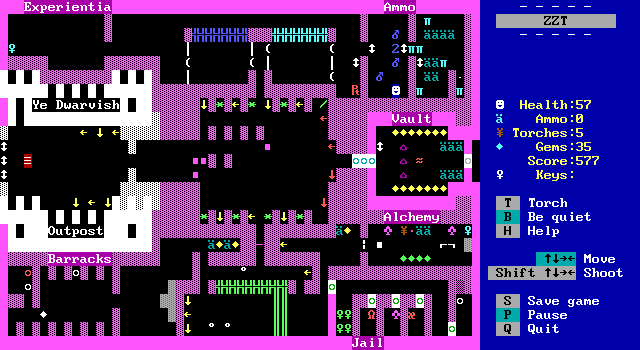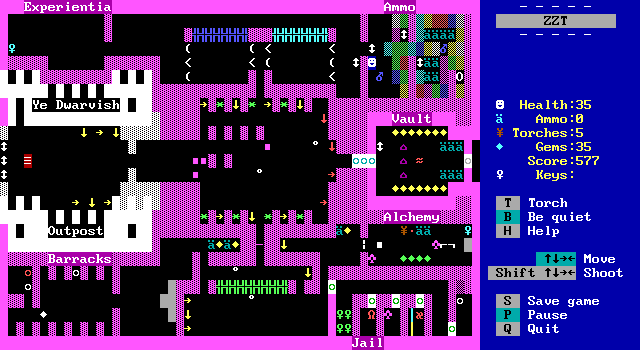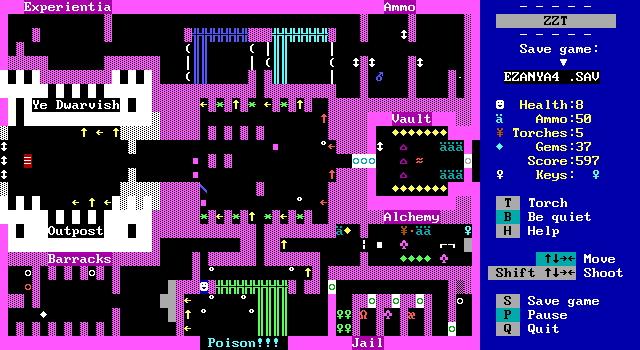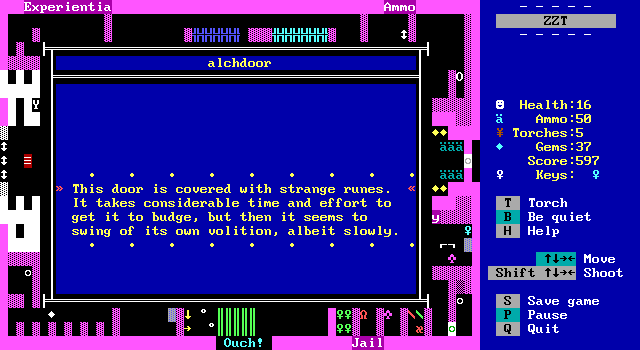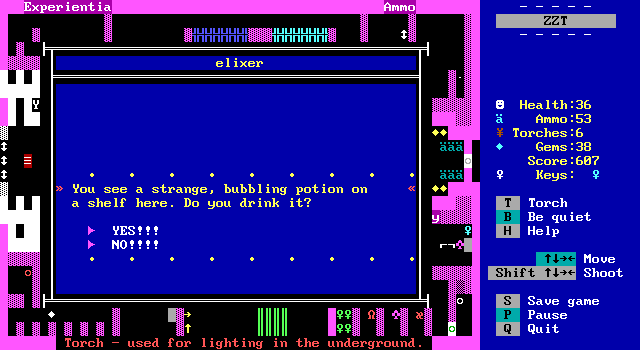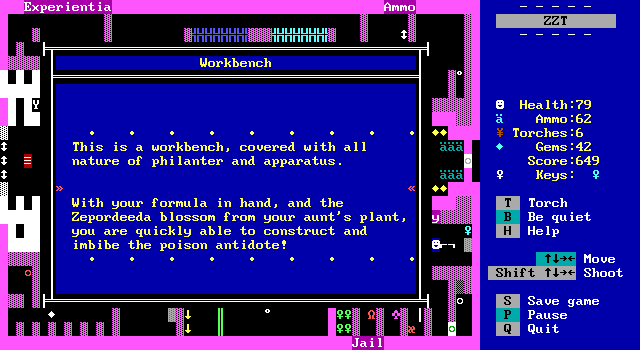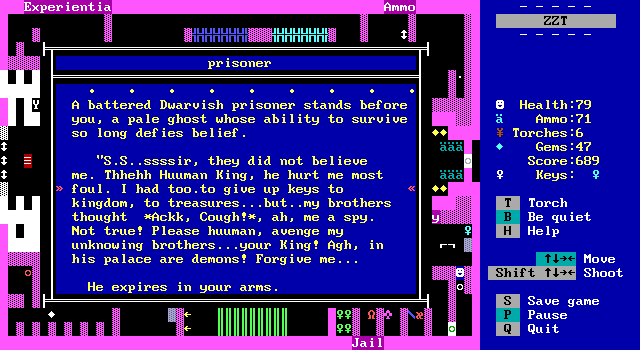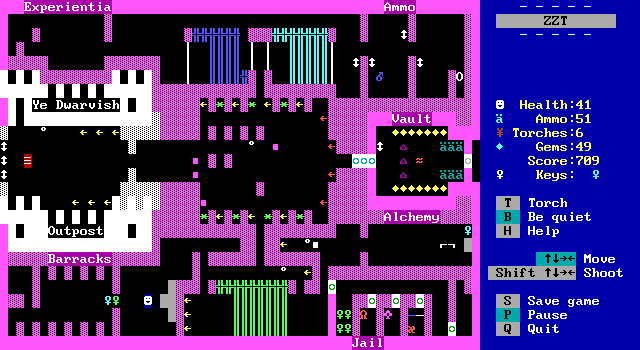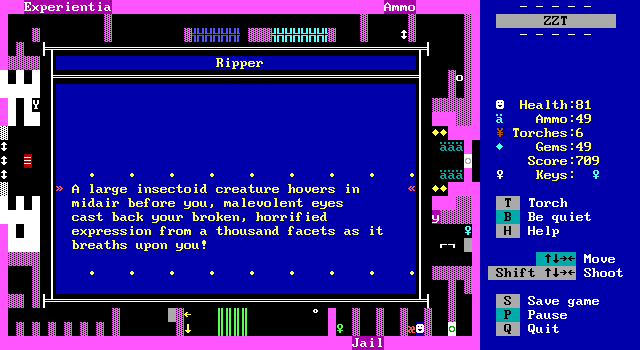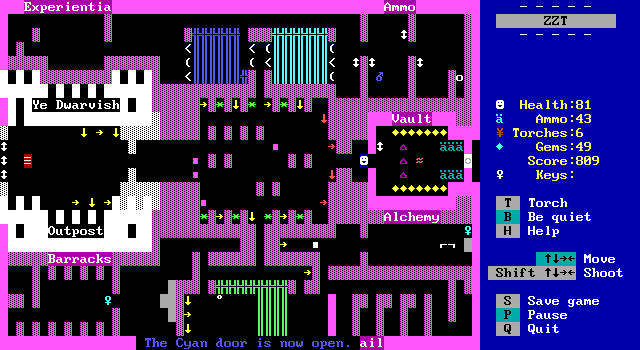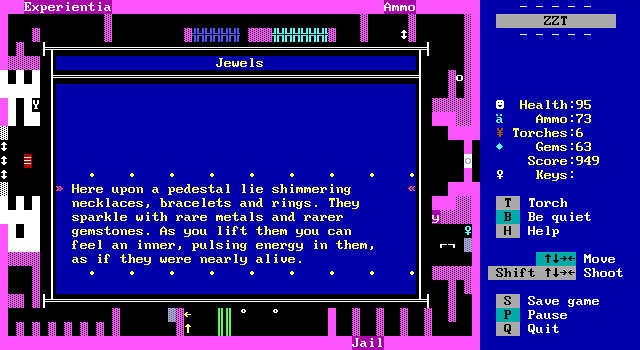 King Exasperata III
• • • • • • • • •
As you return once again, the King
gives you a leering grin and opens his
arms wide to you.
"Well Done! Well done, indeed!
On behalf of this office and this
country I congratulate you on the
job you have done. Returning these
precious jewels from the clutches of
those thieving underworlders is a task
whose success no better man can boast
of than you. You exceeded our wildest
hopes, my countryman, and I predict
that yours will be the good fortune that
shall bring us all everlasting peace.
Please, return home and rest. Here is
another key to the underground, when you
are ready go and retreive my Royal
Sceptre. Good luck!"
• • • • • • • • •