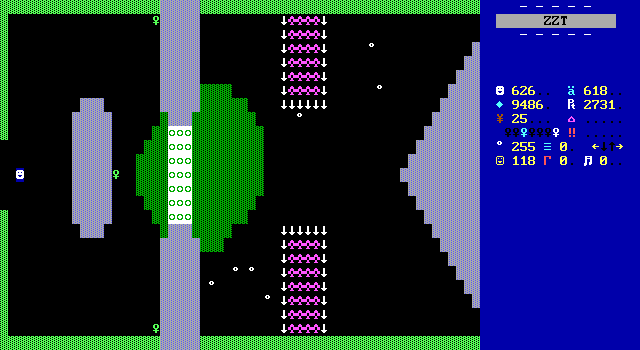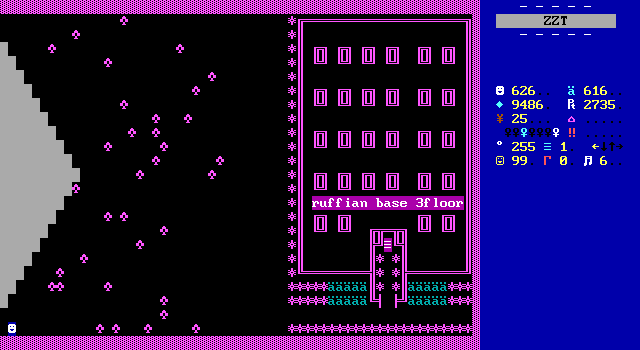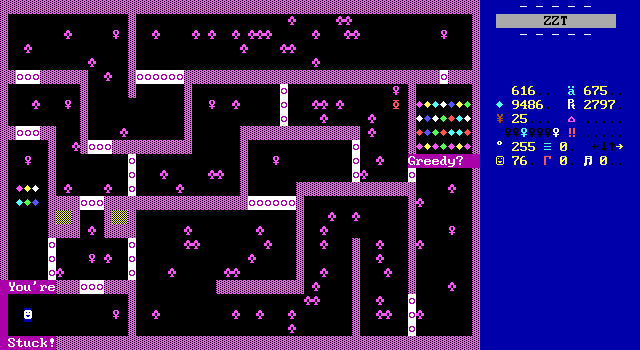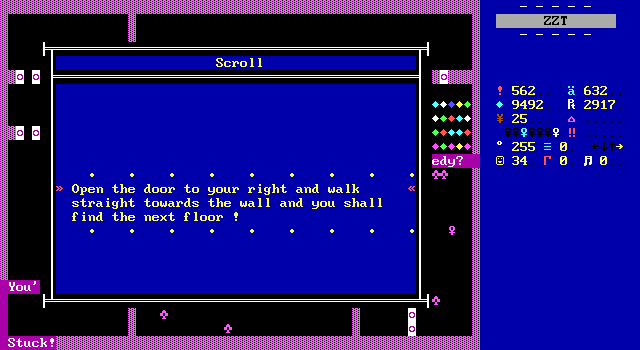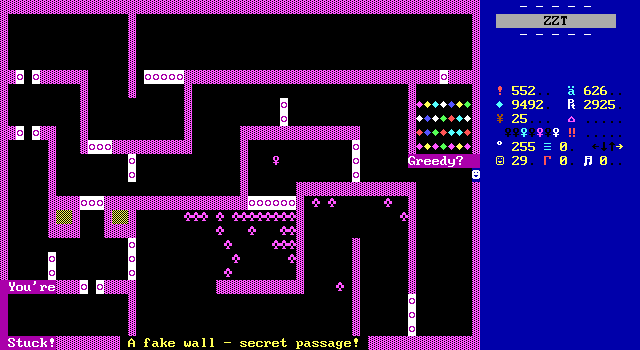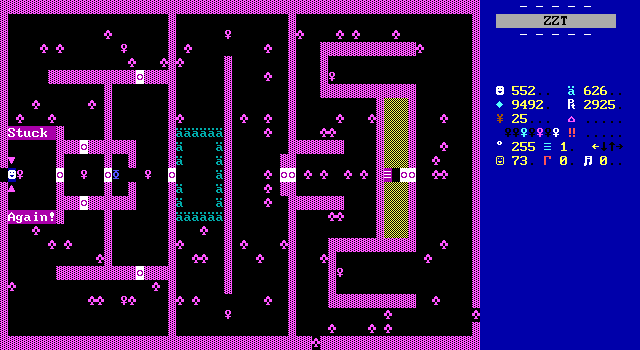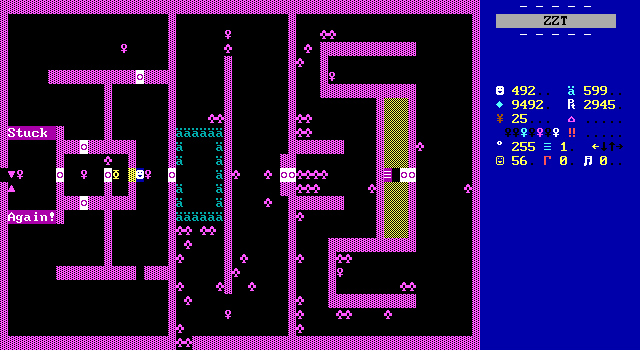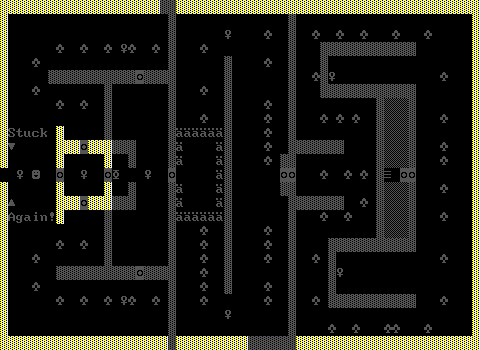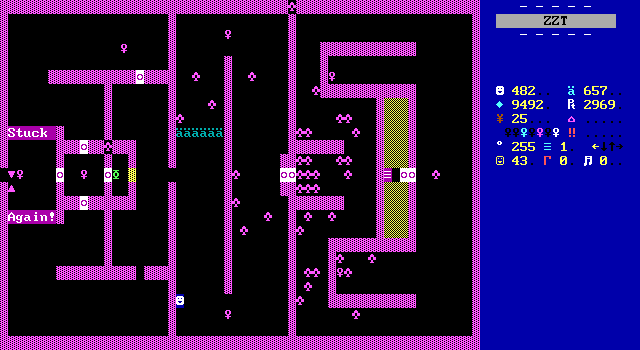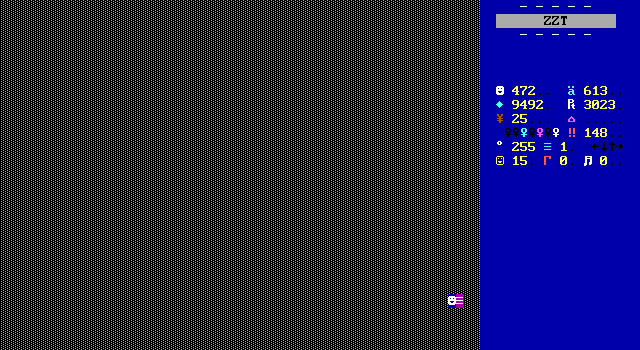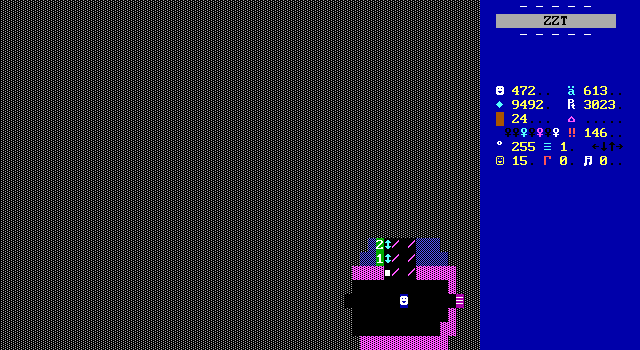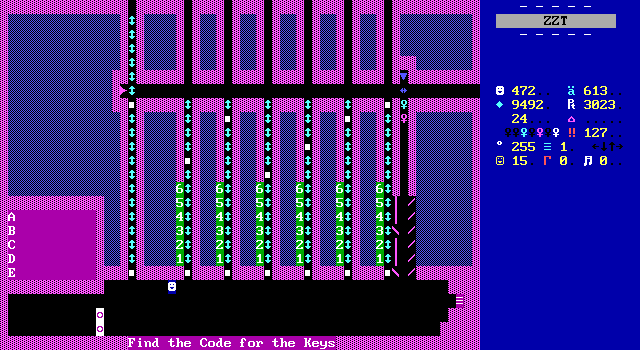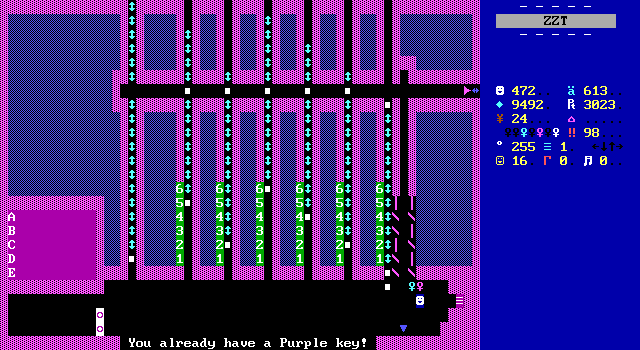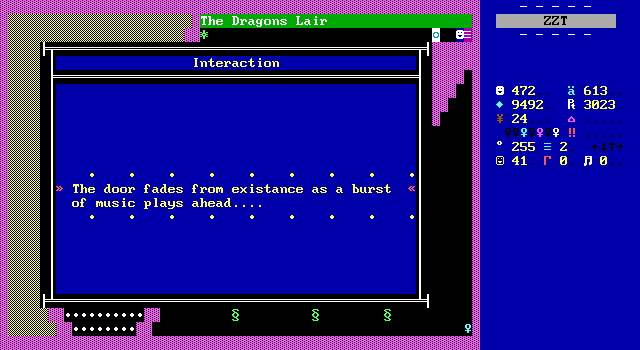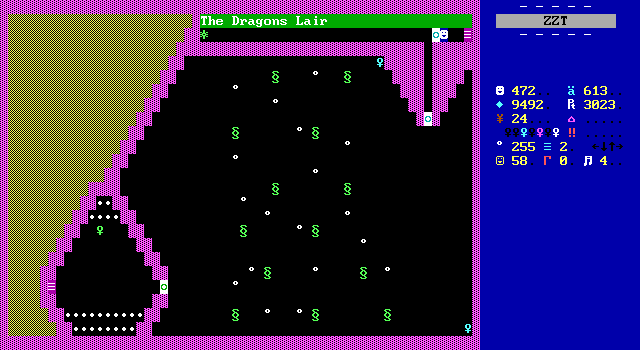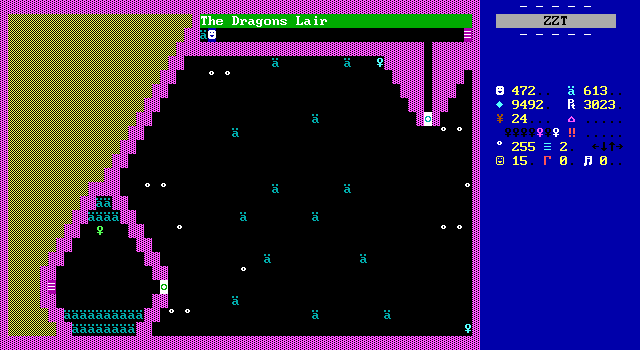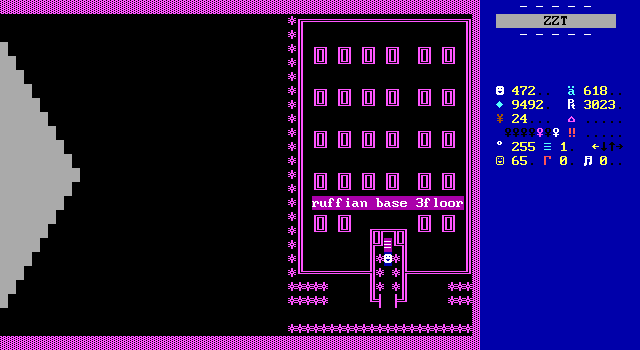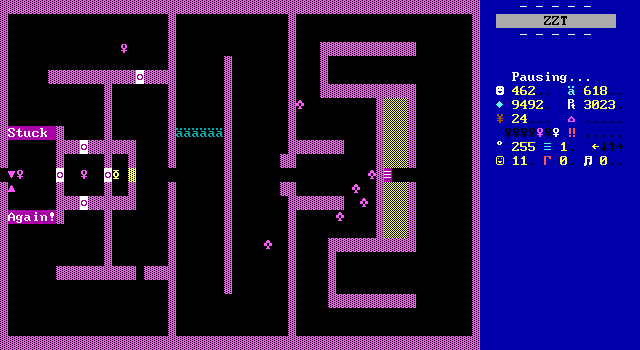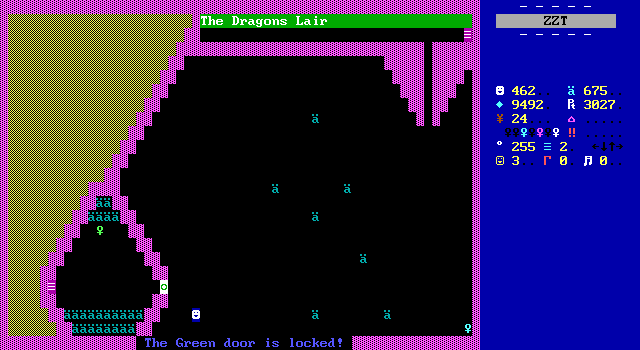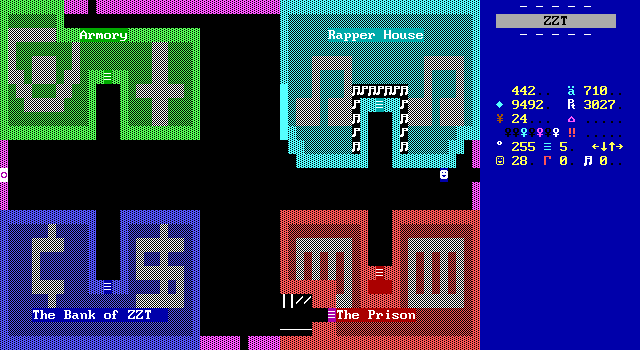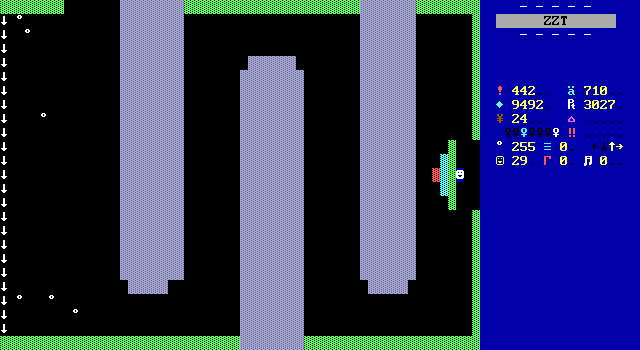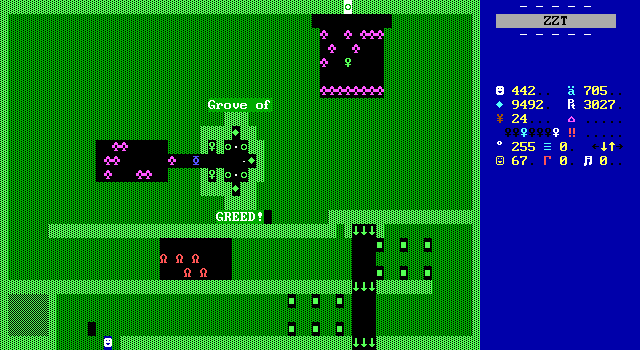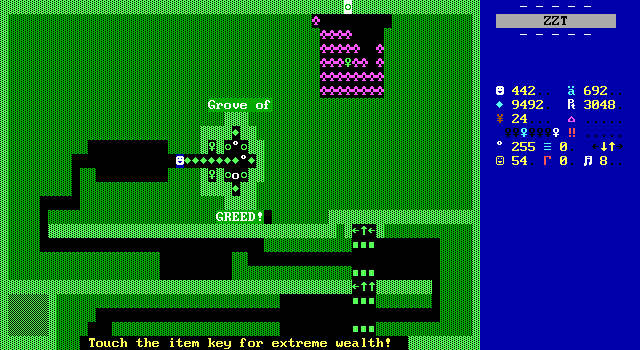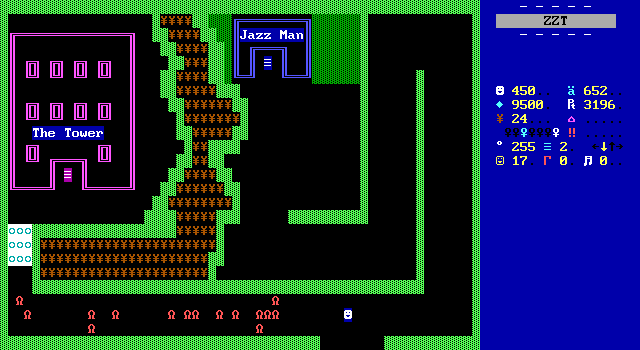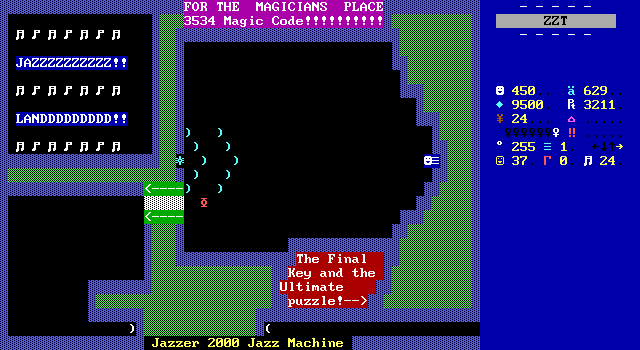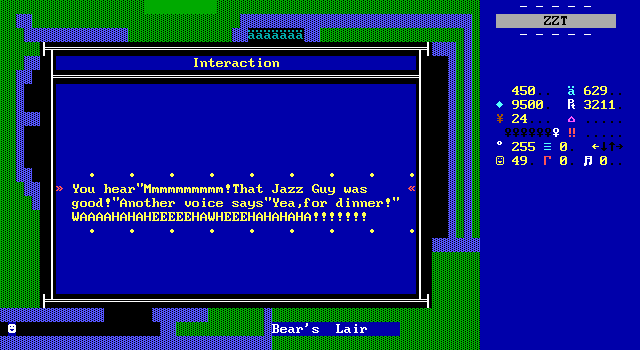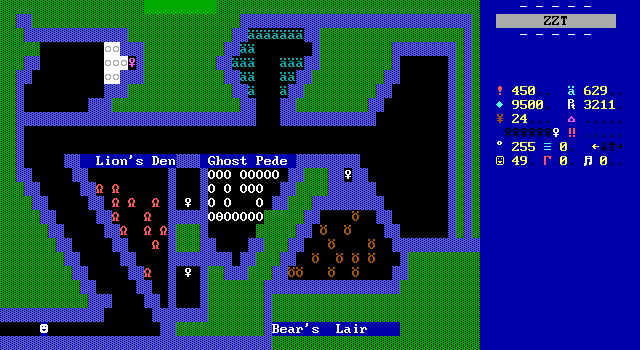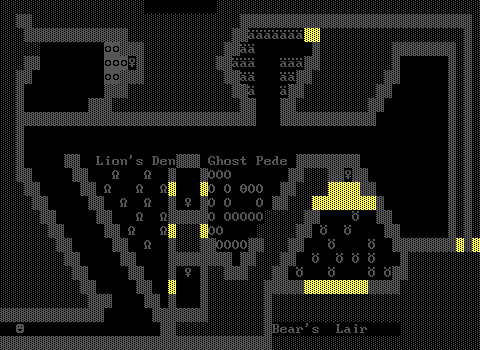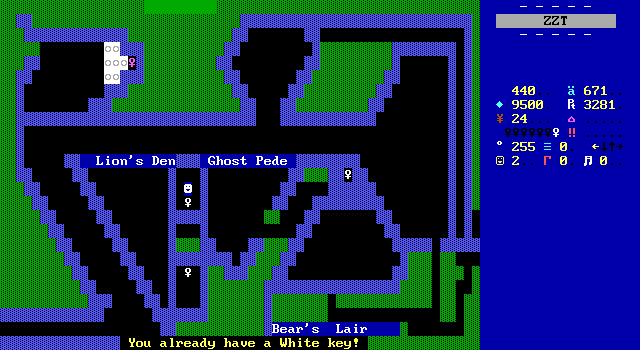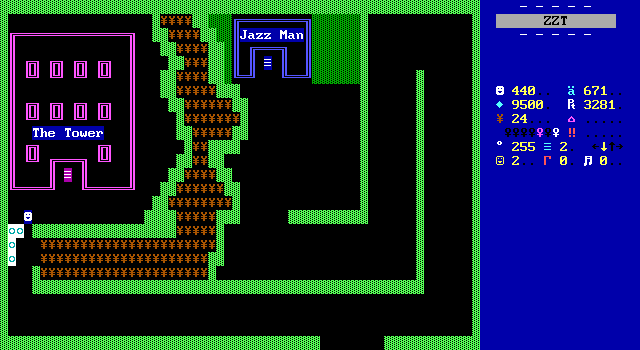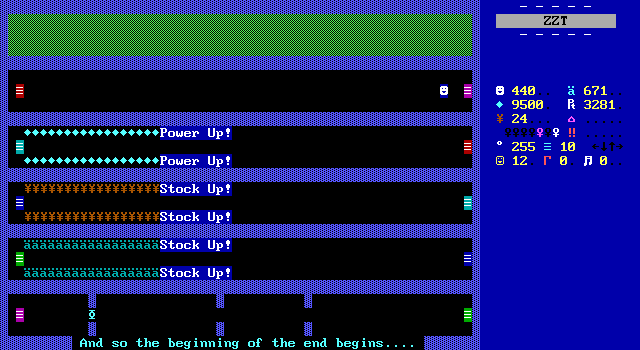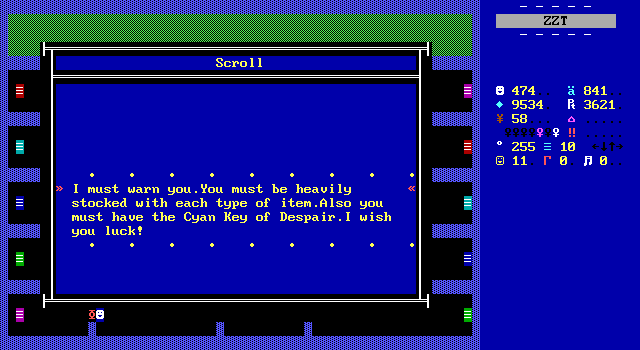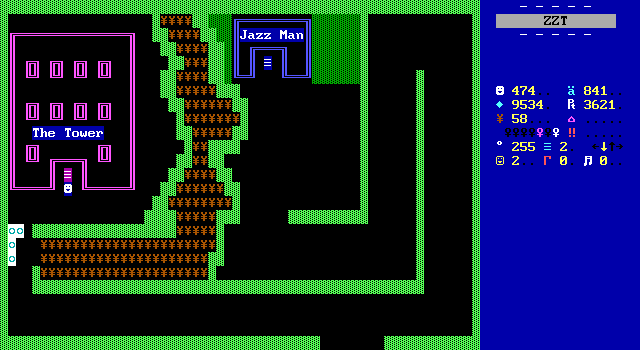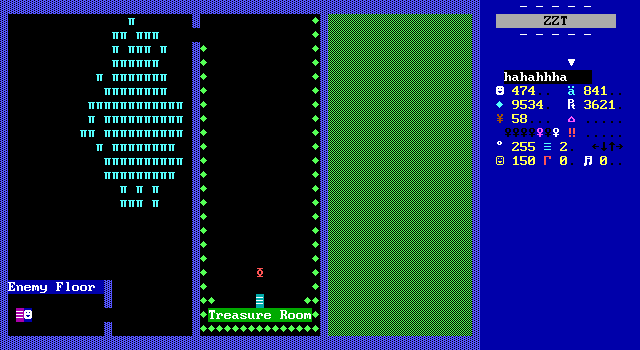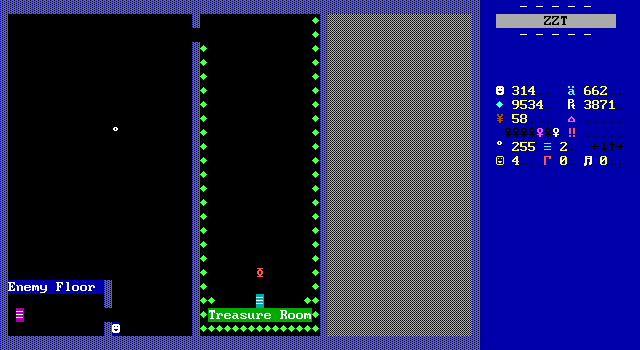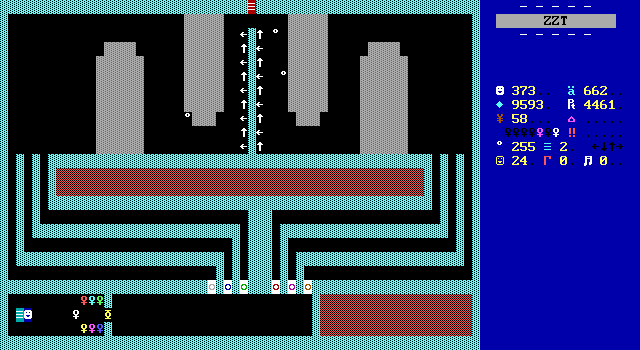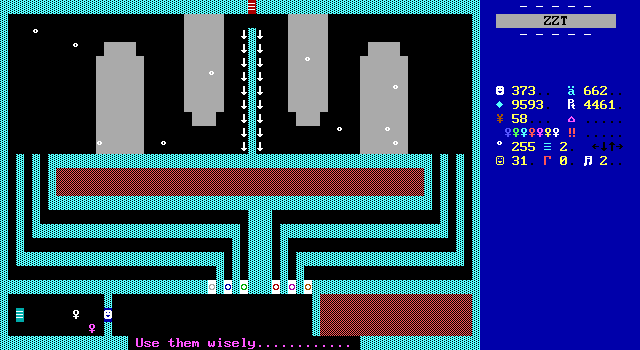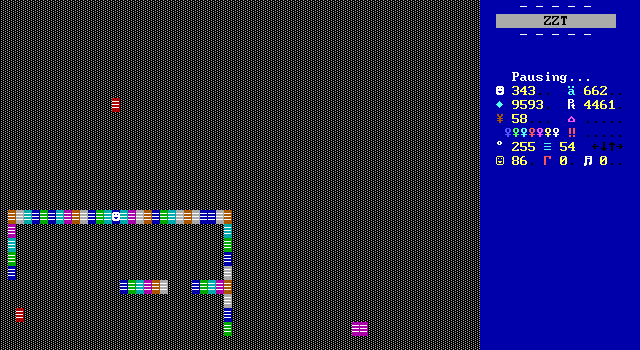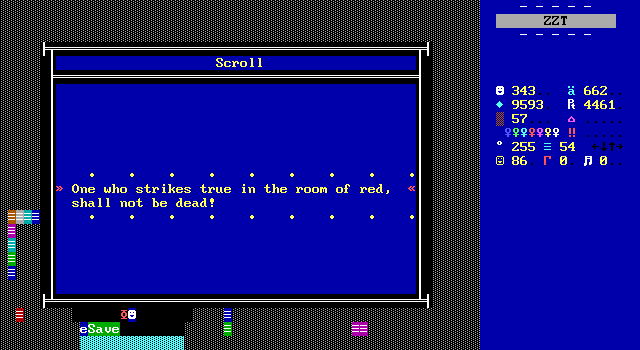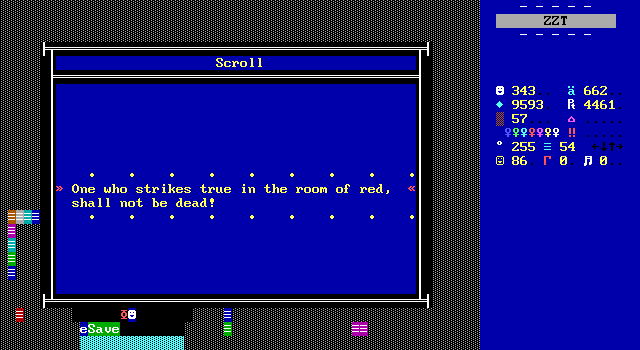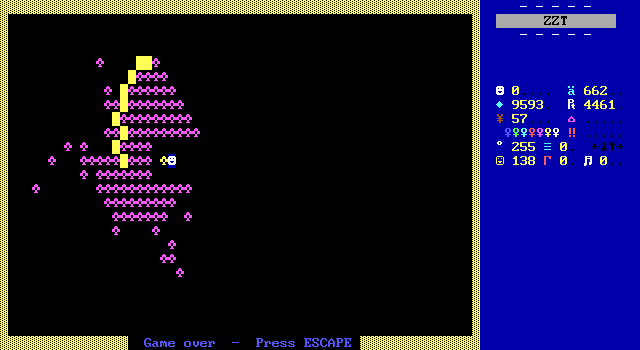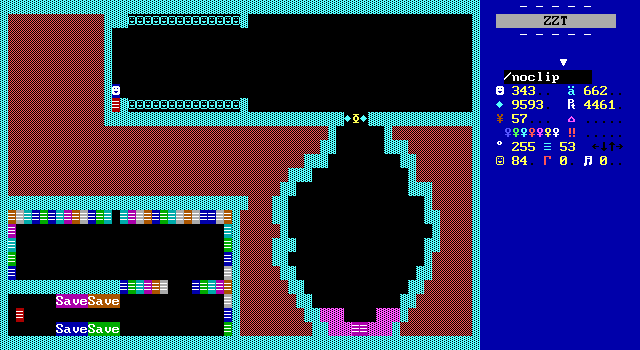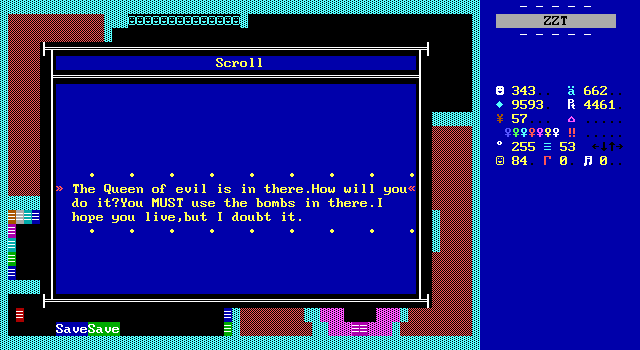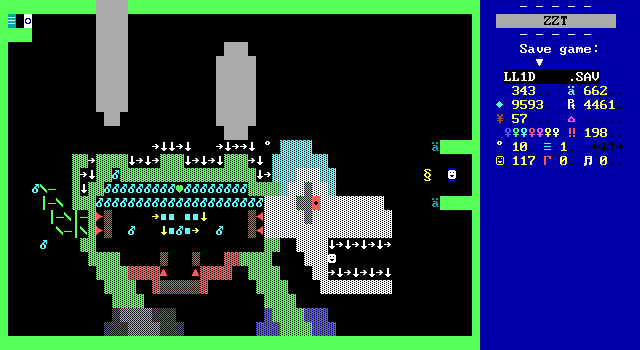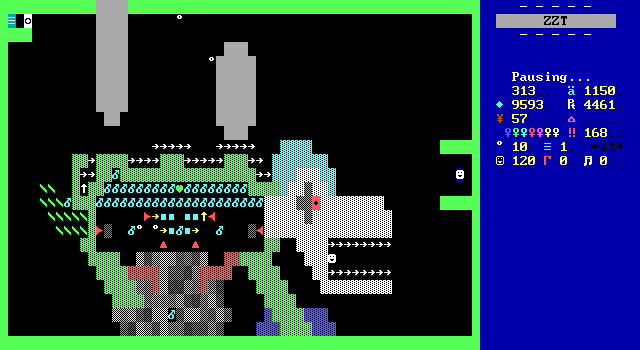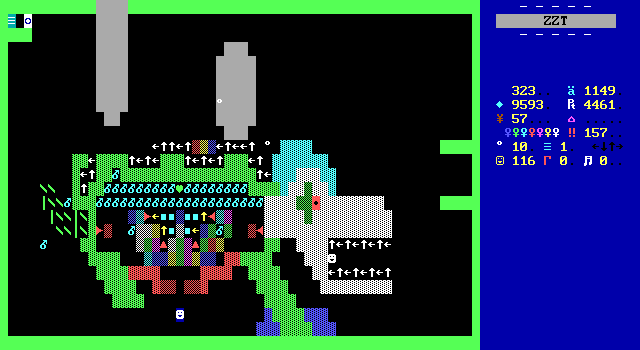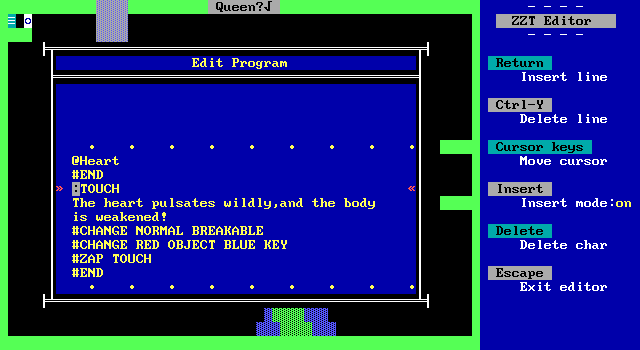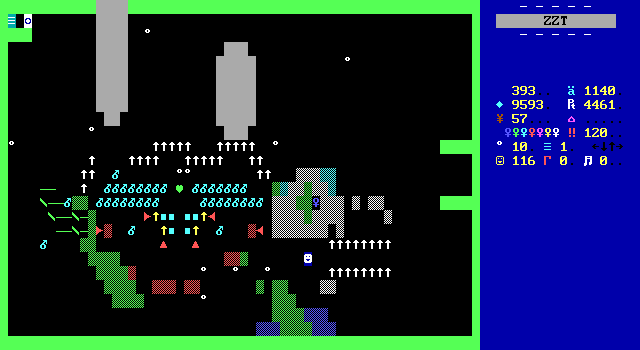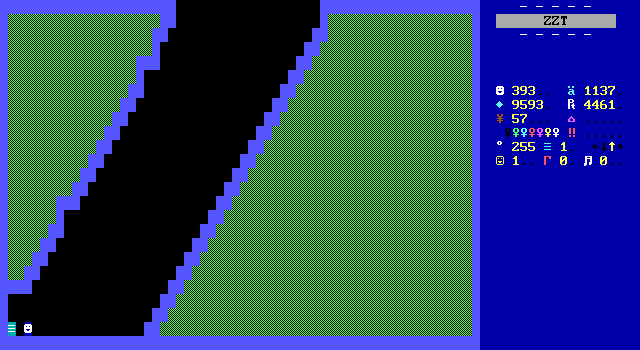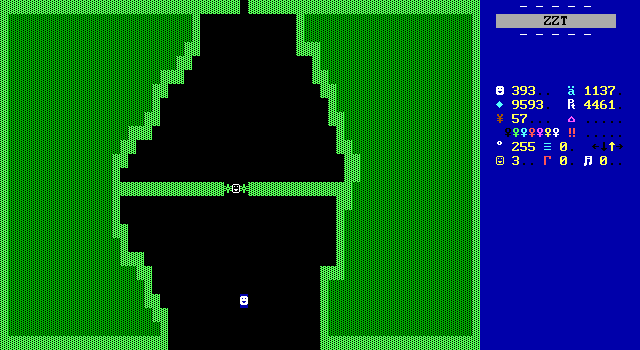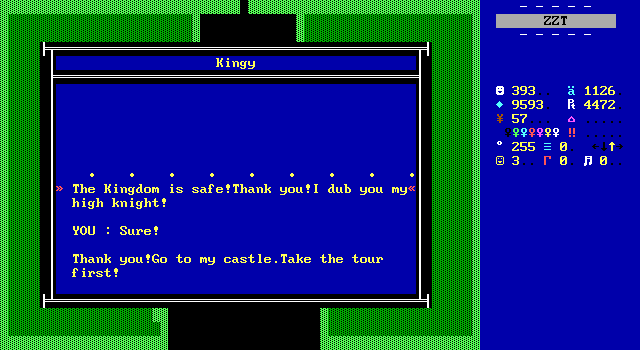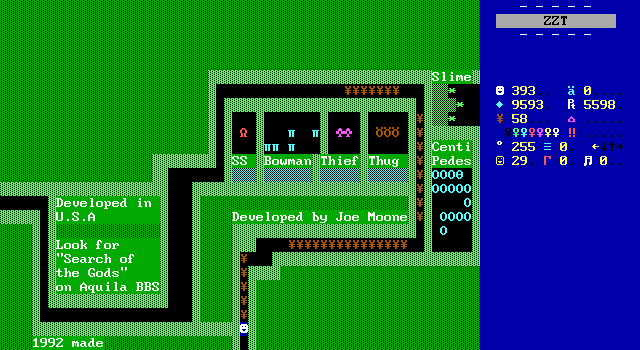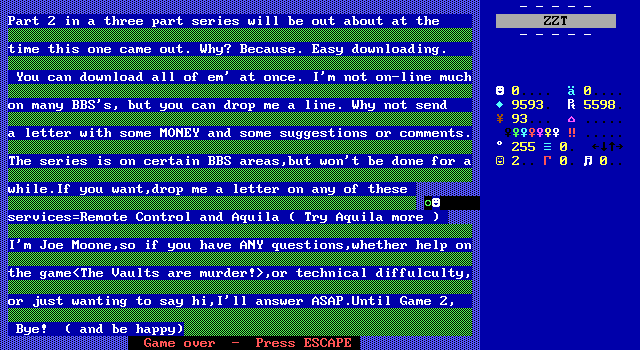 Final Thoughts
That wasn't good.
It's always the hope that when an unpreserved game is discovered that it'll be a long-lost treasure. LandLand's corrupt state and the unavailability of the game for so long could certainly get your hopes up. Imagine what a fantastic story it would be to discover the fate that befell these files and more than two decades later restore a classic into playability. That kind of thinking is a bit too optimistic and the reality is that most old worlds that are found don't impress on quite that level.
For a ZZT world this early, it's hard to be completely down on LandLand. Following the example set by Town is a safe way of making a ZZT world and Moone seems to have some decent ideas. The rap house at the start is a fun set piece, and the equalizer being the combination to the bank vault is genuinely brilliant. As a game made in 1992 the graphics are decent enough. LandLand often uses Town as the source for its style of normals filled with breakables seen in many early ZZT worlds that give those games a classic look.
The problems begin though when you put this game up against Town, the one game anybody would have had at this point. If you're going down that route there has to be something to set it apart. Most of what Moone does is a downgrade from the original. The utter frustration at trying to find where the cyan keys go, a shameful lack of ammo, numerous vault boards which are broken in the player's favor, and action boards that when they aren't directly referencing Town create unfun situations against hundreds of foes. Key collecting pads out the gameplay in an incredibly tedious way. I confess that the bug maze in Town was a favorite of mine as a child, but it's also one that today feels like it takes ages to complete. So much of LandLand is taking that design and tripling the enemy count.
Normally, this would be a respectable if flawed first attempt at a ZZT world. The numbers are skewed with too many keys, too little ammo, and way too many tigers. Unfortunately some far more serious bugs make it difficult to forgive the game's issues as a just early ZZT naivety. Several objects are broken, boards don't connect back properly, passages place the player on the wrong tile, and it just keeps happening. The longer you play LandLand the harder and harder it gets to brush aside the problems found throughout.
All of this could be fixed too! Moone's general ideas are well founded, but the execution leaves too much to be desired. LandLand is notable solely based on an unfortunate upload error that kept the game in an unknowable state for so long that it gained a reputation as a lost title that we were always on the cusp of having. GreaseMonkey's effort in reviving the game deserves applause, and ZZT's history is better for us having it. It's just unfortunate that in making the game playable once more it meant pulling back the curtain and taking away the sense of wonder this game had by revealing its true and much uglier nature.
There's still LandLand 2 of course and there is a noticeable amount of improvement there to look forward to. As for the original, now that you finally can play it, it's safe to say that there's not much reason to do so yourself. Today LandLand is just a rough early adventure for ZZT with plenty of titles that have long since gone on to do what LandLand is trying in far more palatable ways.
======
A Worlds of ZZT Production
======
The Worlds of ZZT project is committed to the preservation of ZZT and its history.
This article was produced thanks to supporters on Patreon.
Support Worlds of ZZT on Patreon!