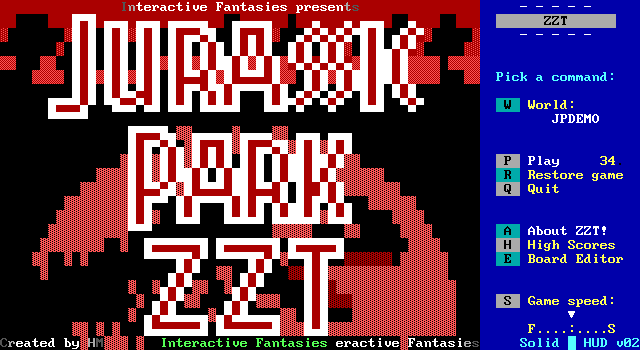 Now we're talking! HM's title screen for Jurassic Park ZZT sells me on the concept immediately. It looks stylish before you even begin, and has the Interactive Fantasies label on it, a straightforward mark of quality. Ironically, EvilMario has a few (demos) published under IF as well, though not his Zelda game.
Note from HM
• • • • • • • • •
Hey all.
Welcome to my somewhat-playable JP demo.
Firstly, thank you for downloading and
such. Hope you have a nice time looking
through this demo. Anyway, as I was
saying, this demo is somewhat playable.
There are 2 arcade parts in it (one
sidescroller, one topdown) and 3 regular
boards for your viewing pleasure. I do
realise that it isn't a very big demo, but
I do want *some* parts in the final game
to be suprising =) All these board may be
subject to change, so the final board
could be different. I don't think so
though. Anyway, have a nice time and
please send me feedback on this.
HM - the Jurassic Park ZZT guy.
• • • • • • • • •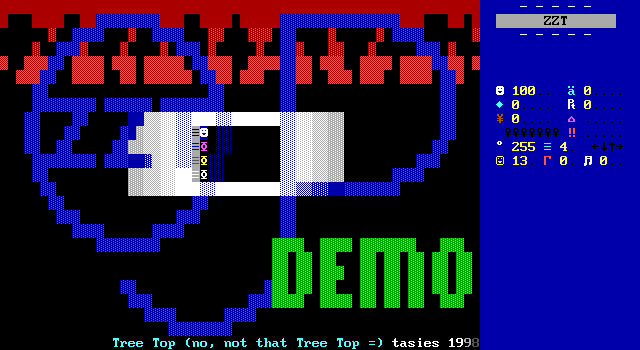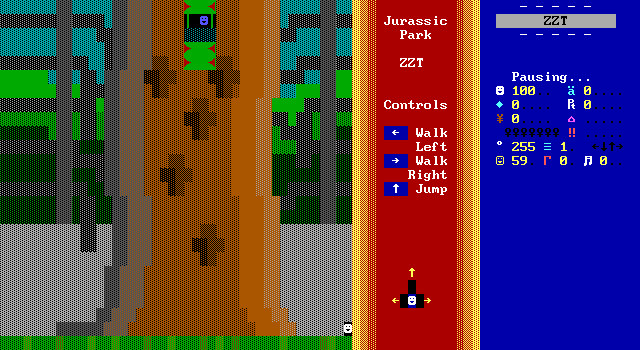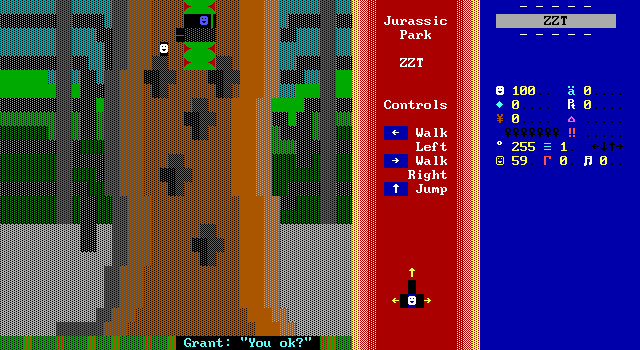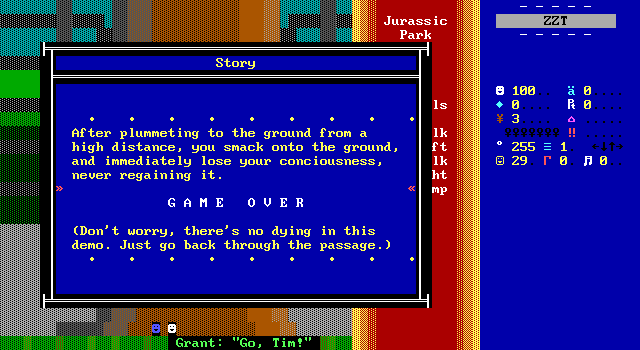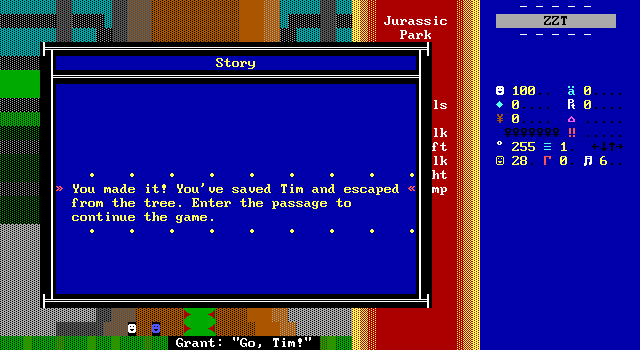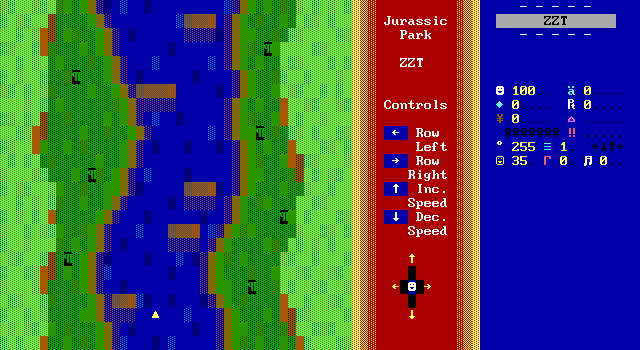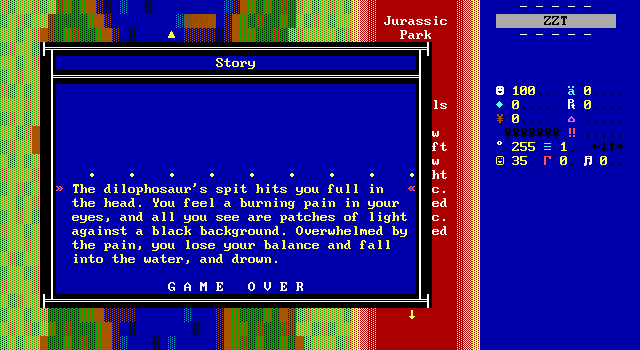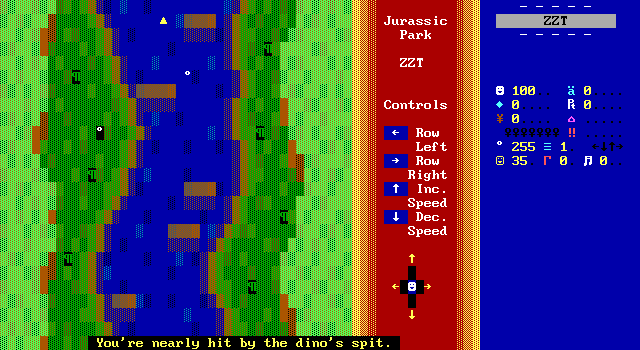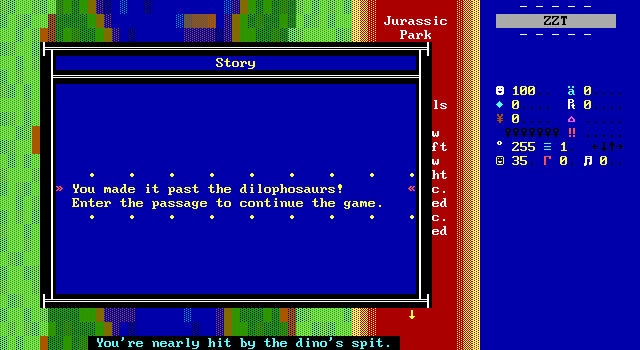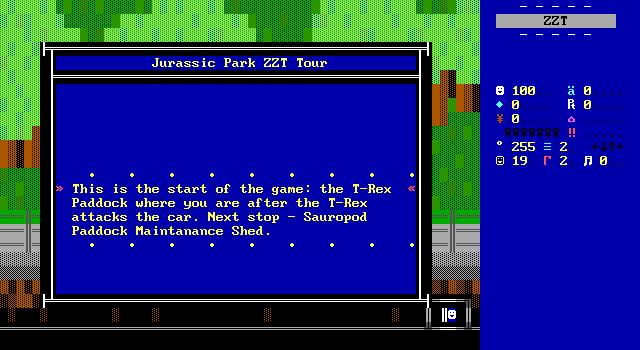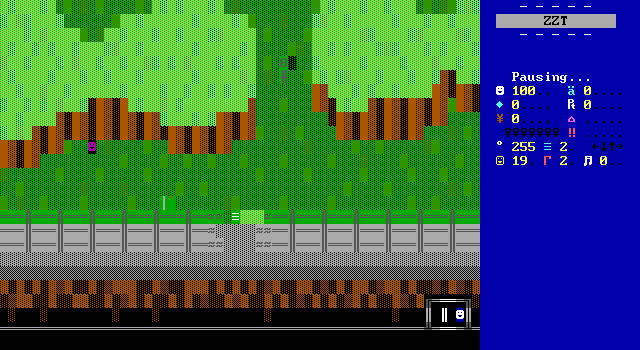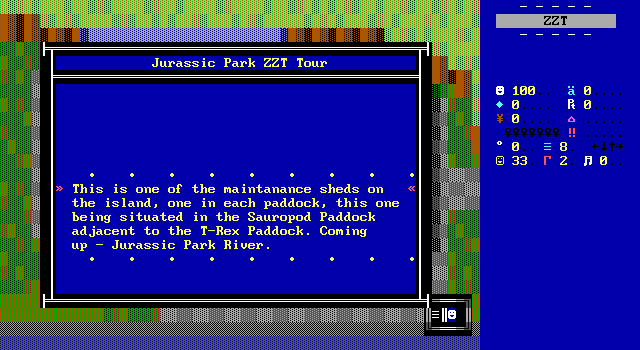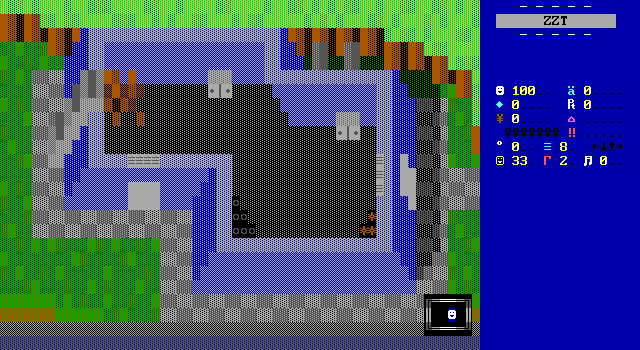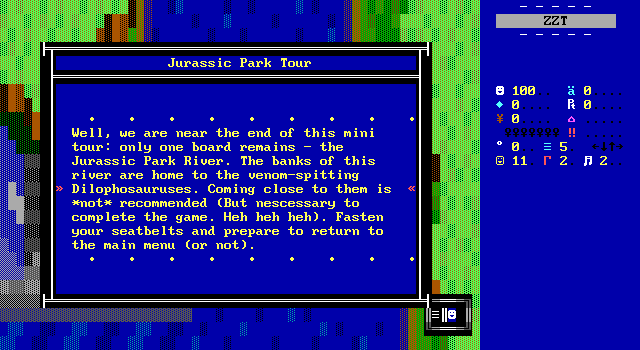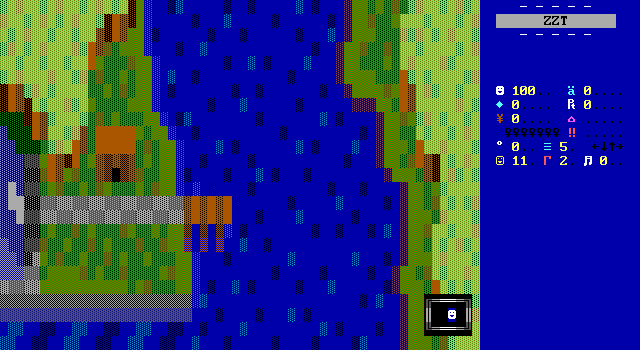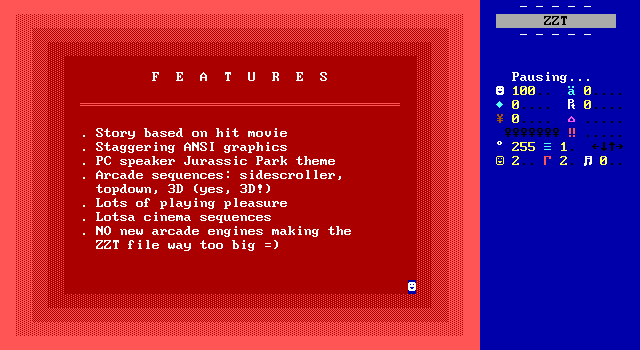 Final Thoughts
Both Zelda and Jurassic Park benefit from the player having a way to know what to expect from the beginning. HM does a far more admirable job promoting his game. Land of Gannon feels very minimally like a Zelda game which is partially the nature of ZZT's limitations, but also it just lacks personality to it. HM is able to show off some fun little engines and some aesthetically pleasing boards. He's able to better understand what ZZT will let him do and properly holds back on promising too much. Despite both engines being fairly basic, they're fun and brief. I would trust HM to hit the film's plot points as needed and create a fulfilling experience in the full game.
After playing this one, I'm disappointed that the full game was never released. HM has my interest here. Playing this demo gets me imagining other moments from the film and how they could be handled in ZZT. I want to play in some engine where you have to stop moving at key moments to not be seen by a T-Rex's motion-based vision (well, in the fiction at least). I want to watch Muldoon being surrounded by raptors, scene ending with a "Clever girl." and fade to black. There's enough here that I have faith that you could very well make an entertaining ZZT Jurassic Park game, and HM's showing here, while brief, is enough to give me confidence that he was capable of making it.
The Jurassic Park ZZT demo also takes a better approach to how it presents what's there to the player. The courtesy of non-fatal failures make it a safe look at challenges the player will have to face "for real" in the full game. The gorgeous menu demonstrates that HM saw this demo as something worth attention and care as much as a full game. This doesn't feel like some lost world (pun not intended) or an incomplete game uploaded to the Museum, but a proper experience that absolutely accomplishes its goal of getting the player interested in the full release.