2012 Overview
Almost as if on reaction to the death of ZZT, 2012 offers a rebound through direct action. Namely, Glorious Trainwrecks, a community of independent game developers who tasked themselves with making ZZT games. This was undoubtedly a success as just over half of the titles released in 2012 were released over the course of a single week in May.
Coming from a more non-ZZT community focused group, the worlds are short and distinct looking. This event also led to a few new faces as well as the return of some other ZZTers who intermingled between z2 and Glorious Trainwrecks.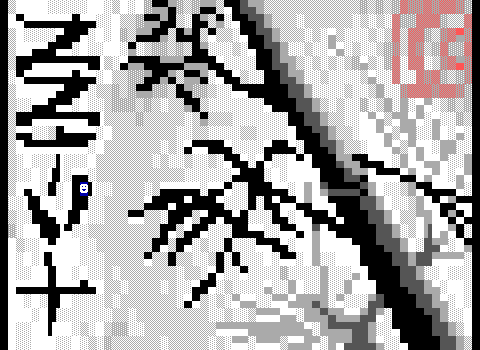 Outside of the contest, one other quite noteworthy event is the release of ZZTV 10, compiled by Commodore. This marked the first ZZTV release since 2005, and is full of all sorts of then incredibly old submissions. I remember playing it myself and being surprised to discover I had a channel in it.
Most Outstanding Title
While the Glorious Trainwrecks folks put together some fun worlds, it's a regular release that stands out most to me, Weaselfeathers' Evilstania, which I covered and marked the world as a featured game earlier last year. Evilstania really pushed the limits of enemy design in ZZT to a level that I feel remains unmatched. It is an incredibly tight dungeon crawler that goes above and beyond the expectations of a well-established genre in ZZT.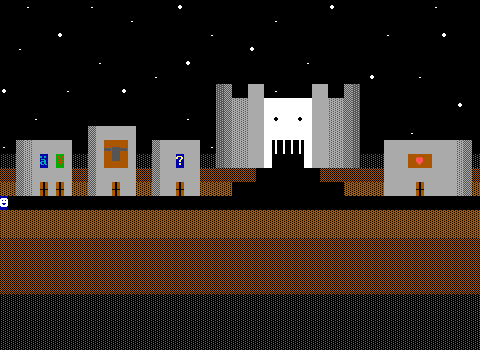 Release Breakdown
New releases: 15
New authors: 6
---
2013 Overview
Moving into 2013, the fine folks at Glorious Trainwrecks have moved on to making new games in other mediums, and once again the output of ZZT crashes. While certainly not as barren as 2011, 2013 has a mere five releases, one of which ZZT Behavior and Side Effect Conformance Test exists only to document some of ZZT's less obvious behaviors to aid those developing ZZT clones and remakes. Without any source code available, most programmers interested in doing something ZZT-compatible had to rely solely on observable behavior. Jumping ahead to 2016, Kev Vance of KevEdit fame would eventually release a work in progress analysis of a ZZT disassembly. Although it remains incomplete, it has been helpful in documenting the behavior of several of ZZT's more unusual behaviors.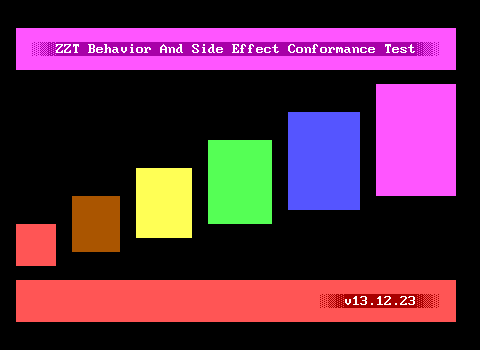 Another release is Lynx's ZZT Graveyard, a collection of abandoned worlds compiled together for a singular release. This is nothing new for ZZT, as even in its heyday authors would find themselves releasing collections of all their games finished or not as they'd announce their "retiring" from ZZT. (Whether or not they actually left is another story.) In 2013, what's new is what's actually old.
This is also marked by one of Commodore's two releases, the exquisite Super Archaeologist Simulator, which takes inspiration from the style of ZZT's earliest worlds and modernizes them into an excellent action/adventure title that never got the attention it should have in its own time. Credit to Commodore who never let the lack of a captive audience of ZZTers prevent him from creating several of the medium's finest games.
Most Outstanding Title
Uh, well, Super Archaeologist Simulator which I was just gushing about.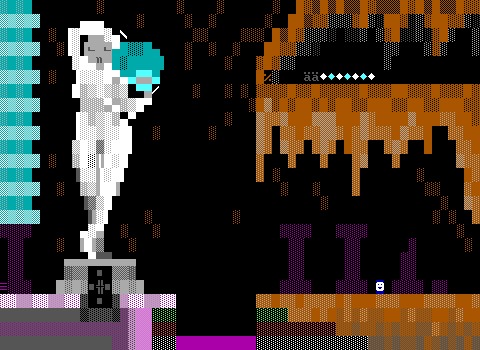 But also if you like experimental, Commodore also released Platon, a ZZT world based on Plato's Allegory of the Cave. It only takes a few minutes of your time to complete, and is a rare instance of a "Trippy" ZZT game that isn't actually focused on or inspired by the (sometimes imagined) effects of drugs.
Release Breakdown
New releases: 5
New authors: 2