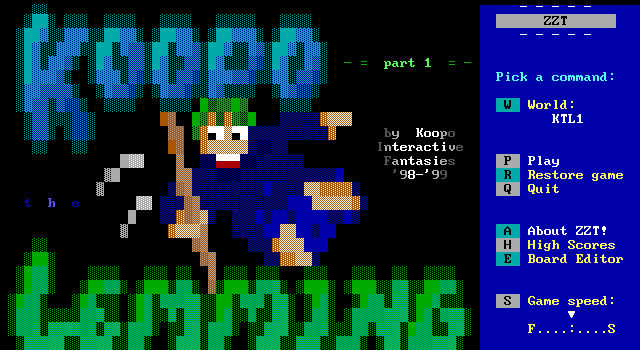 There is both a strange prevalence of Lemmings inspired ZZT games, and me gravitating towards writing about them. The second ever Closer Look article covered Newt's Zem! and Zem! 2, which were about the sort of thing I'd expect from a clone that's aware of the limits of ZZT. The first game of which involved moving a cursor to just place blocks for Zem to climb, and the second offering the ability to issue commands to Zem directly, telling him to burrow, build, and dig as necessary.
Then we took a look at Scooter, the game about a guinea pig that plays pretty similarly to Zem! 2. It had some cute graphics on the title and ending, but other than that, didn't stand out too much. All three of these games suffered being really easy, and feeling very repetitive. Fun games that didn't really stand out, especially from one another.
So, I tossed Koopo The Lemming on the poll to cheat my way into it not winning the first month I added it like the last several poll winners have. Surely, the fourth ZZT Lemmings game would be more of the same and linger on the poll for at least a month.
Y'all did it again and voted for it immediately.
Actually at the time of writing this I'm only like 7 levels and and it's blowing me away.
Koopo, the author of Koopo The Lemming figured out what the others could not, and seems to have created a game that understands a need for variety in level design to keep the player interested. It looks different than the rest, it plays different than the rest, and it brings in unique mechanics in different levels that keep things fresh constantly.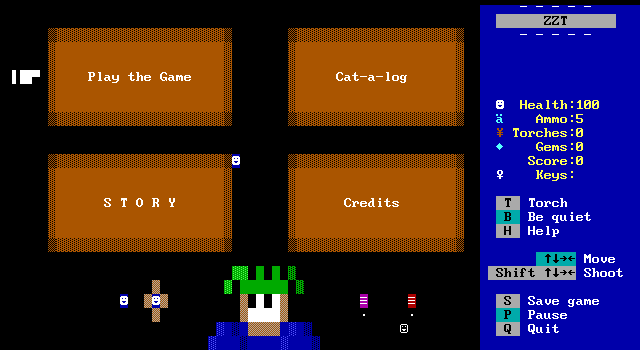 Checkers
• • • • • • • • •
░▒▓█ Creditz!
░▒▓█ Programming/Graphics
- Koopo
░▒▓█ Title Screen
- Hercules
░▒▓█ Ideas
- Koopo
- lemmer
- tseng
░▒▓█ Beta-testing
- Hercules
- lemmer
- tseng
- Hydra78
- MeBo
- Yenrab
- HM
- Dragonlord
░▒▓█ Interactive Fantasies, 2000. █▓▒░
░▒▓█ Greetz go out to...
- Shigesato, for being the bastard
that he is.
- Dragonlord
- tseng
- lemmer
- HM
- Hydra78
- Zenith
- Barjesse, for making Nightmare
- Gerbil, release Scooter
- And everyone I might have missed
• • • • • • • • •
Cata
• • • • • • • • •
░▒▓█ Interactive Fantasies Catalog..
░▒▓█ Released ZZT games..
- Asmodeus (Blue Magus)
- Shades (Blue Magus)
- Blind Remix (Blue Magus)
- Bear Hunting + Beer Hunting
- Castle of ZZT (HM)
- CV:827 (Venom)
- Chickenwire 1.2 (Zenith)
- Darkness Falls (Koopo)
- Deep December (Blue Magus)
- Dungeon Master's Gallerly (Blue Magus)
- Forest of ZZT (The Agonizer)
- Freak Da Cat (Hydra78)
- Indiana Jones (Hydra78)
- Jami's Undercity Remix (Blue Magus)
- Journey to the Center of Nowhere
- King's Quest ZZT (Hydra78, MeBo)
- Magic land Dizzy (Zenith)
- Pingball (Ethan Hunt)
- PAC (Hercules)
- Red Light Zone (Hercules, Hydra78)
- Quest for Glory (Hydra78, MeBo)
- Rocket Xnight 1 (Koopo)
- Savage Isle (Hercules)
- The Life of a Scotter (Herc/Hydra78)
- Welcome to Hell (tseng)
- ZZT Arcades 1 (Koopo)
░▒▓█ Released MZX Games
- The Endless Journey: Ethan's Test
(The Almighty Cow.)
░▒▓█ Released Super ZZT Games
- Fantasy of Freedom (Hydra78)
- The Incredible Building (Hydra78)
- The Search for the Lost Dog (Hercules)
░▒▓█ Other stuff
- ADBI Demo (Hercules)
- An Ewok's Life Demo 2.0 (Herc/EvilMario
- Brotherhood Demo 0.0198 (Herc/Agonizer)
- Despayre 4 by 3 engine (Fejj)
- ERR Z3 preview (Blue Magus)
- Fireball Engine (Hercules)
- FFB demo (Venom)
- IF Birthday World (All of IF)
- IF Logo Animation (Venom)
- JP ZZT demo (HM)
- Mega Color Box (Xabbott)
- Mosaic (Venom)
- Project g (Yllek)
- Random Battle Engine (Yllek)
- Snack 4 (Venom)
- Super ZZT Tools (HM)
- ZZT Pal Plus (Lord of Chaos)
- And of course, all IF mags!
• • • • • • • • •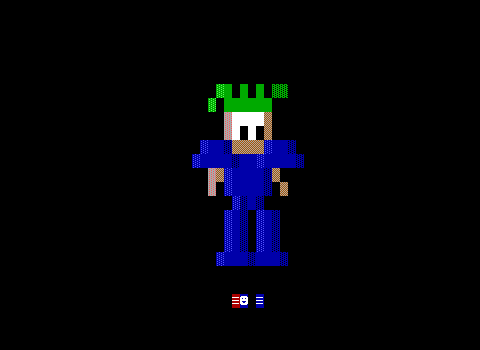 Interaction
• • • • • • • • •
@Story
You are Koopo, Koopo the Lemming. You
were part of a cheery little race called
the lemmings. They were little creatures
with no sense of salvation. You were
blessed with an increased intelligence so
therefore you became the leader of the
lemmings.
Anyway, One dark night the great lemm-
ing shaman foretold of a great disaster.
Shaman: One day, We shall be released
from our isolated little town into the
world.. The world will be filled with
evil. And so forth and so forth, Don't
you have to go to bed, Little ones.
Little ones: No.
Shaman: Darn.
As predicted, their little isolated town
was found by the evil profesors. One
Lemming was taken secretly and was whisked
off for study.. Unfortunately the Evil
Lemming eaters were also found. They
decided that humans tasted better than
lemmings and they went to explore the
world.
Koopo: Ughh.... What the heck? I'm inside
some sort of lab.
(Distant Screams.)
Koopo: This doesn't sound good.
And so you got up and went to see what
was the trouble...
• • • • • • • • •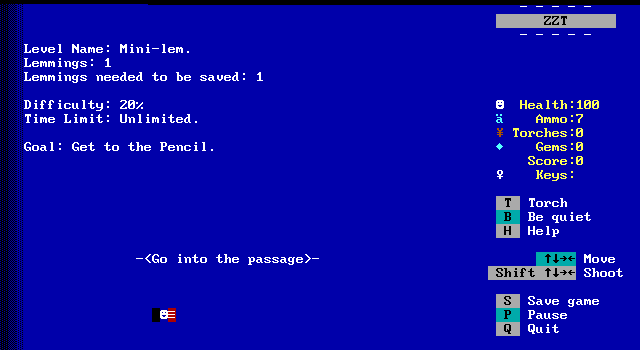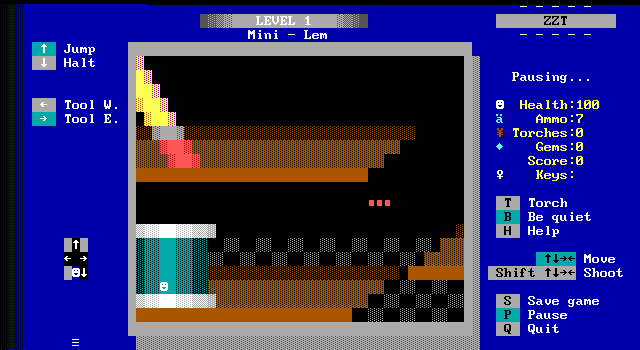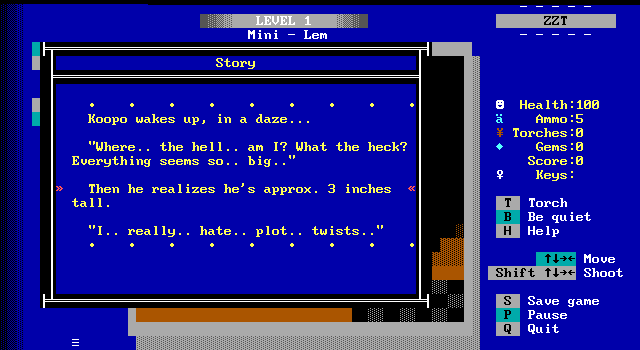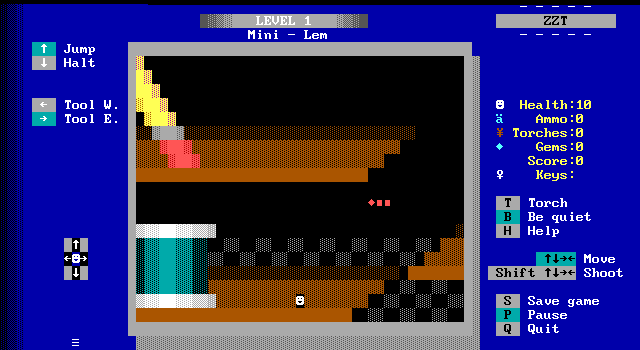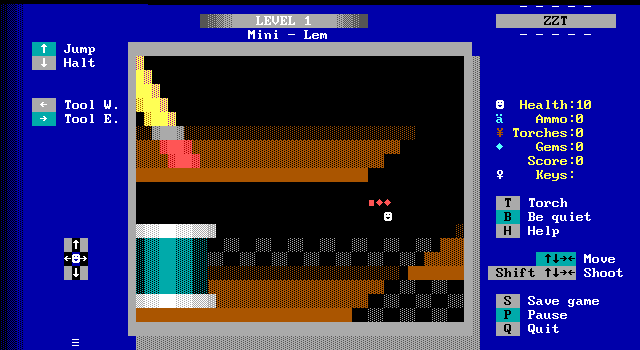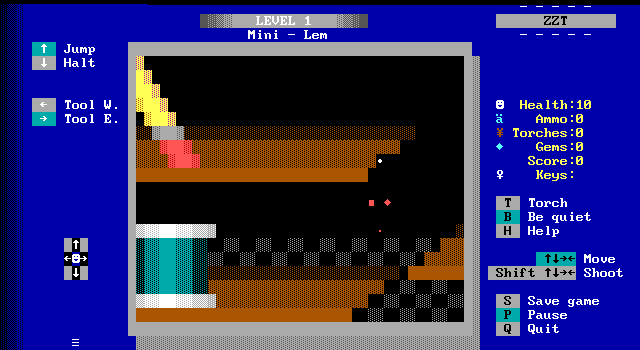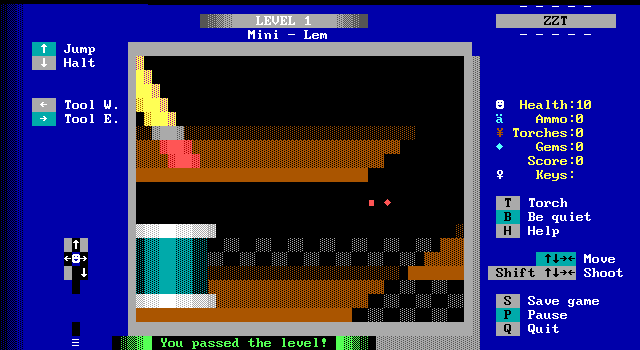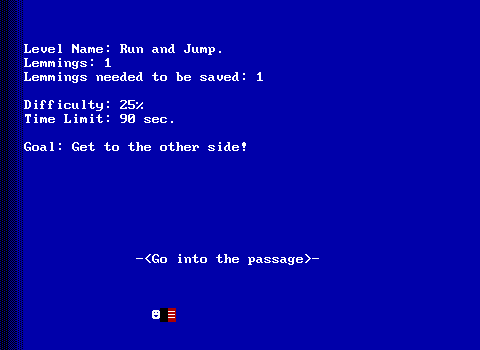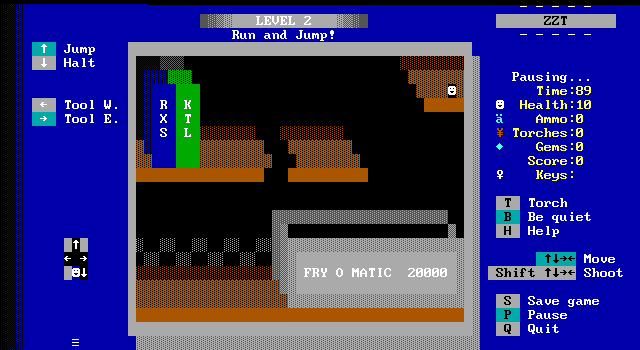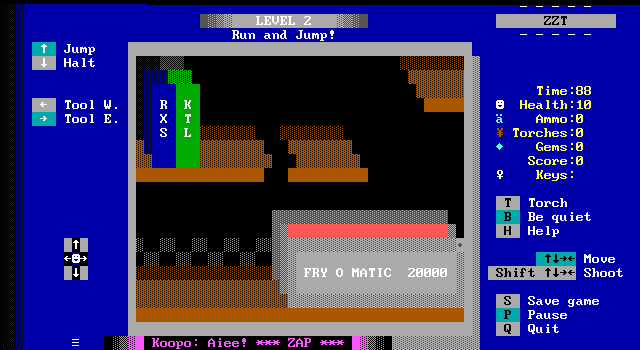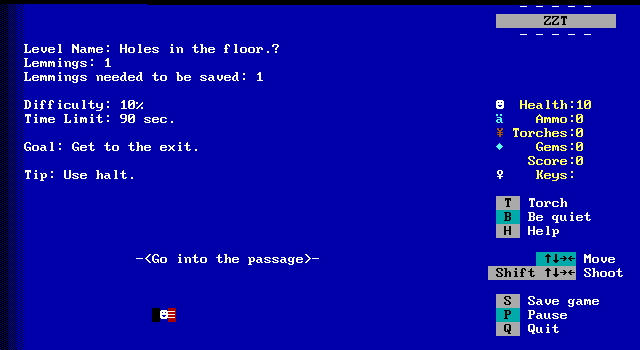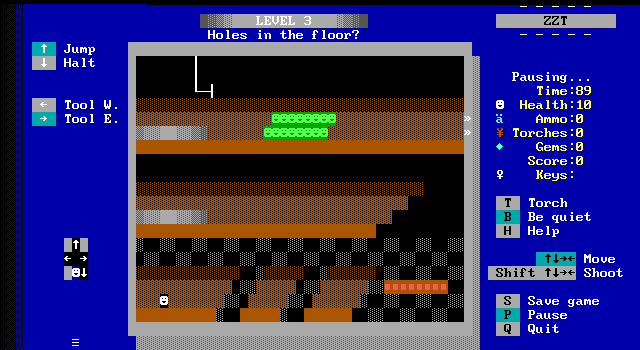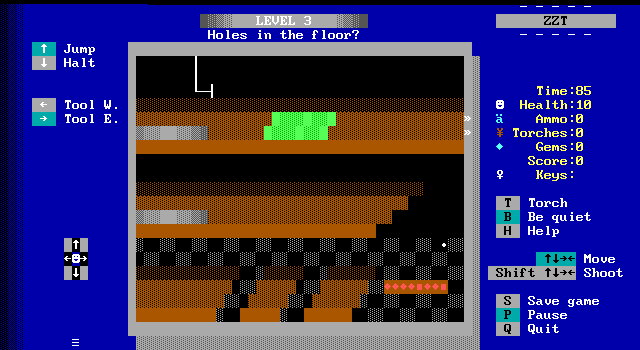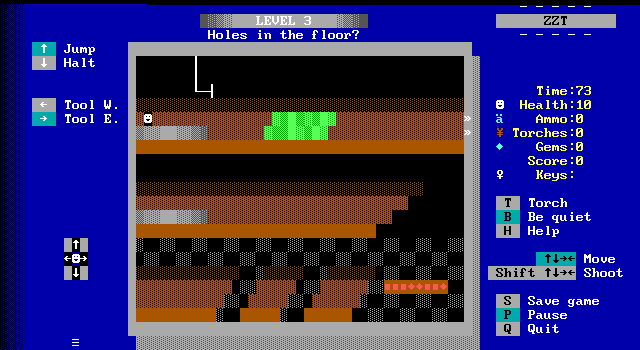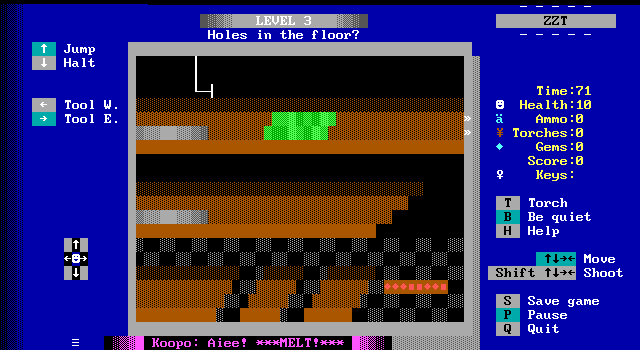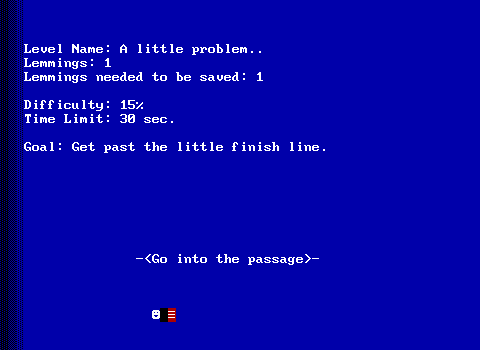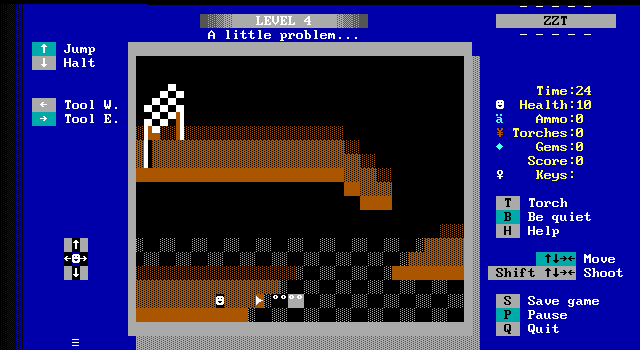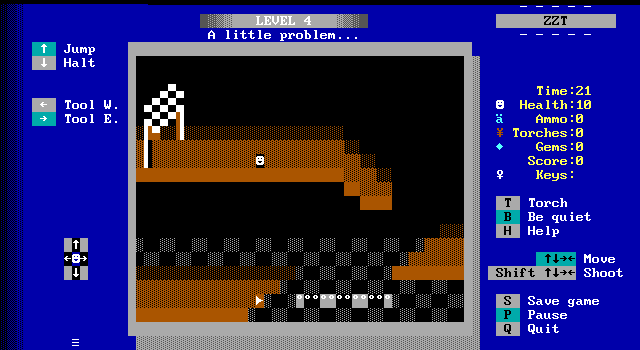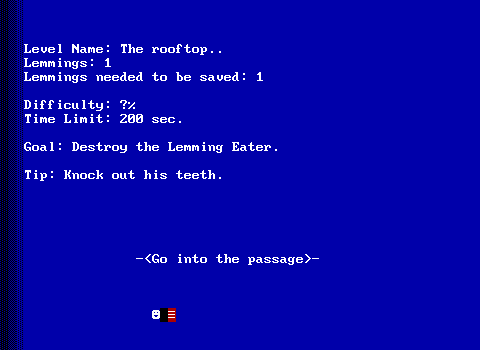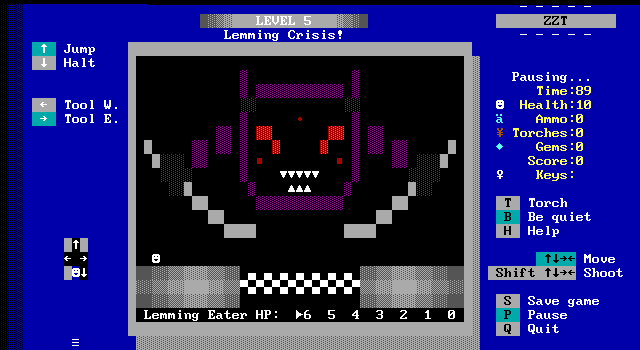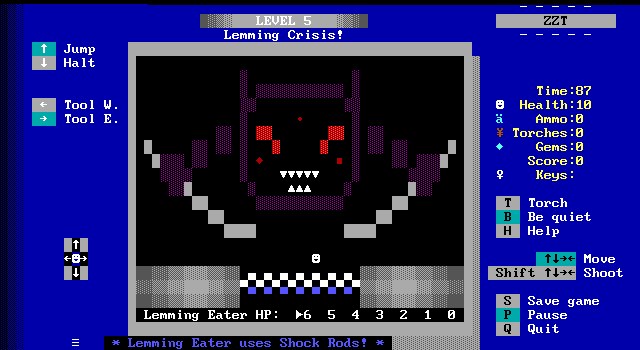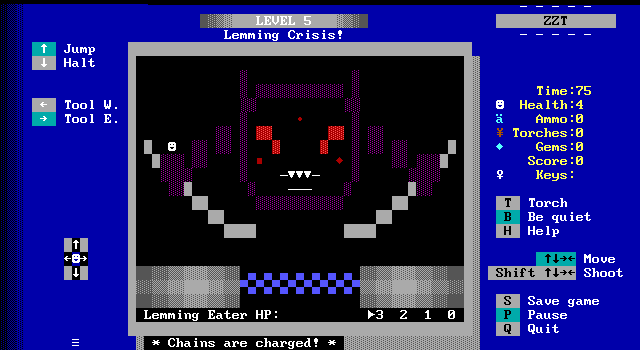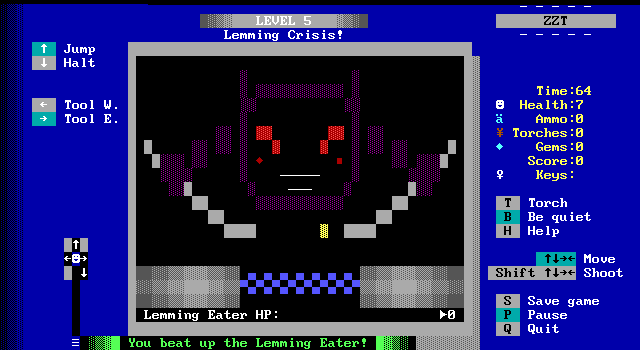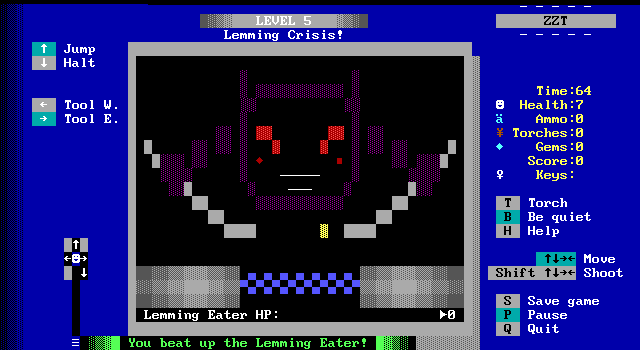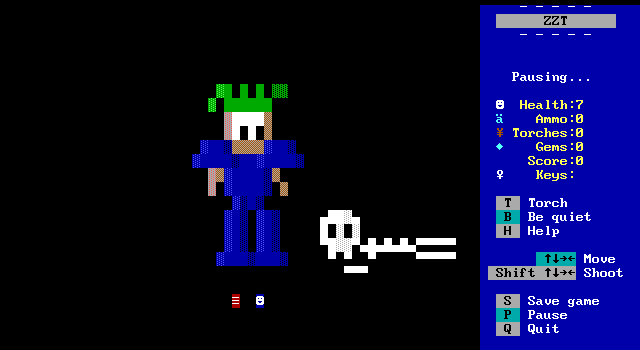 Story
• • • • • • • • •
And so Koopo defeated the evil Ghost
Lemming Eater, only to find that his small
size seems to be permanent.
Koopo walks over to where the Lemming
Eater was, and finds a mysterious bag...
A bag full of bricks...
"Hrm.. What is this?"
Koopo fingers over the bag, then a
skeleton drops out of it!
"...Poor guy. Probably a builder... damn
those lemming eaters. Ah well. Prolly
won't need his endless sack of bricks
then."
Koopo drapes the bag over his shoulder
and proceeds onward...
Towards a Metal Structure labeled..
"Shrink Machine"
• • • • • • • • •