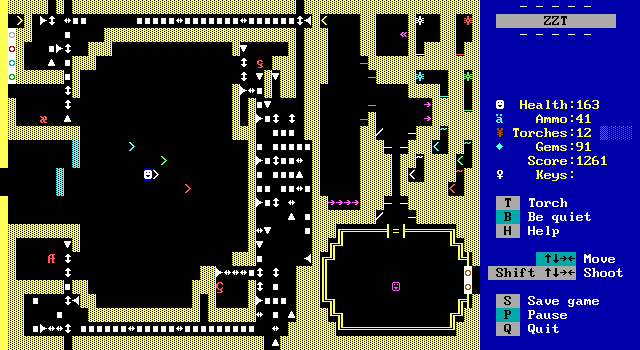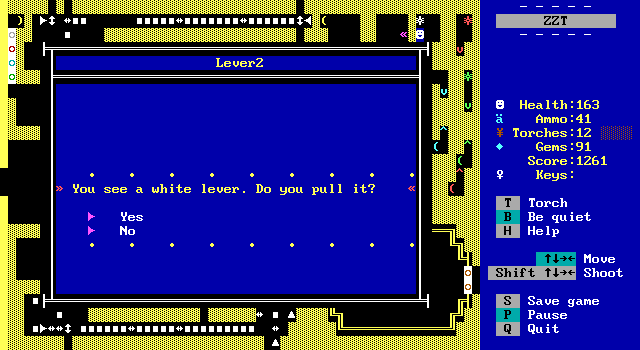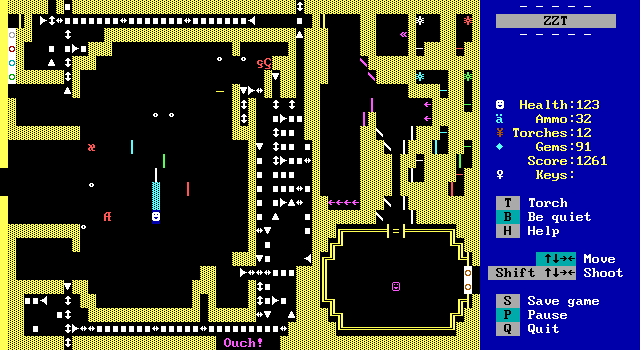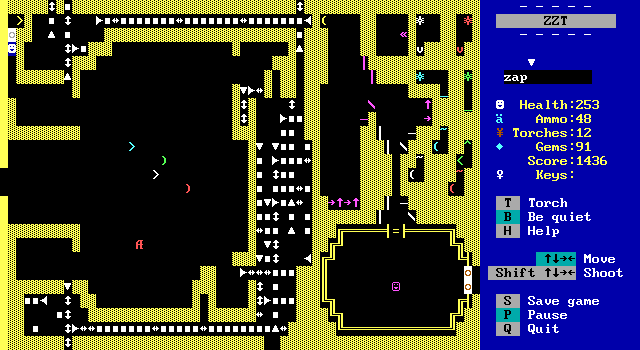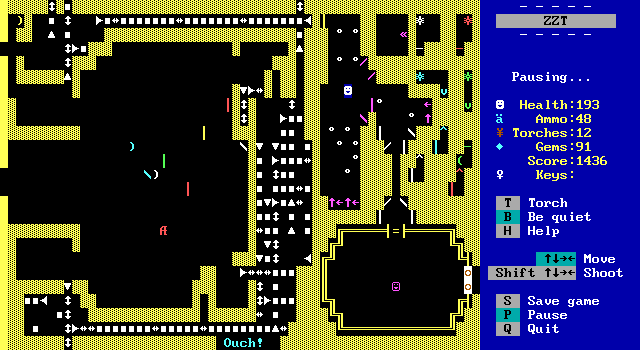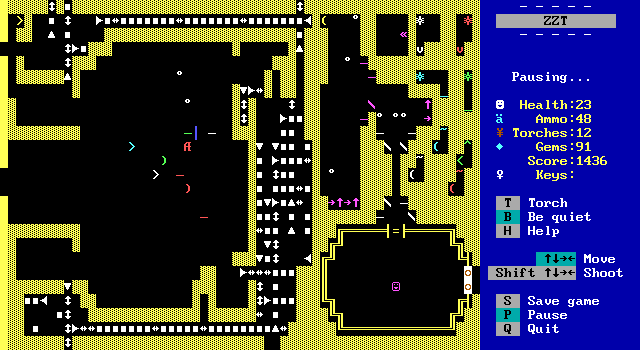 Door
• • • • • • • • •
You see before you a huge door, covered
with golden figures in tortured relief.
You press upon the door and it melts away,
flowing into the walls around you.
Beyond you see a large room, the roof
fading away to a dark rotunda whose
heights are lost to the lurking shadows.
In the center stands a figure...King
Exasperata! Garbed in deep purple and
bearing all the treasures you brought him,
he returns your stare, then with eyes
aflame he yells to you,
"So it is you, Hero! Oh, impudent
mortal, to have gone so far and learned
so little! Come, if you must, to the
ruler you crowned, the Lord of Darkness!
Come and witness my gratitude!"
• • • • • • • • •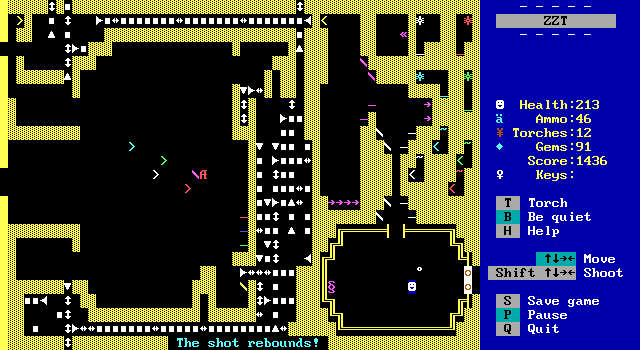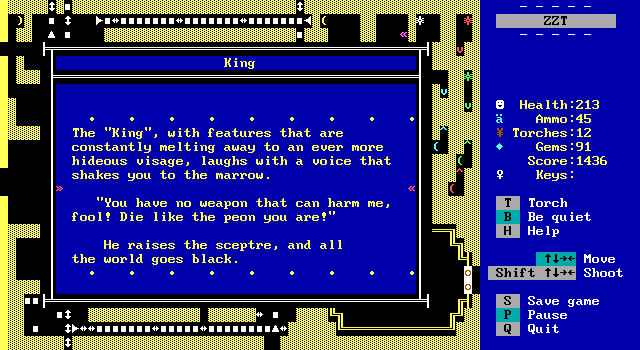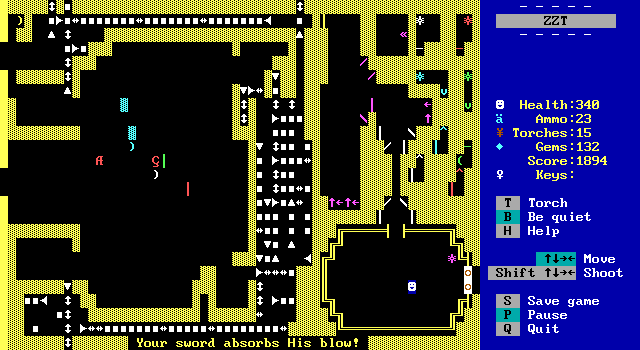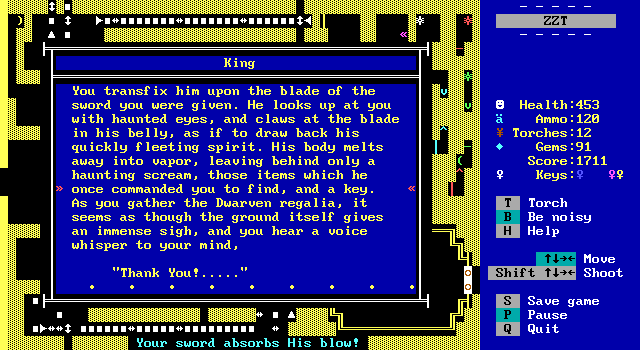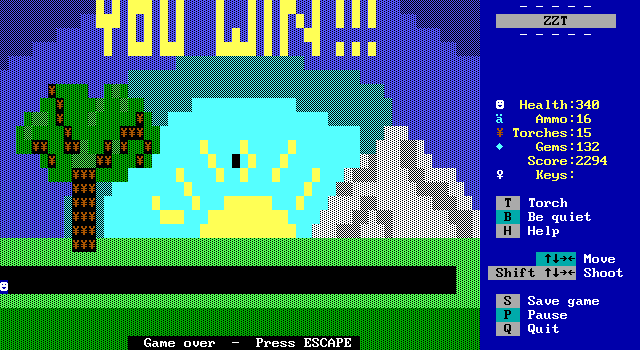 Final Thoughts
What a ride! Ezanya looks to be a short game, taking place on a total of nine boards, one of which being the title screen and one being the ending scene. All that game was crammed onto a shockingly small space which makes Town feel massively sprawling in comparison. Beth Daggert took a chance on a new and generally unknown program called ZZT and created something with it that has truly stood the test of time.
Ezanya greatly out-paces the competition both in the other games of the ZZT's Revenge compilation as well as the later output of many ZZTers. That this game is so well crafted in terms of story and board design (mostly) is really stunning. It easily stands toe-to-toe with games like The Mercenary in terms of dungeon crawling or Deceiving Guidance in terms of storytelling and world building. The game's graphics are the only thing that tip you off that you're playing an older title, but is an excellent example that older ZZT worlds can still hold up today.
It's not perfect. The resources provided demand the player either makes no mistakes or cheats liberally. There's a dwarf that can sabotage a puzzle, a few walking-dead states if the player kills important NPCs, and that white key being meant for a different white door than the one the player has been curious about the entire game definitely give Ezanya its share of rough edges.
The general gameplay is a tad too difficult for the resources provided, but otherwise solid. The quests all feel challenging, and each component of them generally works, but taken all at once is more than can be reasonably handled.
But the game truly shines in its writing. Most ZZT RPGs of the 90s take blatant inspiration from Final Fantasy 6 and other 16-bit Squaresoft RPGs. Daggert's influences likely come from the older era of PC RPGs and tabletop. It feels so much like a Dungeons and Dragons campaign with the setup of taking quests from the king only to discover the king was evil all along. It's not brilliant, and it's heavily implied that something is up if the player pays the slightest attention to Exasperata's behavior. The thing is though, that it works. Ezanya knows the story it wants to tell and does a creates a compelling adventure in doing so.
Don't be fooled by Ezanya's age, or lack of complicated turn-based RPG battles. If you're looking for a grand adventure in a tiny package, Ezanya is a royal treasure of a ZZT world not to be missed.
======
A Worlds of ZZT Production
======
The Worlds of ZZT project is committed to the preservation of ZZT and its history.
This article was produced thanks to supporters on Patreon.
Support Worlds of ZZT on Patreon!