Oil by Dave2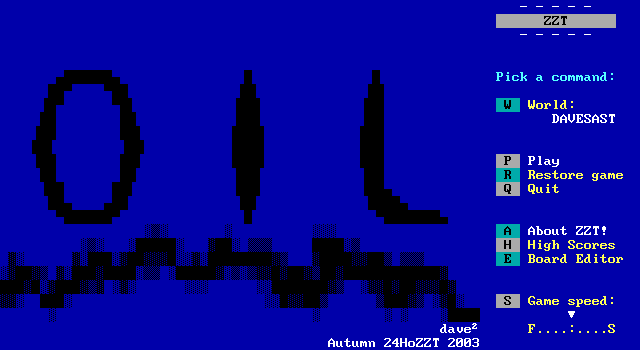 Dr. Dos:
Dave2 was somebody I definitely spoke with on IRC frequently in the mid 2000s, and he had very little content as far as released ZZT worlds went. The animation of a leaking oil spill combined with the knowledge of Dave2's artistic creations via Flash cartoons meant that I had some really high hopes for something exciting.
Unfortunately, the game itself is very very short. The bulk of which is a very frustrating Flappy Bird-esque engine. I feel like Dave was unable to work on the game as much as he had wanted to that day.
5.0/10.0
RT-55J:
Interesting premise and setting, but ohmygosh is that a terrible engine-board to inflict upon the people of this earth.
3.5/10.0
Ravenworks:
You get to be a mermaid, I am entirely here for this premise
Absolutely in love with these color palettes, nice blending work too imo
I was going to say "they should have known better than to chase a trend like flappy bird" but uhh this is from 10 years BEFORE flappy bird which means they can't even blame it on a trend, so this was just a terrible, un-fun gameplay concept to have tried to implement in ZZT.
I'm not certain it's even guaranteed to be winnable? can't say for sure
anyway, good artistic and technical execution (and story idea) squandered on a terrible gameplay idea, 7/10.0
7.0/10.0
DavidN:
A nice moody opening screen and some simple but effective mermaid-cave decoration leads into... a Flappy Bird engine, unexpectedly, then it just stops. It's a shame that this was cut so short because I was looking forward to more of it!
5.0/10.0
David M.:
You play as Peisinoë, a mermaid in an oil spill. There's a lovely graphic with a tanker on the ocean at night, and some nice coral houses in the mermaid village. Then it turns into an endless game of Copter, dodging bullets in an oil-tainted cave. Tricky, and no reward except death, but pretty well made.
6.0/10.0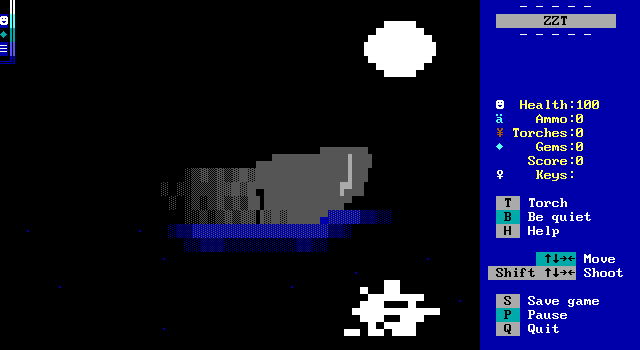 Danno:
OIL is a solid mini arcade game with an attractive intro, but it's mostly a novelty without a bigger game.
3.0/10.0
Celine Kalante:
An intriguing plot about an oil spill in a mermish colony gives way to... it's not really fair to call this a Flappy Birds clone since this was years before, but, you know. Short, but brutally hard, with some questionably grisly descriptions of what happens to your body every time you hit an obstacle. The art is gorgeous and the story's interesting, but I'm not sure it had anything to do with the (rather unfair) gameplay.
7.0/10.0
Mike W.:
Pretty. Good attempt at a story with an ecological bent, and a fun minigame. Unfortunately it wasn't finished.
6.0/10.0
XyzzySquirrel:
An interesting beginning about merpeople and deadly oil leaking into the ocean turns into Flappy Mer. Due to emulator lag I hit a piece of debris and died like seven consecutive times in a row, which I found so funny I'm just gonna leave it at that. 4/10 for atmosphere and art. F-- on the swimming. You can do better.
4.0/10.0
Geight:
I'd have to describe this as the best example of what a ZZT project can be in these sort of competitions - A simple but creative premise, focused around a single challenge, and boards that aren't too easy or too rough on the eyes. You can feel the 24 hour time limit, but they still managed to whip together a simple little Helicopter-esque engine and frame it around a disaster of sorts. I'm not sure the author intended to write your actions as completely meaningless, but it's kind of funny that they did.
9.0/10.0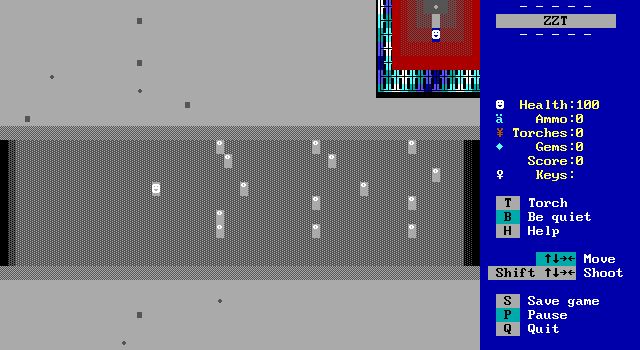 ---
Disaster: The stampede76 story by stampede76 Dr. Dos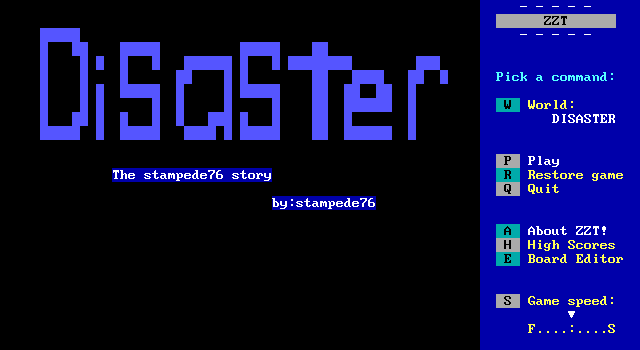 Dr. Dos:
Disqualified! This was me thinking I was funny. The story of School ZZT's creation is accurate at least. Stampede went on to become a radio DJ for a local radio station and is very skilled at playing the guitar. His skills are in music, not game design, and that's okay by me.
0.0/10.0
RT-55J:
Okay, this is dead simple but legit funny.
5.0/10.0
Ravenworks:
ok I love personal games enough that I'm feeling charitable enough to give this a 2/10.0 even though it basically doesn't exist
2.0/10.0
DavidN:
I had a nagging feeling I had seen that name before, and I had to laugh when I realized the take on "disaster" that this was going for :) A couple of points for that.
2.0/10.0
David M.:
Five static graphics boards about why the author didn't make a proper game. It's a bit sad. I hope stampede76 tried hard and made a good game eventually.
2.0/10.0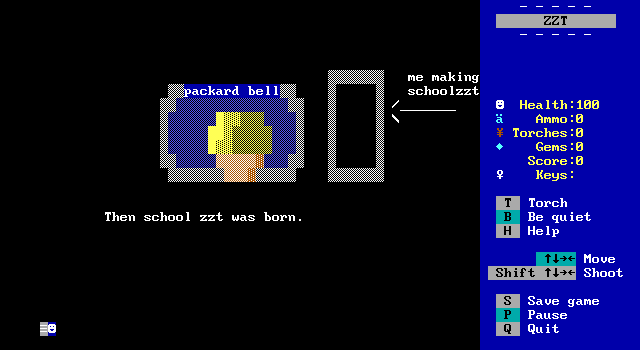 Danno:
DISASTER: This one is not a game, but to its credit, it's not broken, not ugly, and has a serviceable title screen. I liked the history lesson.
1.3/10.0
Celine Kalante:
The cutscene graphics are cute and nice-looking (hi, Dos!) and this was shaping up to be a cute story about a young person getting into game creation. Then the punchline is that this youth made School ZZT and has never and will never make a good game. THE END. Uh. Ouch?
1.5/10.0
Mike W.:
A short story describing how the author learned about ZZT and his inability to finish anything. Very little here, and the author clearly doesn't feel great about it. ZZT could be harsh for those who didn't feel they had the perseverance and focus to finish a project.
1.5/10.0
XyzzySquirrel:
This is the autobiography of someone who made a game they deeply regret apparently. 100% cutscene but well-drawn. I hope whoever this is has eased up on themselves a little since 2003. Uhh 4/10 because I feel sorry for them.
4.0/10.0
Geight:
This entry would be perplexing if I hadn't been clued in on the secret mythos behind its creation. While it falls short in every meaningful category for the contest, it does provide an interesting time capsule of the type of community ZZT was fostering back in 2003.
1.0/10.0